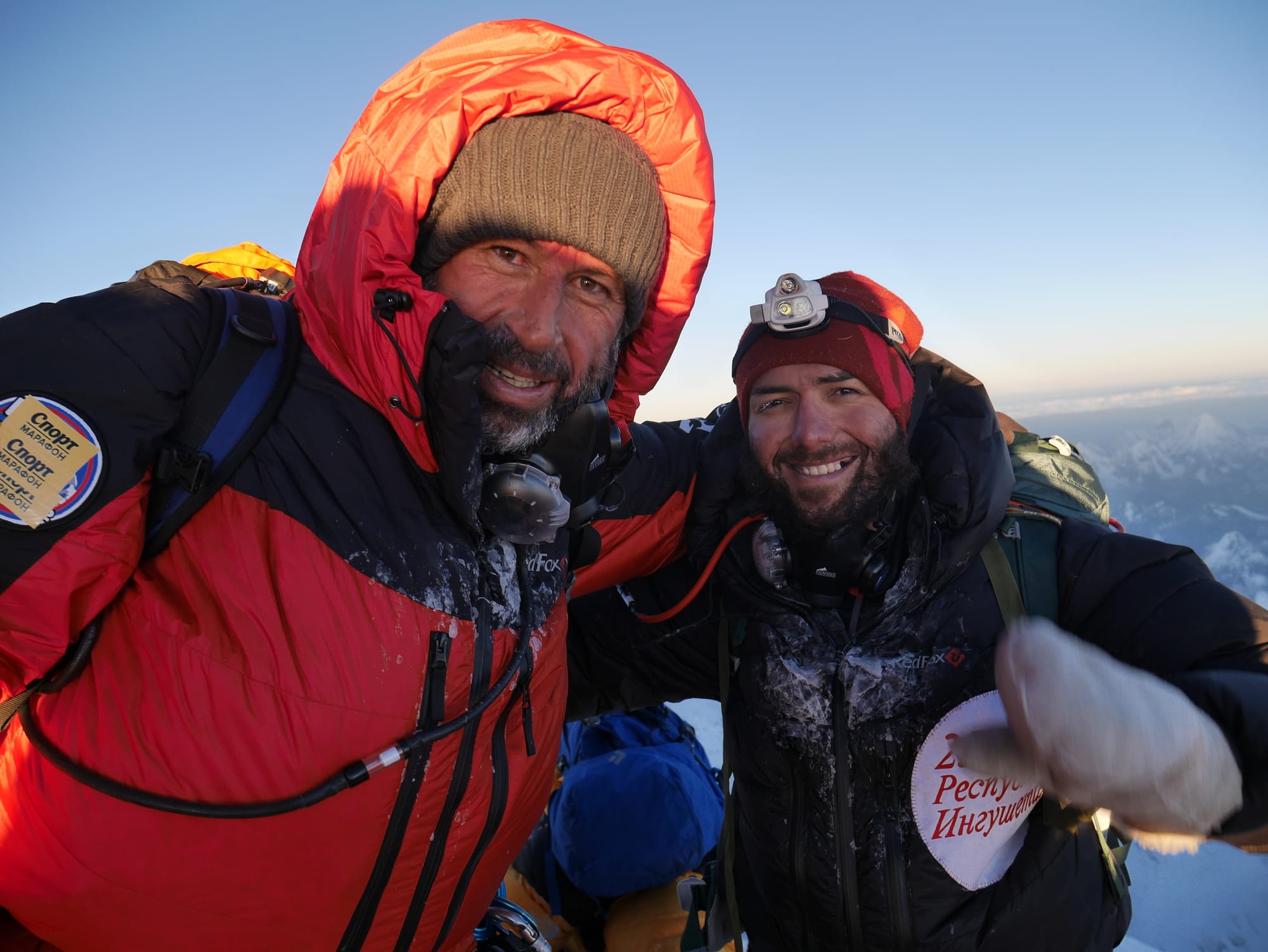 www.makaluextreme-treks-expeditions.com
Wats Up +7-918-104-23-18
Hi everyone!
Tashi Delek and Namaste!
Nepal is closed for ascents in spring 2020 due to the global epidemic of coronavirus, this is a fact.
The management of Makalu Extreme Treks Expeditions Pvt Ltd has decided to postpone Everest 8848- Lhotse 8516 and Ama Dablam 6812 to the autumn 2020. We do not cancel anything, but simply postpone to autumn. The Everest-Lhotse expedition will be held between September 10 and October 25. 2020. Expedition participants can take advantage of the payment paid for the spring during the autumn season. Lhotse and Everest are more difficult in autumn than spring, but our team of guides has a lot of experience and knows what it does and can make this summits with members. Leonardo Namen, the first Canadian heart attack serviver intends to make his ascent in the autumn of 2020. Oxana Morneva intends to make her third assent in the autumn 2020 too. She intends to become the first woman in the world to climb to the top for the third time and the first woman in the world to climb the Lhotse 8516 summit in the spring and autumn.
The management of Makalu Extreme Treks Expeditions Pvt Ltd has done everything possible to minimize losses in the funds of the participants. Everyone continues to train hard for the upcoming autumn 2020
If any one interested to joing our autumn Everest 8848- Lhotse 8516 expedition, we are always welcome to everyone
Wats Up +7-918-104-23-18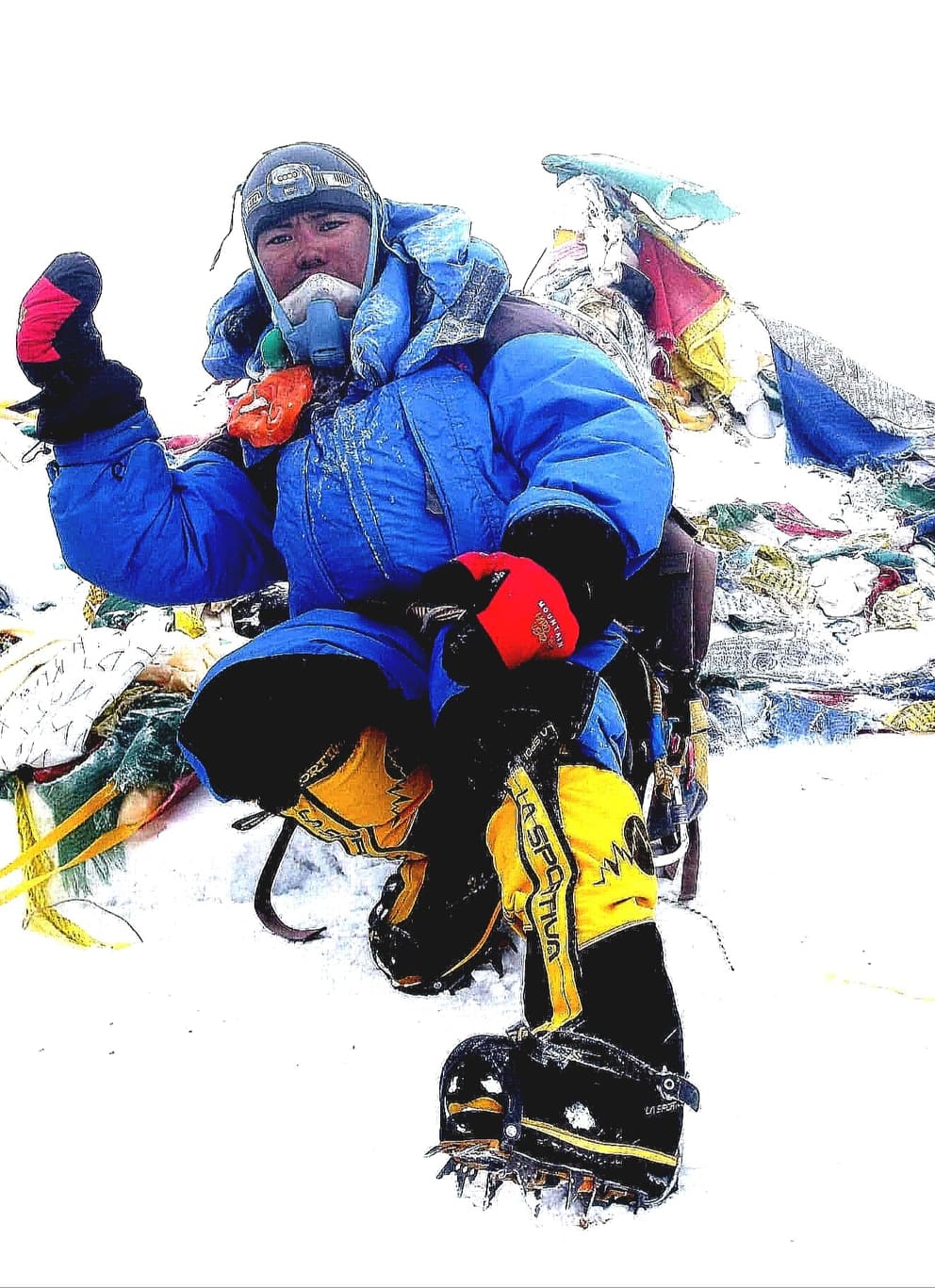 INTERNATIONAL MT EVEREST SOUTH 8848 EXPEDITION
FIXED DEPARTURE 10 SEPTEMBER- 25 OCTOBER 2020
10 APRIL- 1ST JUNE 2021
EXPEDITION COST FOR SERVICE UP TO SUMMIT USD 36000$ PER PERSON
TRIP INTRODUCTION
Mount Everest, also known as The Sagarmatha in Nepali is the tallest peak on earth with an altitude of 8848m. The southern face lies in Nepal whereas the northern face is in Tibet. In 1715, China surveyed the mountain for the first time while they were mapping Chinese territory and depicted it as Mount Qomolangma. British India government in 1856 again measured Mount Everest during their Great Trigonometry Survey. Back then, it was named as Peak XV and said to be 8840m tall.
Peak XV was renamed after Sir George Everest as Mount Everest, name given in his honor, who was lead surveyor in 1856. Sir George was Welsh Surveyor; he was surveyor general of India for thirteen years from 1830. The Everest has fascinated the mountaineers all around the globe since 1920s when Tibet opened the climbing in early 1920s. In 1922 British Expedition team led by Charles Bruce tried to scale the summit of Mount Everest for the first time. It was Edward Norton in his second attempt along with British Expedition team set the height of 8572m. The mountaineers George Mallory and Andrew Irvine disappeared on the third attempt. Mallory's body was found in 1999. There were several attempts made to Everest before the successful attempt made by Edmund Hillary and Tenzing Norgay on 29 May 1953 via the South route. It is now reported that around 1000 ascent attempts are made every year.
We will take the southern route to the summit. This trip suits for those who has previous experiences of few 7000m peaks or even more. The real trek apparently starts from the Base Camp and to reach the base camp takes you around 7 days on foot. We will move on to Camp I (6,065m) where we will see Khumbu glacier. From Khumbu Glacier, it around 450m on a gradual slope to Camp II (6,500m) and around 610m to Camp III (7,200m). Camp III is located at the head of Lhotse. From this point onwards, you will need oxygen cylinders. You will reach the Camp IV (7,910m) after just crossing 8000m elevations. This point is also known as the Death Zone.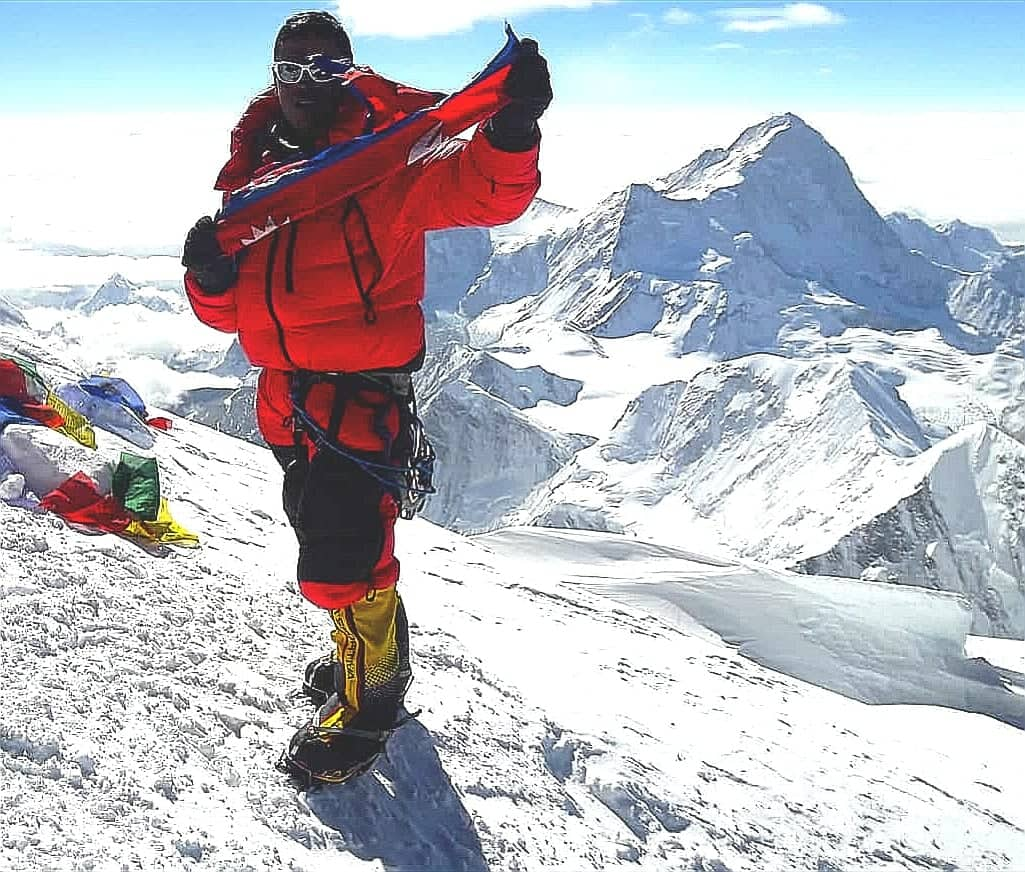 Mount Everest Expedition is undoubtedly a lifetime opportunity. Nevertheless, these expeditions encounter many hindrances such as high altitude, severe weather conditions and avalanches. One must be well trained before actually trying it. You need to get your body ready for the 8848m-foot climb to Everest's summit. Depending on your current level of fitness, you need to train for several months before you start your ascent. A climber must build his/her cardiovascular strength along with muscular strength; oxygen level drops by 60-70 percent from sea level. One must acclimatize with weather conditions and be prepared for rock falls, avalanches. Learning rescue techniques would be added advantages.
Our best guides on the world will sopport your climb
" We await to share our experience with you "
COST INCLUDES
Airport Transfers in Kathmandu
4 nights hotel accommodation in Kathmandu on BB plan(before and after the expedition)
Transportation as per the program
Transport of food supply and expedition equipments to Base Camp and back
Full board in lodges during trekking to base camp and back
Base Camp tent-1tent-1 member
BC staffs and Liaison Officer
Required kitchen equipment such as kitchen tent, store tent, toilet tent, table and chairs etc
Comfortable dining tent with heater inside
Hight food supply at base camp
Government Liaison Officer
Cook and kitchen boy at Base Camp
Equipments allowance, wages of cook, kitchen boy and Liaison officer
Insurance of cook, kitchen boy, Liaison Officer and porters
Peak Permit fee of Mt. Everest
Conservation fee
Fix rope charge, ise fall charge
One high altitude Sherpa per one member to carry all food and gear to higher camps. Also assist the member during climb and summit attempt
Oxygen for climbing Sherpa( 1Sherpa-3 bottel)
Oxygen for member 5 bottle
Garbage deposit fee
Common climbing equipment (necessary rope, ice bars, ice screws etc)
High altitude food
High altitude fuel
High altitude tents
Walkie-talkies for each member
Generator at Base Camp for charging electric devices
Emergency medical oxygen at base camp
COST DOES NOT INCLUDE
International airfare from / to your country
Nepal entry visa fee (can be obtained at the airport upon arrival)
Lunch and dinner in Kathmandu- around 200$
Hotel after 4 night stay in Kathmandu.
Personal climbing gear and equipment
Personal climbing insurance such as, accident, medical, emergency evacuation and lost luggage
Expenses of personal nature such as drinks, laundry, postage, telephone etc.
Summit bonus for climbing Sherpa-1500$
VIP SERVISE 48000$
COST INCLUDES
Arrival and Departure: Airport - Hotel transfers – Airport (Pick Up and Drop).
Hotel Accommodation In Kathmandu: 4 nights hotel in Kathmandu (4 star category) on bed & breakfast Sharing Basis (Single Bed Room).
Welcome Dinner: One Welcome Dinner in tourist standard restaurant in Kathmandu with Office's Staffs.
Cargo Clearance:International Air cargo clearance of Member Personal Luggage & Payment of Government taxes in Nepal. *before the expedition
Permit: Expedition Royalty and permit of Nepal Government to climb Mt. Everest, Sagarmatha National Park permit, TIMS CARD & Pasang Lhamu Rural Municipality Entry Permit and its fee.
Khumbu Ice Fall Climbingcharge to (SPCC) Sagarmatha Pollution Control Committee.
Liaison Officer:1 Government Liaison officer with full equipment ($2,500), salary and accommodation.
Garbage Management:Stool Shipment Transfer & Garbage Deposit fees.
Insurance:Medical & Emergency rescue Insurance for all involved Nepalese staffs during the trek and expedition.
Map:Trekking and climbing map.
Member transportation:

(*Standard Route Itinerary):(Domestic Flight) Fly from Kathmandu – Lukla and while returning Lukla - Kathmandu, as per itinerary.
(*Heli Itinerary):Air Transportation (Domestic Flight): Fly from Kathmandu – Namche Bazaar and trek to Basecamp. While returning fly directly from Everest Basecamp to Kathmandu as per itinerary (with additional cost).

Expedition Stuffs Transportation:Necessary all equipment Transportation for all Members and Staffs from Kathmandu to Lukla (by air cargo) and to Base camp (by Porters / Yak) – While returning: Base camp to Lukla (by porters / Yak) and Lukla to Kathmandu (by air cargo). Based on the condition expedition stuffs may transfer by land (KTM-Phaplu) or Heli (KTM-Lukla).
Member Luggage:Up to 60 Kg per member for personal baggage during the trek carrying by porters or Yaks.
Food and Lodging: 3 meals a day (BLD; including tea and coffee) along with accessible accommodation at Hotel/Lodge/Tea house during the trek and at the Basecamp. Well-managed base camp set up for members & Staffs.
Porter:Porters per member up to Base camp from Lukla & Porters return from Base camp to Lukla.
Base Camp Staff: Experienced and well-trained Base Camp Cook & kitchen Helpers as required.
Staff Salary and allowance:All Nepalese staffs & porter's daily wages, salary, equipment, foods & clothing.
Base Camp Tent: Each member will have individual tent in Base Camp.
Base Camp equipment: At Base camp: foam mattresses and pillow per member, 1 Dinning Tent, 1 Kitchen Tent, 1 Communication tent, 1 Toilet & 1 Shower Tent, 1 Staffs Tent, 1 Tent for Nepalese base camp staffs, Store tents, Tables & chairs & all necessary cooking gears.
Heater:Heater for base camp in each Dining and other necessary camp.
Solar/Generator/Light:1 Solar panel and Generator for lights at base camp, battery charge, for laptop and other electronic devices.
High Altitude Climbing Sherpa: 2 veteran and Government Licensed per member. (1 Member : 2 Sherpa).
Climbing Sherpa Salary & Allowance:Climbing Sherpa Salary, Equipment, Food and Clothing.
Bonus: Carry Bonus of Sherpas and Route Fixing Charges.
Oxygen Bottle (O2):Summit Oxygen cylinder: 9 oxygen bottles (4 ltrs.) for each member and 3-oxygen bottle for each high-altitude Sherpa. **
Oxygen Mask & Regulator: 1 Set of Summit Oxygen mask for each member and high-altitude Sherpa. **
Back up Oxygen Cylinder, mask and regulator (with appropriate charge)
High camp service: High Altitude Tent, Necessary cooking EPI gas, cooking pot for member, High food for member, Sherpa, all climbing and cooking crew. (C1) (C2) (C3) (C4). Group climbing gears, fixed and dynamic rope during the climbing period as required.
Rope Fixing Team: The team of experienced Sherpas will fix the route In Everest (no extra charge will be applied to members).
Satellite Phone for emergency communication carrying by Sherpa, also available for members with appropriate charge.
Walkie-Talkie: Walkie –Talkie for communicating from Base Camp to Mountain and Mountain to Base Camp.
Permit: Satellite Phone / walkie-talkie permit for all members and staffs.
Internet Service:Internet facility (1 Mbps) will be available at the Base Camp (subject to a charge).
Weather Forecast: Fresh Weather forecast report during the entire expedition.
Comprehensive Medical kit for members and staffs.

Certificate: Everest climbing certificate issued by MoCTCA (after climbing Mt. Everest successfully).

**Note : All expedition stuffs and equipment has to be return after the expedition.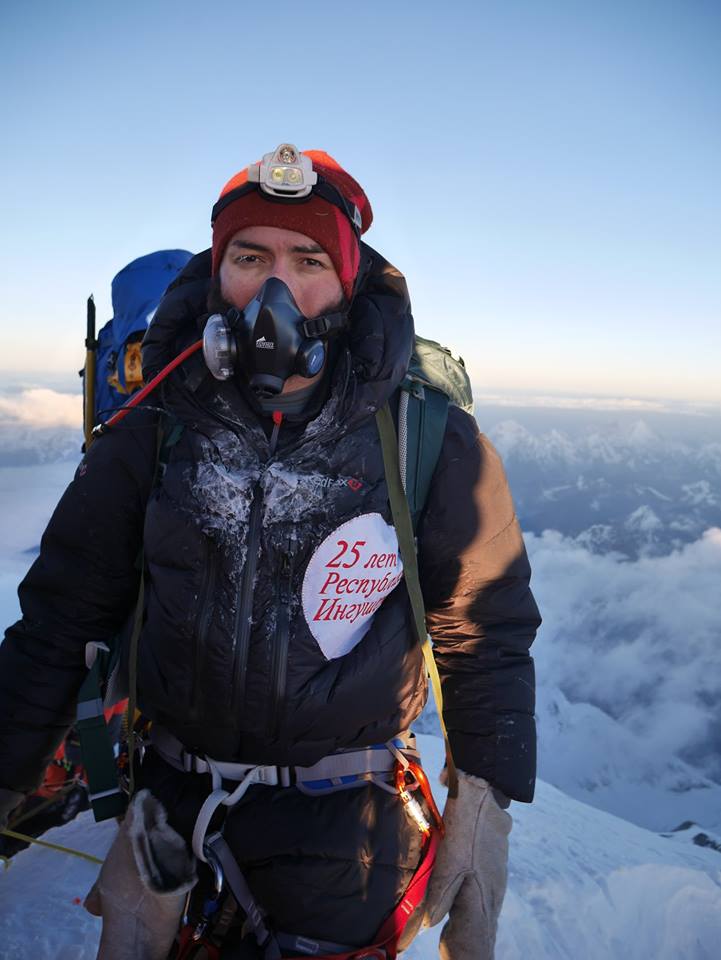 COST DOSE NOT INCLUDE
Air Fare: International flight airfare (from and to Kathmandu).
Nepal entry Visa fee: Nepali Visa fee US$ 40 per person for 30 days (to be applied for 60 days (USD$ 100).
Lunch & Dinner: Lunch & dinner in during the stay in Kathmandu (also in case of early return from Trekking / Expedition than the scheduled itinerary).
Extra night in Kathmandu: Extra nights' accommodation in Kathmandu. In case of early arrival or late departure, early return from Trekking / Expedition (due to any reason) than the scheduled itinerary.
Insurance: Travel and high-altitude insurance, accident, medical & emergency evacuation.
Rescue Evacuation: Medical Insurance and emergency rescue evacuation cost if required. (Rescue, Repatriation, Medication, Medical Tests and Hospitalization costs.)
Personal Expenses: Telephone Calls, Internet, Toiletries, battery recharge, hot shower, laundry, soft drinks, beers and any Alcoholic beverages (during the trek and in Kathmandu but we will serve soft drinks for members at the base camp).
Personal Equipment:Clothing, Packing Items or Bags, Personal Medical Kit, Personal Trekking /Climbing Gears.
Toiletries: Soaps, shampoos, toilet and tissue papers, toothpaste, and other items used to keep yourself clean.
Filming: Special Filming, Camera and Drone permit fee.
Internet Service: Not included during the trek.
Rope Fixing: The cost for using fixed rope during the expedition. (Applies to Basecamp Member).
Summit Bonus: Summit bonus for climbing Sherpa- Minimum 1500 USD. (Applies to Full Board Member).
Tips: Calculate some tips for Basecamp staffs.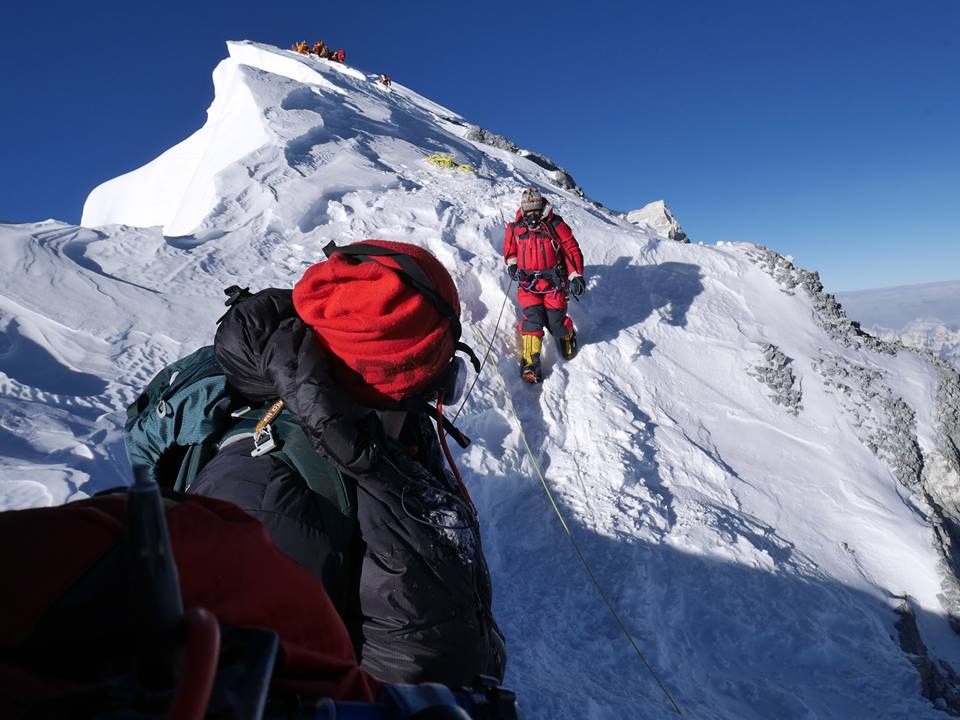 ITINERARY
Day 01: Arrival to Kathmandu & Transfer to the Hotel (1,400m)

Hotel

2

Day 02: Rest in Kathmandu, expedition briefing and Preparation

Hotel: B/ D

3

Day 03: Fly from Kathmandu – Lukla and trek to Phakding (2,800m)

Lodge: B/L/D

4

Day 04: Trek from Phakding to Namche Bazzar (3,440m)

Lodge: B/L/D

5

Day 05: Acclimatization at Namche Bazaar (rest day)

Lodge: B/L/D

6

Day 06: Trek from Namche Bazzar to Tyangboche Monastry (3,860m)

Lodge: B/L/D

7

Day 07: Trek from Tyangboche to Dingboche (4,243m)

Lodge: B/L/D

8

Day 08: Trek from Dingboche to Lobuche (4,930m)

Lodge: B/L/D

9

Day 09: Trek from Lobuche to Everest Base Camp (5,364m)

Tent: B/L/D

10-53

Day 10 – Day 53: Climbing Period [Base Camp – Everest Summit (8,848m) – Base Camp]

Tent: Full Board Service

54

Day 54: Cleaning Up Base Camp

Tent: B/L/D

55

Day 55: Trek from Base Camp to Pheriche (4,371m)

Lodge: B/L/D

56

Day 56: Trek from Pheriche to Namche Bazaar

Lodge: B/L/D

57

Day 57: Trek from Namche Bazaar to Lukla

Lodge: B/L/D

58

Day 58: Fly from Lukla to Kathmandu & transfer to Hotel

Hotel: B

59

Day 59: Leisure day in Kathmandu City

Hotel: B

60

Day 60: Transfer to International Airport for final departure

Breakfast
B= Breakfast, L= Lunch and D= Dinner.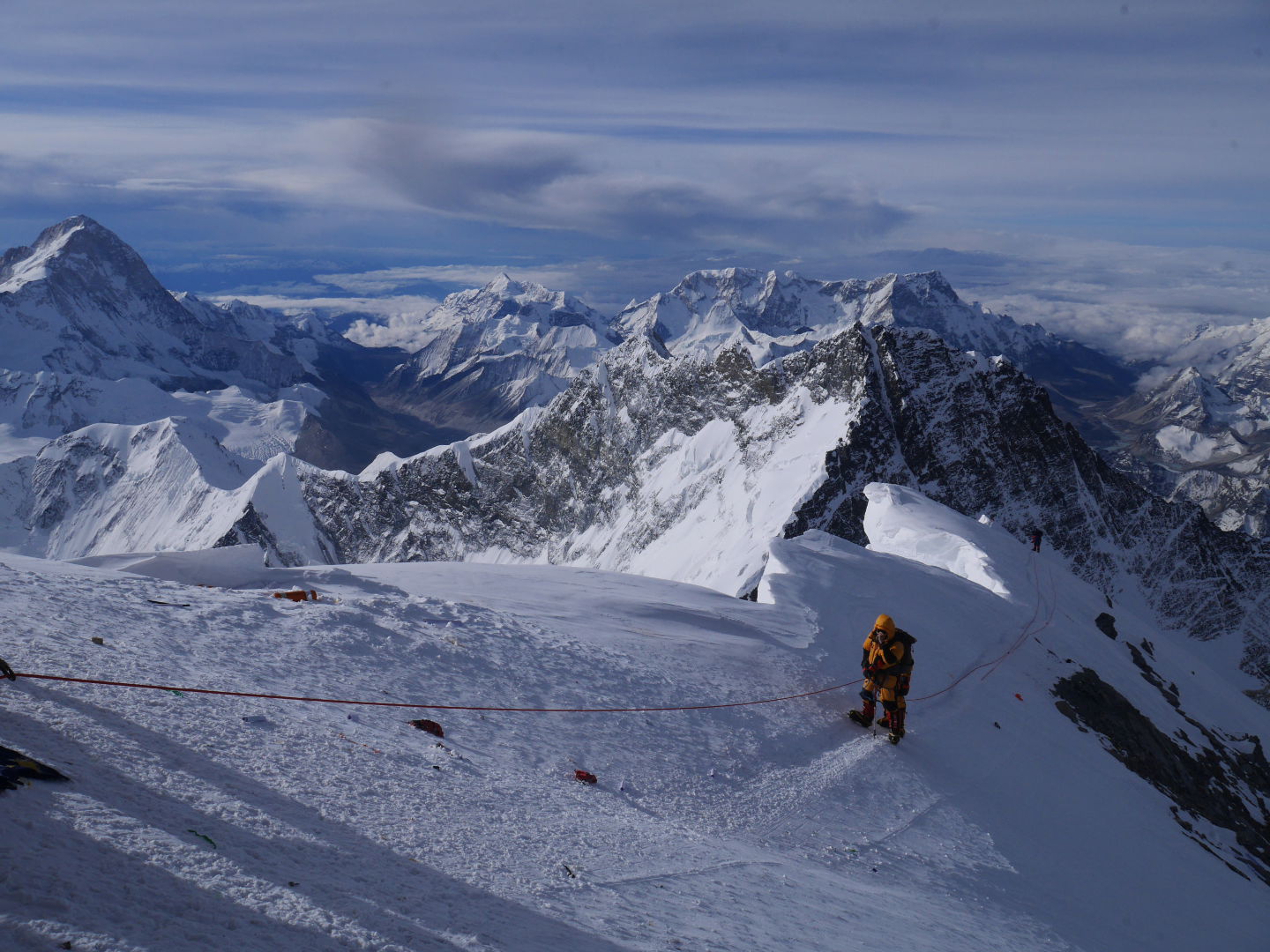 EQUIPMENT LIST, WHAT TO TAKE
Тravel Documents
Valid Passport ¨ Credit Cards ¨ Pp Size Photo (4 Pieces) ¨ Insurance Paper And Contact Address. ¨ Family Members / Company's Contact Address
F

oot Wear
¨ Kailas / Lasportiva / Millet (Summit Shoe) ¨ Normal Socks (5-6 Pairs) ¨ Summit Socks (2 Pairs) ¨ Trekking Shoes (1 Pair) ¨ Camp Booties (1 Pair) ¨ Basecamp Slipper (1 Pair)
Upper Body
¨ Light Weight Top / Thermo Coat (2-3 Layers) ¨ Mid Weight Top (2-3 Layers) ¨ Heavy Weight Top (2 Layers) ¨ Fleece Jacket (1) ¨ Gore Text Jacket (1) ¨ Down Jacket (1) ¨ Wind Proof Jacket ¨ Cotton T-Shirt For Base Camp. (2-3)
Lower Body
¨ Light Weight Long Under Pants (2-3 Pairs) ¨ Under Wear (5-7 Pairs) ¨ Mid Weight Long Under Pants (2-3 Pairs) ¨ Heavy Weight Long Under Wear ¨ Gore Text Pant. (1) ¨ Down Pants. (1) ¨ Water Proof Pant. (1)
Head
¨ Sun Cap ¨ Desert Cap ¨ Balaclava ¨ Fleece Hat ¨ Neck Gaiter (2-3)
Hands
¨ Thin Fleece Gloves (2 Pairs) ¨ Wind Stopper Fleece Gloves ¨ Heavy Gloves (Mitten) ¨ Summit Gloves
Sleeping Bags
¨ Sleeping Bag - 20 Degree Celsius (For Base Camp) ¨ Down Sleeping Bag - 20 To -40 Degree Celsius (Extreme Comfort) ¨ Thermarest Mattress (Cell Foam) ¨ Thermarest Mattress (Inflatable)
Climbing Equipment
¨ Climbing Helmet ¨ Down Suit (Kailas / Marmot / Mountain Hardware / North Face / Millet ) ¨ Crampons (Fit with Boot) ¨ Ice Axe ¨ Harness ¨ Atc Guide ¨ Jummer / Ascender ¨ Lock Carabiner (3) ¨ Unlock Carabiner (3) ¨ Tape Slings (2) ¨ Prusik Loops (1) ¨ Snow Goggle ¨ Head Light (4 Pairs Rechargeable Batteries Recommended) ¨ Satellite Phone ¨ ¨ Hand Warmer (If Possible) Bag Packs ¨ Rucksacks 45L - 55L ¨ Duffle Bag 90 L -120 L (2 Pieces) ¨ Water Proof Stuff Sacks Large (2 Pieces) ¨ Water Proof Stuff Sacks Small (2 Pieces) Sun Stuffs ¨ Banana Boat/ Nivea Sun Cream -50 (Spf) ¨ Lip Guard -20 / -50 (Spf) ¨ Sun Glasses (Uv Protection) ¨ Glaciers Glasses (Uv Protection)
Toiletries
¨ Hand Disinfectant ¨ Wet Tissue ¨ Toothpaste ¨ Toothbrush ¨ Soap ¨ Shampoo ¨ Garbage Bag
Eating & Drinking
¨ Water Bottle (2) ¨ Thermos ¨ Mug ¨ Spoon/ Fork ¨
Bowl Medical ¨ Brufen / Ibuprofens ¨ Antibiotic ¨ Diamox ¨ Paracetamol ¨ Handy Plaster ¨ Crack Bandage ¨ Tincture Iodine Miscellaneous
¨ Walking Stick ¨
Pocket Knife (Swiss)
¨ Umbrella / Rain Coat