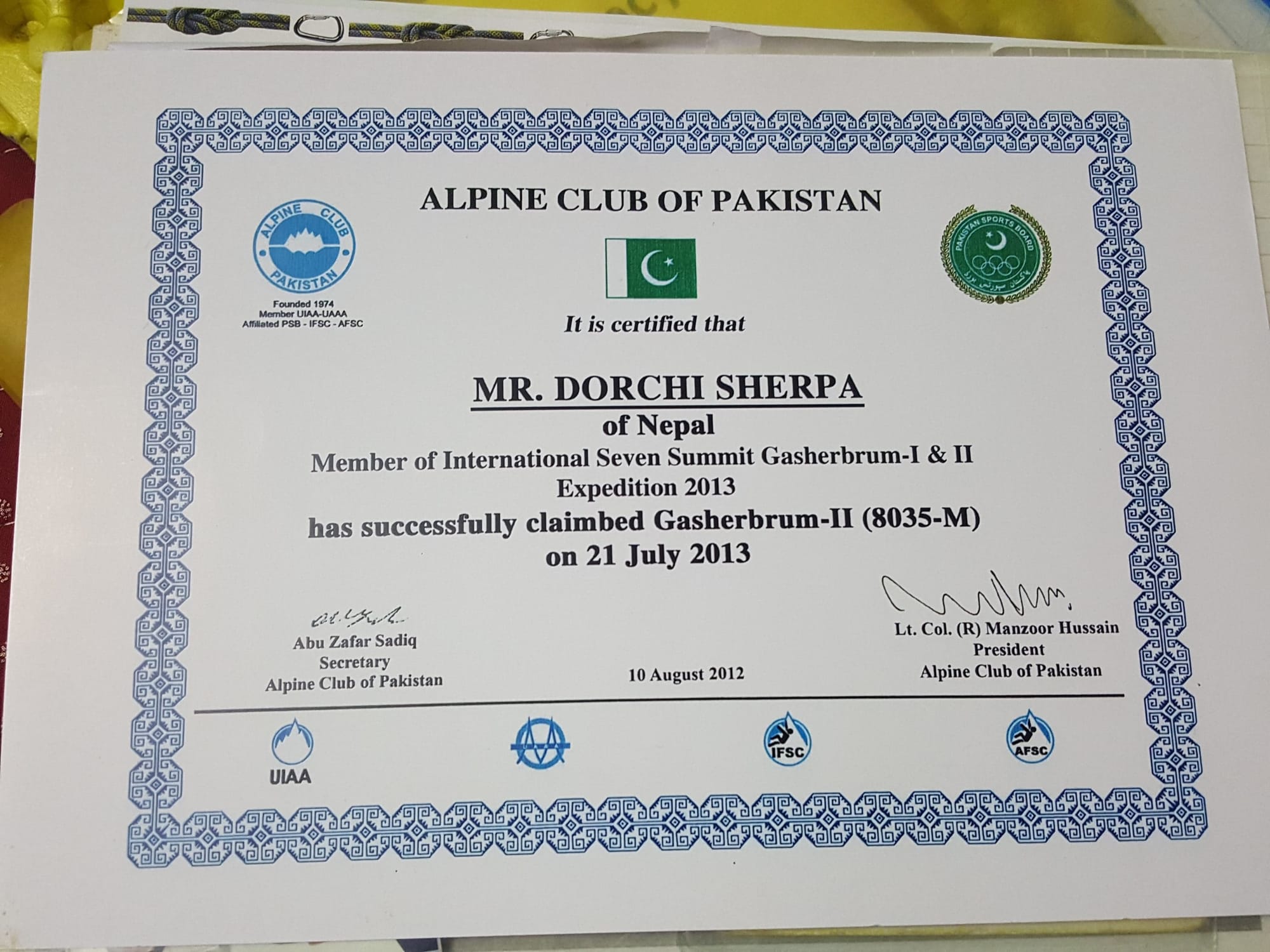 GASHERBRUM2 – 8035 INTERNATIONAL EXPEDITION
25 JUNE- 5 AUGUST 2019
FULL BOARD SERVICE UP TO SUMMIT 18000$
THE COST INCLUDES:
TRANSPORTATION SHEET:-
 Air port picks & drops Islamabad – Skardu.
 Both way airfare between Islamabad – Skardu – Islamabad.
 Transportation for briefing & de-briefing.
 4x4 Toyotas & Jeep for Skardu – Askoli – Hushe – Skardu.
Note:- SK will arrange two times flight supplement for our clients between Islamabad – Skardu:
I. Arrive Islamabad airport and transfer to Hotel for some rest and return to Islamabad
airport for Skardu flight.
II. In case flight cancels due to weather then we will have another day confirmed ticket where
we can fly again for Skardu.
ACCOMMODATIONS:-
 2 night in Islamabad twin sharing with bed & breakfast.
 2 nights in Chilas twin sharing with bed- breakfast- lunch – dinner.
 4nights inSkardu twinsharingwithbed–breakfast – lunch –dinner.
Summit Karakoram Hotels as under:-
I. Islamabad City: Envoy Hotel/Best Western
II. Chilas City: Panorama INN / Shangrila Hotel.
III. Skardu City: PTDC Motel / Masherbrum Hotel.
GOVERNMENT TAXES & FEES:-
 G1 & G2 climbing permitfee.
 CKNP (Central Karakoram National Park fee).
 Liaison officer daily allowance & kit allowance.
 Road taxes
 Bridge crossing & campingfees.
 Local guide, cook and other staff insurance.
 Population fees.
 Documentation fees.
 Documentation with Gilgit Baltistan Council in Islamabad.
 Corresponding with tourism department for permit process.
 International air tickets reconfirmation, assistance in visa support letter.
HIGHT ALTITUDE SERVICE
TENTS IN C1, C2, C3
HIGHT ALTITUDE MEALS
HIGHT ALTITUDE GAS
FIXED ROPE
LOW ALTITUDE PORTERS:-
 Low porters carry expedition and trekking foods, camping equipment and group luggage.
 Porter's costs are inclusive of their insurance, wages, food, equipment, kerosene oil, tarpaulin, and
cooking stove.
 Porter Sirdar's for way up and for way down.
 Way up from Askoli – Gasherbrum base camp 75kg allow in our services.
 Way down from Gasherbrum base – Askoli-Hushe 50kg allow in our services.
MAKALU EXTREME STAFF:-
We have well experienced, professional English speaking guides who lead groups from Islamabad
to Karakoram, Himalayas and Mountain valleys, as per group size SK allocate number of staff i.e.
Main guide and assistants' guides as well. Kitchen crew We have well trained and experienced
professional cooks and assistants, we assure you to allocate professional kitchen staff. We would
like to inform you that our experienced chefs provide local and continental dishes in camps. We
have included Staff wages; food, insurance and medical kit etc.
Guide form Islamabad to base camp, cook and assistant cook. with their Daily wages, foods, kits,
insurance, and accommodation in Skardu or Islamabad,
1 EXPERIENCE CLIMBING SHERPA GUIDE FOR EACH 1 MEMBER
 1 Local English speaking guide included in our services.
 1 local experience cook included in our services.
 1 kitchen helper willprovide.
 1 waiter will provide.
 1 local porter sardar for way up & down will provide.
FOODS:-
Chinese, Pakistani, Continental and Italian foods and different kind of soups, will serve at
breakfast, lunch and dinner. There will be desert, salads and sometime Bar B queue at base camp.
Coffee, green tea, Black tea and Pakistani tea will available all time at Dinning tent in base camp.
Fresh fruit will serve during trek and base camp. Soft drinks like Coca Cola will also serve at base
camp. Mutton and chicken will serve at trekking and on the base camp mutton and Beef will be
provided.
Regarding these mention food items, SK has special arrangements to supply fresh meat and
vegetables to the base camp time to time besides tin foods/fruits when the duration of Expedition
is for longer period.
One zoo will provide on K2 base camp.
KITCHEN EQUIPMENTS:-
 Cooking stove.
 Lamp for light duringtrekking.
 Kitchen utensil.
 Chair Table.
 Kitchen Crockery
CAMPING EQUIPMENTS:-
 North face/ black beard Member trekking and base camp trek one for each inside of tent foam and
underlay.
 Kitchen tent.
 Store tent.
 Hot shower tent.
 Toilet tent.
 Dining tent inside tent at B.C foam and carpet will be provided.
 Assistance for reconfirmation of international flight tickets.
 Electric generator or solar system at base camp.
 Heating system in mess tent at basecamp.
 Bamboo stick will provide as per requirements.
 One Zoo/Yak will provide on Gasherbrum base camp.
SERVICE NOT INCLUDED IN OUR PACKAGE:-
 Member international flighttickets.
 Helicopter emergency rescue fee. (refundable after deduction of Service Charge $300/- by Askari Aviation
ifnotuse) advancedepositU$D15000/-
Personal climbing equipment
 Room service gratuities for personal services.
 Custom clearing charges, import and export of equipments.
 Staff tip/bonus not included in our given offer.
TERMS & CONDITION
 Flight of northern area is subject to weather conditions, in case of flight cancellation/ non
availability of seat surface then we will provide you air condition car/mini bus/ coaster.
 In case your baggage lost/damage while travelling to any airline then SK will provide
assistance for collecting and we will charge their expense. The lost/ baggage entirely
members responsibility.
 We are providing accommodation in Islamabad based on 4* such like Envoy Hotel, Best
western I.e.
 Chilas City Panorama / Shangrilla Hotel.
 Skardu City PTDC / Masherbrum Hotel.
 In case of not availability of rooms in above Hotels then we will provide you any other
equal standard Hotel.
 We are providing twin rooms as per sharing basis, single room will be providing for those
who haven't other participants to share with.
 Expedition program we have quoted as same route.
 Any unforeseen such like road block then SK will charge according to normal price.
 Trekking/ Climbing member will go and come in one group if any member spilt during the
period then their extra expenses will be made separately.
 Clients are requested to kindly read our term and condition
Note: Privacy, Once you are collecting any details information regarding of your trip from us,
where shall contain certain things. It is strongly requested to you that shouldn't disclose for any
other purpose please.
We hope your climbing / Trekking trip will be pleasant with Makalu Extreme Treks Expeditions Team
ITINERARY
1 Arrive Islamabad international airport & transfer to Hotel Hotel
2 Fly to Skardu via PK451 or drive from Islamabad – Chilas Hotel
3 Skardu sightseeing Or Drive from Chilas – Skardu Hotel
4 Skardu briefing in Ministry of Tourism Hotel
5 Drive from Skardu – Askoli Camping
6 Trek from Askoli – Jhola Camping
7 Trek from Jhola – Paju Camping
8 Paju rest and acclimatization day Camping
9 Trek from Paju – Urdukas Camping
10 Trek from Urdukas – Goro II Camping
11 Trek from Goro II – Concordia Camping
12 Trek from Concordia – Shaqring Base Camp Camping
13 Shaqring Base Camp – Gasherbrum 1-2 Base Camp Camping
14 CLIMBING PERIOD Camping
52 Trek down from G1 –G2 base camp – Goro II Camping
53 Trek down from Goro II – Khobursay Camping
54 Trek down from Khobursay – Bardumal Camping
55 Trek down from Bardumal – Askoli Camping
56 Drive from Askoli – Skardu Hotel
57 Skardu de-briefing & farewell dinner Hotel
58 Fly to Islamabad via PK452 or drive from Skardu – Chilas Hotel
59 Islamabad sightseeing or drive from Chilas – Islamabad Hotel
60 Fly out to your own destination (END OF OUR SERVICE) FLY OUT