INTERNATIONAL MT LHOTSE 8516 EXPEDITION
FIXED DEPARTURE 10 SEPTEMBER-25 OCTOBER 2020 +15 MEMBERS ALREADY IN GROUP
10 APRIL-1 ST JUNE 2021 +2 MEMBERS ALREADY IN GROUP
fULL BOARD SERVICE COST UP TO SUMMIT 19000$ PER PERSON
VIP SERVICE 33000$
BASE CAMP SERVISE COST 8500$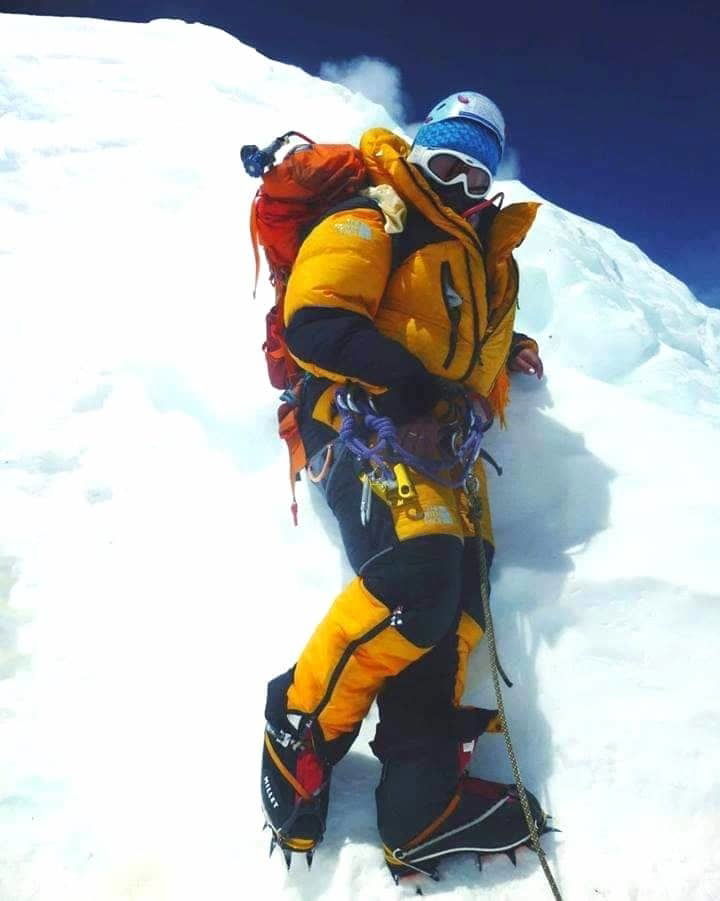 TRIP INTRODUCTION
Lhotse stands at 8516 M, making it the fourth highest mountain in the world. It is situated at the border of Tibet and Nepal. Its long east-west crest is located immediately south of Mount Everest, and the South Col, a vertical ridge that never drops below 8,000m, connects the summits of the two mountains. Lhotse has three summits: Lhotse Main 8516m, Lhotse Shar 8383m and Lhotse Middle or East 8413m.Sometimes mistakenly Lhotse has been identified as the south peak of the Everest massif. No serious attention was given to climbing Lhotse until Everest had finally been ascended. Lhotse first climbed in 1956 as an alternative route towards the summit of Everest.
Ernst Reiss and Fritz Luchsinger who were part of a Swiss expedition first climbed Main Lhotse in 1956. Sepp Mayerl and Rolf Walter first climbed Lhotse Shar on December 5, 1979 by taking the SE-ridge.
A deep scar, an icy gully known as the Lhotse Couloir, marks The West Face of Lhotse; the couloir is the crucial test to the Lhotse climb, mainly because the climbing conditions of the couloir are affected by weather and seasonal snowfall.The route progresses through Khumbu icefall. Moving further, we will reach Camp 1 that exists at the top of Khumbu icefall that is surrounded with crevasses. From Camp 1, we will pass through lateral moraine to west ridge that greets us with close-up view of Lhotse. This place is perfect for Camp2. Leaving Camp2, we will reach near to Lhotse wall by crossing glacier and ice cliffs where we will set Camp3. Camp4 is located near to South Col. From Camp 4, we will proceed through steep rock sections to the summit.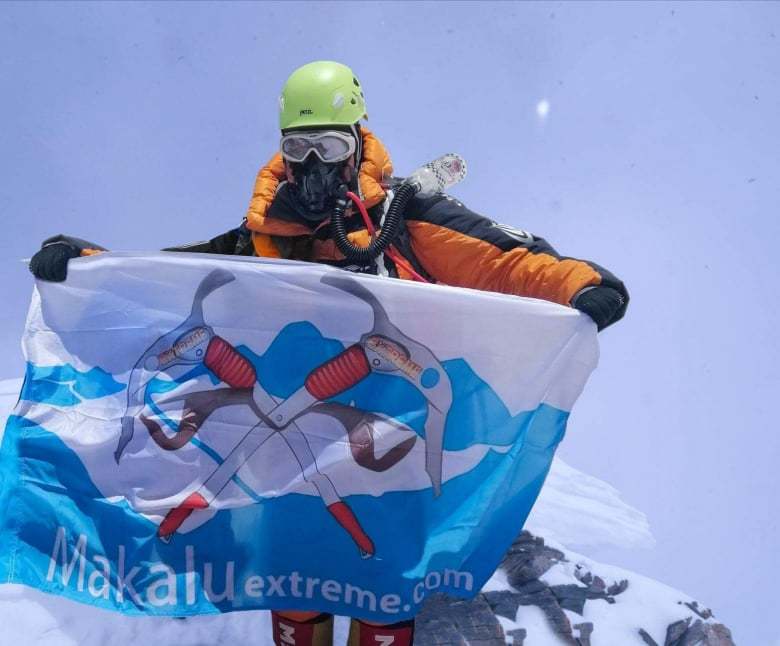 Consider Climbing Lobuche for Extra Acclimatization
For people with a sufficient time frame, an excursion to nearby Lobuche Peak, 6119m, is a great way to ensure you are well acclimatized before you start the Lhotse Expedition.
EQUIPMENT LIST, WHAT TO TAKE
Travel Documents
Valid Passport ¨ Credit Cards ¨ Pp Size Photo (4 Pieces) ¨ Insurance Paper And Contact Address. ¨ Family Members / Company's Contact Address
Foot Wear
¨ Kailas / Lasportiva / Millet (Summit Shoe) ¨ Normal Socks (5-6 Pairs) ¨ Summit Socks (2 Pairs) ¨ Trekking Shoes (1 Pair) ¨ Camp Booties (1 Pair) ¨ Basecamp Slipper (1 Pair)
Upper Body
¨ Light Weight Top / Thermo Coat (2-3 Layers) ¨ Mid Weight Top (2-3 Layers) ¨ Heavy Weight Top (2 Layers) ¨ Fleece Jacket (1) ¨ Gore Text Jacket (1) ¨ Down Jacket (1) ¨ Wind Proof Jacket ¨ Cotton T-Shirt For Base Camp. (2-3)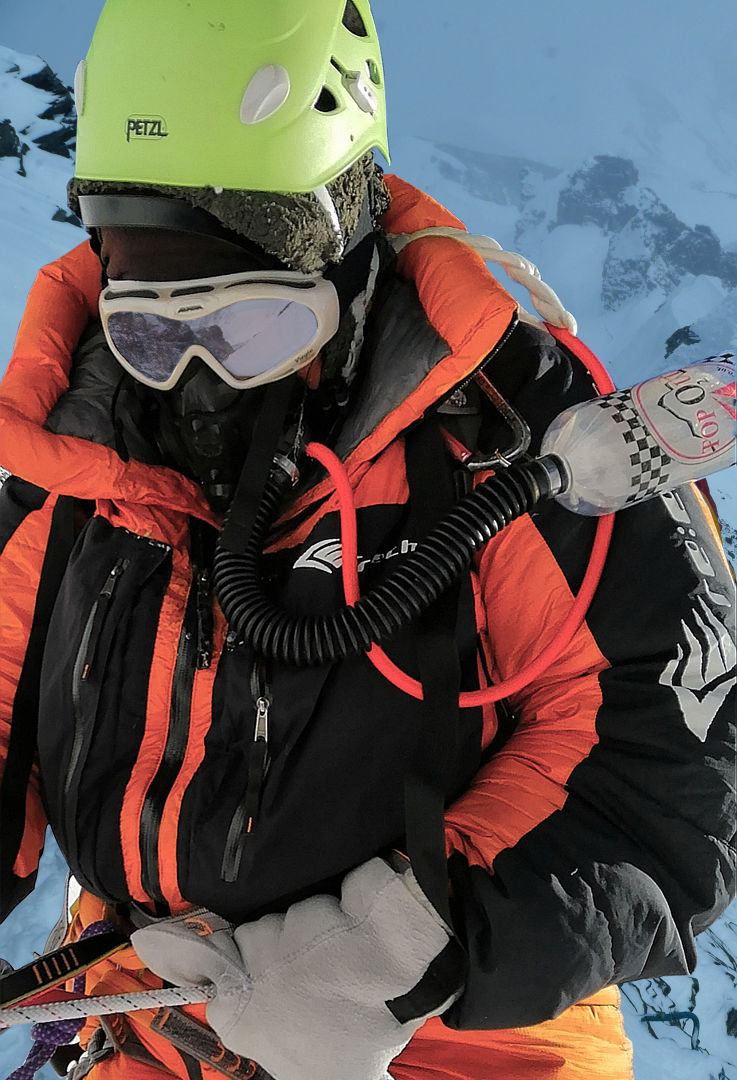 Lower Body
¨ Light Weight Long Under Pants (2-3 Pairs) ¨ Under Wear (5-7 Pairs) ¨ Mid Weight Long Under Pants (2-3 Pairs) ¨ Heavy Weight Long Under Wear ¨ Gore Text Pant. (1) ¨ Down Pants. (1) ¨ Water Proof Pant. (1)
Head
¨ Sun Cap ¨ Desert Cap ¨ Balaclava ¨ Fleece Hat ¨ Neck Gaiter (2-3)
Hands
¨ Thin Fleece Gloves (2 Pairs) ¨ Wind Stopper Fleece Gloves ¨ Heavy Gloves (Mitten) ¨ Summit Gloves
Sleeping Bags
¨ Sleeping Bag - 20 Degree Celsius (For Base Camp) ¨ Down Sleeping Bag - 20 To -40 Degree Celsius (Extreme Comfort) ¨ Thermarest Mattress (Cell Foam) ¨ Thermarest Mattress (Inflatable)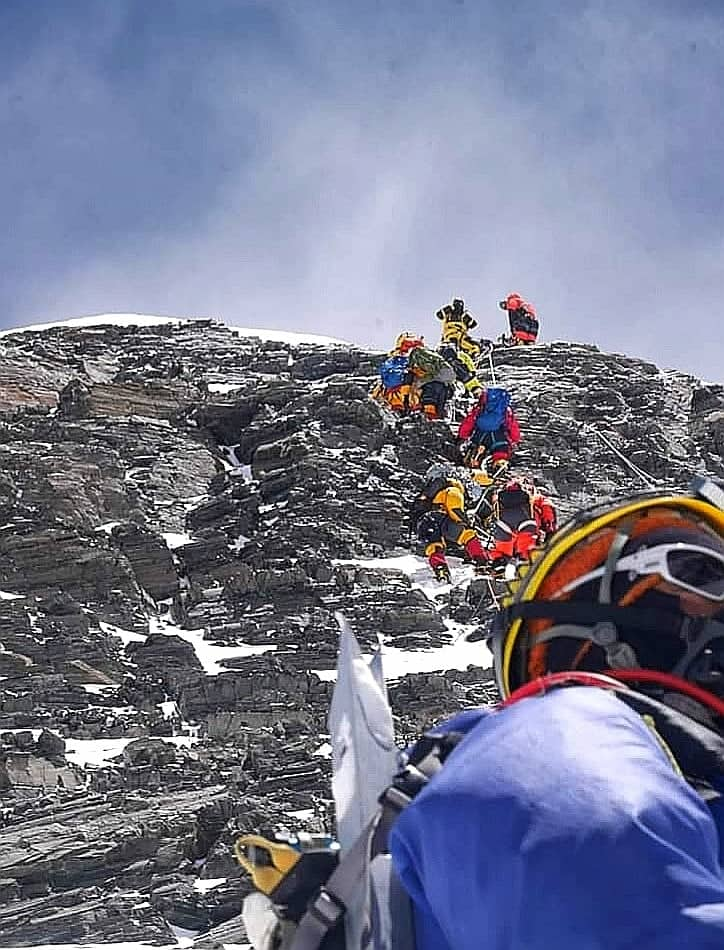 Climbing Equipment
¨ Climbing Helmet ¨ Down Suit (Kailas / Marmot / Mountain Hardware / North Face / Millet ) ¨ Crampons (Fit with Boot) ¨ Ice Axe ¨ Harness ¨ Atc Guide ¨ Jummer / Ascender ¨ Lock Carabiner (3) ¨ Unlock Carabiner (3) ¨ Tape Slings (2) ¨ Prusik Loops (1) ¨ Snow Goggle ¨ Head Light (4 Pairs Rechargeable Batteries Recommended) ¨ Satellite Phone ¨ ¨ Hand Warmer (If Possible) Bag Packs ¨ Rucksacks 45L - 55L ¨ Duffle Bag 90 L -120 L (2 Pieces) ¨ Water Proof Stuff Sacks Large (2 Pieces) ¨ Water Proof Stuff Sacks Small (2 Pieces) Sun Stuffs ¨ Banana Boat/ Nivea Sun Cream -50 (Spf) ¨ Lip Guard -20 / -50 (Spf) ¨ Sun Glasses (Uv Protection) ¨ Glaciers Glasses (Uv Protection)
Toiletries
¨ Hand Disinfectant ¨ Wet Tissue ¨ Toothpaste ¨ Toothbrush ¨ Soap ¨ Shampoo ¨ Garbage Bag
Eating & Drinking
¨ Water Bottle (2) ¨ Thermos ¨ Mug ¨ Spoon/ Fork ¨
Bowl Medical ¨ Brufen / Ibuprofens ¨ Antibiotic ¨ Diamox ¨ Paracetamol ¨ Handy Plaster ¨ Crack Bandage ¨ Tincture Iodine Miscellaneous
¨ Walking Stick ¨
Pocket Knife (Swiss)
¨ Umbrella / Rain Coat
COST INCLUDES
Arrival and Departure: Airport - Hotel transfer – Airport (Pick Up and Drop).
Hotel Accommodation in Kathmandu: 4 nights hotel in Kathmandu (3-star category) on bed & breakfast Sharing Basis (Twin Bed Room).
Permit: Expedition Royalty and permit of Nepal Government to climb Mt. Lhotse, Sagarmatha National Park permit, TIMS CARD & Pasang Lhamu Rural Municipality entry Permit and its fee.
Khumbu Ice Fall Climbingcharge to (SPCC) Sagarmatha Pollution Control Committee.
Liaison Officer:1 Government Liaison officer with full equipment ($2,500), salary and accommodation.
Garbage Management:Stool Shipment Transfer & Garbage Deposit fees.
Insurance:Medical & Emergency rescue Insurance for all involved Nepalese staffs during the trek and expedition.
Member transportation:

(*Standard Route Itinerary):(Domestic Flight) Fly from Kathmandu – Lukla and while returning Lukla - Kathmandu, as per itinerary.
(*Heli Itinerary):Air Transportation (Domestic Flight): Fly from Kathmandu – Namche Bazaar and trek to Basecamp. While returning fly directly from Everest Basecamp to Kathmandu as per itinerary (with additional cost).

Expedition Stuffs Transportation:Necessary all equipment Transportation for all Members and Staffs from Kathmandu to Lukla (by air cargo) and to Base camp (by Porters / Yak) – While returning: Base camp to Lukla (by porters / Yak) and Lukla to Kathmandu (by air cargo). Based on the condition expedition stuffs may transfer by land (KTM-Phaplu) or Heli (KTM-Lukla).
Member Luggage:Up to 30 Kg per member for personal baggage during the trek carrying by porters or Yaks.
Food and Lodging: 3 meals a day (BLD; including tea and coffee) along with accessible accommodation at Hotel/Lodge/Tea house/during the trek and at Basecamp. Well-managed base camp set up for member & Staffs.
Base Camp Staff: Experienced and well-trained Base Camp Cook & kitchen Helpers as required.
Staff Salary and allowance:All Nepalese staffs & porter's daily wages, salary, equipment, foods & clothing.
Base Camp Tent: Each member will have individual tent in Base Camp.
Base Camp equipment: At Base camp: foam mattresses per member, 1 Dinning Tent, 1 Kitchen Tent, 1 Communication tent, 1 Toilet & 1 Shower Tent, Staffs Tent, , Store tents, Tables & chairs & all necessary cooking gears.
Heater:Heater for base camp in each Dining and other necessary camp.
Solar/Generator/Light:1 Solar panel and Generator for lights at base camp, battery charge, for laptop and other electronic devices.
High Altitude Climbing Sherpa: 1 veteran and Government Licensed per member. (1 Member : 1 Sherpa).
Climbing Sherpa Salary & Allowance:Climbing Sherpa Salary, Equipment, Food And Clothing.
Bonus: Carry Bonus of Sherpas and Route Fixing Charges.


Oxygen Bottle (O2):Summit Oxygen cylinder: 3 oxygen bottles (4 ltrs.) for each member and 2-oxygen bottle for each high-altitude Sherpa. **
Oxygen Mask & Regulator: 1 Set of Summit Oxygen mask for each member and high-altitude Sherpa. **
Back up Oxygen Cylinder, mask and regulator (with appropriate charge).
Gamow Bag: 1 Rescue sled (Gamow bag) for emergency.
High camp service: High Altitude Tent, Necessary cooking EPI gas, cooking pot for member, High food for member, Sherpa, all climbing and cooking crew. (C1) (C2) (C3) (C4). Group climbing gears, fixed and dynamic rope during the climbing period as required.
Rope Fixing Team: The team of experienced Sherpas will fix the route on Lhotse (no extra charge will be applied to members).
Satellite Phone for emergency communication carrying by Sherpa, also available for members with appropriate charge.
Walkie-Talkie: Walkie –Talkie for communicating from Base Camp to Mountain and Mountain to Base Camp.
Permit: Satellite Phone / walkie-talkie permit for all members and staffs.
Internet Service:Internet facility (1 Mbps) will be available at the Base Camp (subject to a charge).
Weather Forecast: Weather forecast report during the entire expedition.
Comprehensive Medical kit for members and staffs.
Certificate: Lhotse climbing certificate issued by MoCTCA (after climbing Mt. Lhotse successfully).
**Note : All expedition stuffs and equipment has to be return after the expedition.
COST DOSE NOT INCLUDES
International airfare from / to your country
Nepal entry visa fee (can be obtained at the airport upon arrival)
Lunch and dinner in Kathmandu- around 200$
Hotel after 4 night stay in Kathmandu.
Personal climbing gear and equipment
Personal climbing insurance such as, accident, medical, emergency evacuation and lost luggage
Expenses of personal nature such as drinks, laundry, postage, telephone etc.
Summit bonus for climbing Sherpa-1500$
BASE CAMP SERVICE
8500$ PER PERSON
PRICE INCLUDES
Arrival & Departure : Airport transfers-Airport/Hotel/Airport
Hotel In Kathmandu : 4 nights in Katmandu 4 star Hotel on bed & breakfast Basis-Double Room
Transportation: Necessary Transportation From Kathmandu-Base Camp-Kathmandu for all Member and Staffs
Permit : Lhoste expedition permit ,ice fall Route ,Summit Route Fixing fee, National park & TIMS permit.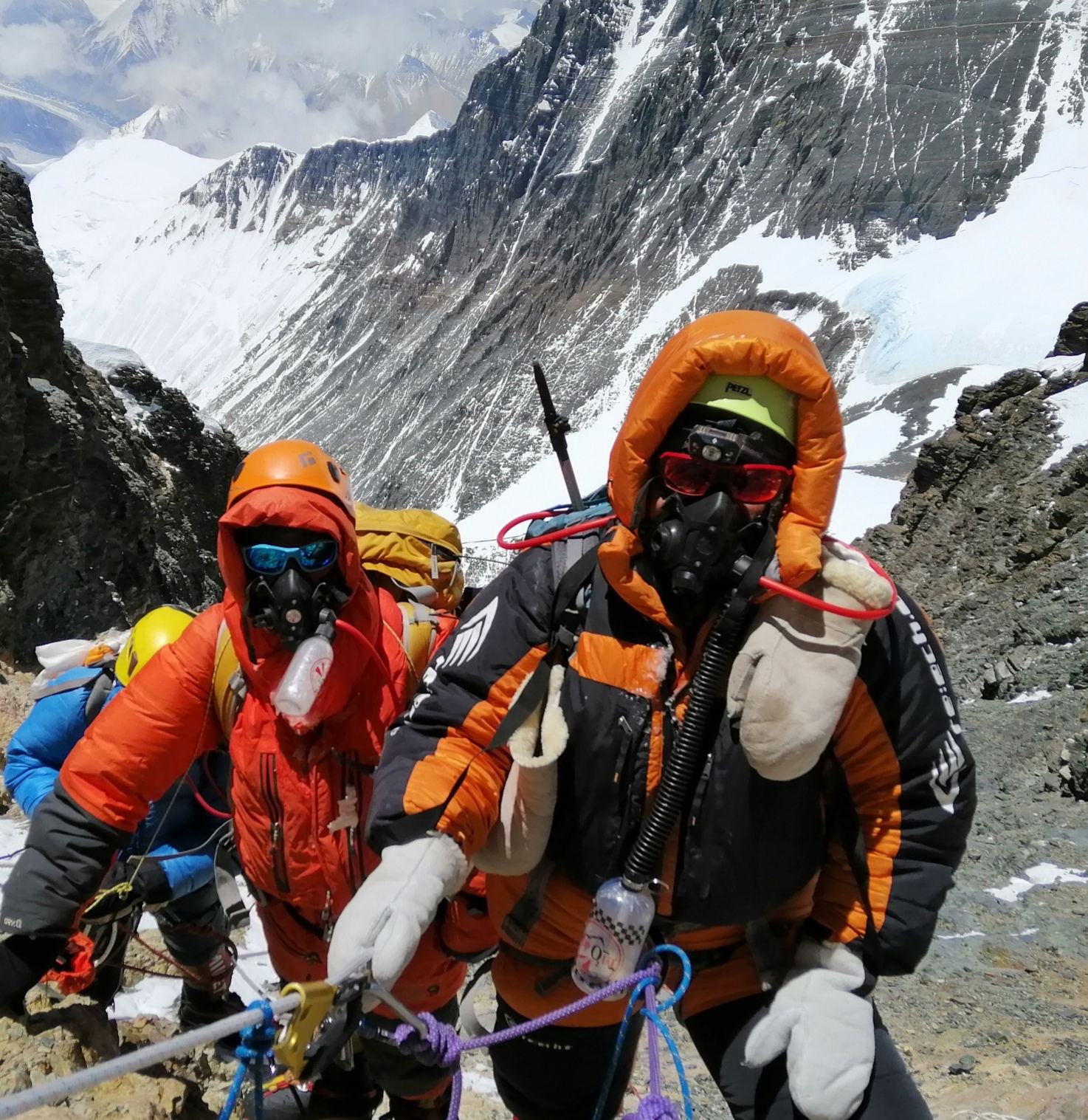 Garbage Management :Stool Shipment Transfer & Garbage Deposit fees
Lodging & Fooding : Food 3 meals a day in Trekking & Base camp for member & Staffs
Liaison Officer : 1 Government Liaison officer with full equipment, salary ,accommodation .
Base Camp Staff : Base camp Cook & kitchen Helper
Porter : Porters per member up to Base camp & Porters return from Base camp
Staff Salary and allowance : All Nepali staffs & porters daily wages, equipment, food & clothing
Insurance : All Staffs Medical & Emergency rescue Insurance
Member Luggage :30 Kg per member for personal baggage
Base Tent : VE25 North face or Kailas tents for base camp for per member
Base Base equipment : Base camp foam mattresses, dinning, Kitchen, Toilet & Store tents, hot shower, Tables & chairs & Cooking gears
Heater : Heater for base camp in each Dining and other necessary camp
Light : 1 Solar panel for battery charge and light at base camp for use.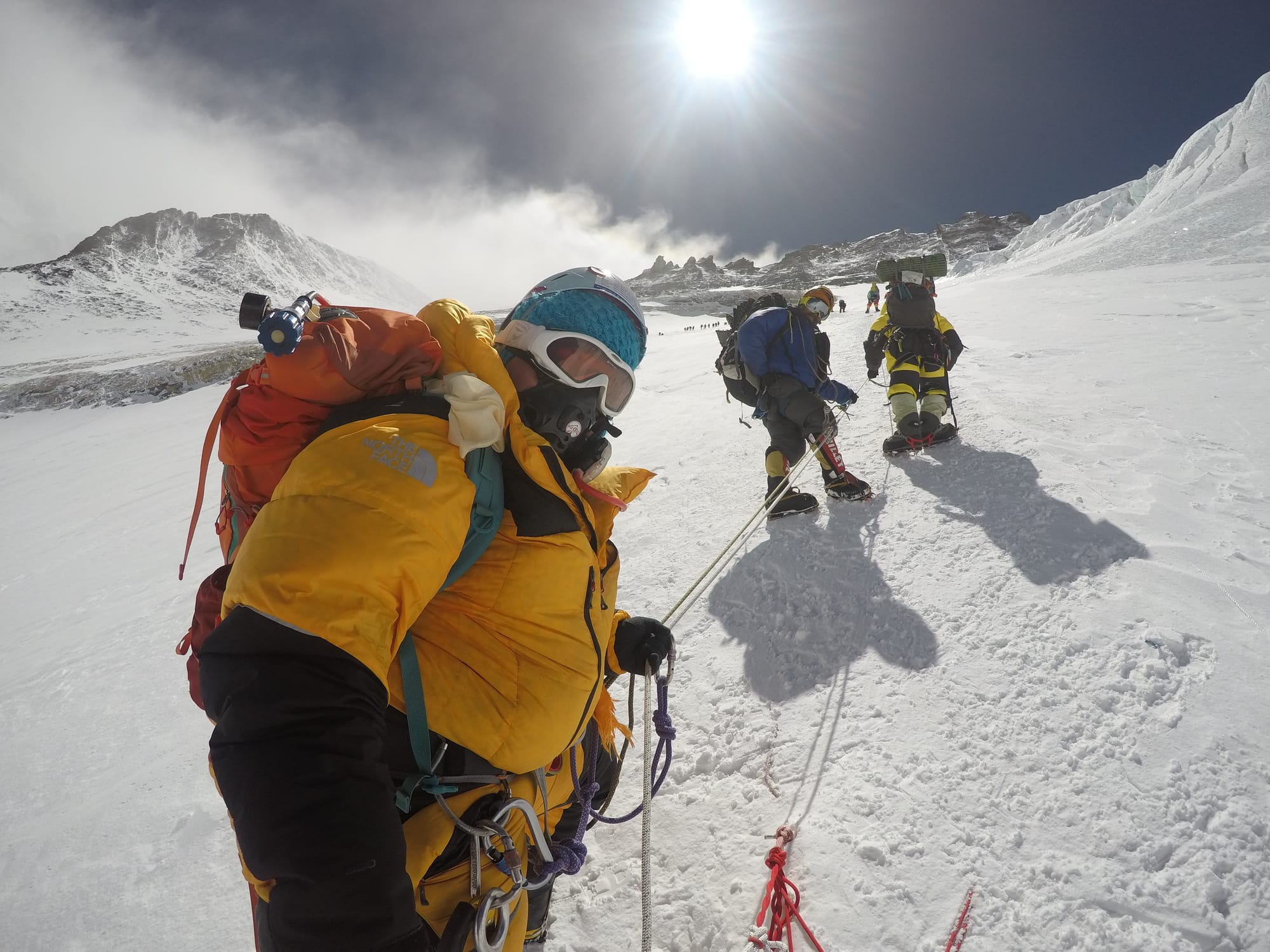 PRICE NOT INCLUDES
All meals and gears above BC
Lunch & Dinner: Lunch & dinner in Katmandu Hotel stay and more the 4 nights in Kathmandu Hotel
Insurance : Travel and high altitude insurance ,accident, medical & emergency evacuation
Personal Expenses: Telephone, Internet, Laundry, any Alcoholic beverages, personal equipment and shopping
Nepal's Visa: Nepali Visa fee US$ 40 per person for 30 days ( to be applied for 100 days US$ 100)
Tips
Extra porter: If Extra porter needed more then calculate US$ 120 for extra porter up to Base Camp per 30 kg
Rescue Evacuation : Emergency rescue evacuation cost, if needed and all natural personal expenses
ITINERARY LHOTSE 8516 EXPEDITION 2020
| | | |
| --- | --- | --- |
| Days | Itinerary | Remarks |
| 1 | Day 01: Arrival to Kathmandu & Transfer to the Hotel (1,400m) | Hotel : BB Plan |
| 2 | Day 02: Rest in Kathmandu, expedition briefing and Preparation | Hotel: B/ D |
| 3 | Day 03: Fly from Kathmandu – Lukla and trek to Phakding (2,800m) | Lodge: B/L/D |
| 4 | Day 04: Trek from Phakding to Namche Bazzar (3,440m) | Lodge: B/L/D |
| 5 | Day 05: Acclimatization at Namche Bazaar (rest day) | Lodge: B/L/D |
| 6 | Day 06: Trek from Namche Bazzar to Tyangboche Monastry (3,860m) | Lodge: B/L/D |
| 7 | Day 07: Trek from Tyangboche to Dingboche (4,243m) | Lodge: B/L/D |
| 8 | Day 08: Trek from Dingboche to Lobuche (4,930m) | Lodge: B/L/D |
| 9 | Day 09: Trek from Lobuche to Everest Base Camp (5,364m) | Tent: B/L/D |
| 10-50 | Day 10 – Day 50: Climbing Period [Base Camp – Lhotse Summit (8,516m) – Base Camp] | Tent: Full Board Service |
| 51 | Day 51: Cleaning Up Base Camp | Tent: B/L/D |
| 52 | Day 52: Trek from Base Camp to Pheriche (4,371m) | Lodge: B/L/D |
| 53 | Day 53:Trek from Pheriche to Namche Bazaar | Lodge: B/L/D |
| 54 | Day 54: Trek from Namche Bazaar to Lukla | Lodge: B/L/D |
| 55 | Day 55: Fly from Lukla to Kathmandu & transfer to Hotel | Hotel: B/L |
| 56 | Day 56: Leisure day in Kathmandu City | Hotel: B |
| 57 | Day 57: Transfer to International Airport for final departure | Hotel: B |
B= Breakfast, L= Lunch and D= Dinner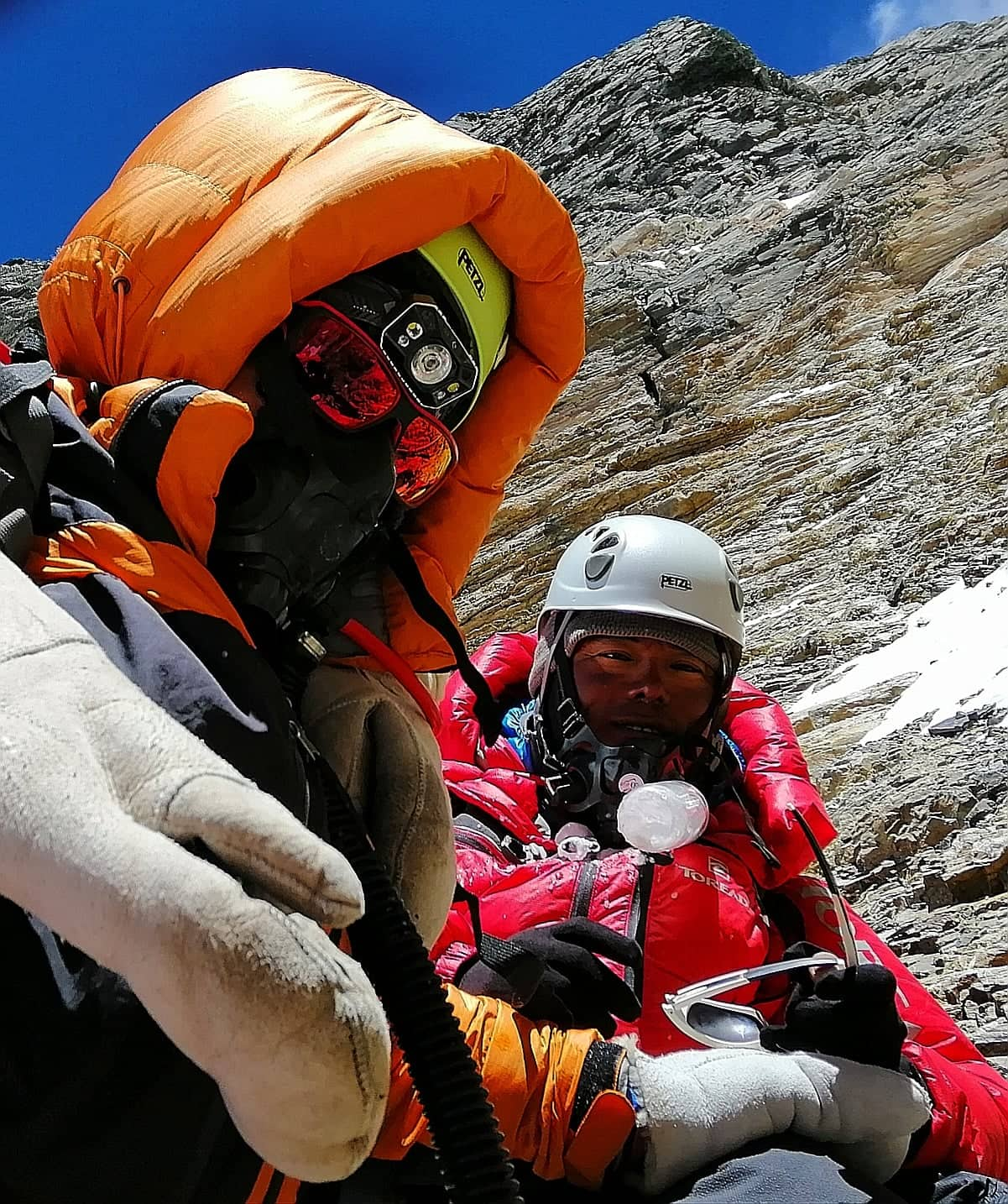 PERSONAL EQUIPMENT
(1) Down suits (dangri) 1
(2) Summit shoe 1
(3) Walking shoe 1
(4) Crampon 1
(5) Summit Glove (Mitten) 1
(6) Normal gloves 2
(7) Summit Snow goggles 1
(8) Glacier glasses 1
(9) Ice axe 1
(10) Harness 1
(11) jumer 1
(12) Carabiners (normal) 3
(13) Sleeping bag (-40C) 1
(14) Down filled Mattress 1
(15) Summit socks 2
(16) Normal socks 3
(17) Climbing bag (40 ltr) 1
(18) Helmet 1
(19) Down jacket 1
(20) Down trouser 1
(21) 8 finger / descender 1
(22) Headlamp (Icon or Spot) 1
(23) Gore-tex jacket 1
(24) Gore-tex trouser 1
(25) Fleece jacket 1
(26) Fleece trouser 1
(27) Fleece liner gloves 3
(28) Screw Gate Carabiner 1
(29) Balaclava (windstopper) 1
(30) Thermos bottle 1
(31) Base layer (woolen) 2 (set)
(32) Water bottle normal 1