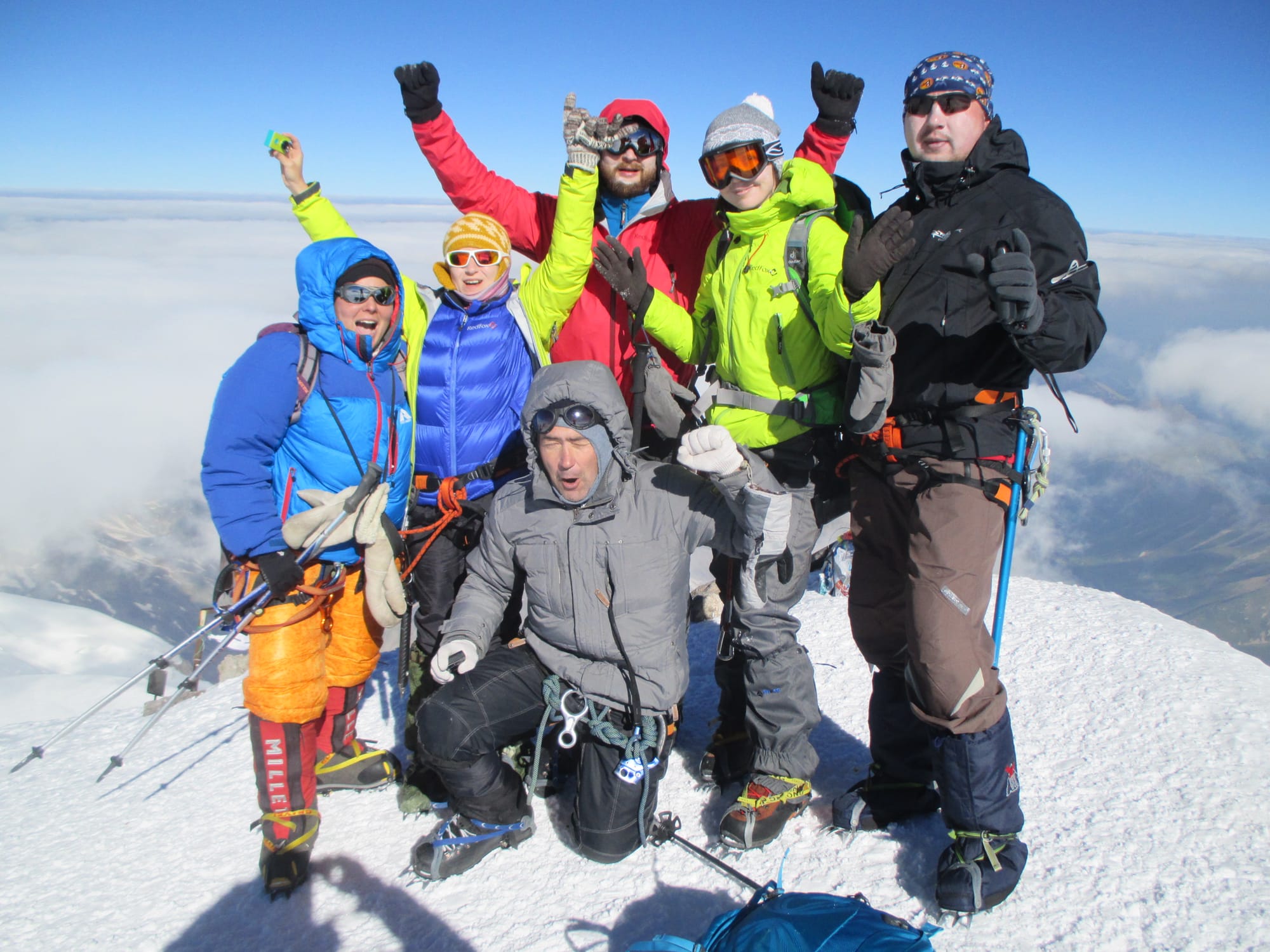 MT ELBRUS 5642 CLIMBIUNG
Cost 800$ per person- summer climb
1000$ per person winter climb
THE COST INCLUDES:
Invatation Letter
1 Transfers Min Vody to Azay, Azay to Min Vody return time.
2 Accommodations:
Hotel in Azay 3 night & Huts 4 nights.
3 All meals in Huts in climbing period
4 All needed permits & Registrations In Terskol.
5 Cook.
6 Group equipment (ropes, Ices crews)
7 All transfers, Taxi, Cabel Car per programe
8 Invatation latter to get Russian Tourist Visa
Itinerary:
Day 1 fly to Mineralnye vody transfer to Azay, (hotel)
Day 2 Acclimatisation walk to Cheget or Mir 3500mt, back to hotel.
Day 3 Drive by ski lift to the National Park hut 3900mt, aclimatise
Day 4 Acclimations to Pastuhova rocks, back to National Park
Day 5 Ise trening
Day 6 Summit, back to National Park
Day 7 Descent to Terskol (hotel)
Day 8 Transfer to Minerlnye Vody fly back to home.
COST DOES NOT INCLUDE:
All meals in Terskol
1 Personal equipment.
2 Personal health & climbing Insurance.
3 Emergency evacuation & medical expense.
4 Alcoholic & bottled beverage mineral.
5 Rara truck Or Snow Cat for summit day if need from Burrels to Pastukhova Rock 4800 ( 100$ each person if need)
International flight ticket
Domestic flight ticket Moscow- Min Vody- Moscow
Extra cost: flight Moscow- Mineralnye Vody- Moscow- 400$ each person
EQUIPMENT LIST FOR MT ELBRUS 5642 CLIMB
Sleeping bag
Headlamp
Climbing boots
Crampons
Hurness
Ice exe
Discender
Jumar
Carabine- 4 peas
Down jacket -25 comfort
Down pants – 25 comfort
Thermo pants
Thermo t-shirt
Flees jacket
Gore tex pants
Gore tex jacket
Socks – 4 peas
Liner gloves – 3 peas
Summit gloves
Trekking shoes
Light t-shirt- 2 peas
Sun cream- 50
Lip Balm
Thermos- 1 Liter
Sunglasses
Ski goggles
Trekking poles
Shower shoes
Light pants
Duffle back
Warm Hat
Buff ore Balaclava
Sun Hat
I