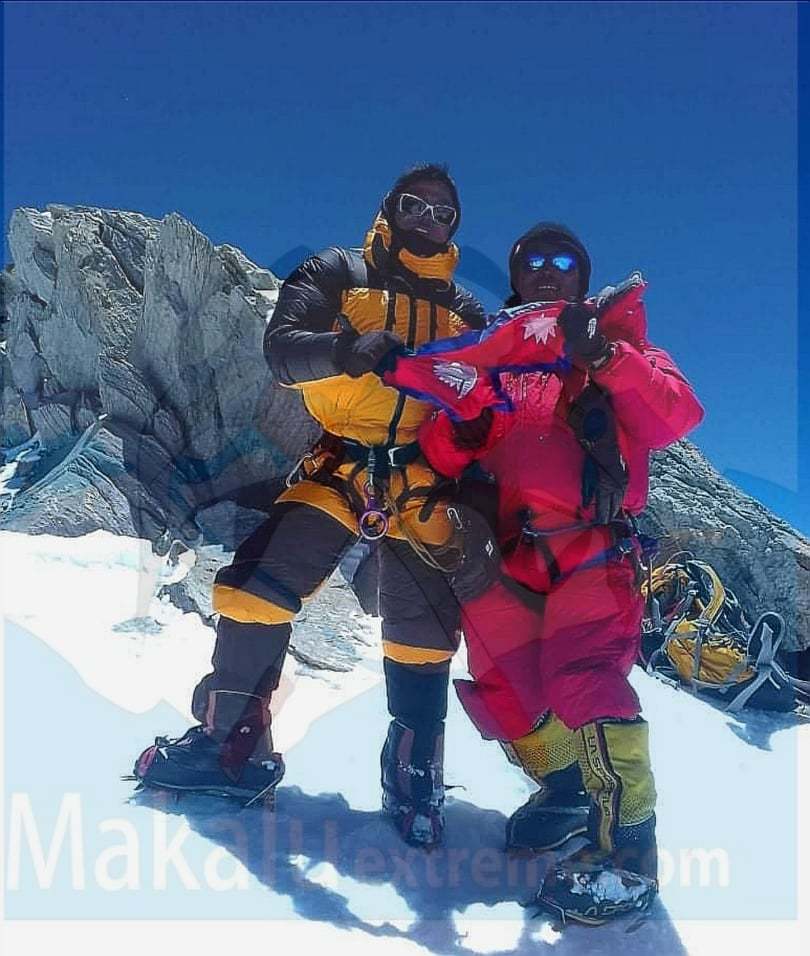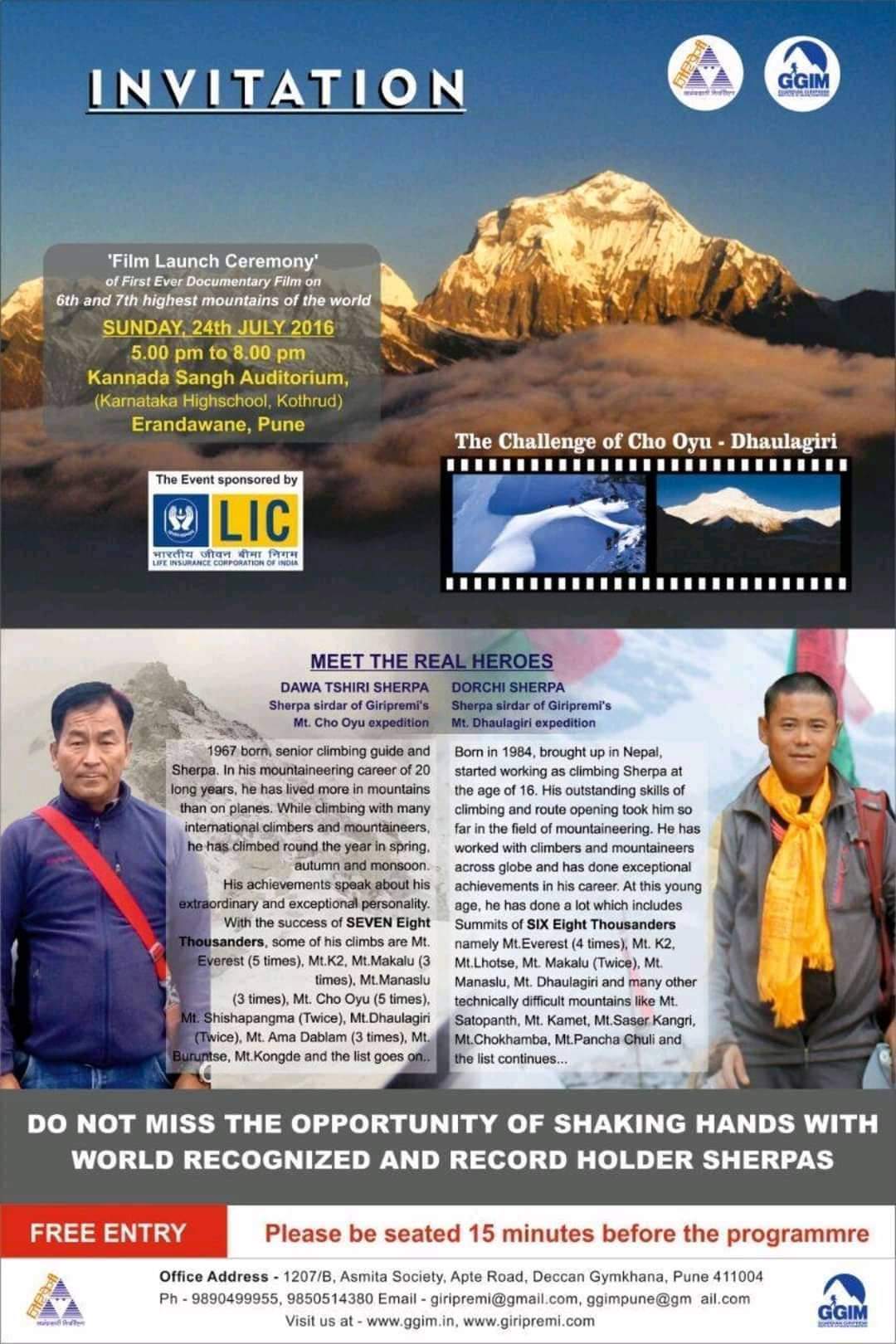 Mount Dhaulagiri 8167 Climbing Expedition 2023, 2024, Nepal, Himalaya. The Fixed Departures, Itinerary, cost and price
The Dhaulagiri Climbing Expedition Fixed Departures: 10 April- 28 May 2024
Dhaulagiri 8167 Climbing Expedition Full Service cost and price up to Summit 18000$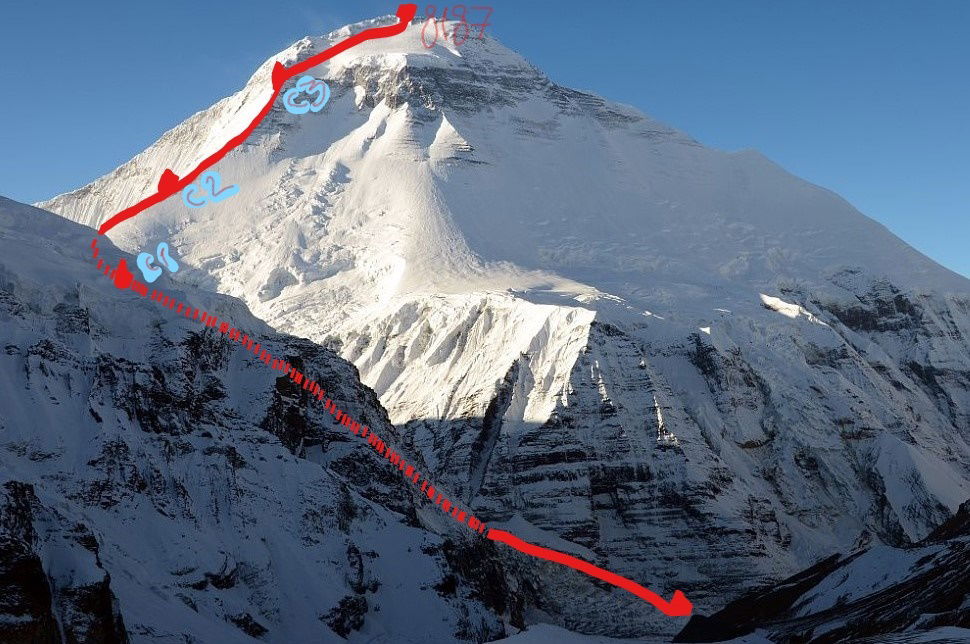 Dhaulagiri 8167 Climbing Expedition Full Service cost and price includes:
*Airport Transfers in Kathmandu
*4 nights hotel accommodation in Kathmandu on BB plan(before and after the expedition)
*Transportation as per the program
*Transport of food supply and expedition equipment to Base Camp and back
*Full board in lodges during trekking to base camp and back
*Base Camp tent-1tent-1 member
*BC staffs and Liaison Officer
*Required kitchen equipment such as kitchen tent, store tent, toilet tent, table and chairs etc
*Comfortable dining tent with heater inside
*Hight food supply at base camp
*Government Liaison Officer
*Cook and kitchen boy at Base Camp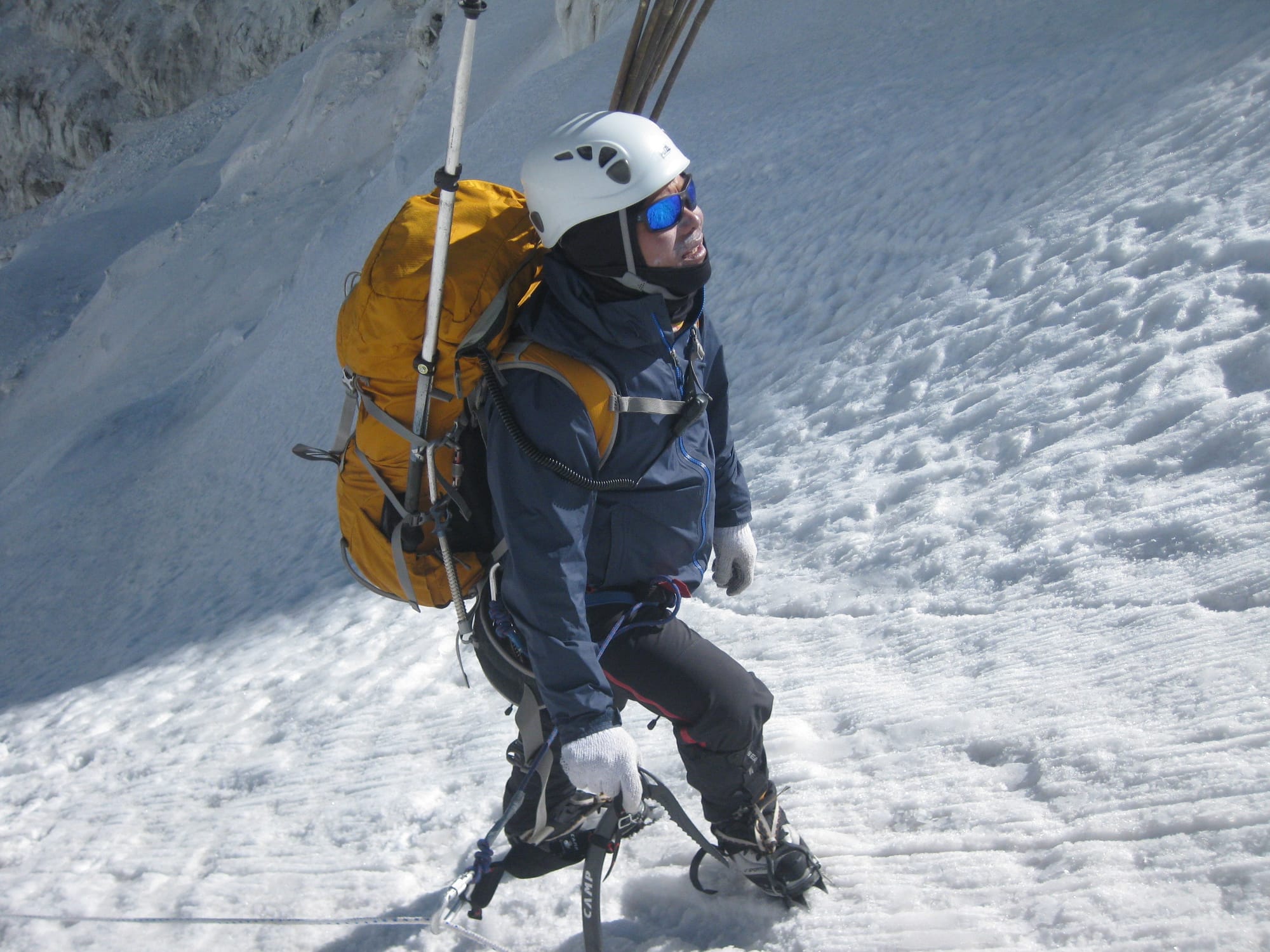 *Equipment allowance, wages of cook, kitchen boy and Liaison officer
*Insurance of cook, kitchen boy, Liaison Officer and porters
*Peak Permit fee of Mt. DHAULAGIRI 8167
*Conservation fee
*Fix rope charge, ice fall charge
*One high altitude Sherpa per climber to carry all food and gear to higher camps. Also assist the member during climb and summit attempt
*Oxygen for climbing Sherpa( 1Sherpa-2 bottles)
*Oxygen for member 3 bottles
*Garbage deposit fee
*Common climbing equipment (necessary rope, ice bars, ice screws etc)
*High altitude food
*High altitude fuel
*High altitude tents
*Walkie-talkies for each member
*Generator at Base Camp for charging electric devices
*Emergency medical oxygen at base camp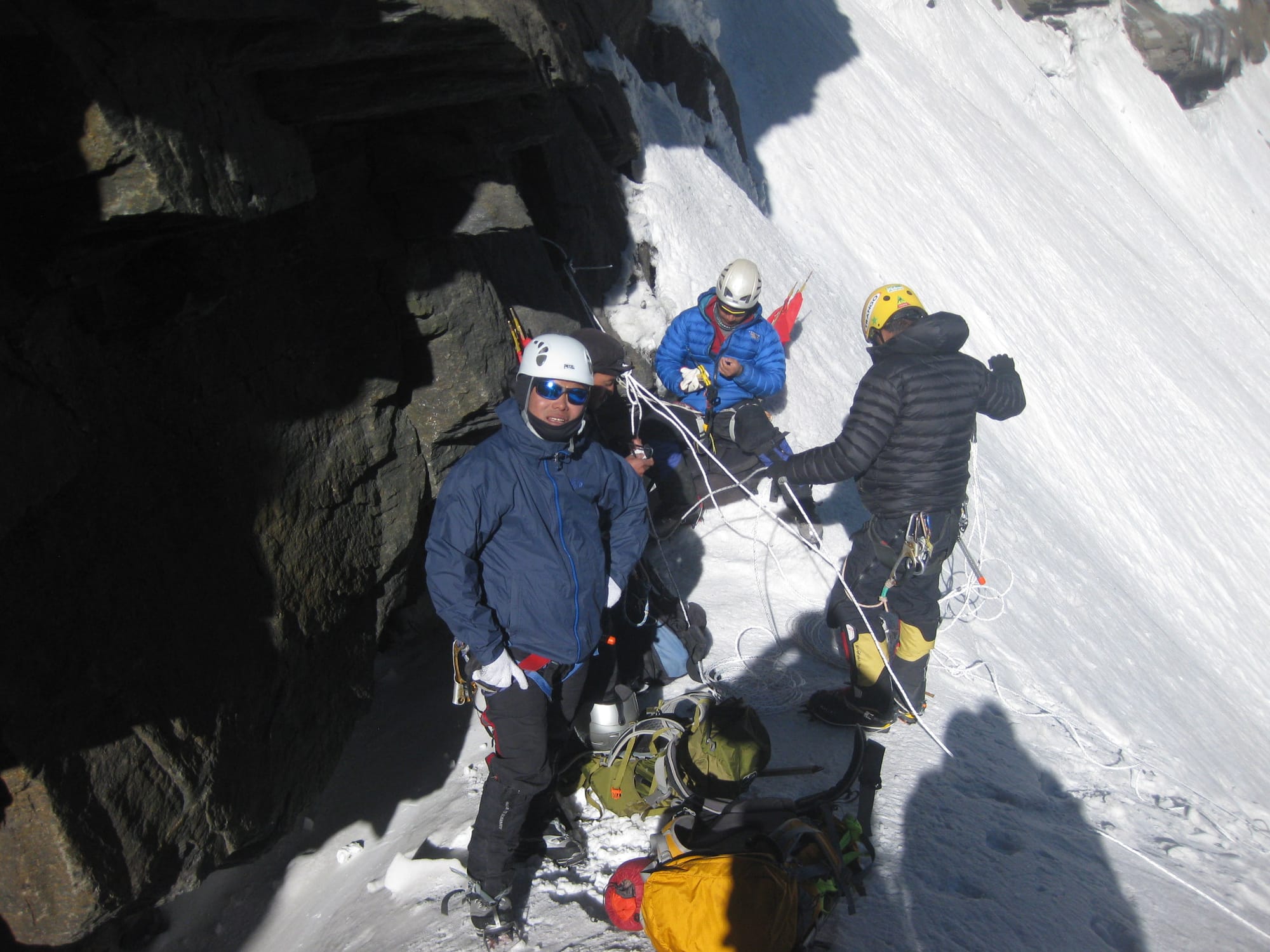 DHAULAGIRI 8167 EXPEDITION FULL SERVICE COST AND PRICE DOSE NOT INCLUDE:
*International airfare from / to your country
*Nepal entry visa fee (can be obtained at the airport upon arrival)
*Lunch and dinner in Kathmandu- around 200$
*Hotel after 4 night stay in Kathmandu.
*Personal climbing gear and equipment
*Personal climbing insurance such as, accident, medical, emergency evacuation and lost luggage
*Expenses of personal nature such as drinks, laundry, postage, telephone etc.
*Summit bonus for climbing Sherpa-1500$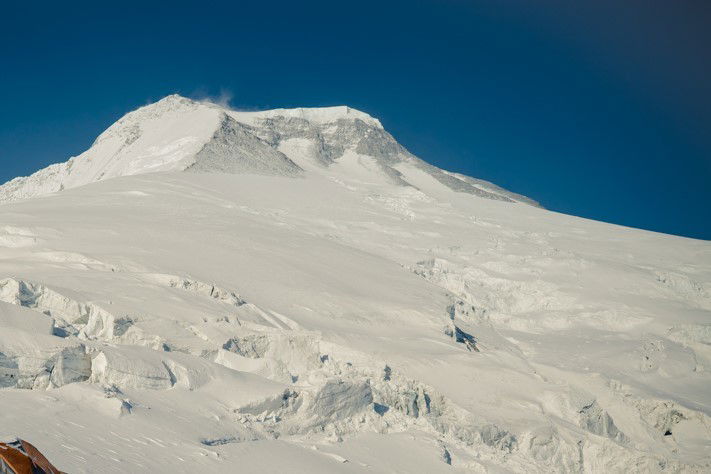 DHAULAGIRI 8167 BASE CAMP SERVICE, COST AND PRICE, FIXED DEPARTURES AND ITINERARY
DHAULAGIRI CLIMBING EXPEDITION BASE CAMP SERVICE PRICE 8000$
THE COST INCLUDES:
Arrival & Departure : Airport transfers-Airport/Hotel/Airport
Hotel In Kathmandu : 4 nights in Katmandu 4 star Hotel on bed & breakfast Basis-Double Room
Transportation: Necessary Transportation From Kathmandu-Base Camp-Kathmandu for all Member and Staffs
Permit : Dhaulagiri 8167 expedition permit ,ice fall Route ,Summit Route Fixing fee, National park & TIMS permit.
Garbage Management :Stool Shipment Transfer & Garbage Deposit fees
Lodging & Fooding : Food 3 meals a day in Trekking & Base camp for member & Staffs
Liaison Officer : 1 Government Liaison officer with full equipment, salary ,accommodation .
Base Camp Staff : Base camp Cook & kitchen Helper
Porter : Porters per member up to Base camp & Porters return from Base camp
Staff Salary and allowance : All Nepali staffs & porters daily wages, equipment, food & clothing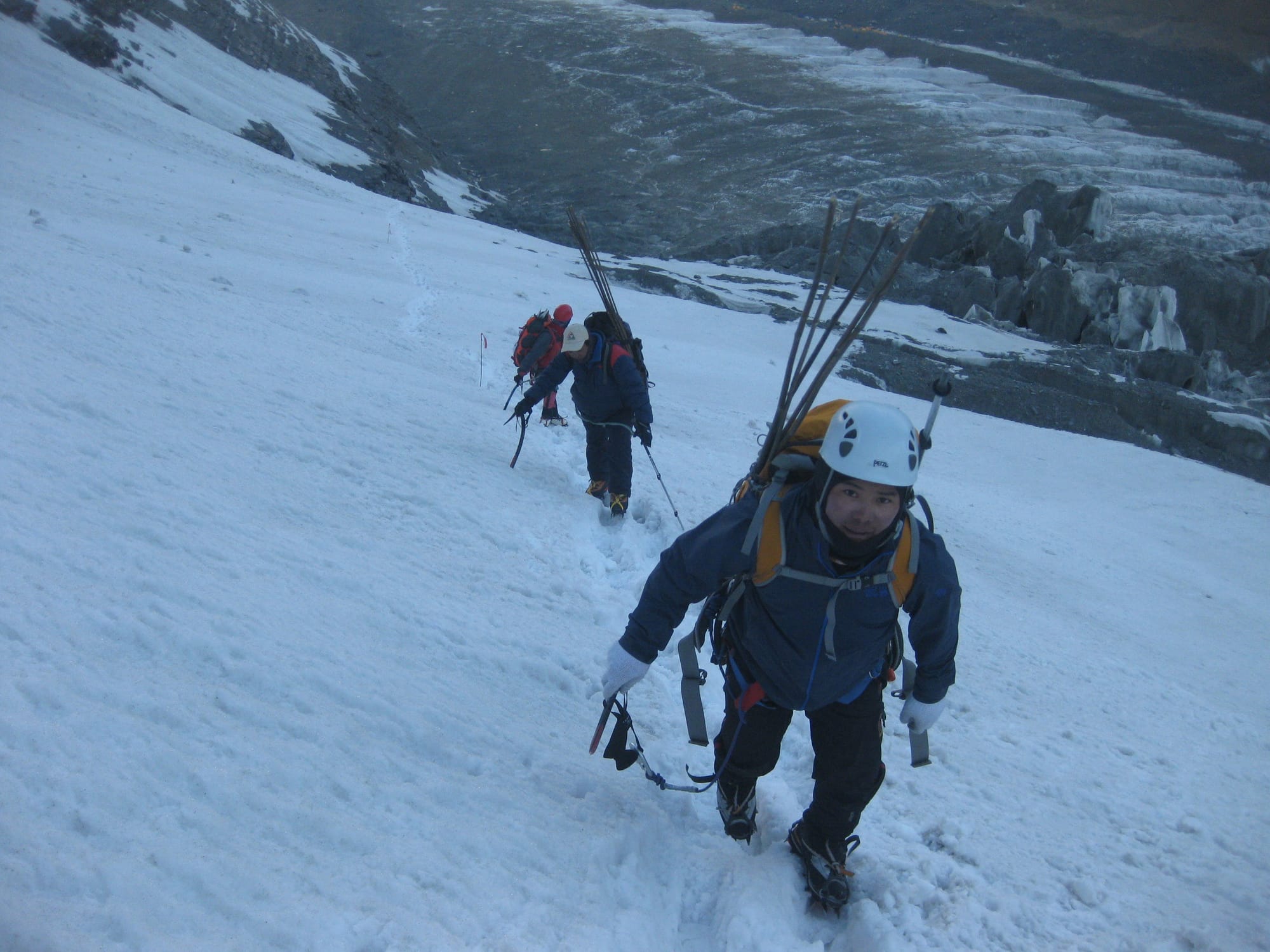 Insurance : All Staffs Medical & Emergency rescue Insurance
Member Luggage :30 Kg per member for personal baggage
Base Tent : VE25 North face or Kailas tents for base camp for per member
Base Base equipment : Base camp foam mattresses, dinning, Kitchen, Toilet & Store tents, hot shower, Tables & chairs & Cooking gears
Heater : Heater for base camp in each Dining and other necessary camp
Light : 1 Solar panel for battery charge and light at base camp for use.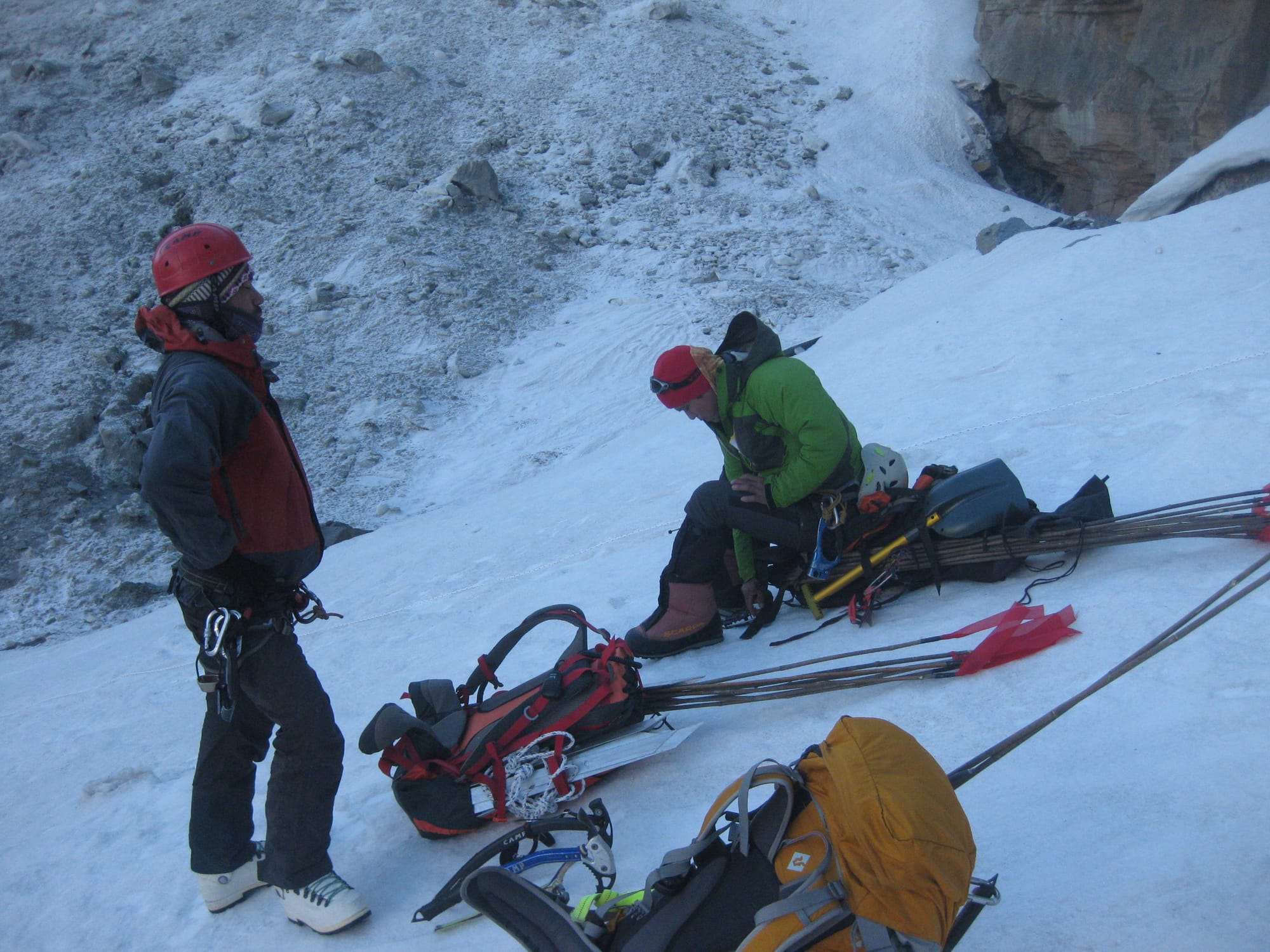 DHAULAGIRI 8167 EXPEDITION COST (PRICE) IS NOT INCLUDE:
All meals and gears above BC
Lunch & Dinner: Lunch & dinner in Katmandu Hotel stay and more the 4 nights in Kathmandu Hotel
Insurance : Travel and high altitude insurance ,accident, medical & emergency evacuation
Personal Expenses: Telephone, Internet, Laundry, any Alcoholic beverages, personal equipment and shopping
Nepal's Visa: Nepali Visa fee US$ 40 per person for 30 days ( to be applied for 100 days US$ 100)
Tips
Extra porter: If Extra porter needed more then calculate US$ 120 for extra porter up to Base Camp per 30 kg
Rescue Evacuation : Emergency rescue evacuation cost, if needed and all natural personal expenses
Makalu Extreme Treks and Expeditions will provide to our Full and VIP service members of Dhaulagiri Climbing Expedition, one Base Camp Warm Jacket and one Expedition Duffle back size XL with company logo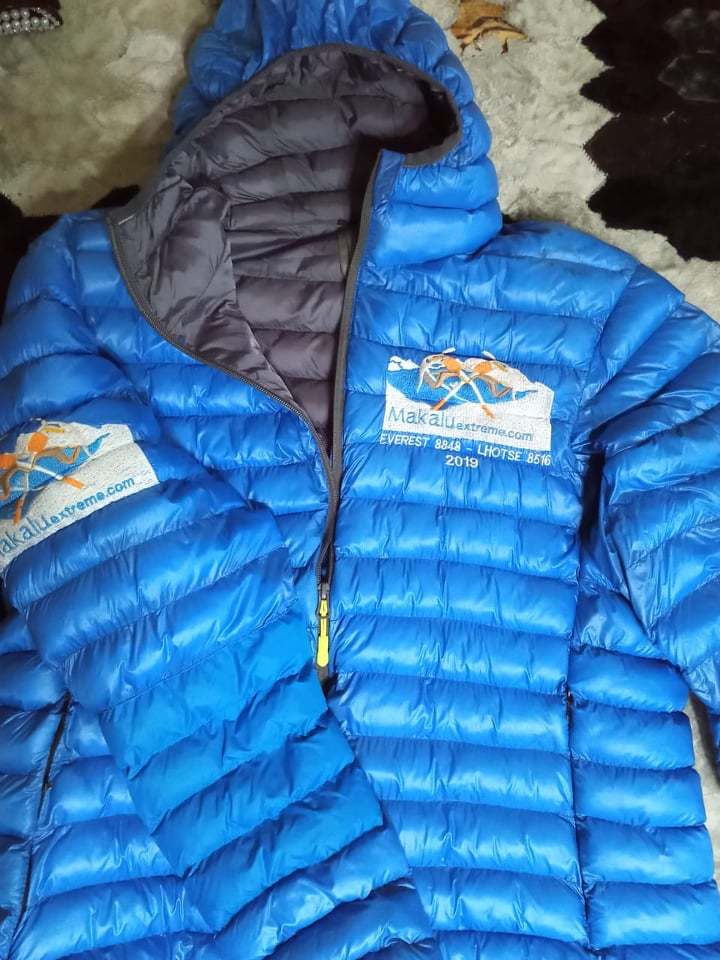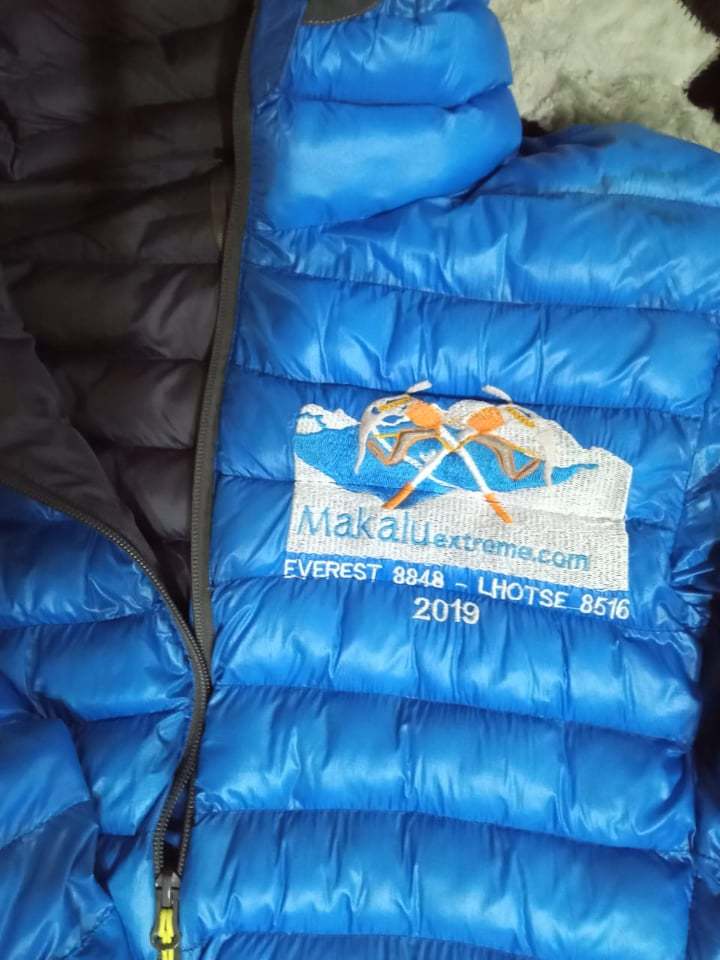 DHAULAGIRI 8167 CLIMBING EXPEDITION. DESCRIPTION AND ITINERARY OF THE TOUR
MOUNT DHAULAGIRI 8167, HIMALAYAS, NEPAL, QUICK REFERENCE.
Dhaulagiri (skt. "White Mountain" is a multi — peak mountain range in the Himalayas. The main peak of the massif-Dhaulagiri I (8167 m) - is the seventh highest eight-thousandth mountain in the world. Mount Dhaulagiri 8167 and to this day remains one of the most difficult and dangerous to climb Mountains on our planet. Unstable weather, extensive icefalls and very steep ridges make climbing Dhaulagiri a real mountaineering challenge.
The Dhaulagiri mountain range is located in the central part of Nepal, in the southern spur of the Main Himalayan Range, to the west of its breakthrou
gh by the Kali-Gandaki River, between the Marsyangdi and Kali-Gandaki rivers. The massif consists of 11 peaks, the main of which exceeds 8 km, the remaining 10 exceed 7 km:
1 Dhaulagiri I 8167 1960-first ascent
2 Dhaulagiri II 7775 1971-first ascent
3 Dhaulagiri III 7715 1973-first ascent
4 Dhaulagiri IV 7661 1969-first ascent
5 Dhaulagiri V 7618 1975-first ascent
6 Churen Himal Main 7385 - not passed
7 Churen Himal East 7371 1970-first ascent
8 Churen Himal West 7371 1970-first ascent
9 dhaulagiri VI 7268 1970 - the first ascent
10 Putha Hiunchuli 7246 1954-first ascent
11 Gurja Himal 7193 1969 - the first ascent
Glaciation of the Dhaulagiri mountain range, very large
The name of the mountain range is derived from its main mountain-the word Dhaulagiri reflects the appearance of this giant. In Sanskrit, dhavala or dhavala means "white" and giri means "mountain".
In the period from 1808 to 1832, Dhaulagiri was considered the highest peak in the world, but climbers turned their attention to it only in the early 1950s. Only the eighth expedition was successful.
In 1960, a team of the best mountaineers in Europe was formed on the basis of the Swiss team. For the transportation of the expedition and cargo, a light aircraft was used (for the first time, equipment was so actively used during the assault on the eight-thousandth hill). The expedition was led by one of the participants of the unsuccessful attempt in 1958 — Max Eiselin-the author of the idea of climbing the North-eastern Ridge. On May 13, Dimberger, Diener, Shelbert, Forer and Sherpas Nawang and Ngima safely reached the summit from the 7800m summit push camp. Subsequently, this route became a classic. But nevertheless, the North-eastern ridge of Dhaulagiri and today remains one of the most difficult among the classic routes of climbing the eight-thousand-meter mountains.
December 13, 1982-the first winter ascent of Japanese Akio Koizumi and Sherpa Ngima Wangchu.
Our experienced guides, who have already summited the Top of Dhaulagiri, will do everything to make your ascent to the Top of Dhaulagiri 8167 as safe as possible.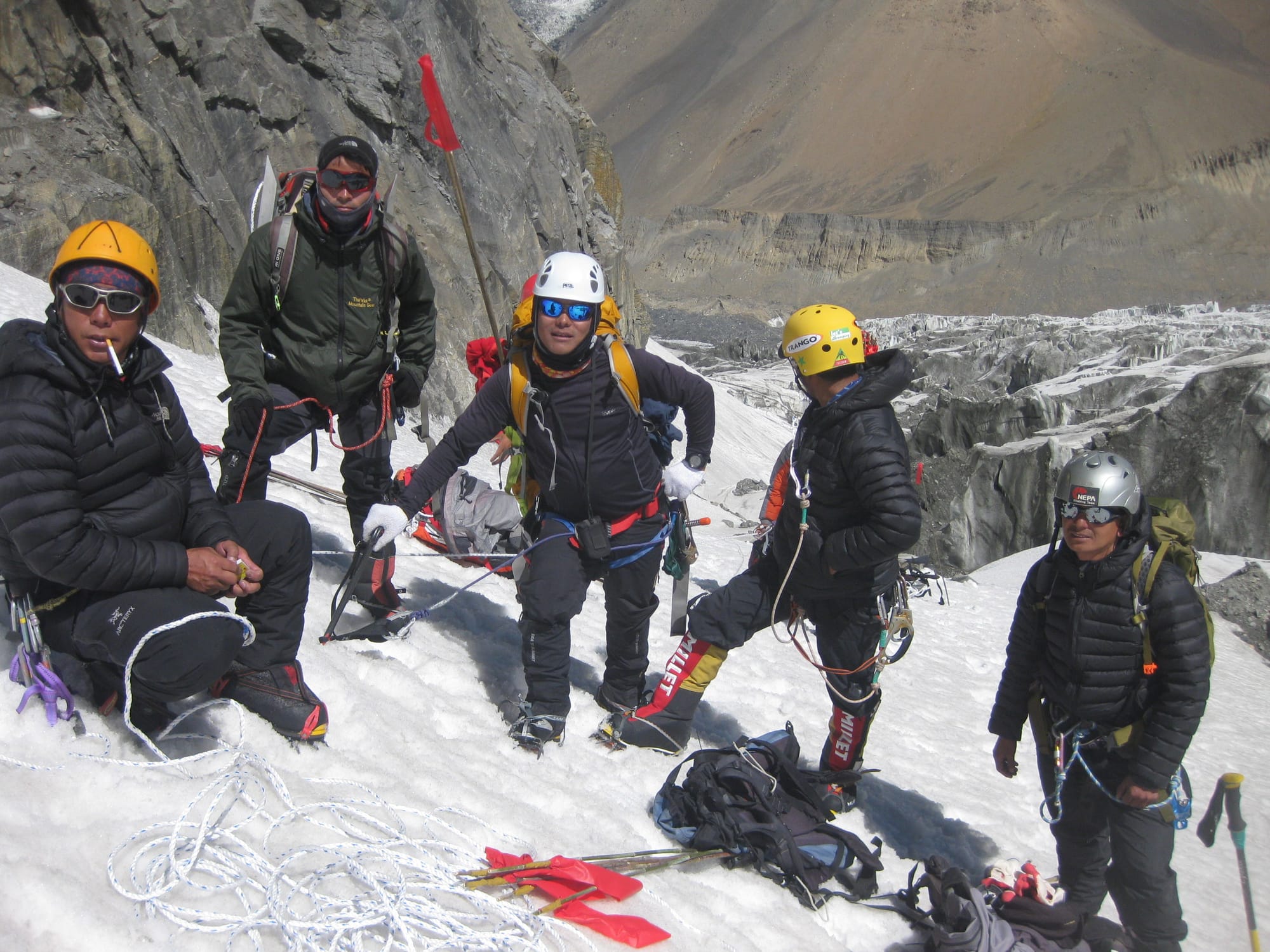 THE DHAULAGIRI 8167 CLIMBING EXPEDITION. THE TOUR ITINERARY
Day 1. Our Dhaulagiri expedition will starts at the international airport Tribhuwan. We personally-I, Dorchi or Pasang Lama meet you at the airport with the logo of our company. The transfer can be individual or group, if you suddenly arrive at the same time with one of the participants. It takes about 20-30 minutes to get from the airport to the tourist center of Tamel, where our hotel is located. Our groups stay in a comfortable hotel decorated in the local national style. The rooms are equipped with cold and hot water, air conditioning, water glasses. The participants of the "Full Service" program have accommodation for 2 people in a room. Participants of the VIP program have accommodation in VIP rooms, single accommodation. The price of the Dhaulagiri 8167 Climbing expedition includes 4 nights in a hotel.
Day 2. Very early in the morning, we will go to Seto Gompa Monastery for Puja. It is one of the great monasteries of Kathmandu with ancient traditions. Puja is a worship service for successful ascent to the Top of Mount Dhaulagiri. According to local traditions, no expedition begins without this rite and the blessing of the supreme monk. After the Puja, we return to the hotel. Participants have free time - you can buy what you may need in the Mountains.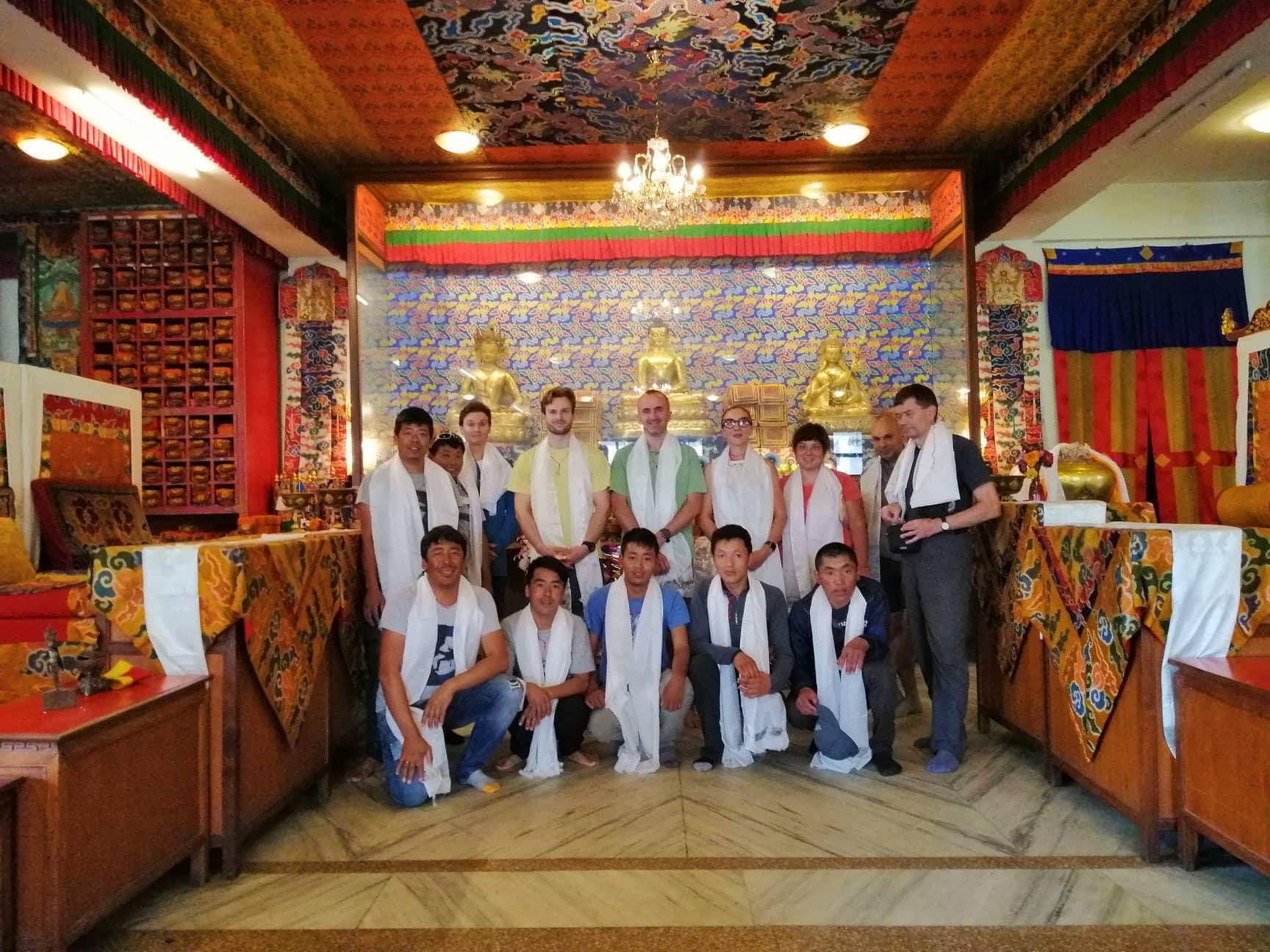 Day 3. We leave Kathmandu for Pokhara, which is located on the shore of a beautiful lake. Here we have half a day to enjoy the extraordinary beauty of this city.
POKHARA CITY, QUICK REFERENCE.
Pokhara is a city in central Nepal, the administrative center of Kaski District, Gandaki Zone and Western Region of Nepal. It is located 198 km west of Kathmandu and has a population of about 300,000. It is the third most populous city in Nepal, after Kathmandu and Biratnagar.
The city is located on Lake Phewa, the city offers a picturesque view of the Himalayas (Great Himalayan Range) with eight-thousand peaks (Daulagiri, Annapurna, Manaslu). For this reason, the city is very popular among tourists. A number of trekking routes start from Pokhara.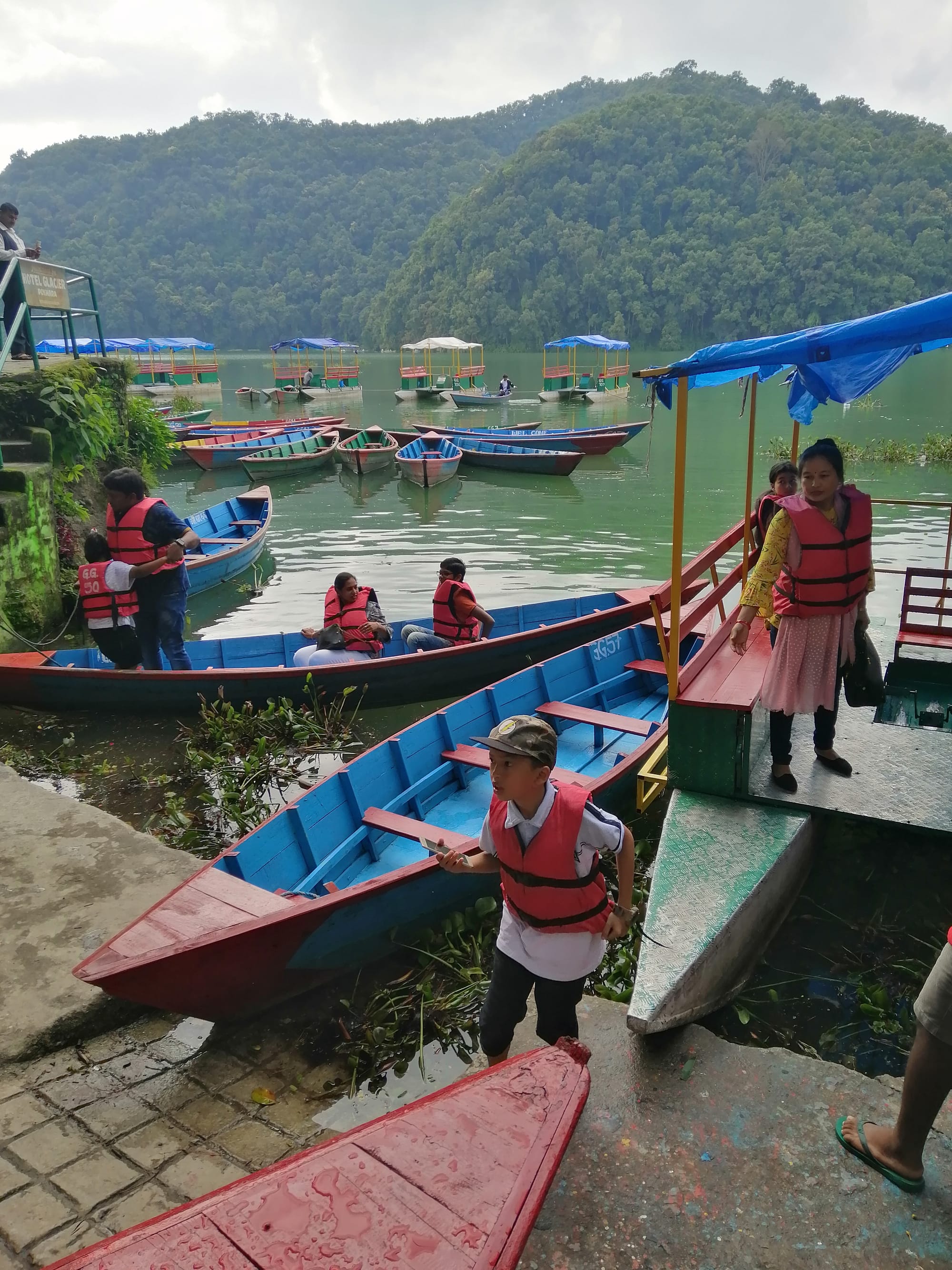 The city is home to the Newari, Gurung, Magar, Chhetri, Thakali and other peoples of Nepal. Since the 1950s, many Tibetan refugees have settled in the Pokhara Valley, initially living in camps.
In the 1960s, the city was opened by hippies, who organized numerous settlements in the valley. After King Birendra changed the visa policy for foreigners, hippies were forced to leave Nepal, but the city began a tourist boom, which decreased due to the civil war in Nepal.
Day 4. Very early in the morning, we will start in Beni by private transport. The journey will take about 3 hours. In Beni, we have breakfast, distribute cargo between porters and set off. In this expedition, we will use porters to carry cargo, for the simple reason that Przewalski's horse or yak on the trail to the base camp simply will not pass.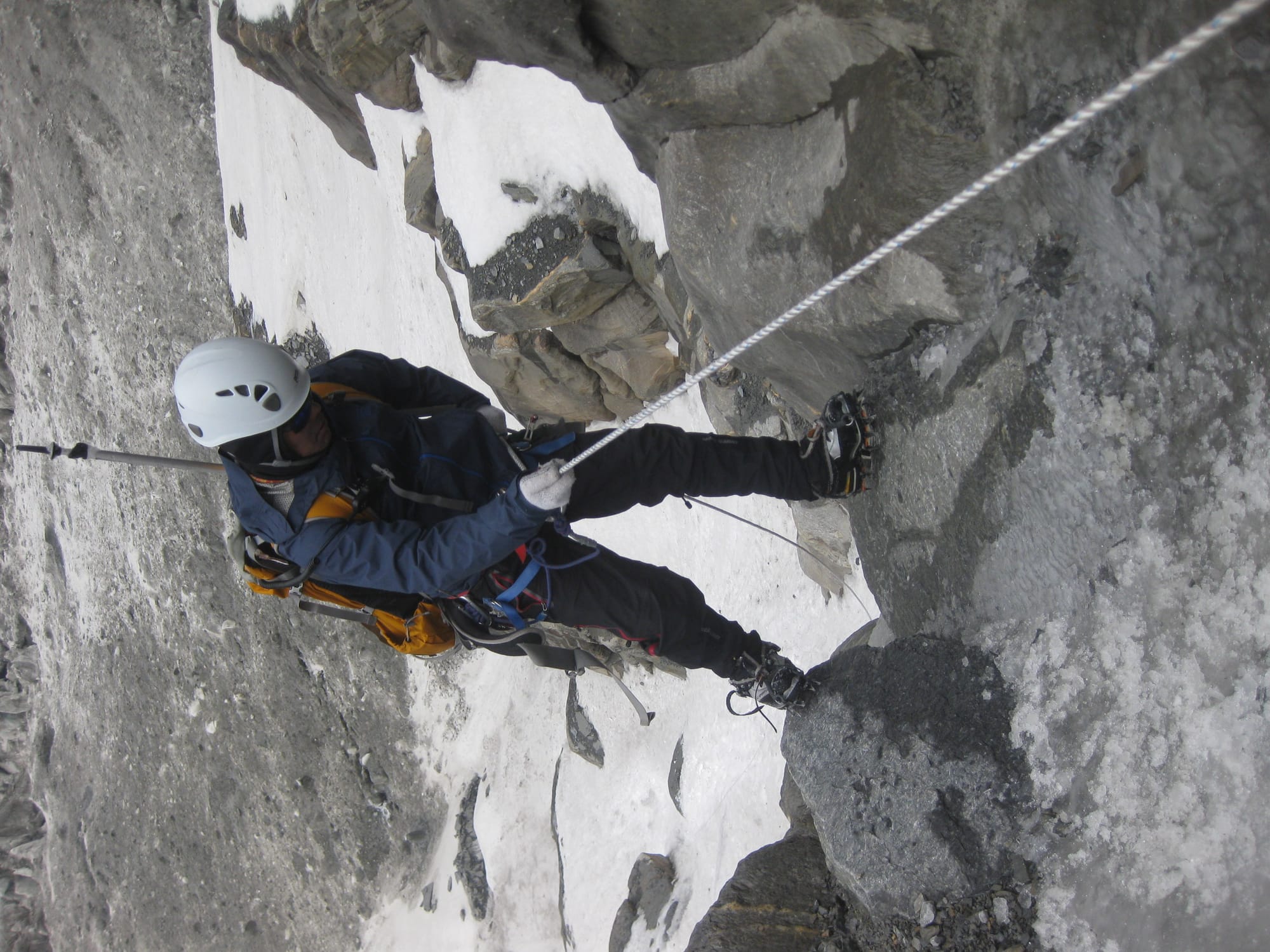 I would like to draw your attention to the fact that all transfers of the expedition are carried out by private transport and are included in the price of our tour Climbing Dhaulagiri.
Today our way to the village of Tarkom. It will take about 5 hours of travel. In the evening, we stay for the night in a simple guest house. This route is one of the least visited areas of Nepal. For this reason, comfort in guest houses is very limited. This area is co-ordinally different from the areas of Everest, Lhotse and Manaslu.
What do our participants carry in their backpack during the day?
Our participants carry a bottle of water or a thermos of tea, sunscreen, spare gloves, windproof jacket, down jacket. All other things are carried by porters in our caravan. The baggage allowance that the participant of Dhaulagiri climbing expedition, can give to the caravan is 30 kg per person for full service participants and 60 kg of cargo for VIP service participants.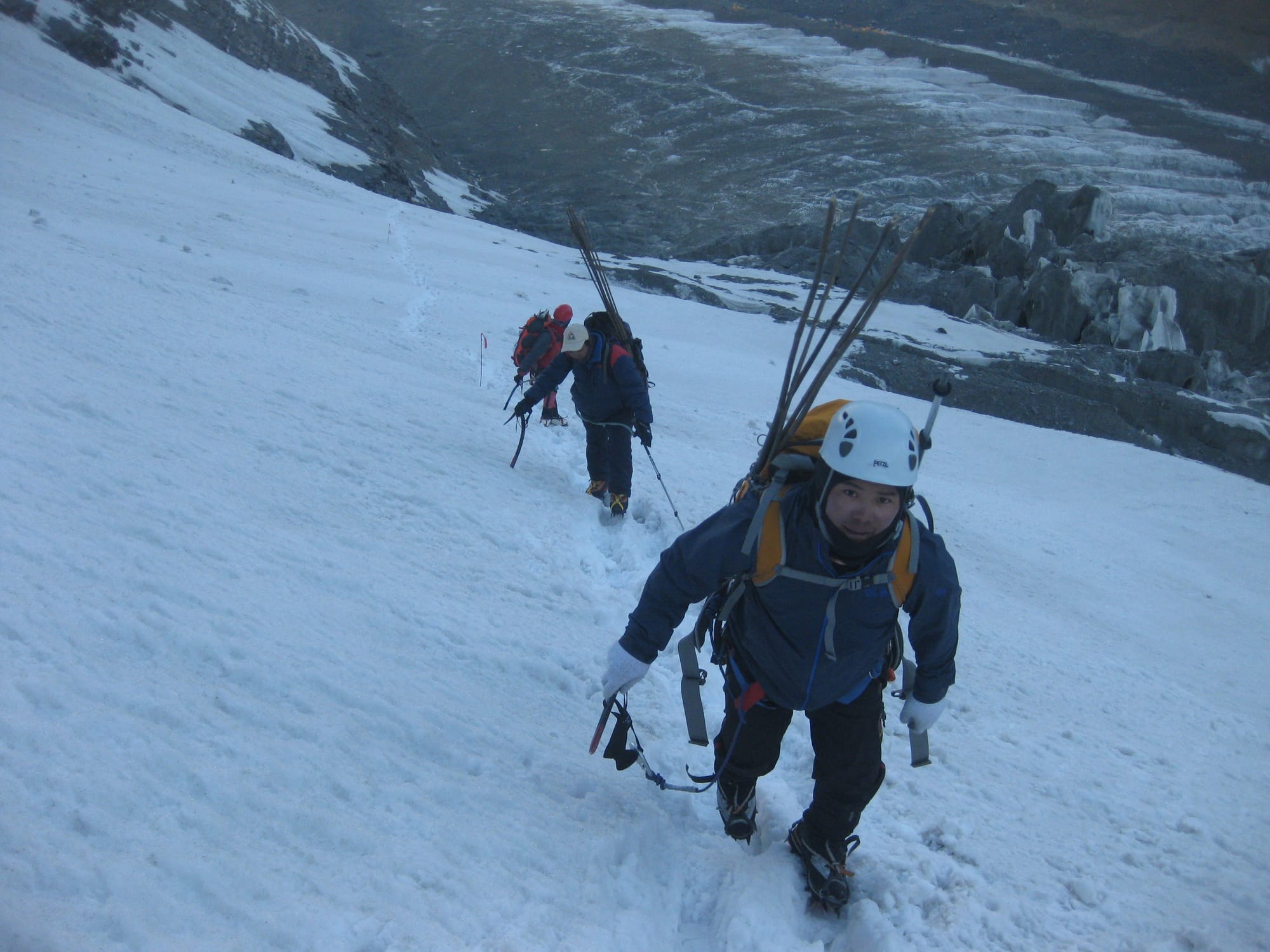 Day 5. The trail is getting narrower, and in places it passes over huge gaps. Today we have to go at least 6 hours. Overnight in the village of Alubari. The name is taken from the word potato in Nepali. The height is already decent and there are a lot of potato fields. Overnight again in the village guest house and a wonderful dinner from our chef.
I want to draw your attention to the fact that on the way to the base camp, all the food will be prepared by our expedition cook. In the morning we eat breakfast. Breakfast is usually served with fried sausages, scrambled or boiled eggs, sliced cheese, oatmeal porridge or rice pudding. From drinks-green tea, black, herbal or coffee.
For lunch-soup or borscht, buckwheat porridge, pasta, potatoes, wheat porridge, fried chicken, chicken with mushrooms, cutlets, steak, fish, pasta, pizza, fresh vegetable salads, vegetable stew and ajap sandal. From drinks tea black, green or herbal, hot chocolate, cereal hot energy, cookies, chocolate, coffee
On days when we have to go a long day, the cook gives the participants and guides a pack lunch. There you can usually see fried patty, boiled eggs, cheese and sausage - sliced.
For dinner, about the same set of dishes as for lunch. Also on birthdays, days of reaching the Top and national holidays, our chef will bake us a cake with cream.
Meals and accommodation throughout the route are included in the price (cost) of the Dhaulagiri 8167 Climbing expedition.
Day 6. We leave very early. Today we have a long day and we need to get to a place called Italian Camp. Go for at least 8 hours. The trail crosses crooked and ascends to Alpine meadows on our way to meet a few koshey. There is a small structure in the Italian Camp. But we will set up our tents here and stay for two days to acclimatize.
Day 7, 8. Rest and acclimatization in the Italian camp.
Day 9. Trekking from the Italian camp to the base camp. Here the gorge narrows and turns almost into a gorge, on the sides of which the peaks of several Dhaulagiri go straight into the sky. The sight is very majestic, harsh and frightening. It will take about 5 hours to climb to Dhaulagiri Base Camp.
Dhaulagiri Base Camp will be our home for the next month. Now I will tell you about how life is arranged in our Base Camp. Social life is concentrated in the dining tent, which is also the mess hall. This is a very spacious tent, the floor of which is covered with carpet. It is also equipped with a gas heater. Therefore, it is always warm. Even in the coldest weather. Usually, all participants gather here, drink hot tea, communicate, play cards or checkers, watch movies on a laptop.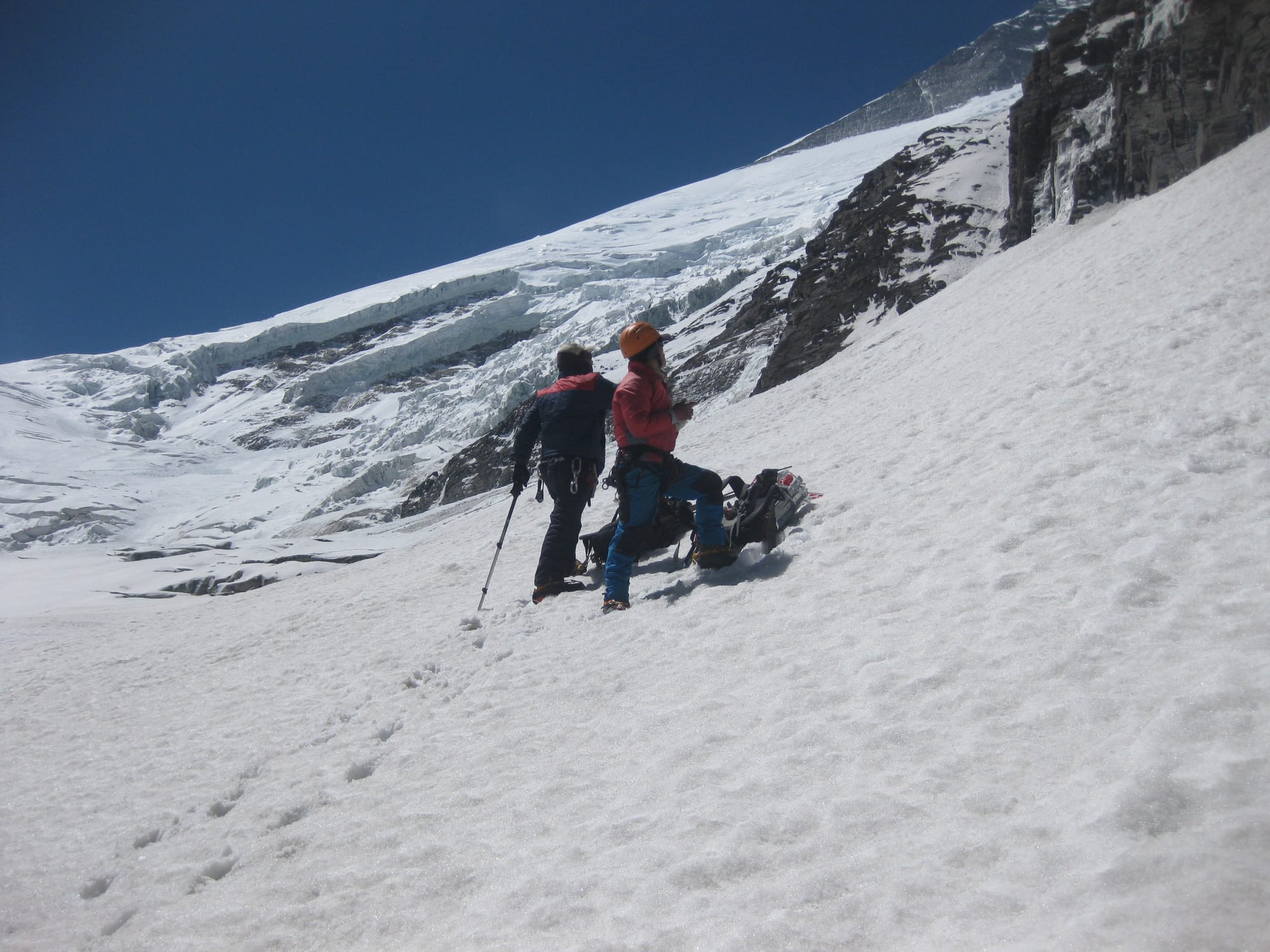 To stay in the Dhaulagiri Base Camp, each participant receives an individual tent V-25. If the participants arrived as a couple, they can check in together. For Dhaulagiri climbing expedition VIP service participants, we have special tents for accommodation. These are large, stationary tents where you can stand at full height, measuring 2.5 x 3m. The tent has an entrance hall, and the floor is covered with carpet. All tents without exception are equipped with sleeping mattresses.
Also in the Base Camp there is a tent, which is called a warehouse. You can put everything you don't need there.
Our shower room consists of two rooms. In the first room, you can change your clothes, leave dry things and towels. The second room is, directly, a shower room.
In the morning, there is always hot water in the washbasin for washing. Meals in the Base Camp are 3 times a day-breakfast, lunch and dinner. Just always in the dining room on the table are thermos flasks with hot water, tea, coffee, chocolate, cookies. Participants can come there at any time for a tea party.
Day 9. Rest and laundry
Day 10. Puja. Puja is a worship service for successful ascent to the Summit of Mount Dhaulagiri. At the same time, the consecration of the camp takes place. No expedition is sent up before this rite is performed. Puja takes about 3 hours. During the monk's prayer, the guides stretch a network of prayer flags over the Base Camp. According to ancient tradition, flags should calm the elements, and thus provide a safe ascent and descent for climbers.
Day 11. Today is the first acclimatization exit. Climb the side of the French pass at about 2 o'clock in the afternoon. After that we go down to the Base Camp
Day 12. Today will be a very long day, so we leave no later than 7 am. Acclimatization exit to the French Pass and return to the Base Camp.
Day 13, 14. Rest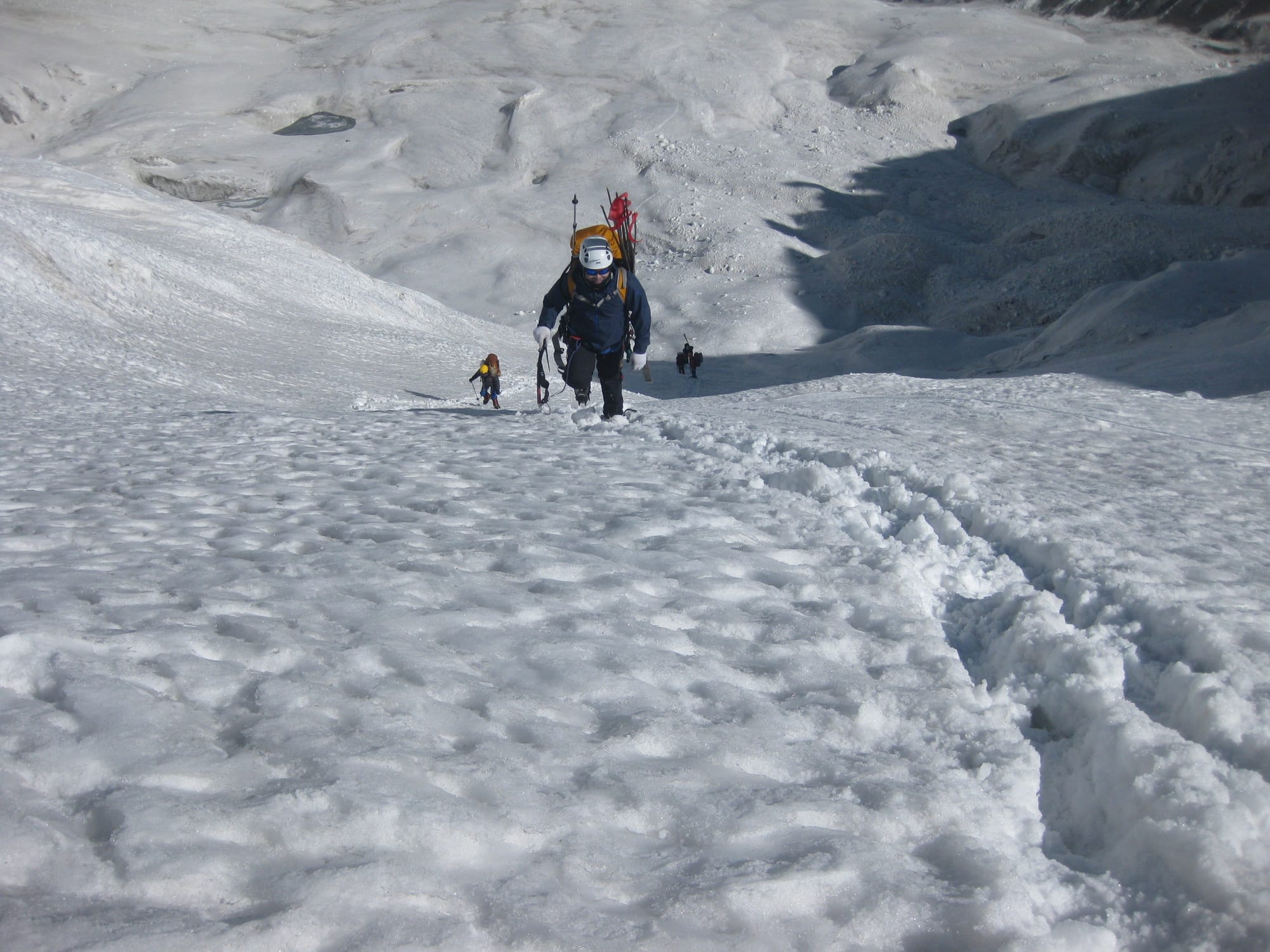 Day 15.Aclimatize rotation to Camp 1. It is necessary to cross the avalanche-prone area called Eiger. A very unpleasant place - a steep traverse along the skyward walls of Dhaulagiri. Overnight here, in camp 1, at an altitude of 6100.
Day 16. We get up very early and try to cross avalanche-prone areas as quickly as possible. We go down to the Base Camp.
Day 17, 18. Rest
Day 19. Exit to Camp 1, again we pass dangerous places. Overnight stay, 6100
Day 20. Ascent to Camp 2 and overnight.
Day 21. Ascent towards camp 3 and descent to Camp 1. Overnight.
Day 22. Descent to the Base Camp. We leave very early and try to pass the Eiger section as quickly as possible.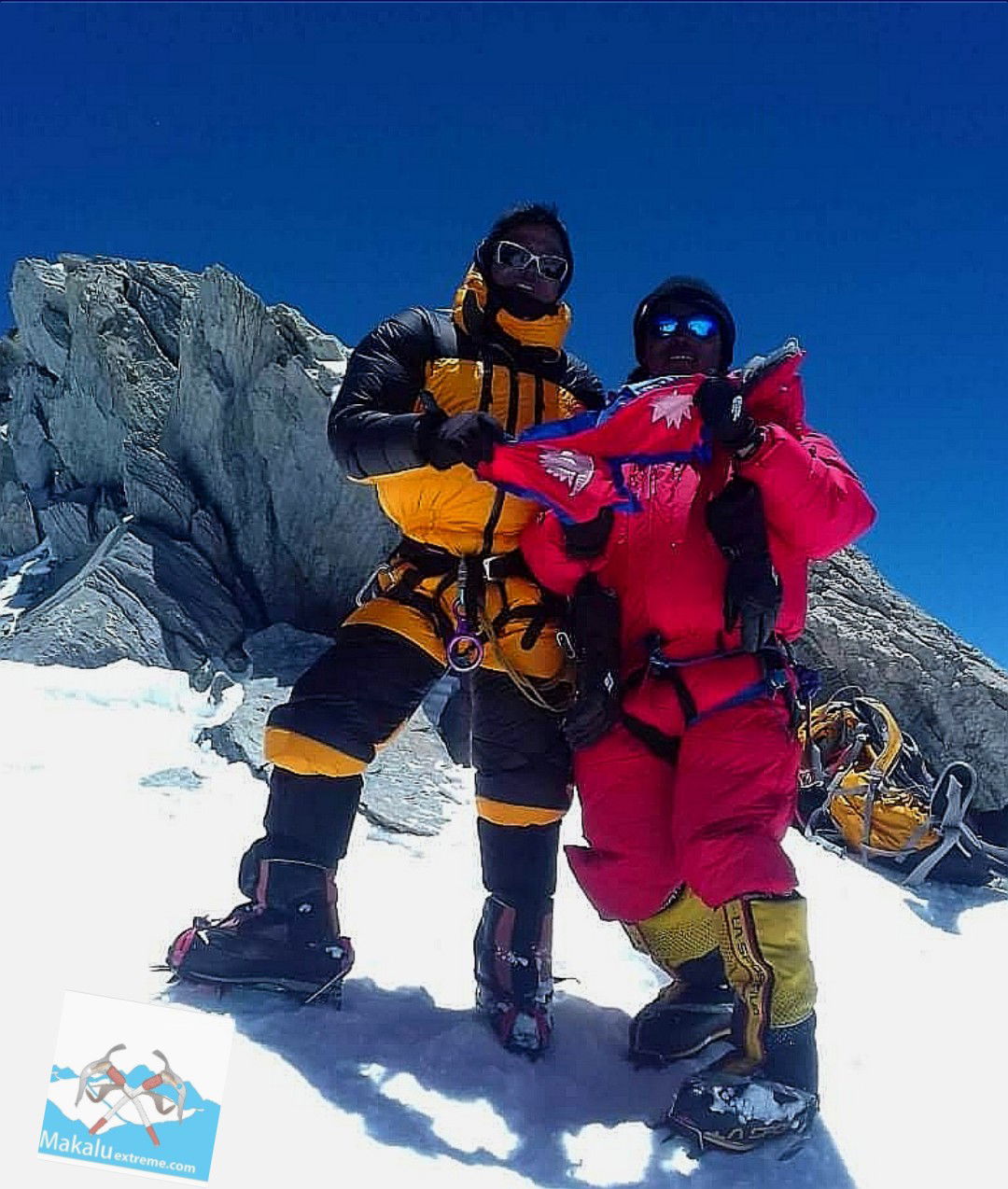 Day 23, 24, 25-Rest in the Base Camp. Now we are ready to Summit Push and wait for the weather window.
Day 26. In the presence of good weather and a good forecast, we go out to Summit Push of Dhaulagiri. Ascent to Camp 1
Day 27. Ascent to Camp 2
Day 28. Ascent to Camp 3
Day 29. Climb to the Summit of Dhaulagiri 8167 and descend to Camp 3 or 2. As of
Day 30. Descent to Camp 1
Day 31. One more time we should be lucky on the Eiger site. We go down to the Base Camp
Day 32. Rest, we collect the camp
Day 33. Italian Camp
Day 34. Alubari
Day 35. Tarcom
Day 36. Beni and transfer to Pokhara on the same day by private transfer.
Day 37. Free day in Pokhara
Day 38. Transfer to Kathmandu by private transfer company
Day 39. Free day in Kathmandu
Day 40. Departure to home
Day 41-50-Spare days in case of bad weather. In this area, very often prolonged storms
THE STORM MOUNTAIN- DHAULAGIRI 8167 CLIMBING EXPEDITION
www.makaluextreme-treks-expeditions.com
A real thriller about high-altitude climbing, the story of climbing to the Top of Dhaulagiri 8167 of the First Civic Indian Dhaulagiri Climbing Expedition
Led by Dorchi Sherps. Thank you very much, Galina Pogodina, for turning our material into a thriller!
_________________________________________________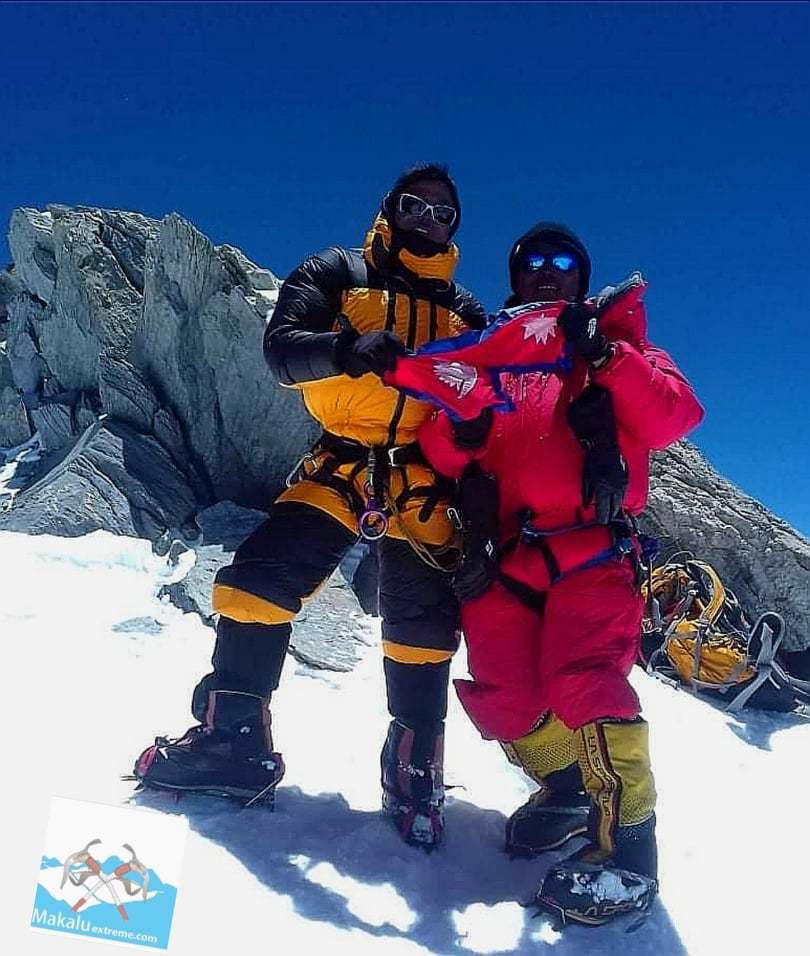 Active travel
66 subscribers
The Storm Mountain. Story about Dhaulagiri 8167 expedition.
The Sherpa Dorchi tells
The story of the difficult climb of Dhaulagiri 8167, in Nepal, the seventh highest mountain in the world.
There are 14 mountains above 8,000 meters on our planet. To rise even to one of them is a difficult task, requiring excellent training and competent organization. The climbers are waiting for heavy physical activity, difficult weather conditions, wind and cold, extremely low amount of oxygen, risks of disruption, stones and avalanches. Each of these factors is deadly.
In 2017, the Indian climbing club organized the first civilian expedition to Mount Dhaulagiri. The club hired two high-rise guides for each members, one of them was me. My client was Prasad Joshi.
I read the materials of previous ascents and noticed that in such conditions each participant needs to have three personal mountain guides. But since funding was limited, three guides could not be taken, only two. I warned that in case of deterioration of the weather there will be problems and it will not be possible to fight for success, although we in any way will try to come to the summit.
By then, I could no longer be called a rookie. I managed to visit the top of Everest 9 times, Lhotse 4 times, Makalu 3 times, К2 twice and Annapurna. Total 24 ascents on eight thousand. I can say that I was already an authority in the field of high-altitude climbing.
For starters, we brought all the equipment upstairs and installed camps 1, 2 and 3. In the Mount Dhaulagiri area, the weather is always unstable. And this time, apart from the bad conditions, there was a lot of deep snow on the route, which meant the danger of avalanches. We sat in base camp and waited for the weather window.
We are came out as soon as the situation allowed. At that point, we did not know that our assault would last for 15 days.
We were accompanied by favorable conditions. We carried with us about a stock of 500 meters of rope, but above the 3rd camp, as it turned out, railings were not laid. We spent our stock quickly, and the dangerous areas didn 't think to end. We decided that it is impossible to go without fixed rope and it is necessary to return to camp-3, to collect all the ropes available there and to continue climbing with them.
At the beginning of the season, there were many groups under the mountain, but since the weather was not pleasing, most expeditions turned down their work. By the time we ascended, there were only around 10 people left of the other teams who returned without reaching the Dhaulagiri Summit, and hoped to make another attempt.
We decided to go together and take all the ropes we had left with us. Each took about 200 meters. On the night we went to the assault, but the weather window we were counting on began to close. Hurricane wind reached 120 m/s: it he didn't just get off his feet, he threatened to get us off the mountain.
There was no chance of success. When the fixed rope were over, we attached skein of rope to their edge and began the descent to 3 camp with the expectation of sleeping there. The forecast did not correct itself, and we decided to navigate the environment in the morning.
There was a fifth day since leaving the base camp. Camp 3 is 7400 high and we stayed here for the second night. It is dangerous height. If lung swelling or other problems begin, there is no chance of salvation. In such conditions, a person burns very quickly.
All night we kept the tent so it wouldn't be carried into the abyss with us. The gusts of the wind were such that the tent was cracking at the seams. Snow-ice dust was everywhere, it was clogged through tight fasteners inside overalls, and we understood that in such conditions nothing should be frozen to death.
The weather did not improve in the morning, and it was decided to go down to Camp-2. It turned out not to be the best adventure: the situation was emergency. In the hurricane wind, we went down carefully. But to go down from 2 camp to base, you had to overcome an extremely avalanche-prone site called Eger. Because of the complex relief, it is unclear where and at what point the avalanche may arrive. This is where most of the victims of this mountain died. And our customers should not have been unwound with extra kilometers down and up again. We decided not to go down further and wait for the weather at Camp Two.
The wait was delayed for another four days. All this time the hurricane raged around 200 km/h We kept the tent so that it wouldn 't break, and we constantly strengthened it if something was alarming. Others who remained for the attempted assault did the same. As I said, there were about 10 people.
On the 11th day since leaving base camp, the weather suddenly cleared. We immediately took advantage of this and went up to camp 3 to come out for assault the following night.
As I said, we carried with us a total of about 2 kilometers of ropes. The slopes were overwhelmed with fresh snow, the advance was difficult and slow. Due to the abundance of snow on the traverse, there was an avalanche situation. Our customers have been high for many days and were at the limit.
... You know, I love climbing, and it was most important for me to come in, I 've never been on that mountain. And I dream of visiting all 14 eight thousand. These harsh conditions have become a challenge: I have never seen such a thing before...
It 's been the 12th day since we left base camp. We all acted together, falling into one pile and helping each other, managed to break through to the Summit!
There was cool weather on Dhaulagiri Summit, but the participants were on edge, in that state they could make a mistake. So we took a break for half an hour before we started the descent.
As we moved down, there was a tragedy. Among our satellites, the client of one of the companies was an Indian participant, and 100 meters below the top he became ill. Attempts to pump him out led to nothing and he died. The weather began to ruin, the wind rose again to a hurricane.
In conditions of very bad weather we came down from the 3rd camp. Without rope, we would definitely be lost because the drill rose again, and the visibility was very poor.
We managed to get to Dhaulagiri Camp 3, it was here for the third night. Very early we got up and moved to Camp Two. The trail was full of snow, we had to re-lay it. But the next day, we managed to get down to base camp.
When we started, in the base camp there was a knee of snow, and when we returned - the grass had already grown and edelweiss had grown. It was extraordinary - I thought I was coming back to life!
During this assent of Mount Dhaulagiri I lost 15 kilograms, I thought there was no skin left on my skeleton. There was a wild weakness, I was literally rocked by the wind.
Well, right after that, Indian friends took me to India with them, and I came to my normal condition senses there. There were constantly banquets, meetings, awards, delicious food - and in a month in India I returned to my normal look.
The whole expedition was very dangerous. I can define my impression that Dhaulagiri is a wild and heavy mountain with its mores. Of course, it would be good to shoot a documentary about this epic, but because I constantly had to open the trail and hang the railing, it was no longer before the shooting. Therefore, photos are available in a very limited number, and there is no video at all.
But nevertheless, the case was done, and the first civilian Indian summit with me on top of Dhaulagiri
Dorchi Sherpa
Translation by Oxana Morneva Sherpa
Here is some photos to illustration what kind of meals usually you can have at our expeditions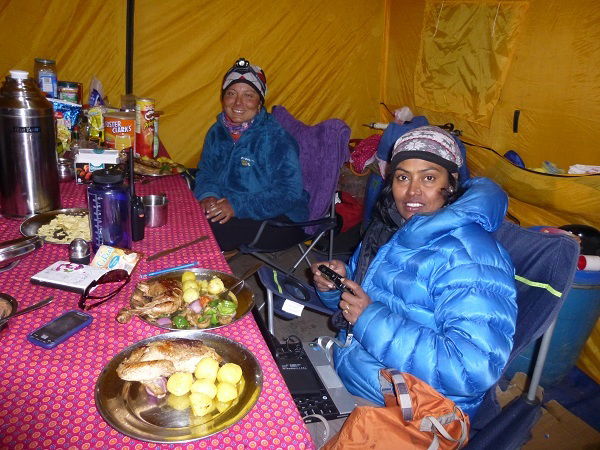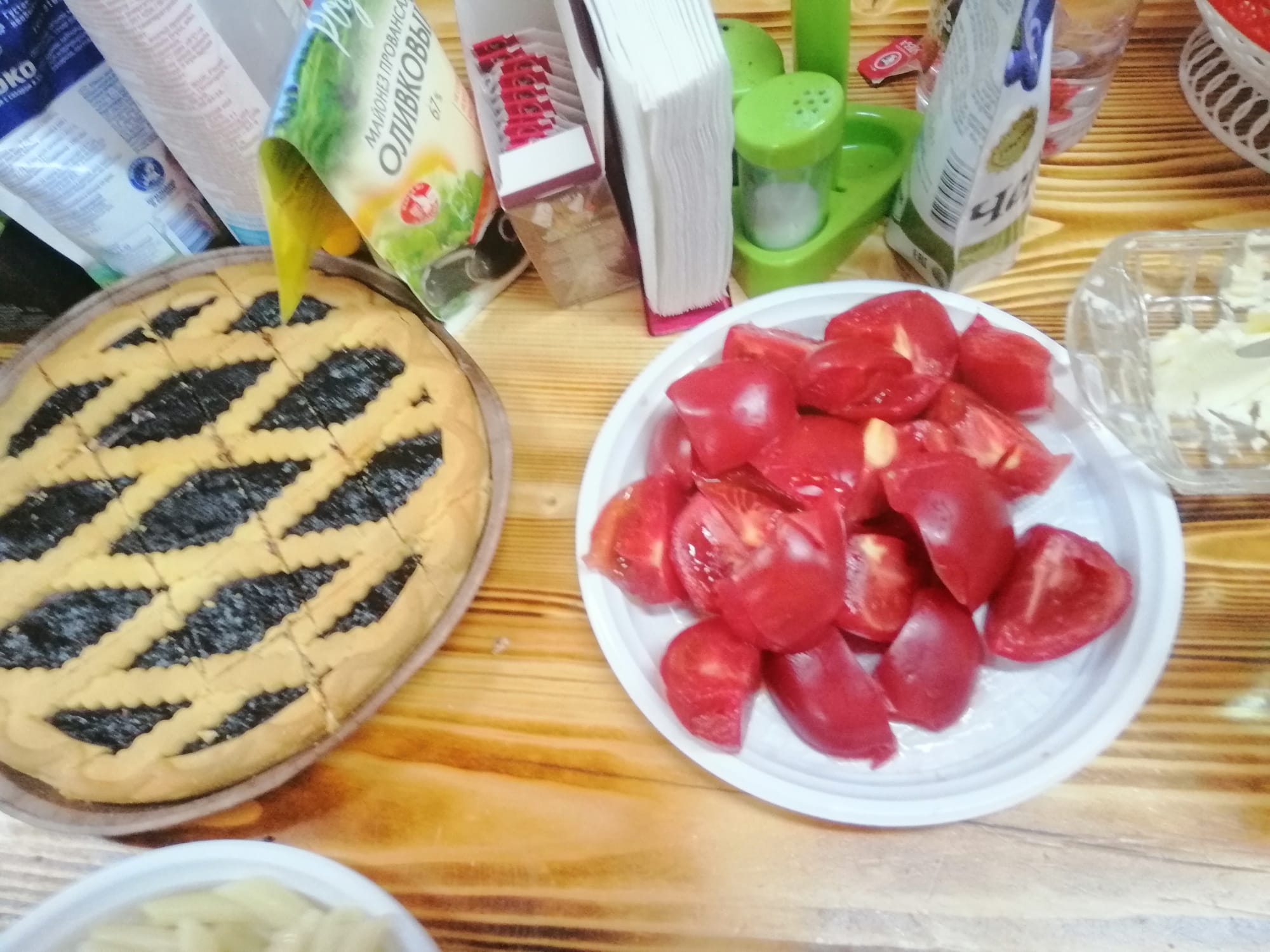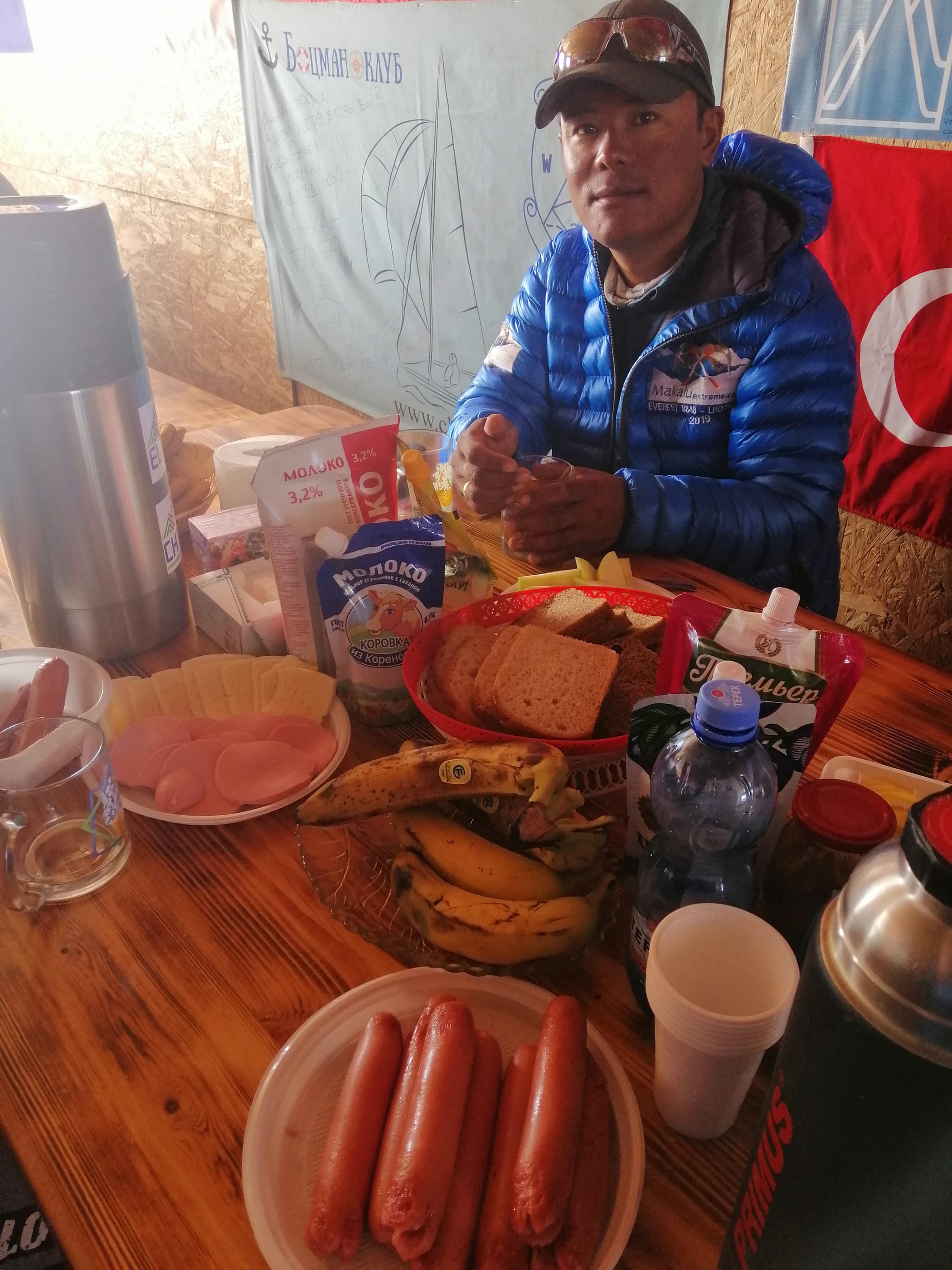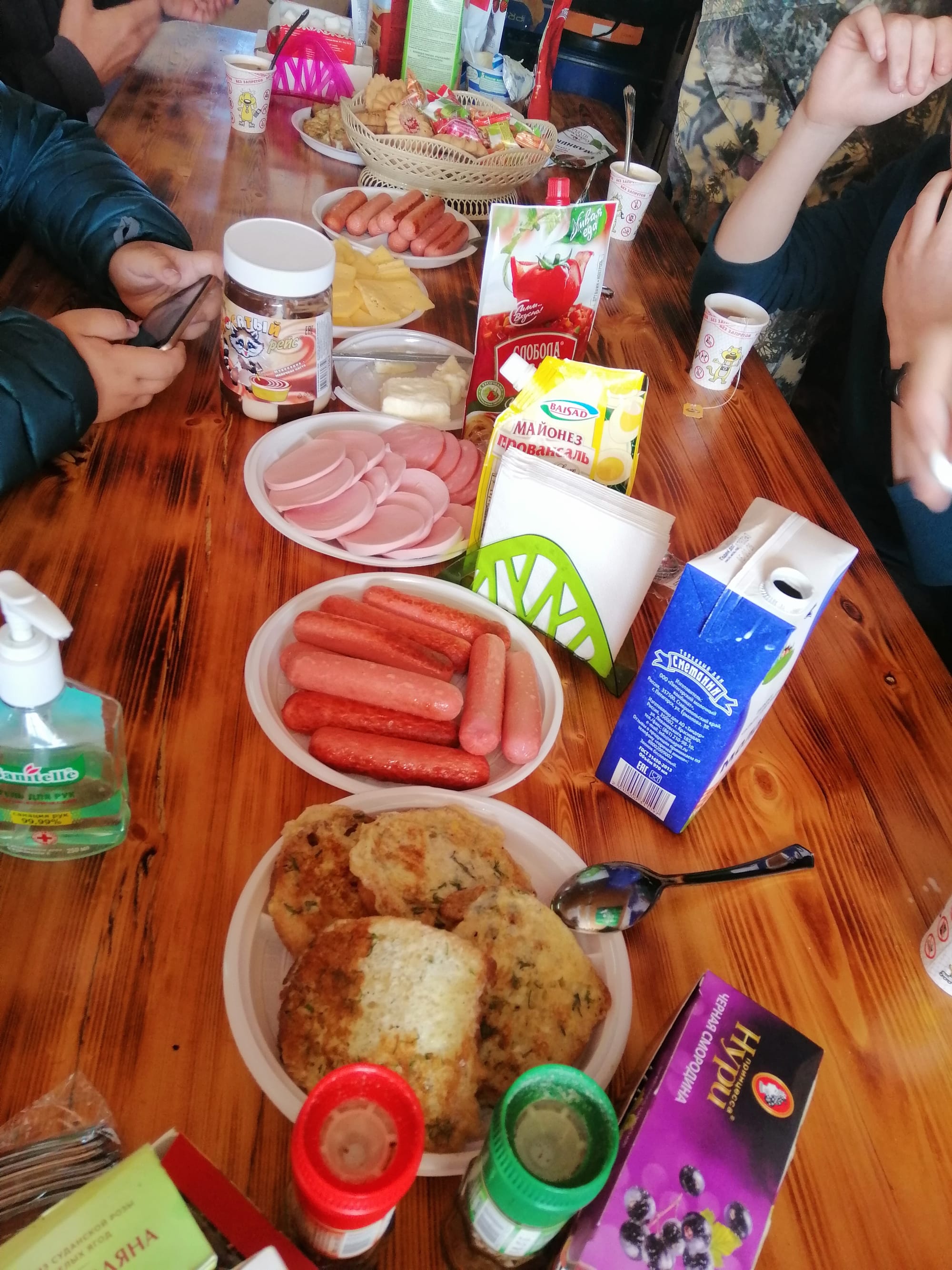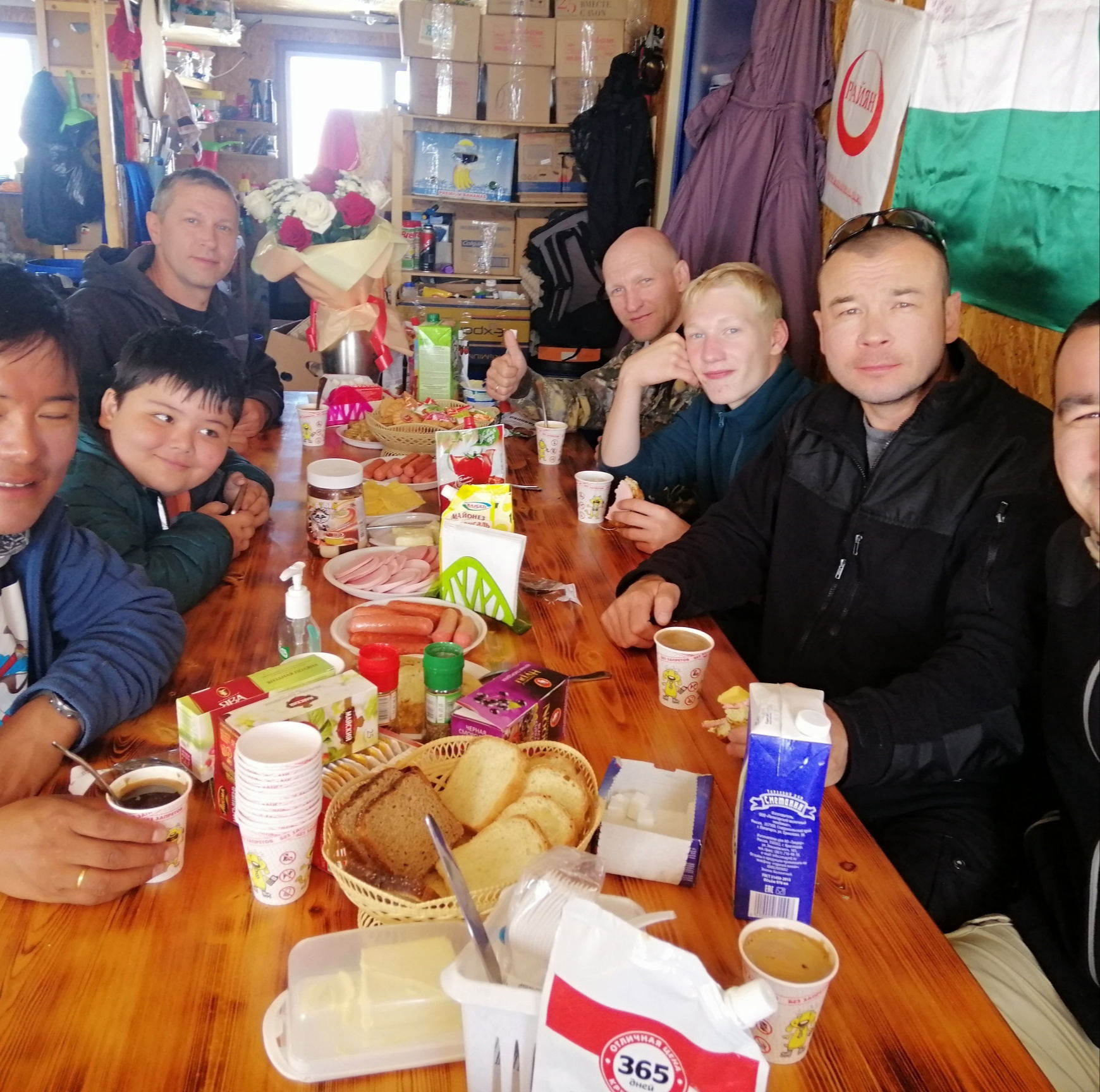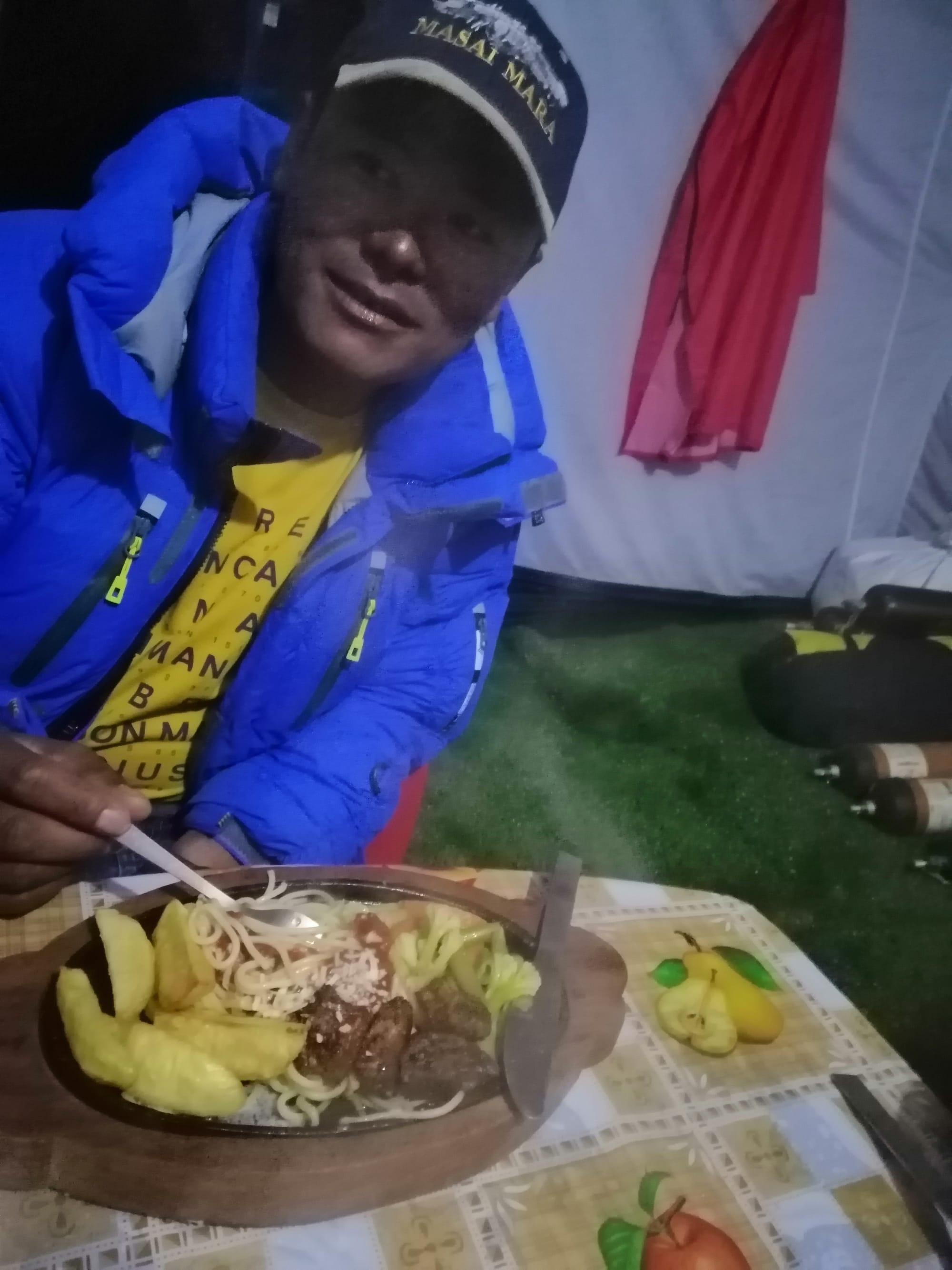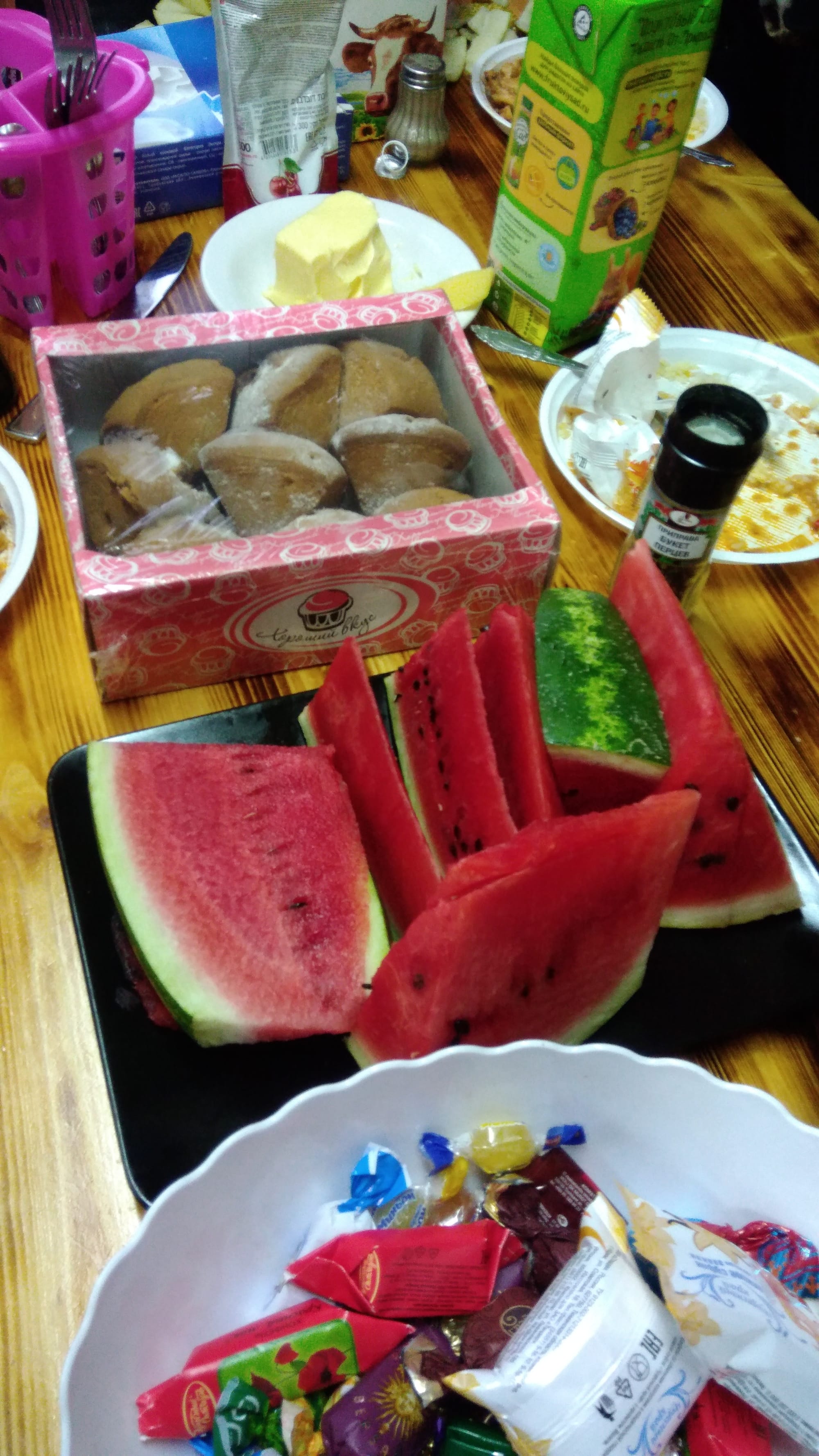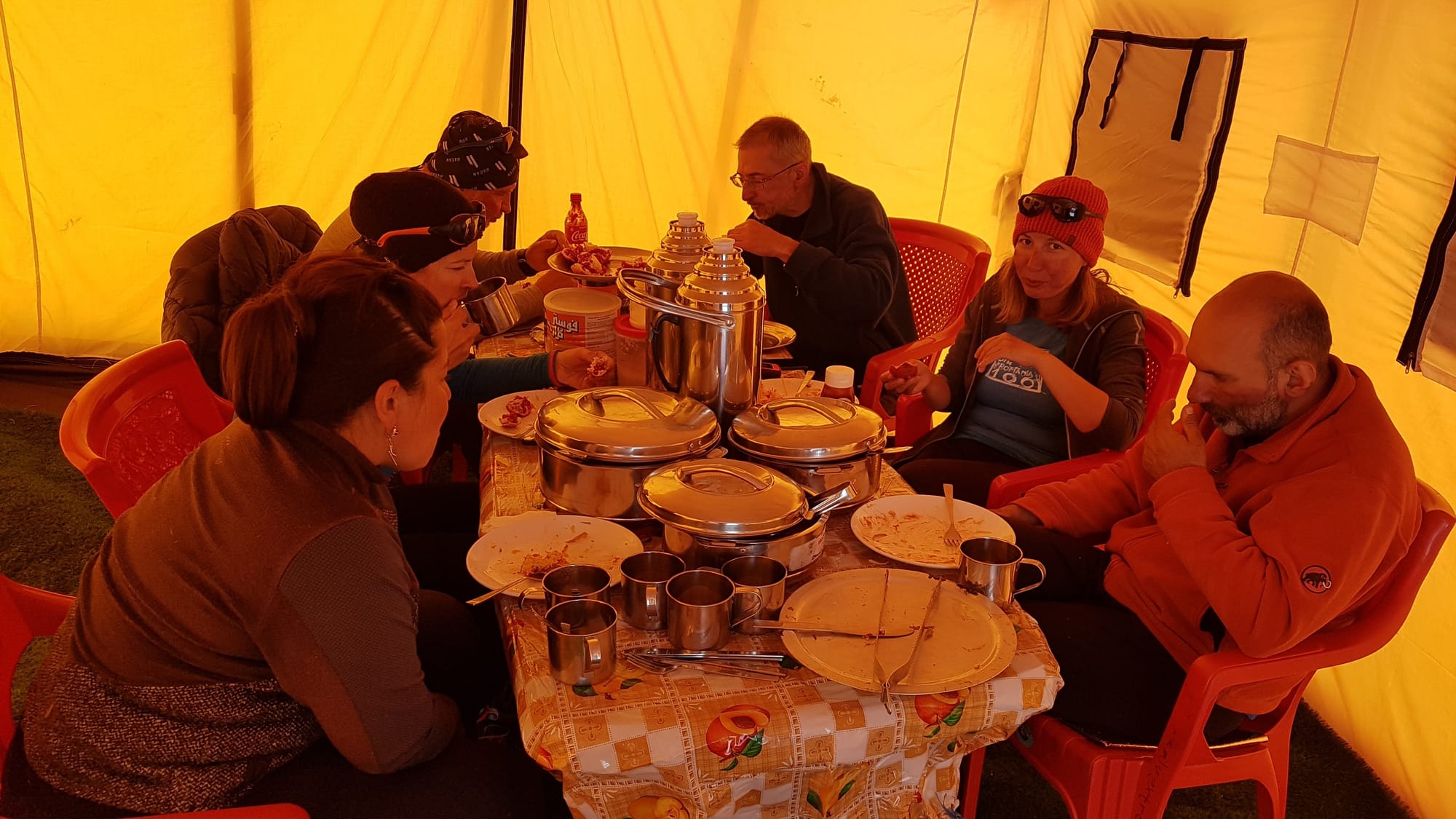 Here is photos of our hotel, where will stay all our full and VIP service members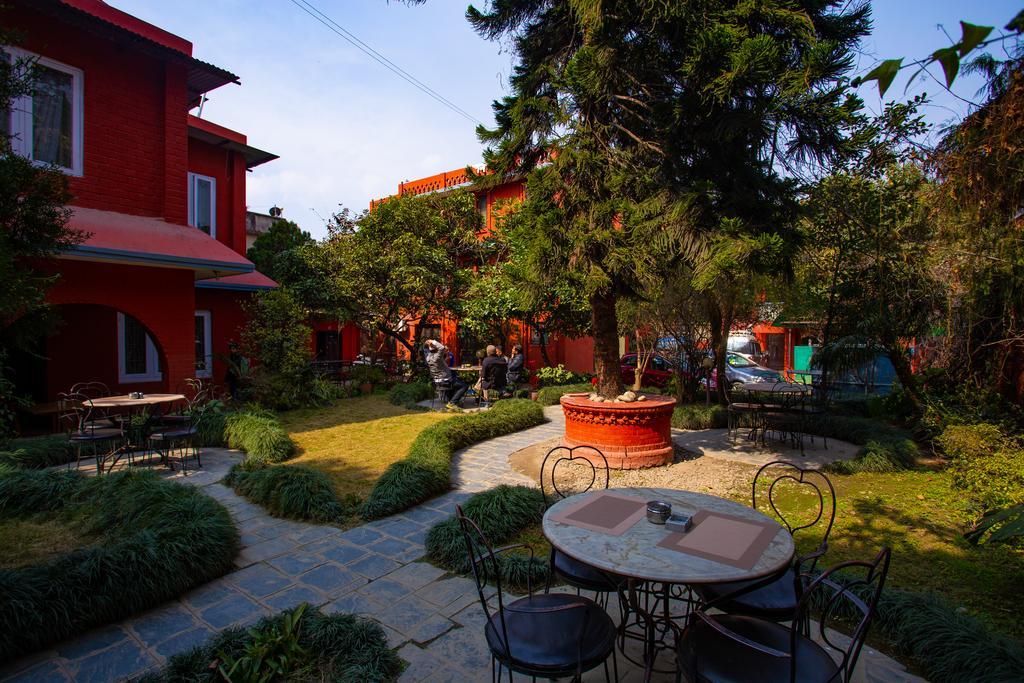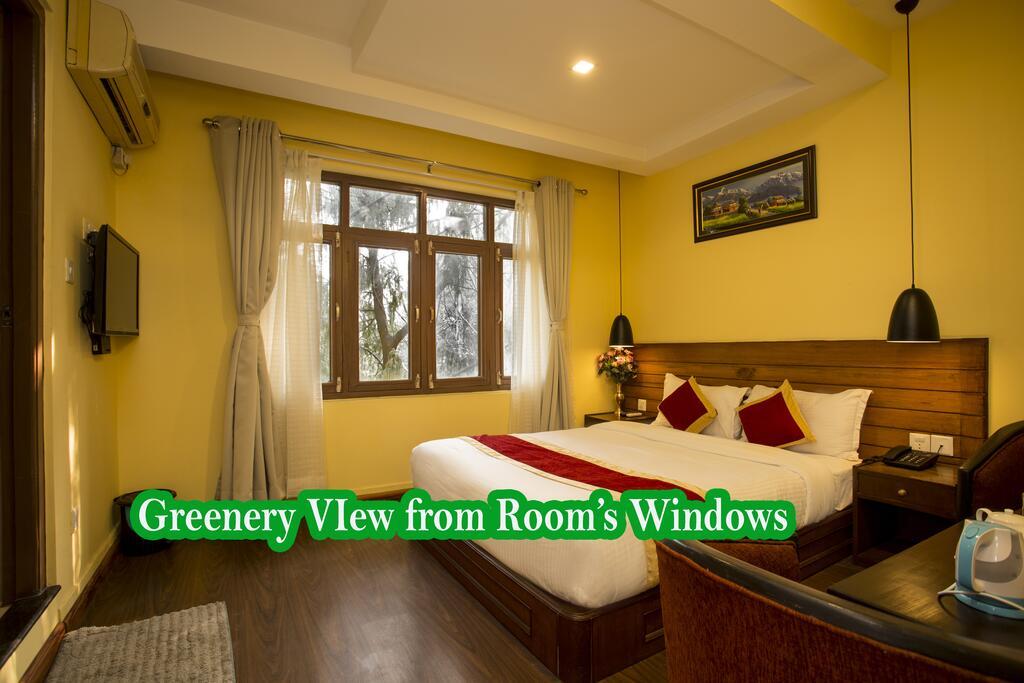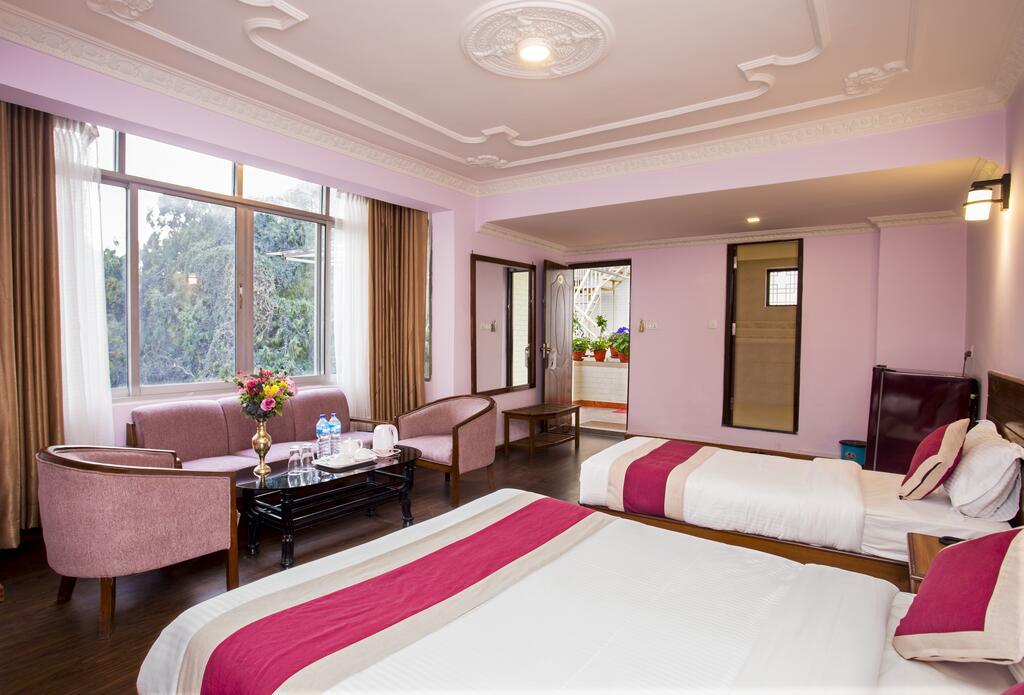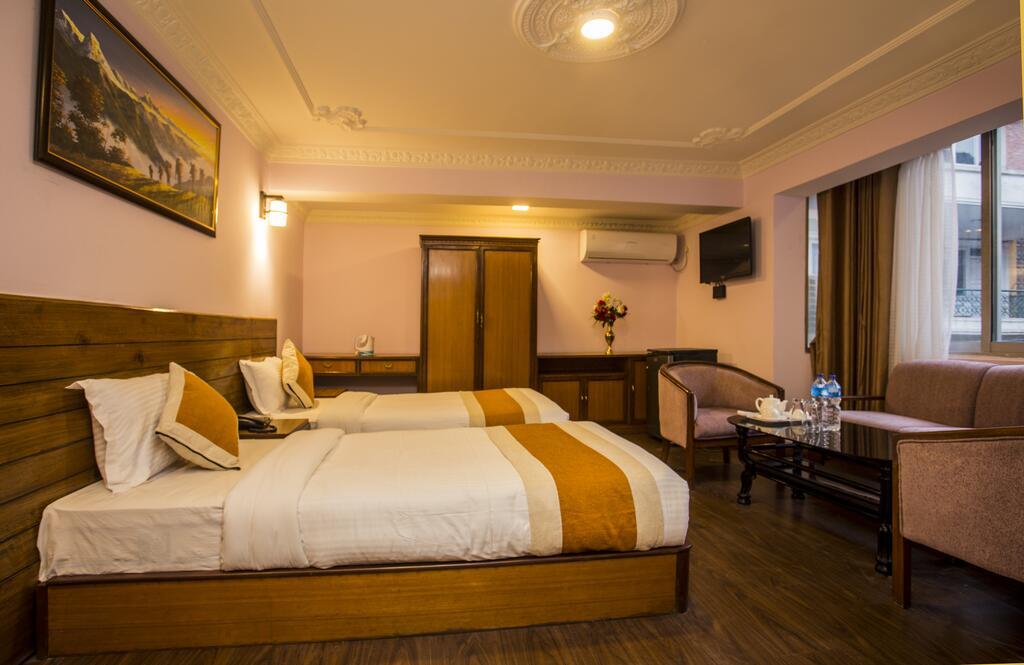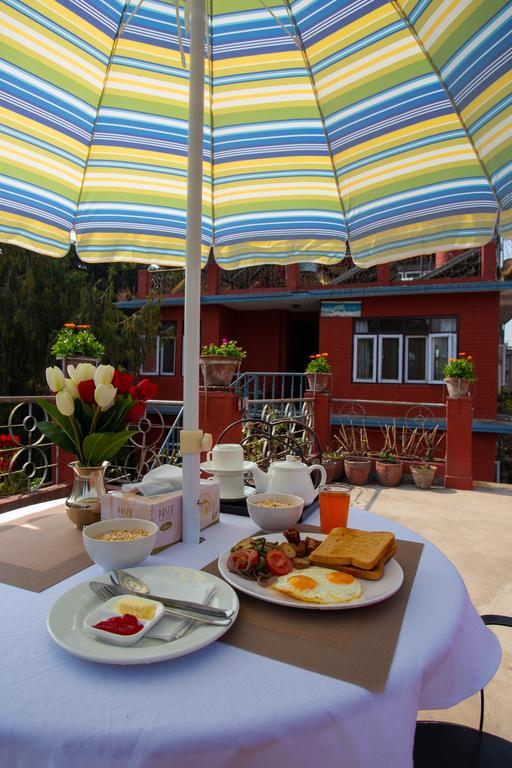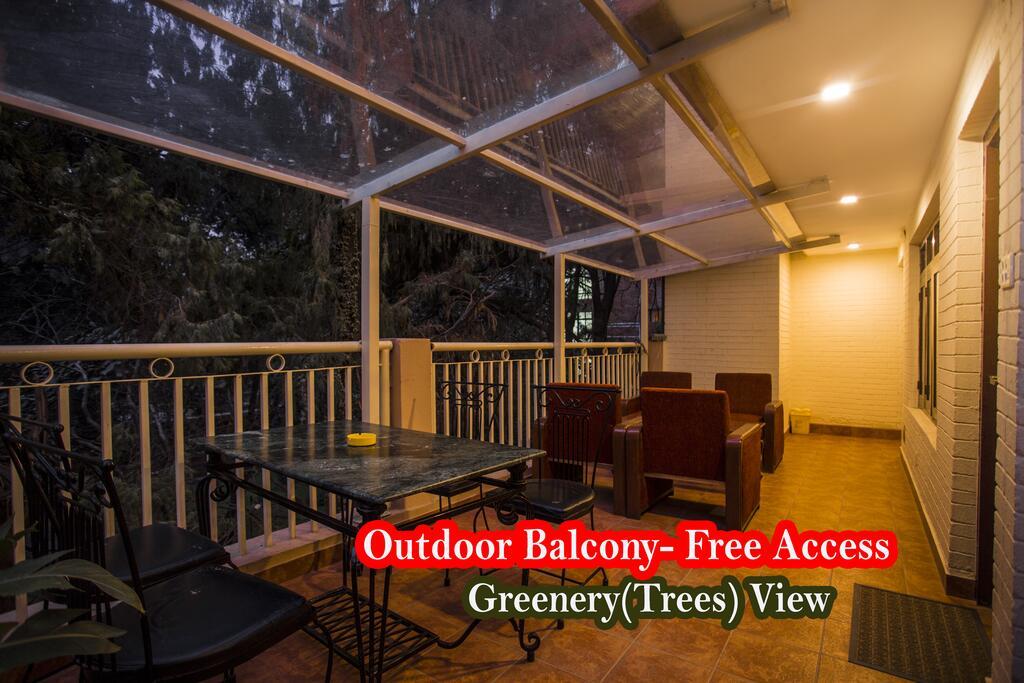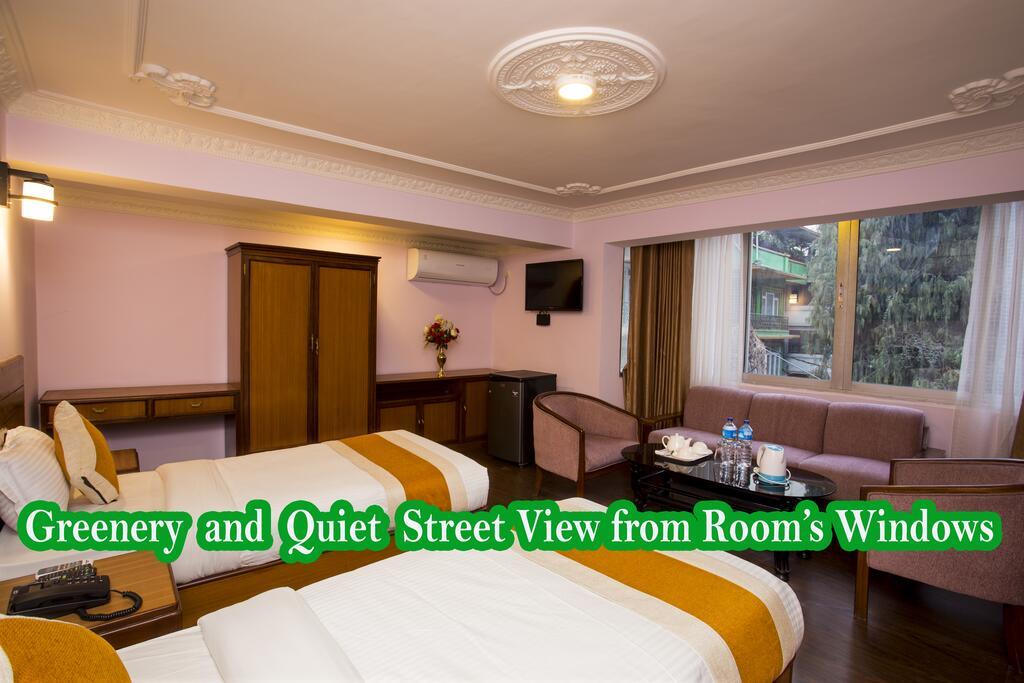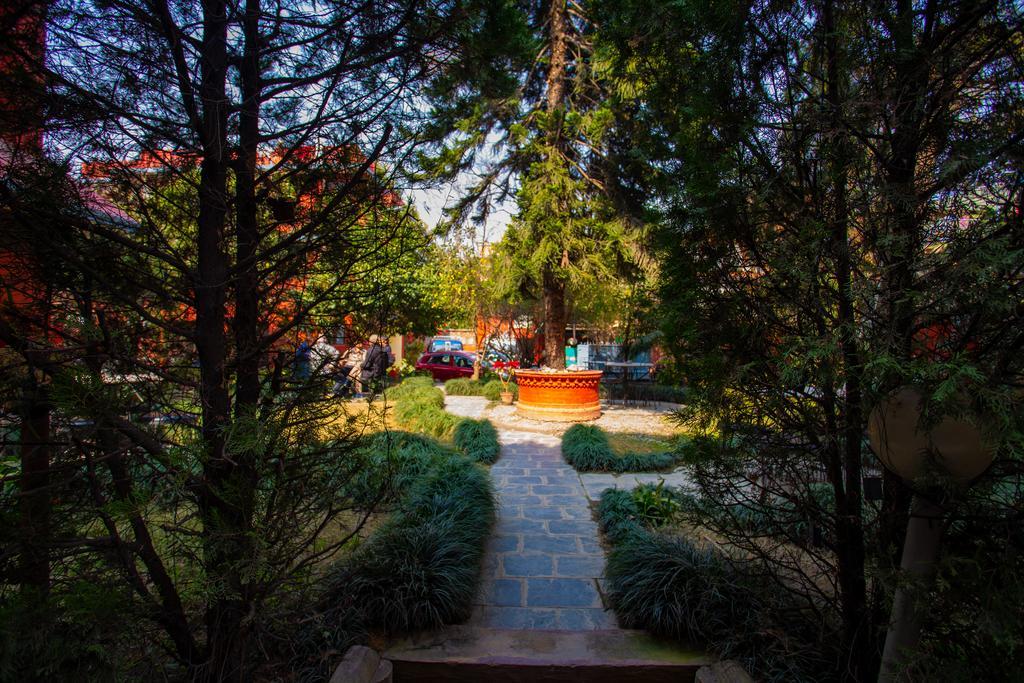 ALL MATERIALS AND PHOTOS OF THE SITE ARE THE PROPERTY OF MAKALU EXTREME CLIMBING ADVENTURE. THEIR USE IS PERMITTED ONLY WITH THE CONSENT OF THE OWNERS OF THE COMPANY.