*Everest 8848 Climbing Expedition 2024, South cost, and price without any hidden expenses, Fixed departures and Itinerary, Nepal, Himalaya
*www.makaluextreme-treks-expeditions.com
*WhatsApp +7-918-104-23-18
*The Everest 8848 Climbing Expedition 2024 Overview:
Maximum Altitude 8848m
Total Duration 53 Days
Climbing Route South- East Rige
Group Size 4- 24 Pax
Next Date 8 April- 1 Jun 2023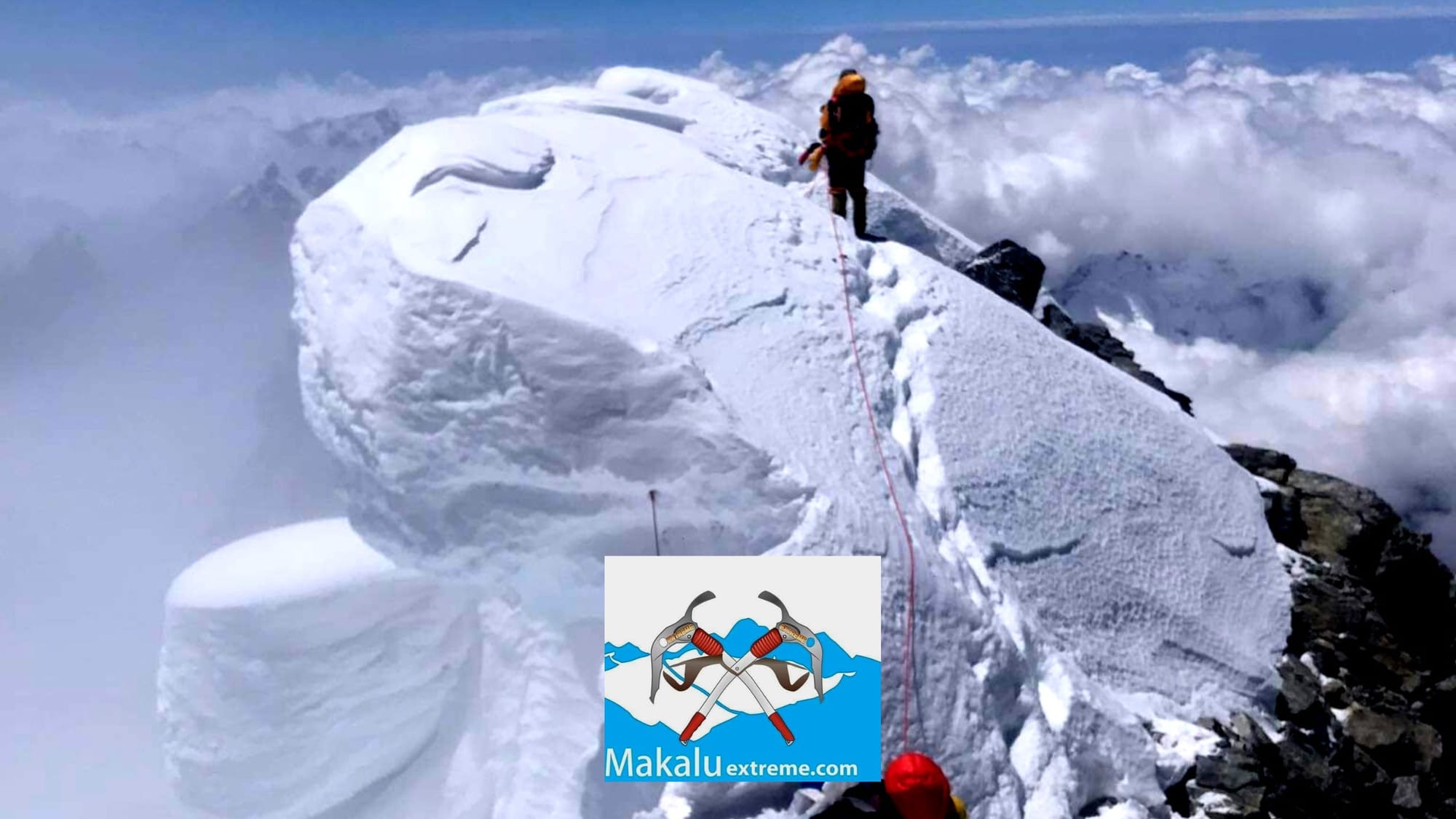 *The International Mount Everest 8848 South Climbing Expedition 2023, cost / price, Fixed Departures and Itinerary, Nepal, Himalaya
*The Мount Everest 8848 Climbing expedition 2024 fixed departures
April 8 - Jun 1, 2024
*The Mount Everest 8848 climbing expedition 2024 cost / price:
*Climbing Everest Full service cost: 38000$ per person (one climbing guige, 6 bottles of oxygen per one member)
*Climbing Everest VIP service cost: 50000$ per person (two climbing guides, 12 bottles of oxygen per one member)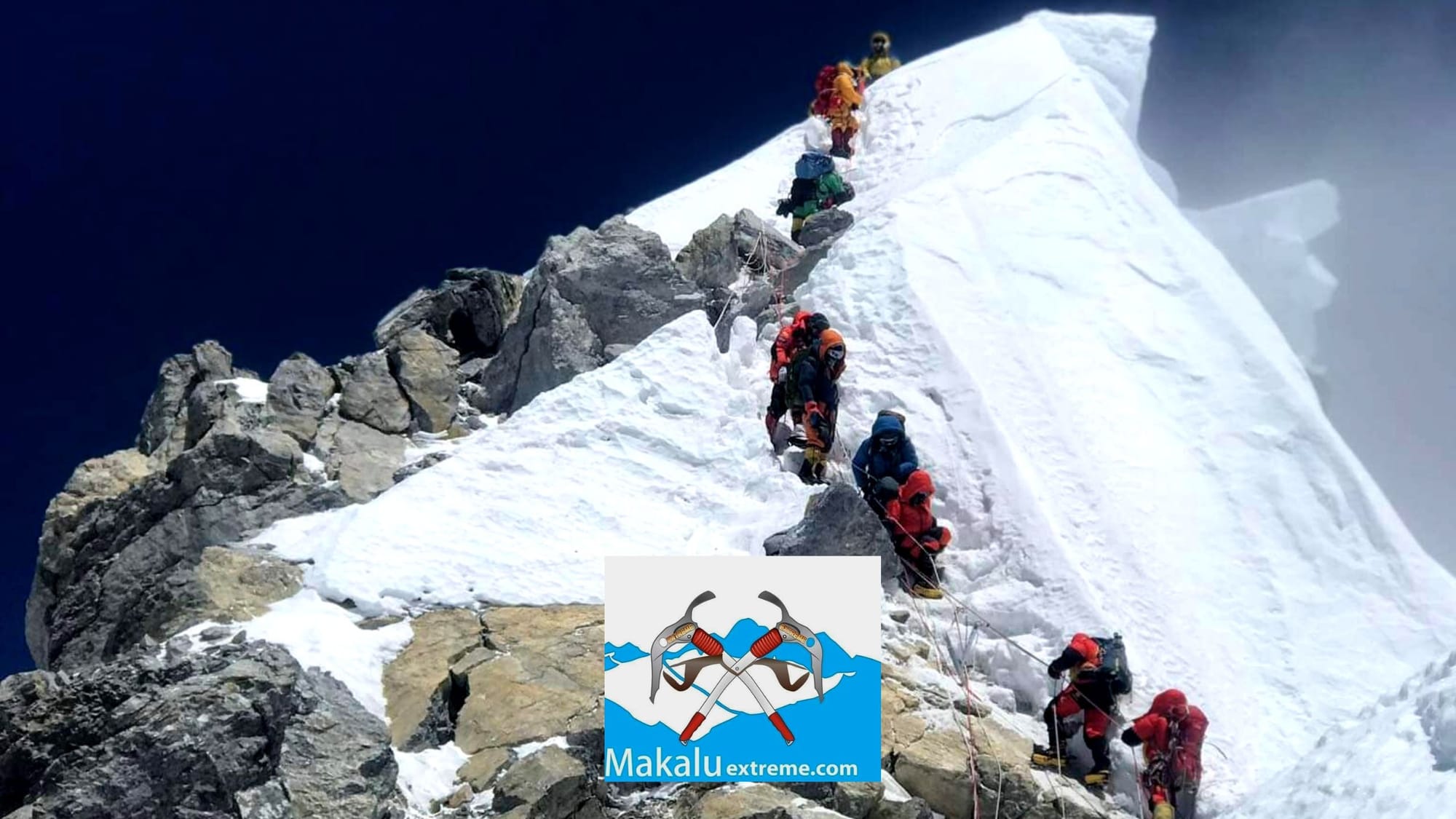 *Everest 8848 Climbing Expedition Full Service Cost / Price 38000$ Includes:
*Airport Transfers in Kathmandu
*4 nights hotel accommodation in Kathmandu on BB plan(before and after the expedition)
*Transportation as per the program- domestic flights Kathmandu- Lukla- Kathmandu, airport transfers.
*Transport of food supply and expedition equipment to Base Camp and back
*Full board in lodges during trekking to base camp and back
*Base Camp tent-1tent-1 member
*BC staffs and Liaison Officer
*Required kitchen equipment such as kitchen tent, store tent, toilet tent, table and chairs etc
*Comfortable dining tent with heater inside
*Hight food supply at base camp
*Government Liaison Officer
*Cook and kitchen boy at Base Camp
*Equipment allowance, wages of cook, kitchen boy and Liaison officer
*Insurance of cook, kitchen boy, Liaison Officer and porters
*Peak Permit fee of Mount Everest
*Conservation fee
*Fix rope charge, ice fall charge
*One high altitude Sherpa per one member to carry all food and gear to higher camps. Also assist the member during climb and Everest summit attempt
*Oxygen for climbing Sherpa( 1Sherpa-3 bottles)
*Oxygen for members 6 bottles
*Garbage deposit fee
*Common climbing equipment (necessary rope, ice bars, ice screws etc)
*High altitude food
*High altitude fuel
*High altitude tents
*Walkie-talkies for each member
*Generator at Base Camp for charging electric devices
*Emergency medical oxygen at base camp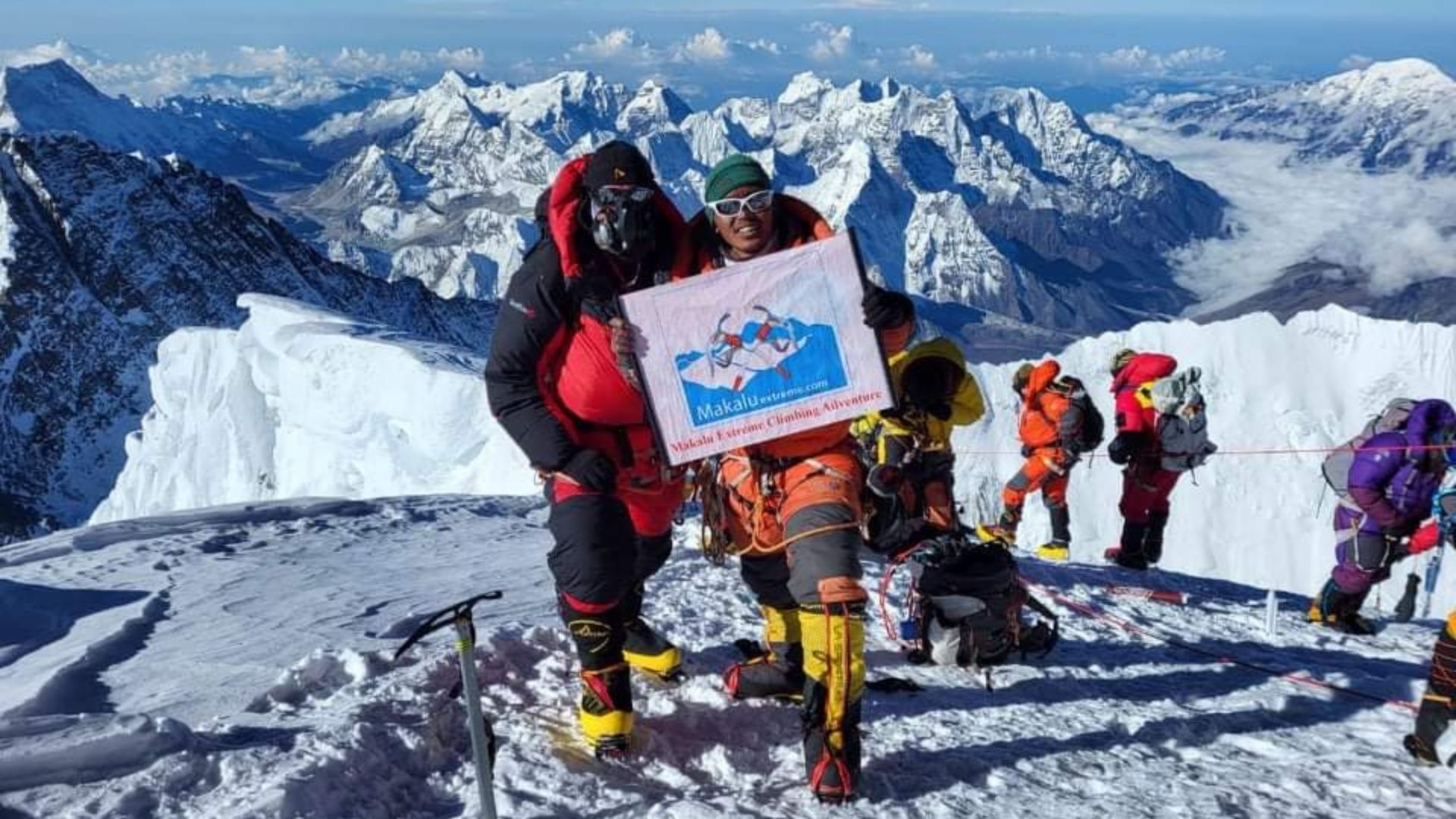 *Mount Everest 8848 climbing expedition cost does not include:
*International airfare from / to your country
*Nepal entry visa fee (can be obtained at the airport upon arrival)
*Lunch and dinner in Kathmandu- around 200$
*Hotel after 4 night stay in Kathmandu.
*Personal climbing gear and equipment
*Personal climbing insurance such as, accident, medical, emergency evacuation and lost luggage
*Expenses of personal nature such as drinks, laundry, postage, telephone etc.
*Summit bonus for climbing Sherpa-1500$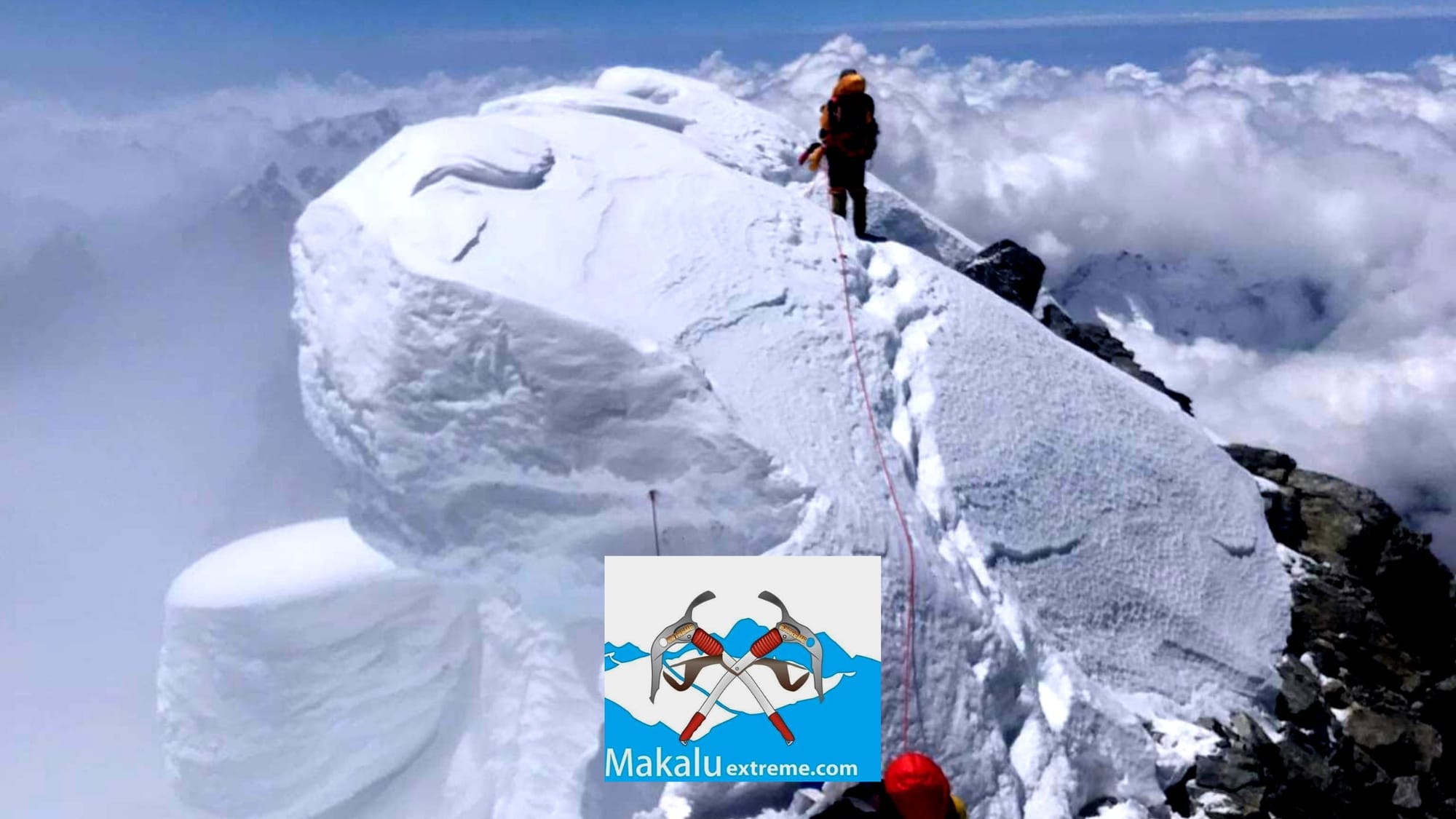 * WHY WITH US?
*Interesting facts about the work of our team, as well as these facts may be the reason why to go with us:
*Over the 10 years of our team's work, we have organized:
Dozens of successful expeditions:
*10 successful Everest 8848 Climbing Expeditions (2 from Tibet and 8 from Nepal, from the south). Our records on Everest - The first resident of the Republic of Bashkortostan, Sergey Belkin, climbed Everest with our team, the first Yakut, Evgeny Krivoshapkin climed Everest with us.
*The first Ingush, Magomed Dzeytov, made the ascent of Mount Everest with our team.
*3 successful Lhotse 8516 Climbing Expeditions. Our records on Lhotse are the first and only woman in the World, Oksana Mourneva climbed to the Top of Lhotse 8516 twice, The first Balkarian Aznaur Akkaev climbed to the Top of Lhotse with our team
*9 successful Manaslu 8163 Climbing Expeditions. Our records on Manaslu are the first woman in the World who climbed to the Top of Manaslu 3,4, and 5 times Oksana Mourneva, The first Balkarian who climbed to the Top of Manaslu Aznaur Akkaev, The first person in Estonia who climbed 8000+ and at the same time on Manaslu- Katrin Miresalu, The first person in Abkhazia who climbed at 8000+, and at the same time to the Top of Manaslu- Irina Alaeva, the most adult Greek who has ever climbed 8000+ and at the same time to the Top of Manaslu - Alexis Passalidis. The most numerous and at the same time successful expedition of 2017 - 36 people, 32m people and 9 guides managed to visit the Top.
*1 successful Kanchenjunga 8586 Climbing Expedition. Our achievements on Kangchenjunga: All participants and guides climbed to the Top of Kangchenjunga, 12 out of 12, including three girls
*3 expeditions to Annapurna 1 and IV. Our achievements at Annapurna are the Combined Kuban and Makalu Extreme team. The first Russians Alexander Eliseev and Andrey Dergachev climbed to the Top.
*2 successful K2 Climbing Expeditions. Our achievements on K2. Pascal Denoel became the oldest Frenchman at the age of 58, climbing to the Top of K2. Our expedition to K2 in 2022 went down in history as the fastest and at the same time, one hundred percent successful expedition to K2. Participants and guides and organizers spent 18 days climbing at the limit of their abilities, but managed to get through the perfect weather window.
*Hundreds of Elbrus Climbing Expeditions, where we can also talk about the achievements of our team.
* Nadezhda Sologubova climbed to the top of Elbrus with one lung
*Chitrasen Sahu became the first Indian to climb to the Top of Elbrus without both legs. The whole expedition from Mineral Waters to Mineral Waters took him 5 days
*Kushagra Vagadj became the youngest climber in the world who was able to climb Elbrus at the age of 7 years and 2 months
*Kamiya Karthekiyan became the youngest ski mountaineer in the world who was able to climb Elbrus and ski out of there at the age of 10
*Gleb Metelev became the youngest Russian who was able to climb Elbrus at the age of 8 years and 2 months
*Jena Batti became the very first Indian woman who was able to make an Elbrus Cross.
*Mungundulai Chimigadze became the first Mongolian deaf-mute who was able to climb to the Top of Elbrus.
*10 successful Kilimanjaro 5895 Climbing Expeditions.
*Our achievements on Kilimanjaro: In 2022, an international team of disabled people climbed to the Top of Kilimanjaro 5895
*Hundreds of Mera Peak, Lobuche and Island Peak Climbing Expeditions, in which hundreds of our participants visited the Peak of their Dreams, not a single person died. We are very proud of this result.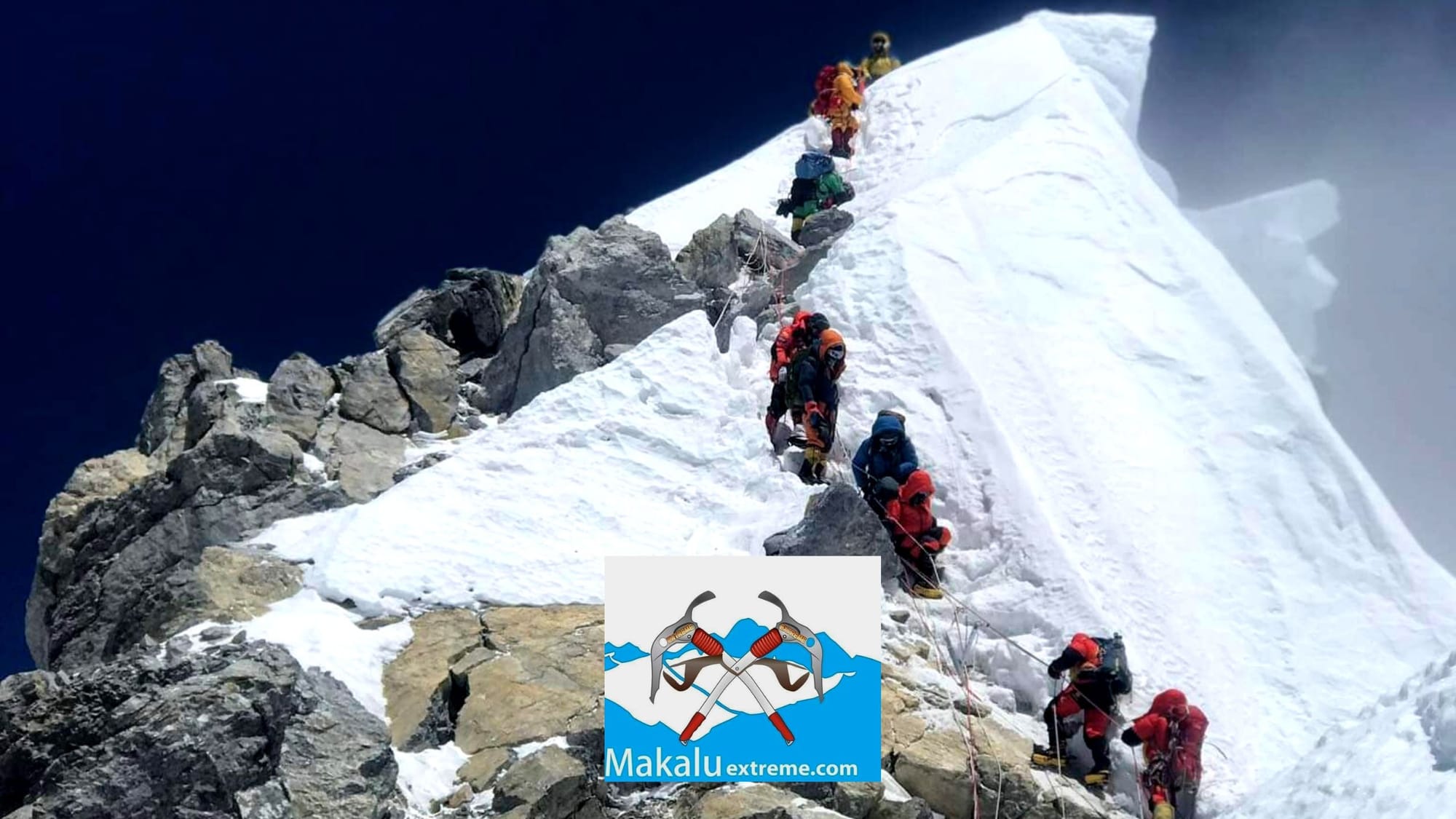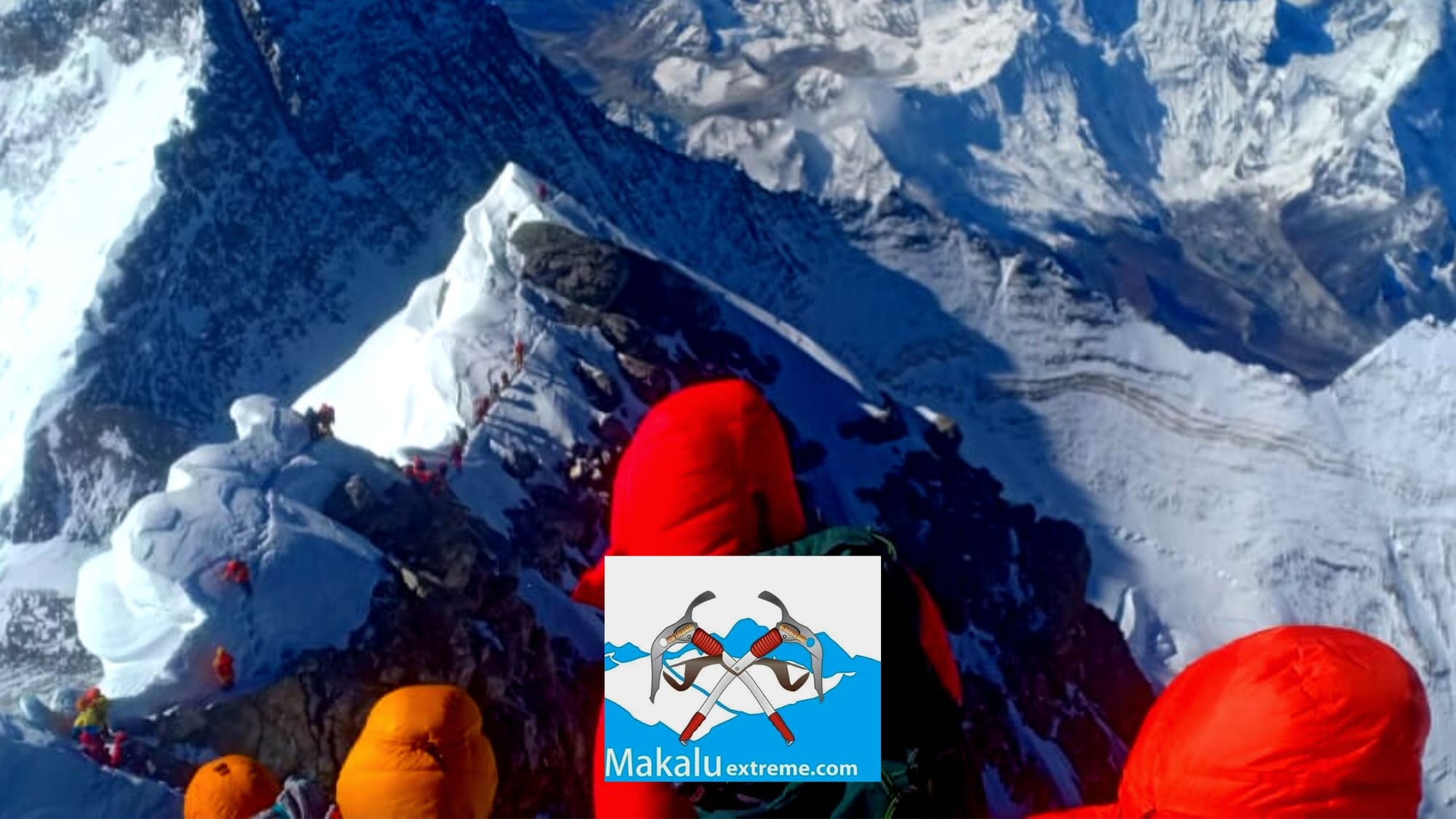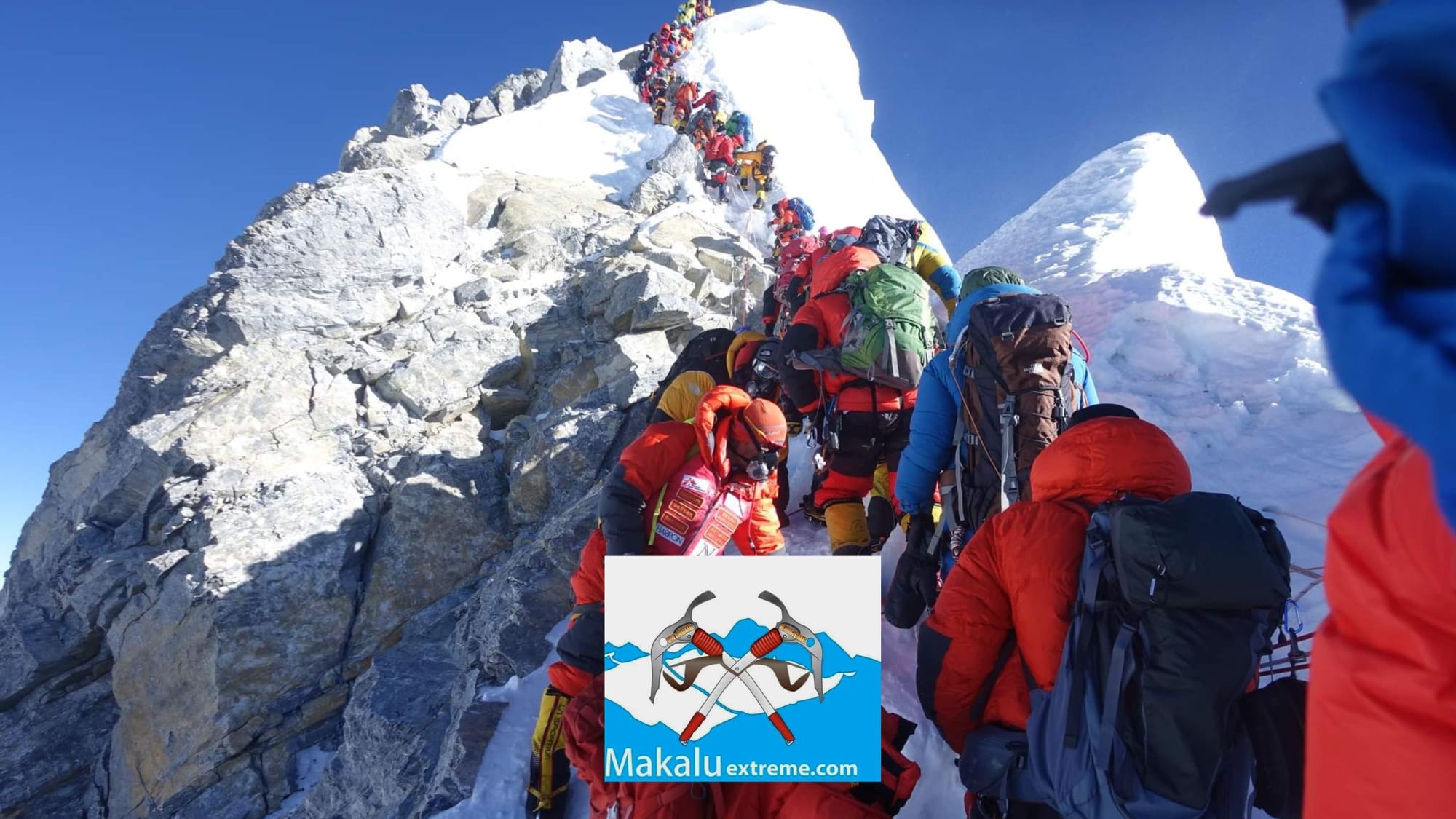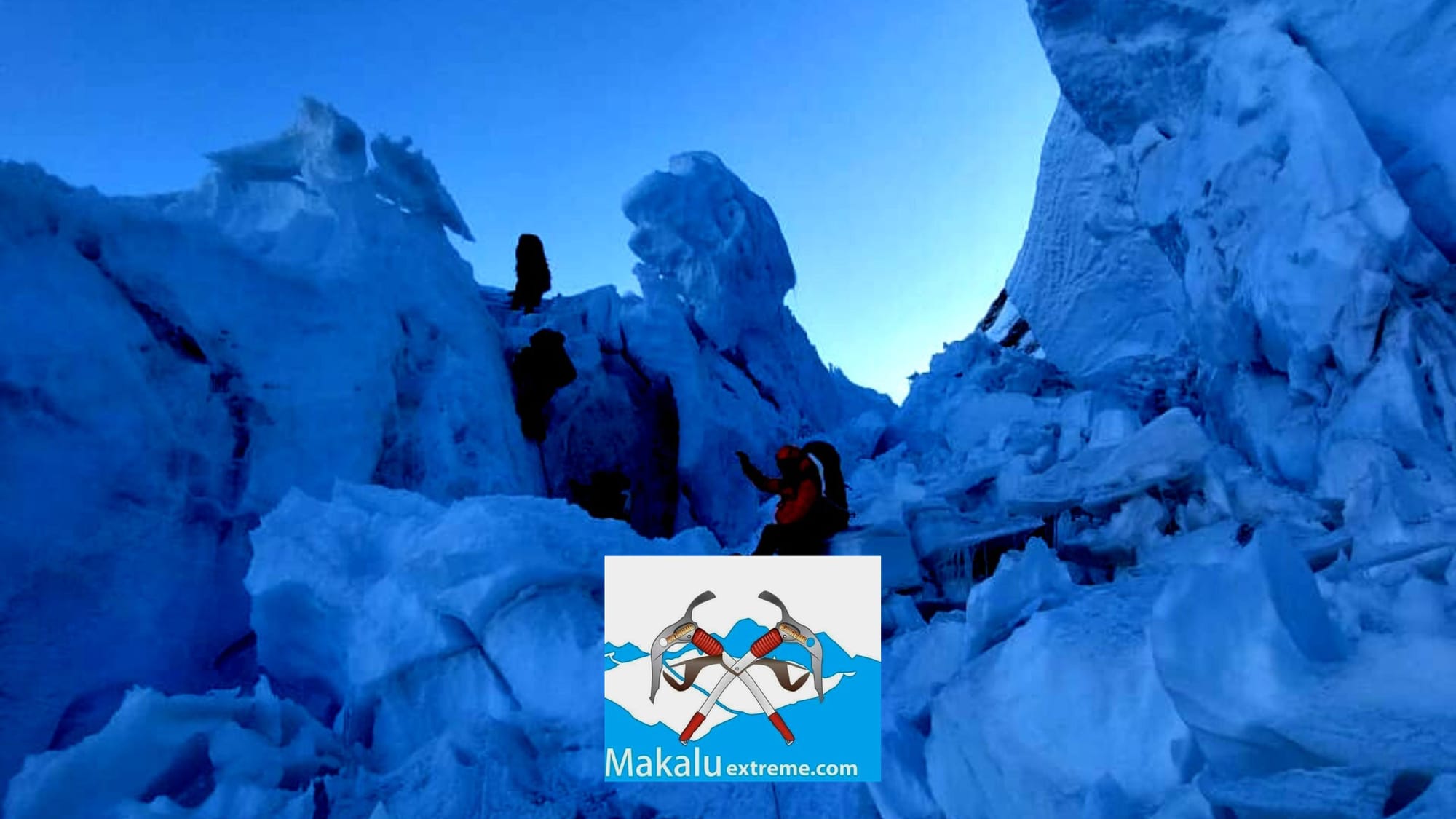 Mount Everest Climbing Expedition overview:
*Follow us to the top of the world through Makalu Extreme Climbing Adventure Pvt Ltd which is delighted to offer the lifetime adventure with world-class service from Everest Base Camp(EBC) to all the high camp of Mount Everest (8848m) from it's South Face from southeast Ridge in Nepal.
*We take care of you right from the arrival in Kathmandu. The price (cost) of Everest climbing expedition includes Hotel accommodation, the flight to Lukla in the Khumbu region, the trek to Base camp via Namche and tea house full board service during the trek before arriving to base camp; and of course the services at base camp and at the high camps. Let us take care of all the details – you can fully focus on your Everest climb.
*The climbing Guides of our company are highly qualified, skilled, regularly reviewed and re-trained and recognized for their training and experience throughout the profession. We only take the most experienced guides and staff on this Everest climbing expedition. This is a serious climb and mistakes can have serious consequences. This is why we focus extensively on safety and accident prevention for both clients and guides on our Everest climbing expedition. No expedition is without risk and certainly not one to the highest Mountain of the world. However, we implement rigorous safety standards to minimize the risk. We'd also like to highlight that our guides and staff are all employed under ethical standards.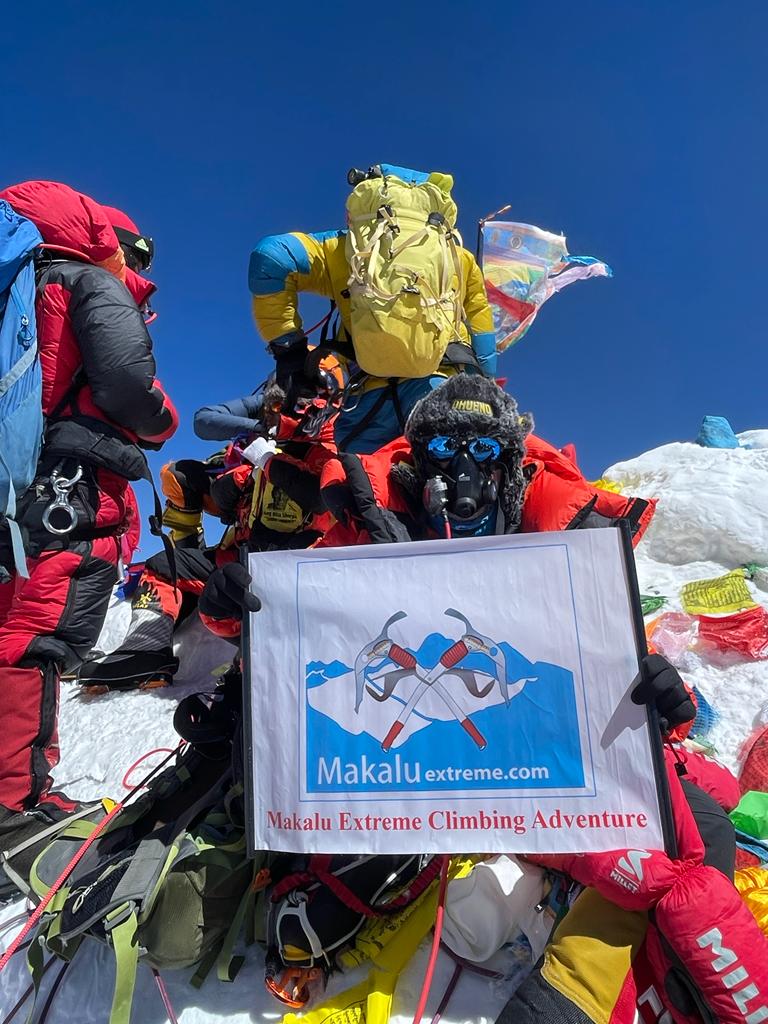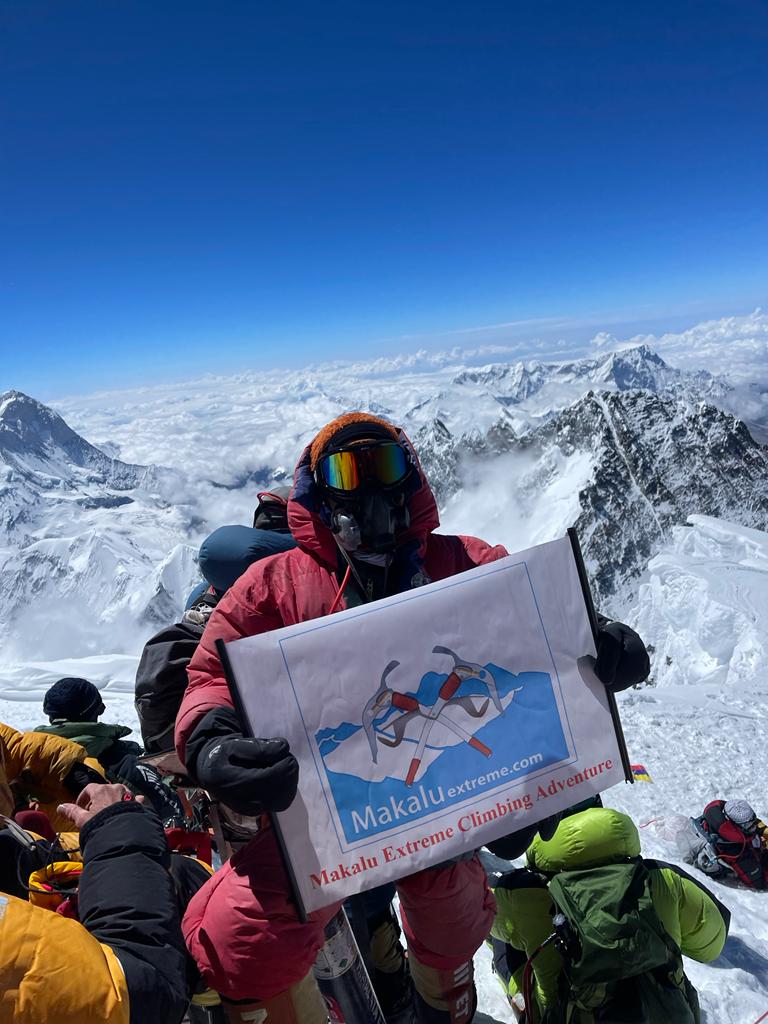 The exploration of Mount Everest has a long and varied history – from the first recognition of the peak, to the attempts of Mallory, Irvine, Norton & co and eventually the successful attempt of the British and the impressive solo ascent of Reinhold Messner.
The Sagarmatha (forehead of the sky) in Nepali is known as Mt. Everest throughout the world. With an altitude of 8848m, it is the highest peak on earth. The South face is recognized to lie in Nepal where as the North face is in China's autonomous state Tibet. This world's highest peak was first officially measured in 1856 during the Great Trigonometric Survey of British India government and then known as Peak XV certified with the height of 8840m. With a simple technology and the distance from the mountain, the height was determined with really phenomenal accuracy - only 8m off from the current value of 8848m.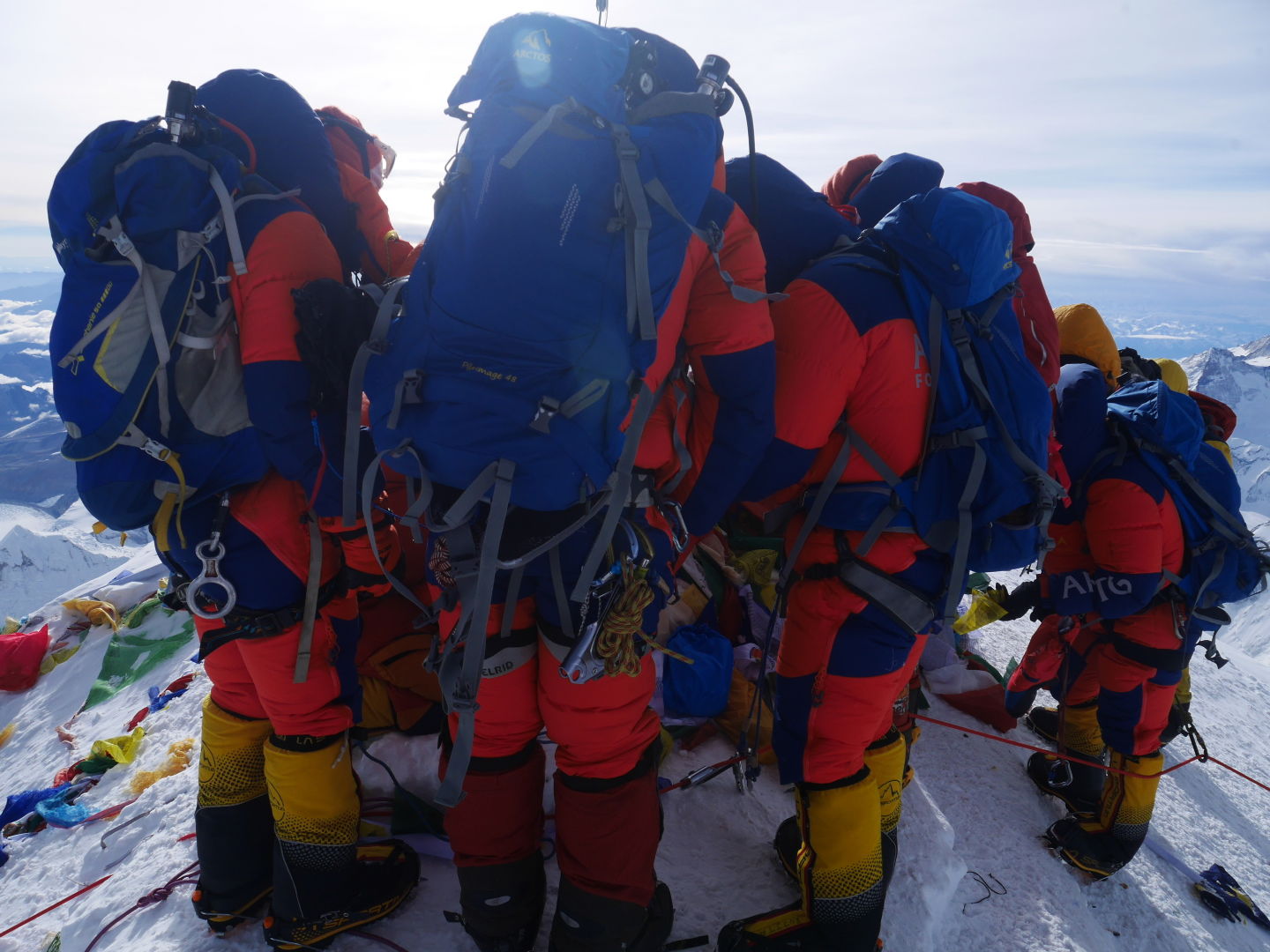 The name of British Surveyor in 1856 was Sir George Everest- the General of British India during the survey period and a somewhat infamous character. Tibet and Nepal were closed to foreigners at the time, so it is reasonable to assume that local names of the mountain were unknown. The name of the highest peak was chosen in his honor, although not without controversy even at the time. The first climbing attempts were not possible until the 1920's and they ended ultimately in disaster. Success came only in 1953 from the South side on the very same route you'll be taking for this expedition.
Retrace these historic achievements and write your own history by making an attempt to reach the top of the Mount Everest. With us as your support crew, everything is possible.
THE EVEREST 8848 CLIMBING EXPEDITION TRIP INTRODUCTION
Mount Everest, also known as The Sagarmatha in Nepali is the tallest peak on earth with an altitude of 8848m. The southern face lies in Nepal whereas the northern face is in Tibet. In 1715, China surveyed the mountain for the first time while they were mapping Chinese territory and depicted it as Mount Qomolangma. British India government in 1856 again measured Mount Everest during their Great Trigonometry Survey. Back then, it was named as Peak XV and said to be 8840m tall.
Peak XV was renamed after Sir George Everest as Mount Everest, name given in his honor, who was lead surveyor in 1856. Sir George was Welsh Surveyor; he was surveyor general of India for thirteen years from 1830. The Everest has fascinated the mountaineers all around the globe since 1920s when Tibet opened the climbing in early 1920s. In 1922 British Expedition team led by Charles Bruce tried to scale the summit of Mount Everest for the first time. It was Edward Norton in his second attempt along with British Everest Expedition team set the height of 8572m. The mountaineers George Mallory and Andrew Irvine disappeared on the third attempt. Mallory's body was found in 1999. There were several attempts made to Everest before the successful attempt made by Edmund Hillary and Tenzing Norgay on 29 May 1953 via the South route. It is now reported that around 1000 ascent attempts to the Summit of Everest, are made every year.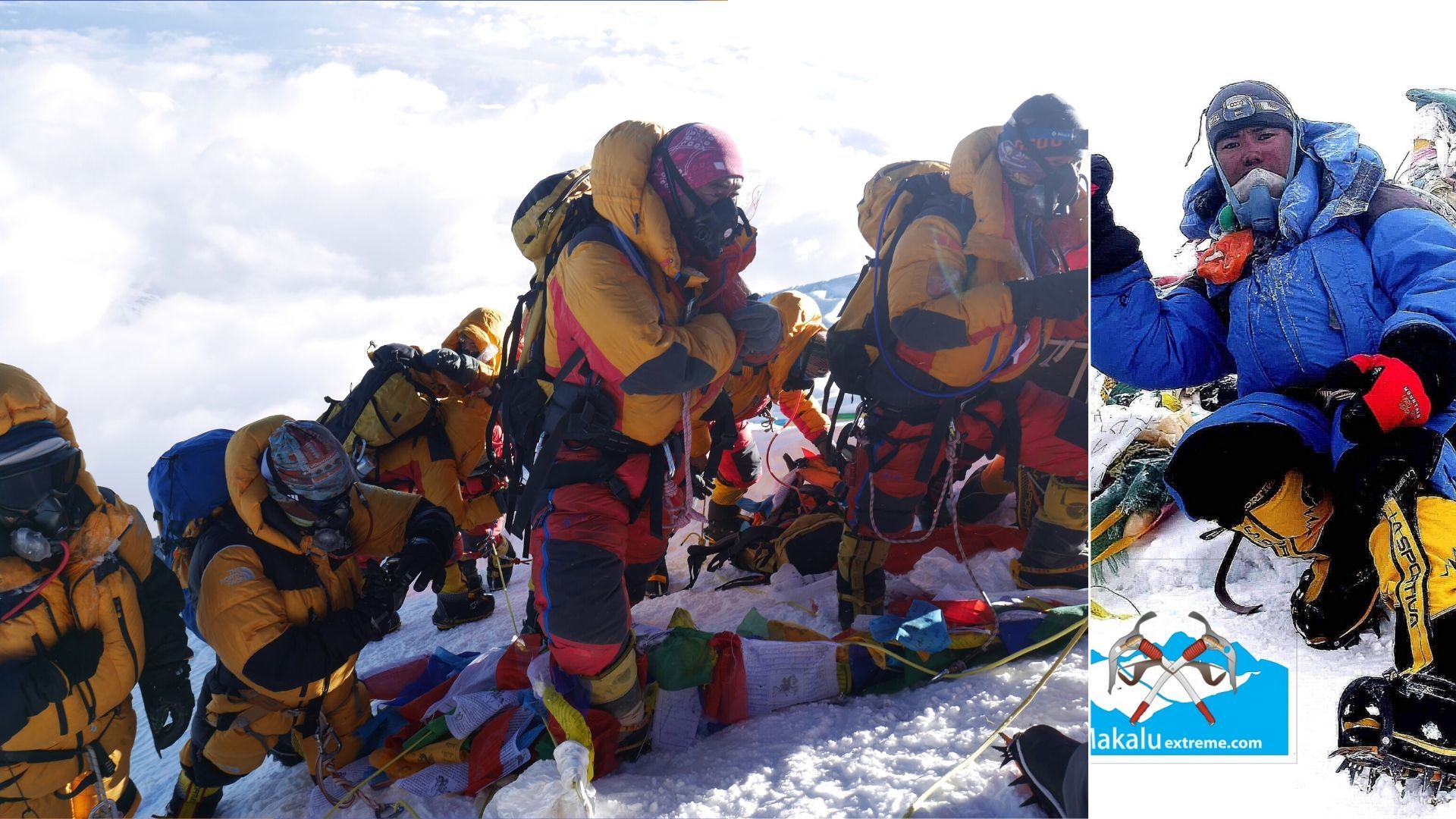 By the Everest Climbing Expedition we will take the southern route to the summit of Everest. This trip suits for those who has previous experiences of few 7000m peaks or even more. The real trek apparently starts from the Base Camp and to reach the base camp takes you around 7 days on foot. We will move on to Camp I (6,065m) where we will see Khumbu glacier. From Khumbu Glacier, it around 450m on a gradual slope to Camp II (6,500m) and around 610m to Camp III (7,200m). Camp III is located at the head of Lhotse. From this point onwards, you will need oxygen cylinders. You will reach the Camp IV (7,910m) after just crossing 8000m elevations. This point is also known as the Death Zone.
Mount Everest Expedition is undoubtedly a lifetime opportunity. Nevertheless, these Everest expeditions encounter many hindrances such as high altitude, severe weather conditions and avalanches. One must be well trained before actually trying it. You need to get your body ready for the 8848m-foot climb to Everest's summit. Depending on your current level of fitness, you need to train for several months before you start your ascent. A climber must build his/her cardiovascular strength along with muscular strength; oxygen level drops by 60-70 percent from sea level. One must acclimatize with weather conditions and be prepared for rock falls, avalanches. Learning rescue techniques would be added advantages.
Our best Everest expeditions guides on the world will support your climb to the top of Mount Everest
" We await to share our experience with you "

Everest 8848 climbing expedition- spring 2023, climbing introduction

Today, my story is about the Everest climbing expedition, about our services and what our participants pay $ 36,000 for full service and$ 48,000 for VIP service. I would like to draw Your attention to the fact that the services provided and their quality strictly correspond to this description.

Mount Everest 8848, Short information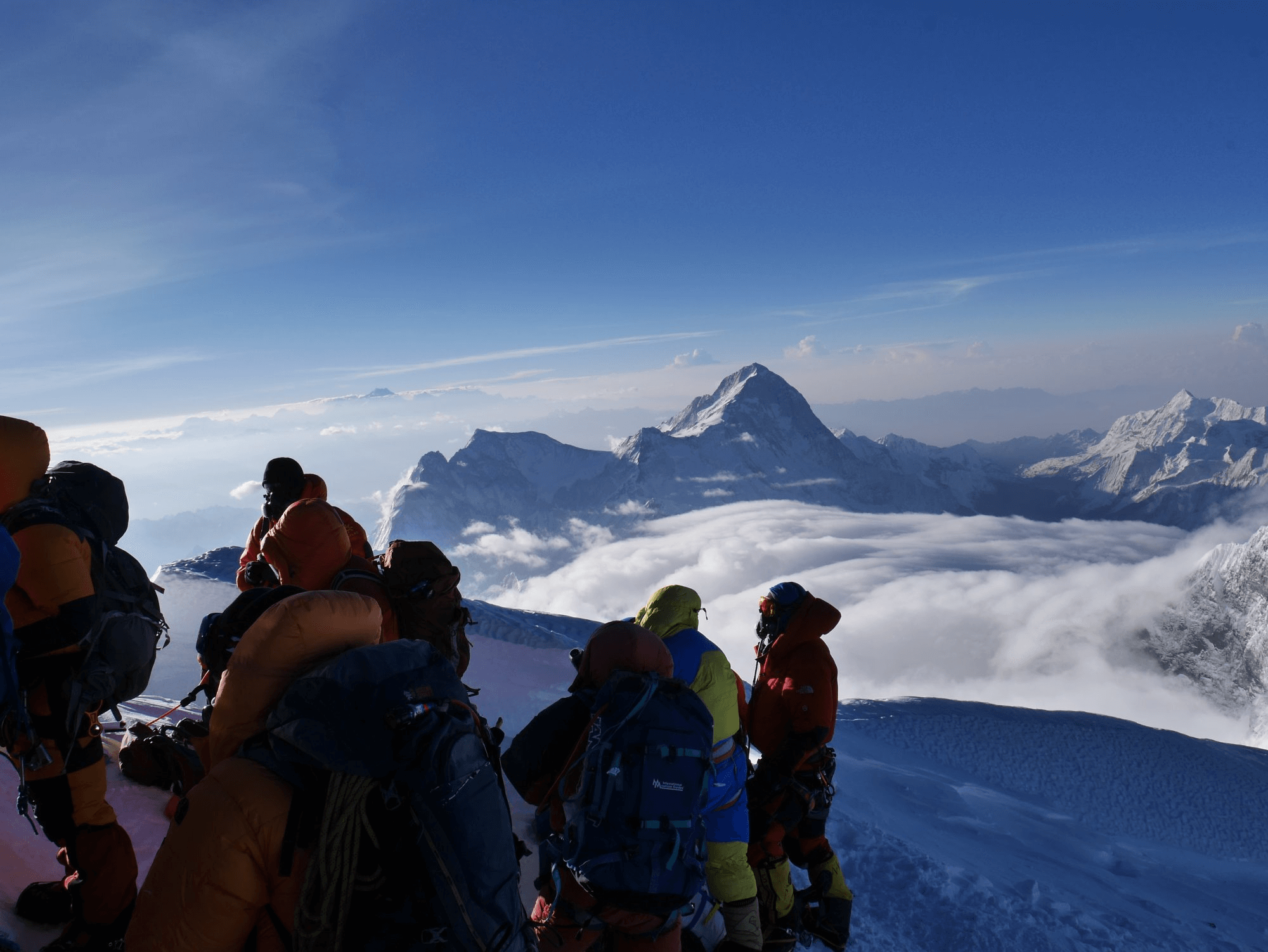 Everest 8848 is a mountain in the Himalayas, the highest Peak of our planet, the Roof of the World. The Mount Everest is located in the Mahalangur-Himal range, which runs along the border of Nepal and the Tibet Autonomous region (China).Everest has the shape of a three-sided pyramid, the southern slope is steeper. On the southern slope and edges, the snow and firn are not held, so they are exposed. The height of the North-Eastern shoulder is 8393 m. The height from the bottom to the top is about 3550 m. The top consists mainly of sedimentary deposits.
From the South, Everest is connected by the South Col pass (7906 m) with Lhotse (8516 m), sometimes called the South peak. From the North, the steeply sloping sharply sharpened North Col (7020 m) connects Everest with the Northern peak — Changze (7553 m). To the East, the impassable Eastern wall of Kangshung (3350 m) ends abruptly. Glaciers flow down from the massif in all directions, ending at an altitude of about 5000 m.
Mount Everest is partially part of the Sagarmatha national Park (Nepal).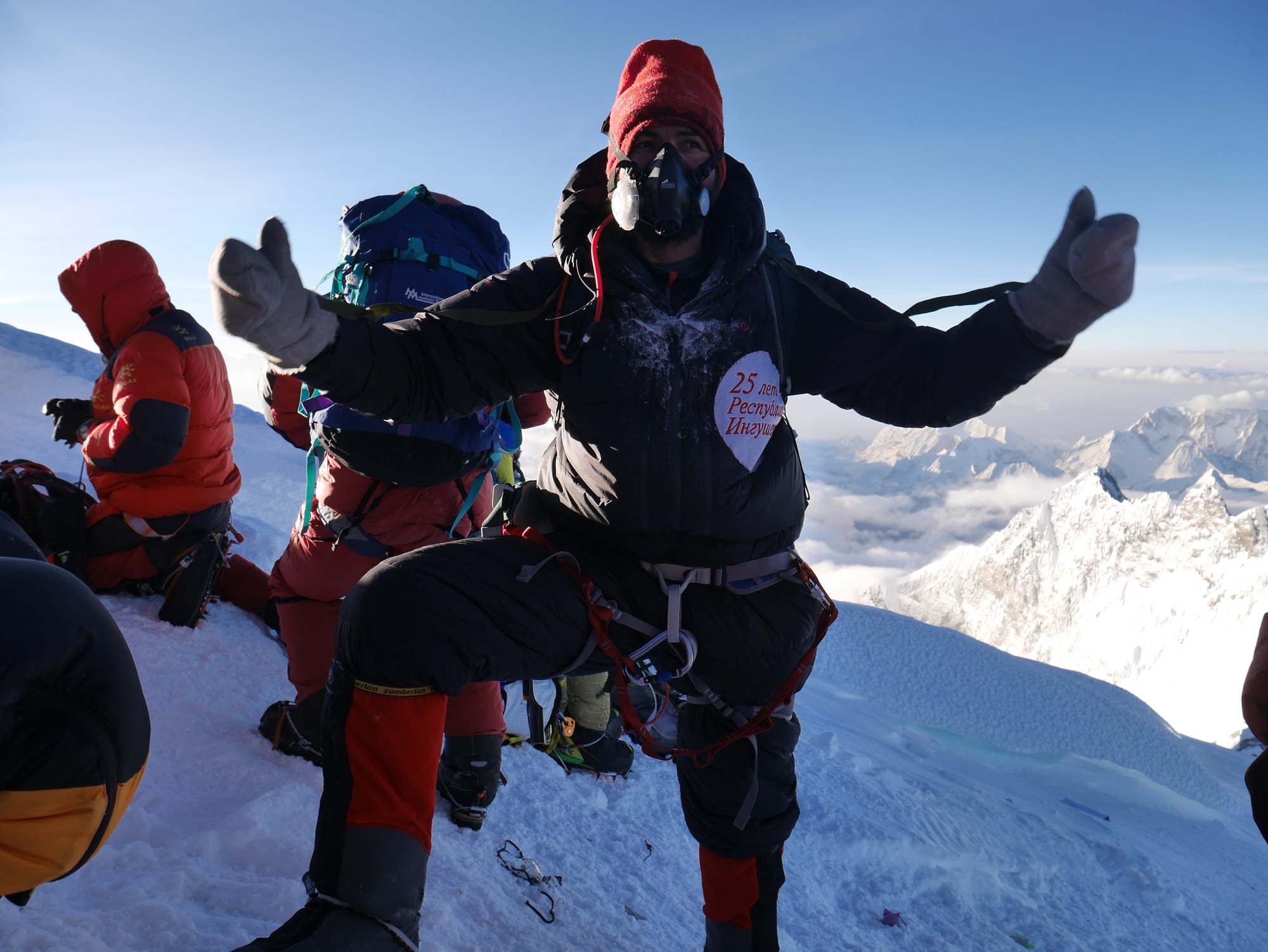 THE CLIMATE ON MOUNT EVEREST
The average daily temperature at the top of Jomolungma in July is about -19 °C, in January -36 °C (and can fall to -60 °C). Since the height of the peak is almost at the lower limit of the high-altitude jet stream, sudden storms with wind gusts up to 160 km/h are quite typical. Precipitation falls as snow during the summer monsoon, which lasts from late may to mid-September

MOUNTAINEERING ON MOUNT EVEREST
Everest is the highest peak of the Earth, which attracts a lot of attention of climbers; attempts to climb are regular.
The ascent to the top of Mount Everest takes about 2 months - with acclimatization and installation of camps. Weight loss per ascent-an average of 10-15 kg. Countries where there are approaches to the top of Everest, take a fee not only for climbing it, but also for a number of mandatory services (transport, communications officer, translator, etc.). the order of ascent of expeditions is also Set. It is cheaper to ascend Jomolungma from Nepal on the classic route from the South (data on climbing Everest in mountaineering groups for 2020-2021)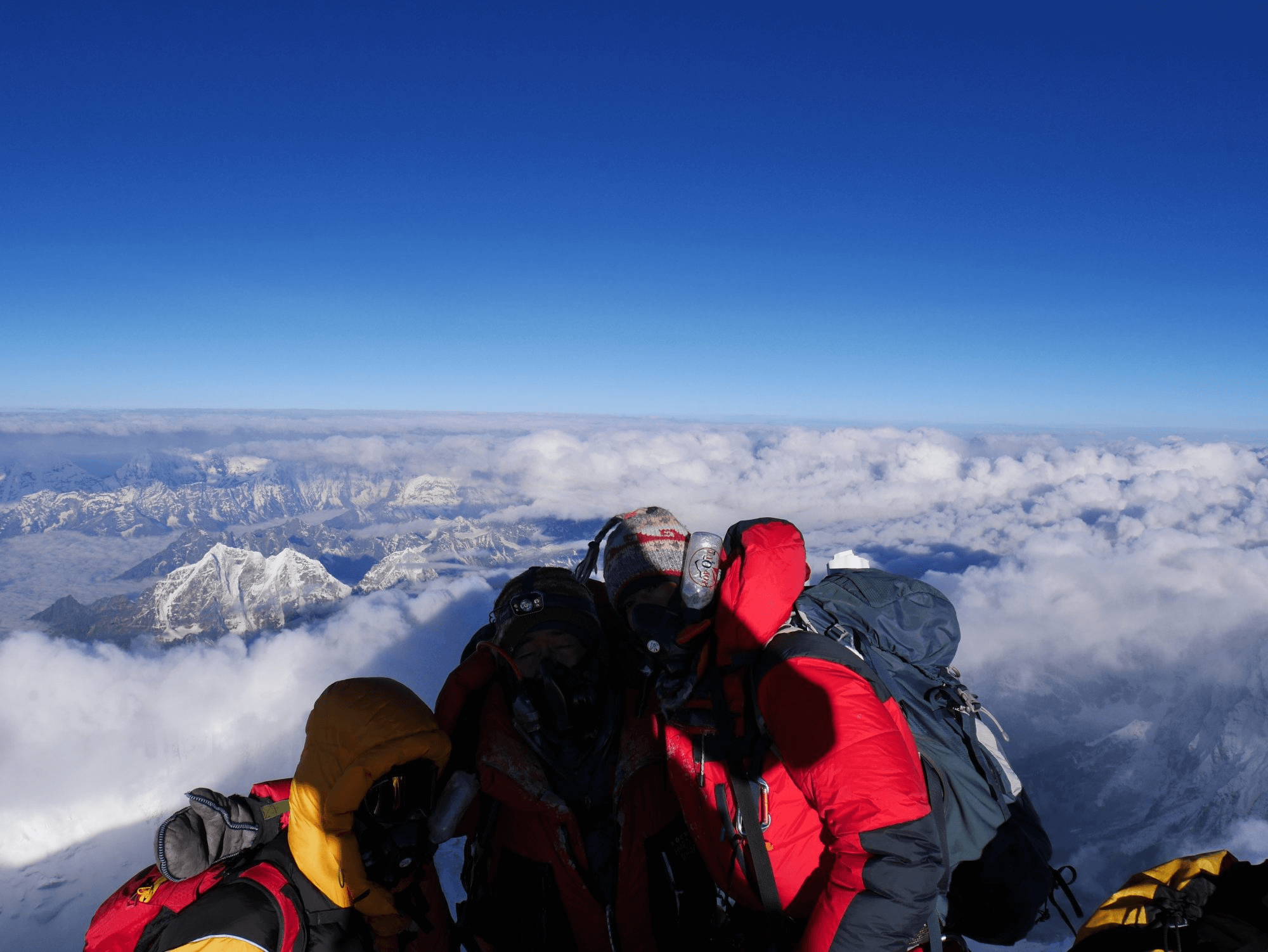 The main season of climbing to the top of Everest is spring and autumn, since there are no monsoons at this time. The most suitable season for climbing the southern and Northern slopes is considered to be spring. In autumn, you can only climb from the South. A significant part of the ascents are organized by specialized companies and performed as part of commercial groups. Clients of these companies pay for the services of guides who provide the necessary training, equipment and, as far as possible, ensure safety along the way. The cost of climbing Mount Everest is from 35 to 120 thousand US dollars, and the climbing permit issued by the government of Nepal alone costs 13 thousand dollars.
In the XXI century, thanks to the development of tourist infrastructure, there is a significant increase in annual ascents: so, if in 1983 the top reached 8 people, in 1990 — about 40, in 2012 only one day on Everest climbed 234 people, and in 2020 443 people visited the Peak on the peak day of the Climbing season. During the ascent, there were many hours of traffic jams and even fights between climbers.
The success of the Everest expedition depends directly on the weather and equipment of commercial climbers. Climbing Jomolungma continues to be a serious challenge for everyone, regardless of their level of training. Acclimatization before climbing mount Everest plays a significant role. A typical southern Everest expedition spends up to a week climbing from Kathmandu to the base camp at an altitude of 5364 m, and it takes about a month to acclimatize to the altitude before attempting to climb to the top.
The most difficult part of the ascent of mount Everest is the last 300 m, which is called by mountain climbers "the longest mile on Earth". To successfully pass this section, you need to overcome the steepest segment, nicknamed "Hillary's Step", covered with dry snow.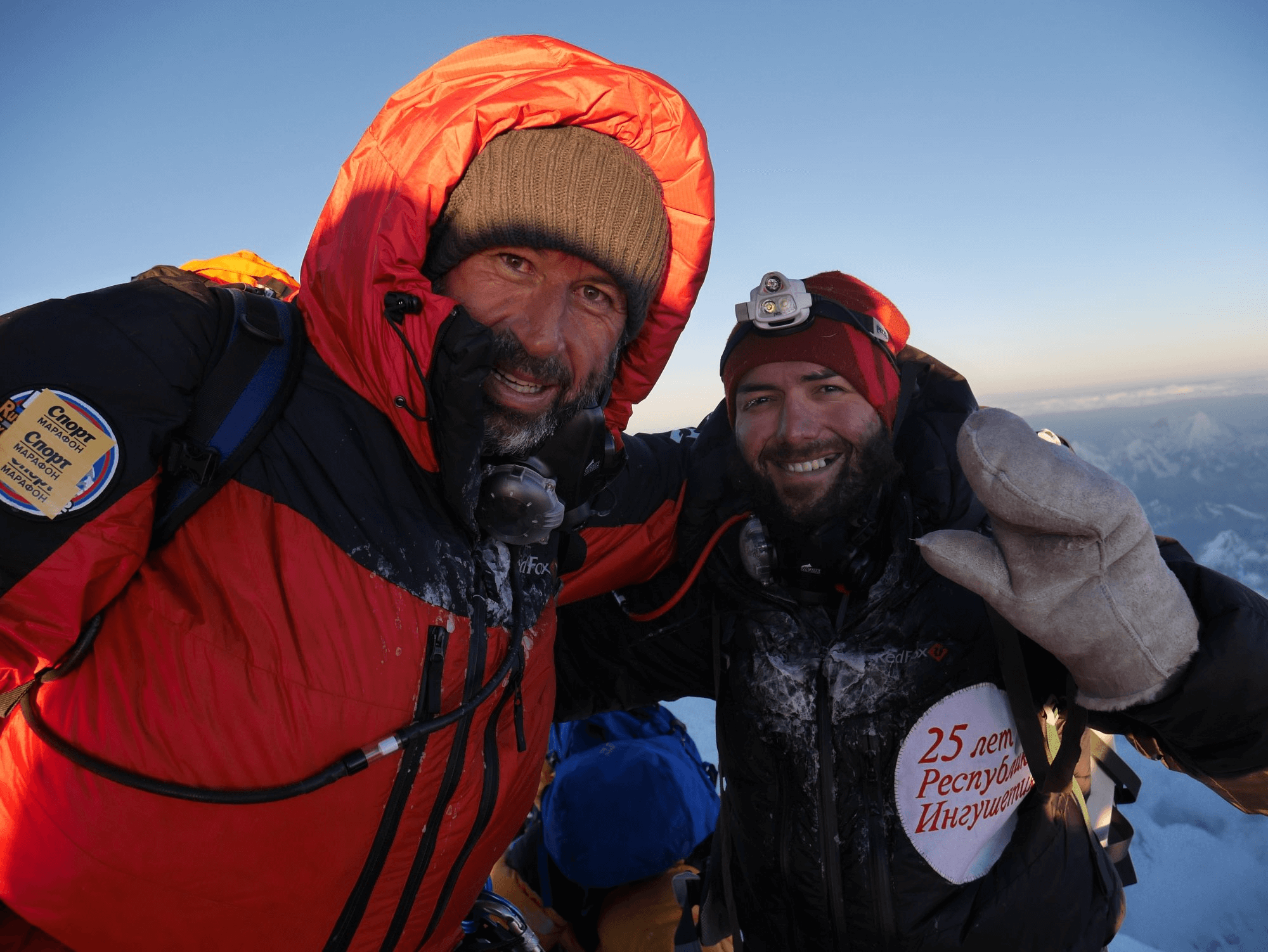 THE HISTORY OF CLIMBING ON MOUNT EVEREST
Until the first ascent of the Mount Everest, which took place in 1953, there were about 50 expeditions to the Himalayas and Karakoram (to Jomolungma, Chogori, Kanchenjunga, Nangaparbat and other peaks). Climbers managed to climb several seven-thousand-meter peaks of these mountain areas, but no attempt to storm the peaks of the eight-thousand-meter peaks was successful. In 1950, the French managed to climb the first eight — thousand-meter peak-Annapurna.
English climbers have achieved the greatest result when trying to climb mount Everest, thanks to the use of oxygen. The 1921 exploration expedition was followed by the 1922 expedition in which George Finch and Geoffrey Bruce reached an altitude of 8320 m, using oxygen for the first time. In 1924, Norton reached a height of 8565 m, and George Mallory and Andrew Irwin (as estimated By N. Odell) — more than 8,600 m. According to some reports, they were last seen alive 150 meters from the top (through binoculars, in a break in the clouds). There is a version that they died while descending from the top; and the debate about whether they reached it or not continues today. Mallory's body was discovered in 1999. In 1933, P. Win-Harris, L. Wager and F. Smith reached an altitude of 8565 m. In 1934, the eccentric Maurice Wilson, who had no special mountaineering training and believed that he would be lifted to the top by supernatural forces, died at an altitude of about 7 km, although later it was sometimes believed that he broke a tent found by later expeditions at an altitude of 8.5 km. The following British expeditions were undertaken in 1936 and 1938. In 1947, the canadian Earl Denman with two Sherpas could only climb up to 6.7 km.
Mountaineers of expeditions before 1949 tried to ascend to the highest point of the planet from the North, from the side of Tibet, because the territory of Nepal was closed to Europeans until 1948. The first exploration of mount Everest from the South, from Nepal, was undertaken by British climbers in 1949. In 1950, Tibet was effectively closed to Europeans.
Edmund Hillary in 1953
The first ascent on the Summit of Everest was made on may 29, 1953 by Sherpa Tenzing Norgay and New Zealander Edmund Hillary through the South Col-on the path explored the day before by the Swiss. The climbers used artificial oxygen. More than 30 Sherpas took part in the Everest expedition.
In the following years, the highest peak of the world was conquered by climbers from different countries — the United States, the USSR, China, India, Japan, Italy and other countries.
May 1, 1963-Jim Whittaker Jim Whittaker) became the first American climber to set foot on the top of mount Everest. Three weeks later, a second group from the same American expedition made an even more stunning ascent — the first ascent of the previously unconquered Western edge of mount Everest.
In the spring of 1975, Everest was first stormed by a women's expedition. The first woman to conquer jomolungma was Japanese mountaineer Junko Tabei in 197). The first European woman to reach the top was Polish Wanda rutkiewicz in 1978. The first Soviet climber to reach the summit was Ekaterina Ivanova in 1990.
On September 24, 1975, a British Everest expedition led by Chris Bonington first passed the Southwestern wall of mount Everest. Doug Scott and Dougal Haston reached the top. Two days later, on September 26, Peter Boardman and Petemba Sherpa repeated their journey to the summit. Mick Burke, who was following them, was missing.
In the following years, climbers from great Britain, Nepal, the USA, South Korea, Austria and Germany ascend mount Everest again along the classic path of the first ascenders, with Reinhold Messner and Peter Habeler reaching the summit without using oxygen throughout the entire assault. As part of these expeditions, two more women — Polish Wanda Rutkiewicz (1978) and German Hannelore Schmatz (died during the descent) — managed to conquer Everest. French-Jean Afanasief and N. Zhezhe went down on skis from 8 km to 6.5 km.
The poles managed to say a new word in climbing to the top under the leadership of Andrzej Zavada. They were the first in the world to climb to the top of mount Everest in winter. This ascent was made by Leszek Cichy and Krzysztof Wielicki. The ascent was carried out on the South-Eastern ridge at temperatures below -50 °C on the last day of the validity of the local authorities ' permission to storm the summit. A few months later (in the spring of 1980), the poles, led by the same A. Zavada, laid a new route to Everest. Andrzej Chok and Jerzy Kukuczka climbed to the top of the southern buttress
As a rule, all climbers climb mount Everest in oxygen masks. At an altitude of 8 km, the air is thin, and it is very difficult to breathe. The Italian Reinhold Messner and German Peter Habeler were the first to reach the summit without oxygen in 1978.
In 1980, Reinhold Messner, this time alone, again climbed mount Everest and set several records at once. Messner was the first to reach the summit alone without oxygen, without the help of high-altitude porters. In addition, he was the first to dare to challenge Everest during the monsoon and reached the goal. In addition, he overcame the path from the base camp, located at an altitude of 6.5 km, to the top of the new version of the path from the North in just 3 days.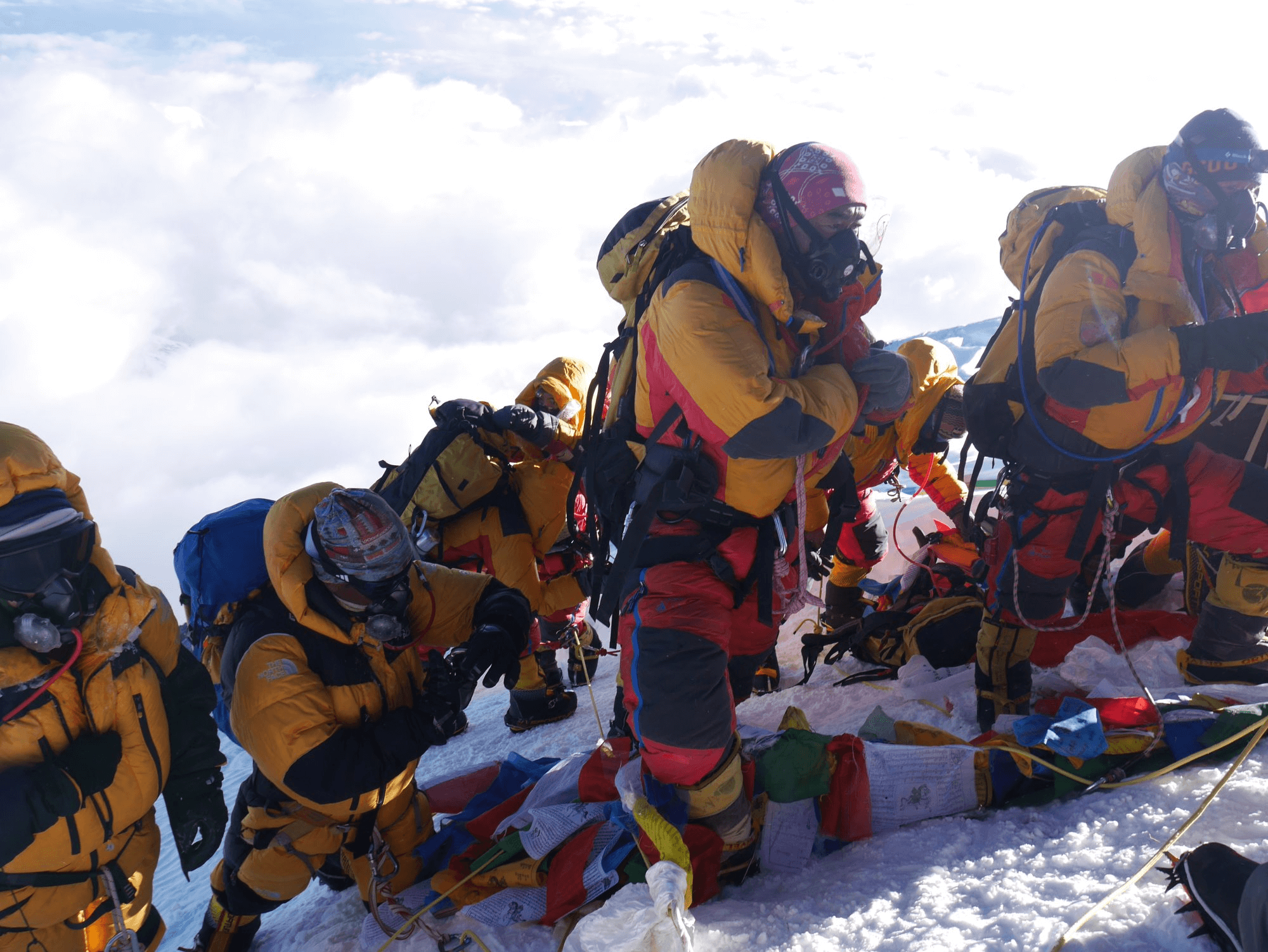 RECORDS ON MOUNT EVEREST
In May 2001, French snowboarder Marco Siffredi was the first to descend from the top of mount Everest on a snowboard from the Norton Couloir. The descent to the base camp took 2.5 hours. A year later, in the fall, Marco made a second ascent of mount Everest to snowboard down the Hornbine Couloir. After the ascent, the snowboarder started down the Hornbine Couloir alone, and was never seen again.
In 2001, an amazing ascent of mount Everest was made by a blind American, Eric Weichenmeier. By that time, he had already conquered all the highest mountain peaks on all continents. "By climbing the seven highest mountains in the seven parts of the world, I hoped to show people that goals that may seem unattainable are actually quite achievable," Weichenmeier said in a statement.
On May 21, 2004, Pemba Dorje (Speed Pemba) set a record for the fastest ascent of mount Everest: 8 hours and 10 minutes from the base camp near the Khumbu glacier.
On May 22, 2010, Jordan Romero, a 13-year-old American, climbed the summit with his father. Before that, the record was held by 15-year-old Min Kipa Sherpa.
In May 2011, the Nepalese spiritual master Bhakta Kumar Raibil set a new record for the longest stay at the top — 32 hours.
On May 12 and 19, 2012, a Nepalese woman named Chhurim set a record by climbing mount Everest twice in a week.
On May 23, 2013, 80-year-old Japanese Yuichiro Miura completed the ascent and became the oldest person to reach the top of mount Everest. Before that, the record was held by a 76-year-old Nepalese named Min Bahadur Sherhan
On May 24, 2014, an Indian girl, Purna Malavath (13 years, 11 months), won the summit. The ascent took place from the North side along a standard route using oxygen cylinders and the help of Sherpas. Purna became the youngest woman in the history of climbing Everest.
On May 25, 2014, a 72-year-old American mountaineer, bill Burke, climbed to the top of mount Everest on the standard route from the North side. Earlier, on may 23, 2009, bill had already climbed mount Everest at the age of 67 (the ascent took place on the standard route from the South side). Thus, Burke is the oldest climber who climbed Everest from both sides (the ascents were conducted at the age of more than 65 years).
On May 21, 2019, Nepalese mountaineer Kami Rita Sherpa set a world record for the number of successful ascents to the summit — 24 times (23 times he climbed from the southern, Nepalese side and 1 time from the Northern, Tibetan side). The ascents were made between 1994 and 2019.
And now, Dear friends, let's talk about our Everest climbing expedition. The first is why you should come with us. Here everything is very simple. You will work with Pasang Lama and Pasang Dorji Sherpa as the main guides, and I and Lhakpa Sherpa as the organizers. We have our experience on our team-25 ascents to the Top of mount Everest. Let me explain-Lhakpa Sherpa (organizer)- 15 Ascents, Pasang Dorji Sherpa (guide) - 5 ascents, Pasang Lama-11 ascents. You can conclude that you simply can't find a team that knows this Mountain like we do. And also, our mountaineering is still commercial, so we try to minimize stressful and uncomfortable situations on the Mountain for OUR participants. We hold the lives of our participants in our hands, and we are very much aware of our responsibility. How is our tour going?
Everest 8848 Climbing Expedition 2021, 2022, Itinerary
Da 1/ Our Everest Climbing Expedition starts at the international airport Tribhuwan. We personally-I, Lhakpa or Pasang Lama meet You at the airport with the logo of our company. The transfer can be individual, or it can be a group, if you suddenly arrive at the same time with one of the participants. It takes about 20-30 minutes to get from the airport to the tourist center of Thamel, where our hotel is located. Our groups stay in a comfortable hotel decorated in the local national style. The rooms are equipped with hot and cold water, air conditioning, and water glasses. Participants of the "Full Service" program have accommodation for 2 people in a room. VIP service participants have accommodation in VIP rooms, single accommodation. The Everest Climbing Expedition price includes 4 nights in a hotel.
Day2/ Very early in the morning, We go to the Seto Gompa monastery for Puja. This is one of the largest monasteries in Kathmandu with ancient traditions. Puja is a worship service for successful ascent to the Top. According to local traditions, no expedition begins without this rite and the blessing of the Supreme monk. After the Puja, we return to the hotel. Participants have free time - you can buy what you may need in the Mountains.
Day 3/ we have an early check-out. We go to Phaplu or Ramechap airport to fly from there to Lukla by private company transport. Only the Everest Climbing expedition participants and accompanying guides are allowed in a jeep or minibus. The decision where we will fly from is made about a month before the start of the expedition, depending on the flight schedule. But, if possible, of course, we prefer flights Phaplu - Syangboche. We will describe this standard version here. And so, at about 3 PM, We arrive in Phaplu and check in at the airport hotel. Phaplu is a village in the mountains in Solukhumbu district at an altitude of 2430 meters. Phapiu was the first airport to be built in the region. A social project called the airport in Phaplu was led by Edmund Hilary. The airport was built in October 1976.
The organizers buy fresh vegetables for the expedition, and the participants can take a guided tour of the surrounding area.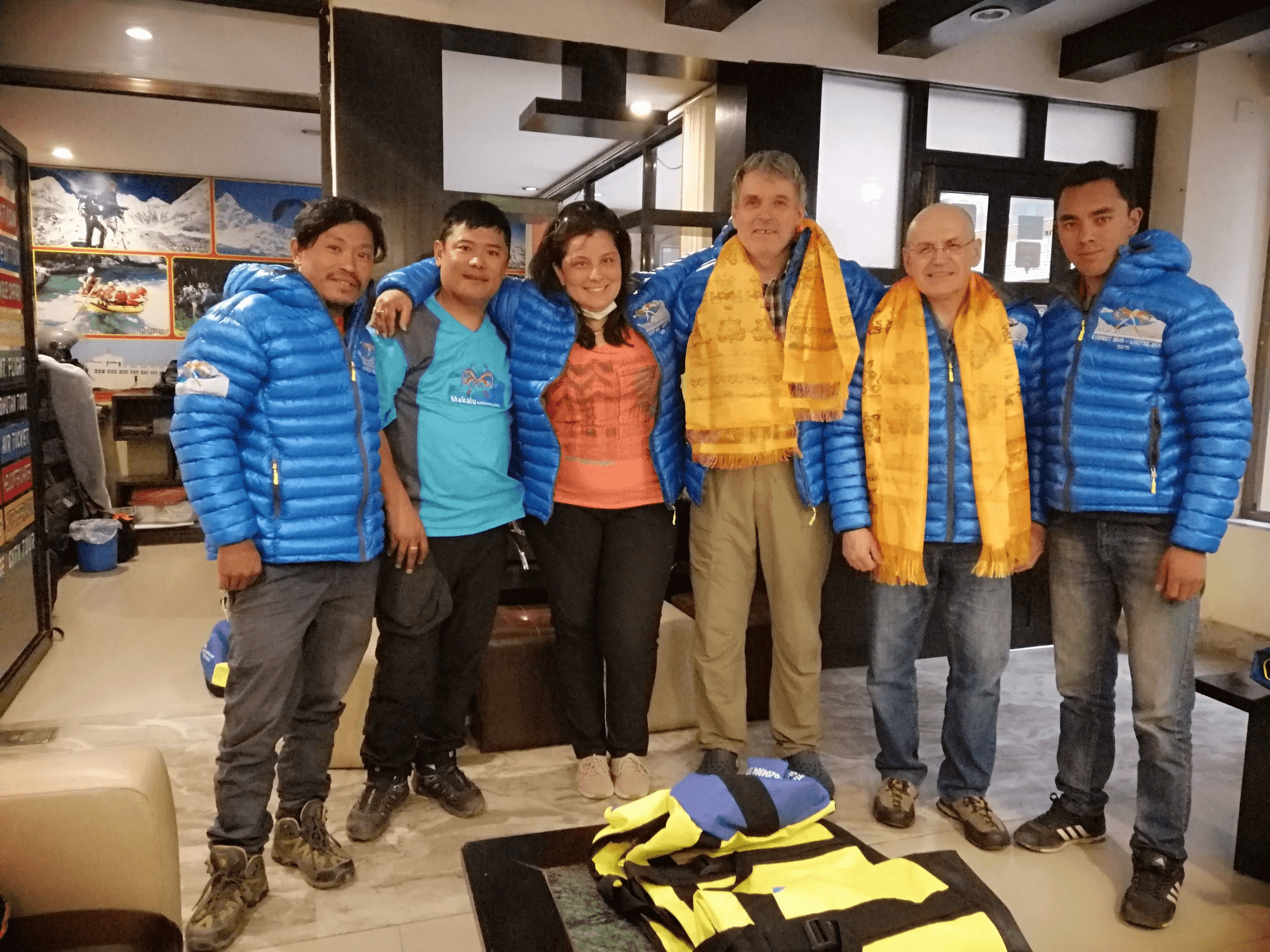 Day 4/ next morning, we fly to Syangboche. Syangboche is located at an altitude of 3500 m above the sea level. The flight takes about 15 minutes. After arriving in Syangboche, we descend to Namche Bazar, at an altitude of 3400 Meters.
Day 5-6/ We will spend 2 nights there for acclimatization. We are staying at Jamling's hotel. This is a very clean hotel with excellent cuisine. As before, full service members live for 2 people in a room, and VIP members - in single VIP rooms. I would like to focus on the description of the village of Namche Bazar separately. It is very clean, consisting of modern hotels and shelters, bekkari and pubs, a mountain village. Namche Bazar is the capital of the Sherpas. The village is surrounded by huge Himalayan Mountains. It has its own unique and unforgettable atmosphere. Anyone who has been here at least once, always wants to return here. The price level here is average, and erroneous information is given in the network that everything is supposedly cheap here. However, our tourists ' package includes accommodation and food, so if you take extra money here, it is for Souvenirs and visiting pubs.The village is very famous for tourists and climbers, because it is located on the road to Everest and has an expanded system of tourist hotels, restaurants, shops where tourists can relax and prepare for the hike. There is electricity in the village, and the Syangboche airport (helicopter station) is located nearby, but most tourists cannot use It: due to the protest of local residents, Lukla airport (located about 13 km South of Namche) is used for mass tourism. From the airport to Namche Bazaar, tourists must make a daily transition (in the case of a very fast walk, six hours is enough). Servicing tourists on this site provides employment and income to local residents. Namche Bazar is also home to official institutions, police control, a post office, and a Bank. The Nepalese army barracks are located at the top. Namche-Bazar is the main point for traveling to Everest, to the mountain and lake Gokyo.
Above the village is the base of the Sagarmatha National Park, which offers views of mount Everest and other mountain peaks.
At an altitude of 3800 above Namche Bazar, the Everest view hotel is a luxury hotel with a terrace where you can see mount Everest in good weather. The hotel organized trips for rich tourists, but many experienced acute mountain sickness from the sudden ascent to such a height. The hotel is additionally equipped with a dome and oxygen supply of rooms.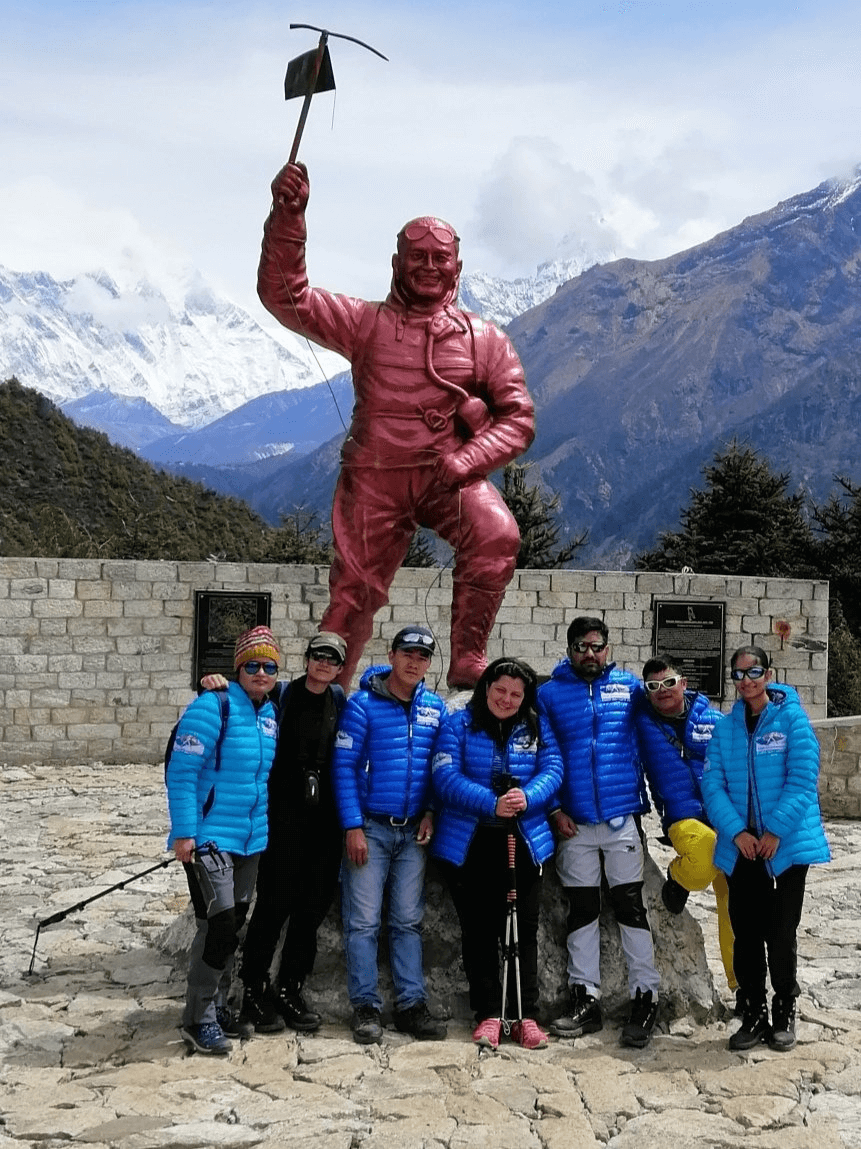 On Saturdays, the market opens in the morning, which attracts residents of the surrounding villages, as well as Tibetans who come with goods through the passes from Tibet with Chinese goodsThere are several Tibetan monasteries in the vicinity of Namche Bazar.In the late 1980s and early 1990s, a small hydroelectric power station "Thame-Namche Bazar" with a capacity of 620 kW (two bucket turbines of 310 kW each) was built with the financial assistance of Austria to electrify the village and the nearby settlements of Khunde, Kumjung, and Thamo)The village is located at an altitude of 3440 m on a side slope of a hill.
According to the 1991 census the village had 1647 inhabitants in 397 households
To the West of Namche Bazar is mount Kongde-Ri, 6187 m high, and to the East is mount Thamserku, 6623 m high.
The first day in the village we will make a trekking tour around the village. On the second day, we will go to the village of Syangboche and to the observation point. We spend the second night in the same way, in Namche Bazaar.
Day 7/ We go further, in the direction of the Everest Base Camp. Overnight in the village Deboche. From the pass Syangboche first time, views of Lhotse and Everest. From here, we see our goal in full view for the first time. It is a 6-hour walk from Namche Bazar to Diboche. The path first goes down to the river, and then rises again to the hill where the monastery of Tiangboche is located. The altitude here is 3900 m. We visit the monastery and get the blessing of the monks to ascend. You can bed down in the village Deboche. We spend the night in a beautiful place, a lodge called AMA Dablam Lodge. This is one of the oldest and most comfortable lodges in the area with its own traditions.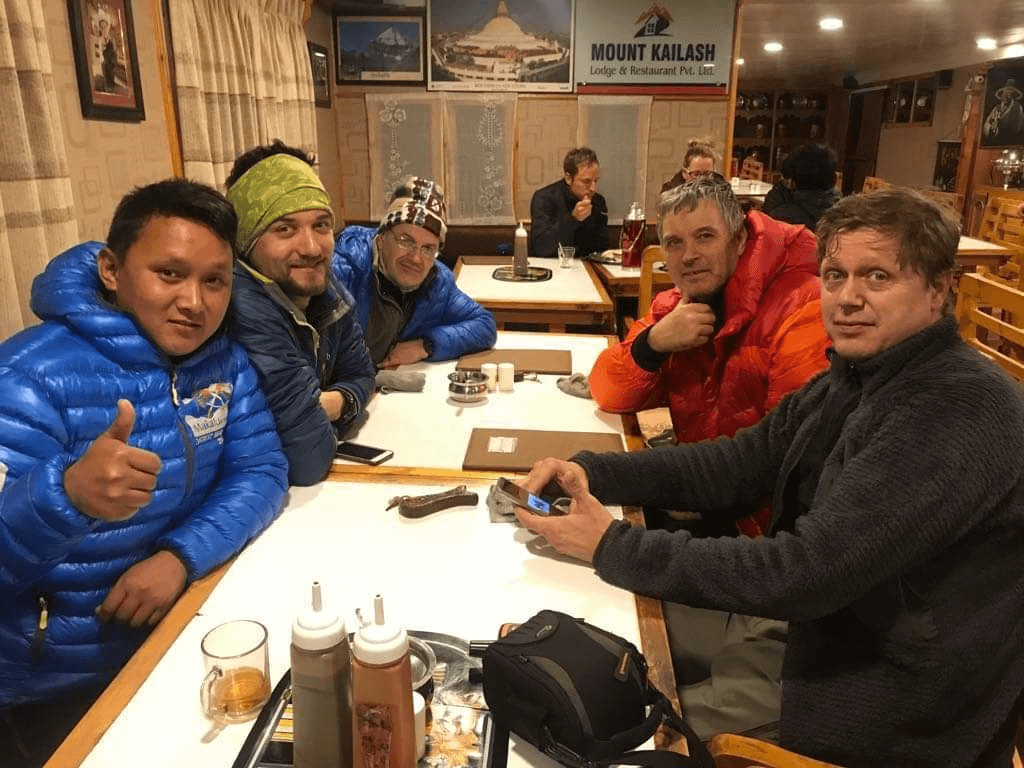 Day 8-9/ The day brings us to the village of Dingboche. It's not a very long day with a very gentle climb. The village is located at an altitude of 4300. Here we will spend another night for acclimatization. For acclimatization, we go up to the acclimatize point 5400 the next morning, and then return to the hotel again.And so, we are only two days away from Base Camp.
Day 10/ We leave not very early, having had a good night's sleep. It's not far to go today. We have to climb to the village of Lobuche at an altitude of 4600 meters. We check in at a hotel called oxygen, which means Oxygen. This is a very comfortable hotel for these conditions. The dining room is very hot and heated, even when it's freezing outside.
Day 10/, the trekking from Lobuche to the Base Camp. This is an early start, since the entire journey will take
about 6 hours. The Everest Climbing Expeditions base Camp is located deep in the Khumbu glacier, just before the beginning of the railings that lead to the Khumbu icefall. Upon arrival at the Base Camp, we are already waiting for a wonderful lunch and a warm dining tent. Our dining tent is heated by a gas heater, so it is much warmer than outside.
What do our participants carry in their backpack during the day?
Our participants carry a bottle of water or thermos of tea, sunscreen, spare gloves, Windproof jacket, down jacket. All other things are transported by yaks in our caravan. In the Everest Climbing Expedition is the baggage allowance that a participant can give to the caravan is 30 kg per person for full service participants and 60 kg of cargo for VIP service participants.
I would like to draw Your attention to the fact that on the way to the base camp, all our food will be prepared by our expedition cook. We eat Breakfast in the morning. Fried sausages are usually served for Breakfast,
fried or boiled eggs, sliced cheese, porridge or rice pudding. Drinks include green tea, black tea, herbal tea, or coffee.
For lunch-soup or borsch, buckwheat porridge, macaroni, potatoes, wheat porridge, fried chicken, chicken with mushrooms, cutlets, steak, fish, pasta, pizza, salads from fresh vegetables, vegetable stew and ajap sandal. Drinks include black, green or herbal tea, hot chocolate, cereal hot drinks, cookies, chocolate, coffee
On days when we have to go a long day, the cook gives participants and guides a pack lunch. There you can usually see a fried pie, boiled eggs, cheese and sausage-sliced.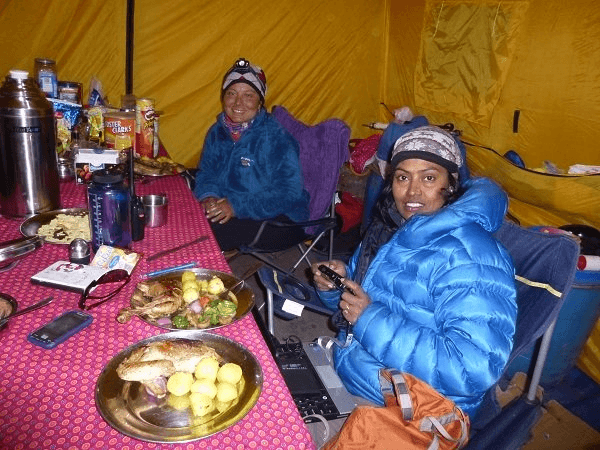 For dinner, there is about the same set of dishes as for lunch. Also on birthdays, days of reaching the Top and national holidays, our chef will bake us a cake with cream.
Meals and accommodation throughout the route are included in the Everest Climbing Expedition cost (price)
Alcohol is not included in the price, so if you plan to use it, then you need to take additional funds.
Base Camp will be our home for the next month. Now I will tell You about how life is arranged in our Base Camp. Social life is concentrated in the dining tent, which is also the mess hall. This is a very spacious tent, the floor of which is covered with carpet. It is also equipped with a gas heater. Therefore, it is always warm. Even in the coldest weather. Usually this is where all the parties, drinking hot tea, talking, playing cards or checkers, watching movies on the laptop.
To stay in the Everest Base Camp, each participant receives an individual tent V-25. If the participants arrived as a couple, they can check in together. For VIP service participants, we have special tents for accommodation. These are large, stationary tents where you can stand at full height, measuring 2.5 x 3M. The tent has an entrance hall, and the floor is covered with carpet. All tents without exception are equipped with sleeping mattresses.
Also, in the Everest Base Camp there is a tent, which is called a storiggehouse. You can put all the extra stuff in there.
At our Everest climbing expedition at our shower room consists of two rooms. In the first room, you can change your clothes, leave dry things and towels. The second room is, directly, a shower room.
In the morning, there is always hot water in the washbasin for washing. Meals at the Everest Base Camp are 3 times a day - Breakfast, lunch and dinner. Just always in the dining room on the table are thermos flasks with hot water, tea, coffee, chocolate, cookies. Participants can come there for tea at any time.
Day 11-14/ Upon arrival at the Everest Base Camp, we will stay here for 4 days. During these days, we will make acclimatization exits and return to the Base Camp for the night. We will go up to the middle of the Khumbu icefall and climb Kala Patar 2 times. On one of these days, a Puja will be held. Puja is a worship service for successful ascent. At the same time, the camp is consecrated. No expedition is sent up until this rite is performed. Puja takes about 3 hours. During the monk's prayer, the guides stretch a network of prayer flags over the Base Camp. According to ancient tradition, flags should calm the elements, and thus ensure a safe ascent and descent for climbers.
Da15- 18/ On the fifth day of our stay at the Everest Base Camp, the first acclimatization trip will be planned.
Now I want to tell you what our participants carry in their rucksacks during high-altitude exits and during the Everest Summit Push. Most things, tents, food, high-altitude gas, oxygen, sleeping bags, all this is entered by high-altitude guides. They also set up high-altitude camps. Participants carry their personal belongings, sun cream, thermos of water, a puffer jacket, and a windbreaker. A personal guide will be attached to each participant for high-altitude exits. Participants of the VIP service will have two personal guides, and therefore they do not carry anything in their backpack at all. Guides take care of the safe passage of the route, prepare food for participants in high-altitude camps, and help on runs at high altitudes. VIP service participants do not need to fasten themselves at all - guides will do everything for them.
During this rotation, we will have to cross the Khumbu icefall and climb to Camp 1, and then the next day to Camp 2. The next day we will go up about 300-400 meters in height in the direction of L 3 and go down for the night in Camp 2. The next day we go down to the Base Camp.
Day 15- 17/ Walking through an icefall is a very exhausting story. Therefore, we will need at least three days to recover from the high-altitude rotation.
Day 18- 22/ We will again be waiting for acclimatization rotation. We cross the Khumbu icefall again, go up to Camp 1, the next day to Camp 2, the next day to Camp 3. We spend the night in camp 3. In the morning we go down to Camp 2, the next morning to the Base Camp. Now we need to recuperate, and we are ready for the assault.
Day 23- 25/ Now we will choose the appropriate weather window. The Base Camp has an Internet connection from the provider Everest Link, so we are constantly able to receive updates of the weather forecast.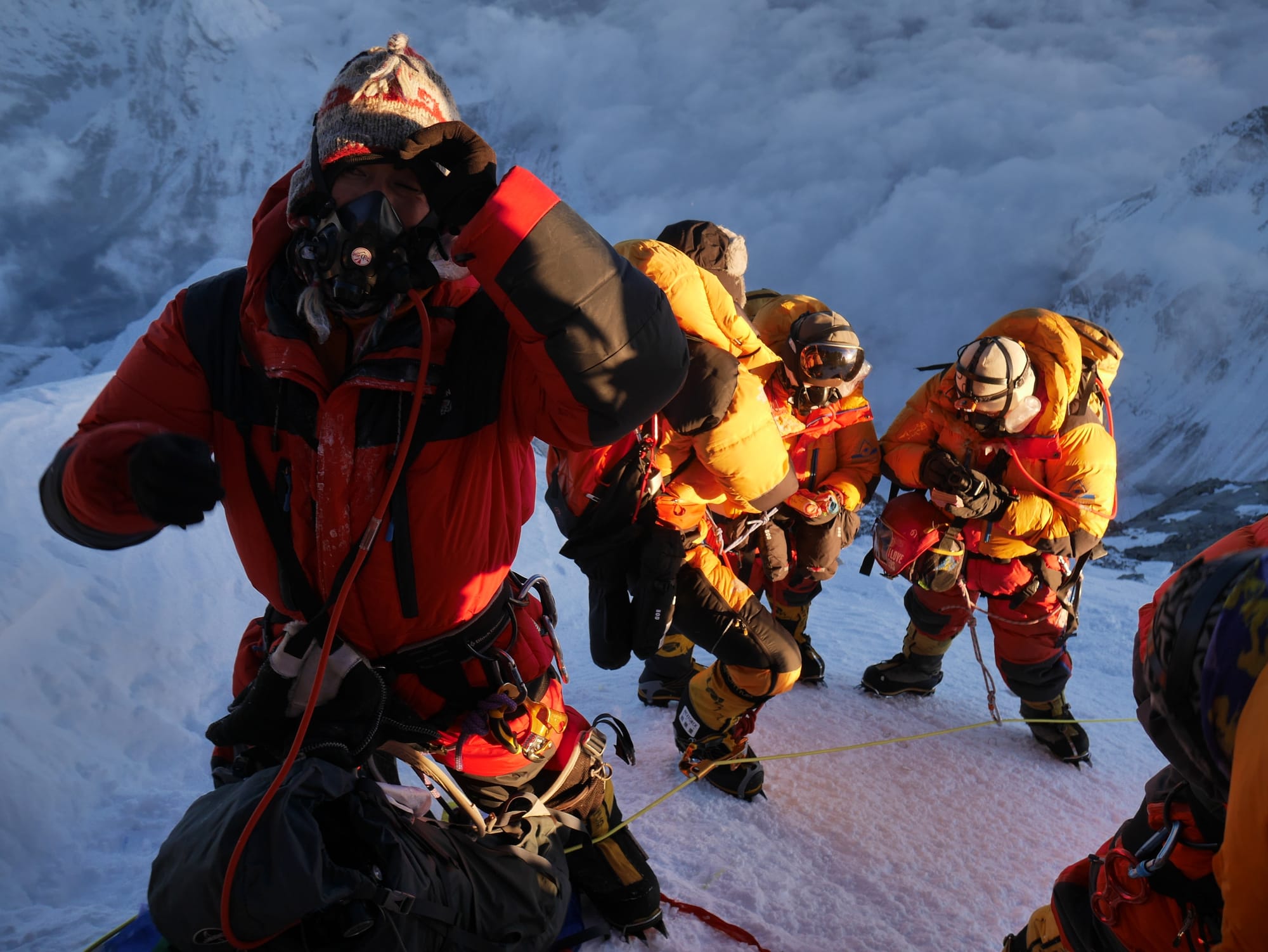 Oxygen is another separate topic in the high-altitude expedition. According to our experience, we have included in the package the minimum number of cylinders required for safe ascent to the Summit of Everest. For a safe ascent, you need 5 oxygen cylinders. This is exactly the amount we have included in our commercial Everest climbing Expedition cost (price). The company will also give You a set of oxygen equipment for use. I want to remind you once again that 5 cylinders is the minimum amount of oxygen for a successful ascent to the Top of Everest. If you want to make your ascent, more comfortable and safe, you can buy oxygen at your own expense. The cost of 1 cylinder of oxygen is 500 dollars. I would like to draw Your attention to the fact that the readings on the filling of the balloon in Kathmandu and at an altitude of 7000 and 8000m on the pressure gauge will differ greatly due to the huge difference in atmospheric pressure. If you plan to use 5 cylinders, then you can wear an oxygen mask no earlier than Camp 3 at an altitude of 7200 meters and you can only sleep when you feed 0.5. If you use more oxygen than you are supposed to, you will definitely not have enough oxygen to get to the Top and back. Therefore, in the oxygen issue, it is very important to assess your strength very soberly. We included 12 oxygen cylinders in the VIP package. Thus, VIP participants can use oxygen in the most comfortable mode. They can put on an oxygen mask already at the foot of the LHOTSE FACE wall and use oxygen on feed 1 during sleep. Also, during the Everest Summit Push, VIP participants will have enough oxygen to maintain a good climbing speed, which makes the Summit Push as safe as possible.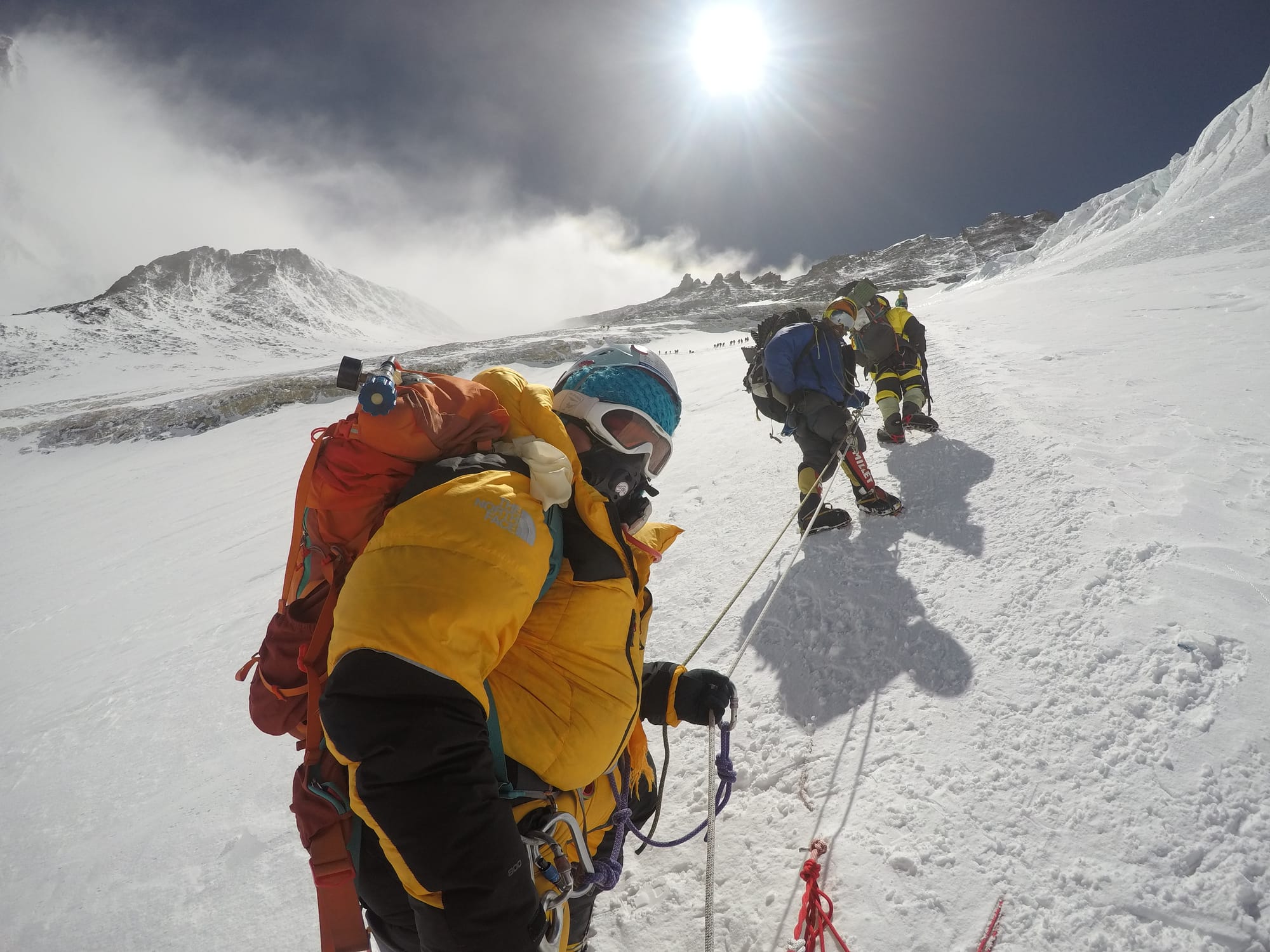 Day 26-29/ We leave for the Everest Summit Push in the nearest weather window after acclimatization rotation. Each of our participants has a personal guide, and VIP service participants have as many as 2 personal guides. Therefore, each group of participants-guides will move in a convenient rhythm and mode for the participant. It is not necessary to wait for each other, especially since the participants of the full service and VIP service are initially in unequal physiological conditions in terms of the number of guides and oxygen.When participants rest between high-altitude rotation, their guides continue to work. They build and equip a network of high-altitude camps. Thus, when we go to the Summit Push, the entire infrastructure of high-altitude camps is already ready. According to the laws of the community on the Mountain, only the company that owns them has the right to use the grounds for high-altitude tents and tents on them in any circumstances. This is very true, since the construction of Camps is really a very difficult and financially costly operation. The work of a qualified guide at these heights is very expensive and all these payments fall on the shoulders of the organizer.
And so, we went on the Everest Summit Push. Each bundle of the guide-participant moves at its own pace. The start from Base Camp to Camp 1 is usually no later than 12 am, as it is desirable to pass the collapse of a dangerous icefall at night. Further, the other outputs may be later. I also want to pay attention to the section camp 3-Camp 4. in the area of the yellow belt, the route can be very dangerous on a Sunny day, so, again, it is necessary to go out on this section early.
Day 29/ We have reached the South Col and are going out at Night to Everest Summit Push!
We leave Camp 4 for the Summit Push no later than 10 PM. If the participants are slow, we leave at 8 or 6 PM. During the Everest Summit Push, the participants only have a thermos with hot tea in their backpack and one oxygen cylinder, from which the participant directly breathes. Even a very well-prepared person will need at least 7 hours to Climb to the Top of mount Everest, and at least 3 hours to descend to Camp 4. for average physical training, this time, of course, will be longer, for slow participants, the Summit Push may take about 13 - 14 hours only to the Top. And about 20 hours South Col-Top - South Col.
South Col: 8016 meters
Welcome to the Dead zone! It is a flat plateau covered with loose scree and surrounded by mount Everest in the North and Lhotse in the South. Almost always there is a hurricane wind. As a rule, teams put their tents close to each other and are secured with heavy stones, as well as wrap around the top of the tent with auxiliary ropes, because here, in an open area, the tent can be torn down by a gust of wind.
This is an intermediate platform for the start of ascents to the top of Mount Everest, a shelter where you can rest and recover.
Point Balcony ("the Balcony"), 8400 meters, approach time from the South saddle from 3 to 6 hours
Here the rate of ascent is terribly slow, there are many rest stops, and the decision is made whether to continue climbing or go back down. Depending on the weather, it can be like snow or bare rocks. Rocky areas can become a big problem and threaten rockfalls, so some climbers now use hard hats. At this point, climbers change their empty oxygen tanks for new ones and take a short break for a meal.
Day 30/ South summit, 8690 meters, climbing time from Balconies from 2 to 6 hours
The climb from the balconies to the southern top is quite steep, with no suitable places to rest. This is the most technically difficult part of the ascent. Especially when a large number of people gather on the route. On the other hand, it offers the best view of Lhotse
Hillary Step, 8790 meters, approach time from the southern peak is about 1 hour
The Hillary step is an almost vertical rock slope with a height of 13 m, which is a narrow snow-ice ridge with steep cliffs on the sides.
It is located at an altitude of 8790 m on the South-Eastern ridge of the mountain half way from the southern summit to the main summit of Everest. Named in honor of the pioneer of Everest Edmund Hillary.
This is one of the most open steep sections of the ascent, where you need to traverse the ledge between the top and the Hillary step. But this section of the route is suspended by railings and is quite wide, so that most climbers do not have difficulties.
After the 2015 earthquake, the Hillary step changed, and by 2017 it had partially collapsed.
Previously, there was a short two-meter vertical section of rock climbing, with fixed railings, which created a bottleneck for the crowds of climbers.
On the way up, we can see the most incredible views in the Himalayas. The top of mount Everest is the place where a Dream comes True, and, in a few hours, a Dream again.
From the Top we go down to Camp 4 or 3, which everyone chooses according to the state and amount of oxygen.
Day 31- 32/ - The descent in L2, and the following day descend to base camp. At the Base Camp, we will have a festive dinner, cake, and a hot shower. The next day we rest and pack cargo.
And finally, the next day we leave the Base and go down. The descent takes place on the way up. We also stay in the same hotels as at the beginning of the expedition.
In Lukla's Airport, we say Goodbye to the Himalayas.
In Kathmandu, participants have another free day to buy Souvenirs, banquets and excursions.
The next morning we escort the participants to the airport. We, the organizers, hope to see our participants in our next expeditions, because there are 14 eight-thousand mountains on Earth!



EVEREST 8848 CLIMBING EXPEDITION, SOUTH, NEPAL, HIMALAYA VIP SERVISE COST (PRICE) 48000$
EVEREST EXPEDITION VIP SERVICE COST INCLUDES:
Arrival and Departure: Airport - Hotel transfers – Airport (Pick Up and Drop).
Hotel Accommodation In Kathmandu: 4 nights hotel in Kathmandu (4 star category) on bed & breakfast Sharing Basis (Single Bed Room).
Welcome Dinner: One Welcome Dinner in tourist standard restaurant in Kathmandu with Office's Staffs.
Cargo Clearance:International Air cargo clearance of Member Personal Luggage & Payment of Government taxes in Nepal. *before the expedition
Permit: Expedition Royalty and permit of Nepal Government to climb Mt. Everest, Sagarmatha National Park permit, TIMS CARD & Pasang Lhamu Rural Municipality Entry Permit and its fee.
Khumbu Ice Fall Climbingcharge to (SPCC) Sagarmatha Pollution Control Committee.
Liaison Officer:1 Government Liaison officer with full equipment ($2,500), salary and accommodation.
Garbage Management:Stool Shipment Transfer & Garbage Deposit fees.
Insurance:Medical & Emergency rescue Insurance for all involved Nepalese staffs during the trek and expedition.
Map:Trekking and climbing map.
Member transportation:

(*Standard Route Itinerary):(Domestic Flight) Fly from Kathmandu – Lukla and while returning Lukla - Kathmandu, as per itinerary.
(*Heli Itinerary):Air Transportation (Domestic Flight): Fly from Kathmandu – Namche Bazaar and trek to Basecamp. While returning fly directly from Everest Basecamp to Kathmandu as per itinerary (with additional cost).

Expedition Stuffs Transportation:Necessary all equipment Transportation for all Members and Staffs from Kathmandu to Lukla (by air cargo) and to Base camp (by Porters / Yak) – While returning: Base camp to Lukla (by porters / Yak) and Lukla to Kathmandu (by air cargo). Based on the condition expedition stuffs may transfer by land (KTM-Phaplu) or Heli (KTM-Lukla).
Member Luggage:Up to 60 Kg per member for personal baggage during the trek carrying by porters or Yaks.
Food and Lodging: 3 meals a day (BLD; including tea and coffee) along with accessible accommodation at Hotel/Lodge/Tea house during the trek and at the Basecamp. Well-managed base camp set up for members & Staffs.
Porter:Porters per member up to Base camp from Lukla & Porters return from Base camp to Lukla.
Base Camp Staff: Experienced and well-trained Base Camp Cook & kitchen Helpers as required.
Staff Salary and allowance:All Nepalese staffs & porter's daily wages, salary, equipment, foods & clothing.
Base Camp Tent: Each member will have individual tent in Base Camp.
Base Camp equipment: At Base camp: foam mattresses and pillow per member, 1 Dinning Tent, 1 Kitchen Tent, 1 Communication tent, 1 Toilet & 1 Shower Tent, 1 Staffs Tent, 1 Tent for Nepalese base camp staffs, Store tents, Tables & chairs & all necessary cooking gears.
Heater:Heater for base camp in each Dining and other necessary camp.
Solar/Generator/Light:1 Solar panel and Generator for lights at base camp, battery charge, for laptop and other electronic devices.
High Altitude Climbing Sherpa: 2 veteran and Government Licensed per member. (1 Member : 2 Sherpa).
Climbing Sherpa Salary & Allowance:Climbing Sherpa Salary, Equipment, Food and Clothing.
Bonus: Carry Bonus of Sherpas and Route Fixing Charges.
Oxygen Bottle (O2):Summit Oxygen cylinder: 9 oxygen bottles (4 ltrs.) for each member and 3-oxygen bottle for each high-altitude Sherpa. **
Oxygen Mask & Regulator: 1 Set of Summit Oxygen mask for each member and high-altitude Sherpa. **
Back up Oxygen Cylinder, mask and regulator (with appropriate charge)
High camp service: High Altitude Tent, Necessary cooking EPI gas, cooking pot for member, High food for member, Sherpa, all climbing and cooking crew. (C1) (C2) (C3) (C4). Group climbing gears, fixed and dynamic rope during the climbing period as required.
Rope Fixing Team: The team of experienced Sherpas will fix the route In Everest (no extra charge will be applied to members).
Satellite Phone for emergency communication carrying by Sherpa, also available for members with appropriate charge.
Walkie-Talkie: Walkie –Talkie for communicating from Base Camp to Mountain and Mountain to Base Camp.
Permit: Satellite Phone / walkie-talkie permit for all members and staffs.
Internet Service:Internet facility (1 Mbps) will be available at the Base Camp (subject to a charge).
Weather Forecast: Fresh Weather forecast report during the entire expedition.
Comprehensive Medical kit for members and staffs.

Certificate: Everest climbing certificate issued by MoCTCA (after climbing Mt. Everest successfully).

**Note : All expedition stuffs and equipment has to be return after the expedition.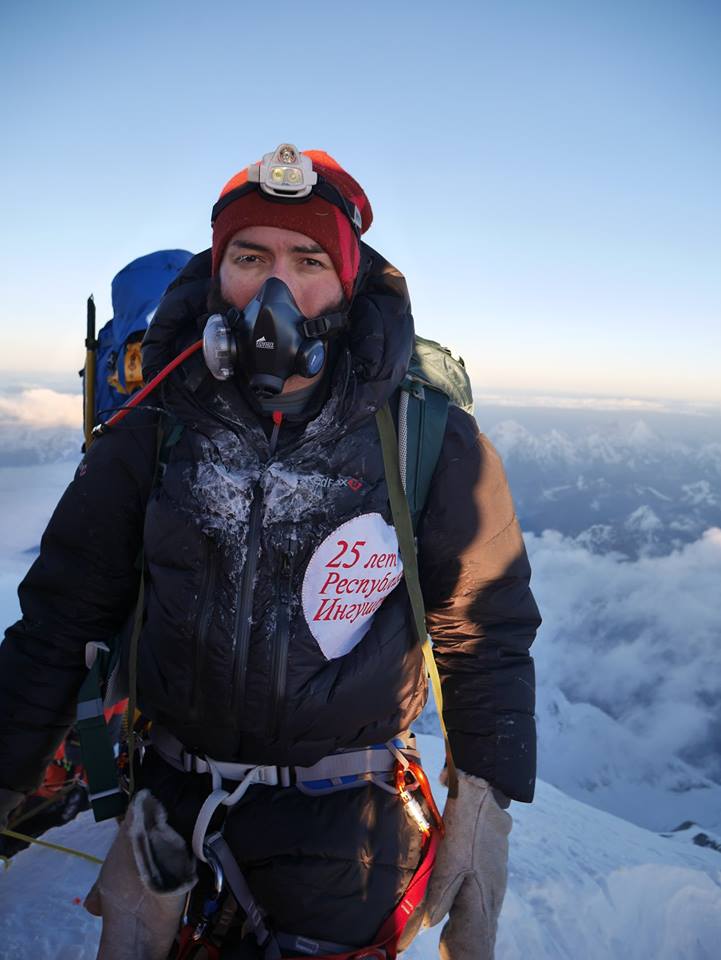 EVEREST EXPEDITION VIP SERVICE COST DOSE NOT INCLUDE:
Air Fare: International flight airfare (from and to Kathmandu).
Nepal entry Visa fee: Nepali Visa fee US$ 40 per person for 30 days (to be applied for 60 days (USD$ 100).
Lunch & Dinner: Lunch & dinner in during the stay in Kathmandu (also in case of early return from Trekking / Expedition than the scheduled itinerary).
Extra night in Kathmandu: Extra nights' accommodation in Kathmandu. In case of early arrival or late departure, early return from Trekking / Expedition (due to any reason) than the scheduled itinerary.
Insurance: Travel and high-altitude insurance, accident, medical & emergency evacuation.
Rescue Evacuation: Medical Insurance and emergency rescue evacuation cost if required. (Rescue, Repatriation, Medication, Medical Tests and Hospitalization costs.)
Personal Expenses: Telephone Calls, Internet, Toiletries, battery recharge, hot shower, laundry, soft drinks, beers and any Alcoholic beverages (during the trek and in Kathmandu but we will serve soft drinks for members at the base camp).
Personal Equipment:Clothing, Packing Items or Bags, Personal Medical Kit, Personal Trekking /Climbing Gears.
Toiletries: Soaps, shampoos, toilet and tissue papers, toothpaste, and other items used to keep yourself clean.
Filming: Special Filming, Camera and Drone permit fee.
Internet Service: Not included during the trek.
Rope Fixing: The cost for using fixed rope during the expedition. (Applies to Basecamp Member).
Summit Bonus: Summit bonus for climbing Sherpa- Minimum 1500 USD. (Applies to Full Board Member).
Tips: Calculate some tips for Basecamp staffs.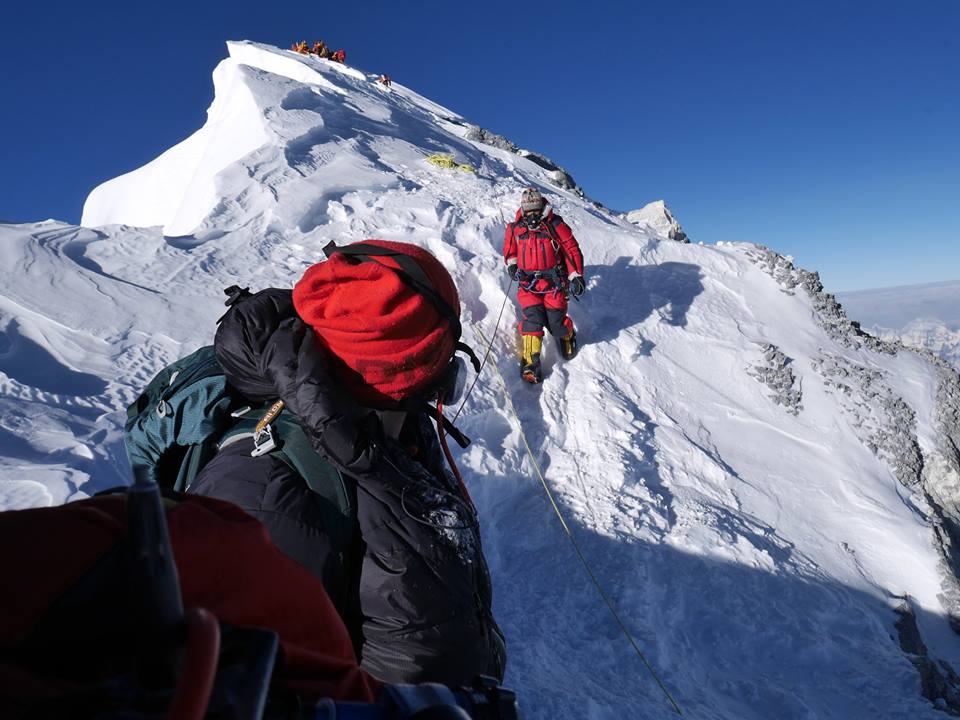 EVEREST 8848 CLIMBING EXPEDITION ITINERARY:
Day 01: Arrival to Kathmandu & Transfer to the Hotel (1,400m)

Hotel

2

Day 02: Rest in Kathmandu, expedition briefing and Preparation

Hotel: B/ D

3

Day 03: Fly from Kathmandu – Lukla and trek to Phakding (2,800m)

Lodge: B/L/D

4

Day 04: Trek from Phakding to Namche Bazzar (3,440m)

Lodge: B/L/D

5

Day 05: Acclimatization at Namche Bazaar (rest day)

Lodge: B/L/D

6

Day 06: Trek from Namche Bazzar to Tyangboche Monastry (3,860m)

Lodge: B/L/D

7

Day 07: Trek from Tyangboche to Dingboche (4,243m)

Lodge: B/L/D

8

Day 08: Trek from Dingboche to Lobuche (4,930m)

Lodge: B/L/D

9

Day 09: Trek from Lobuche to Everest Base Camp (5,364m)

Tent: B/L/D

10-53

Day 10 – Day 53: Climbing Period [Base Camp – Everest Summit (8,848m) – Base Camp]

Tent: Full Board Service

54

Day 54: Cleaning Up Base Camp

Tent: B/L/D

55

Day 55: Trek from Base Camp to Pheriche (4,371m)

Lodge: B/L/D

56

Day 56: Trek from Pheriche to Namche Bazaar

Lodge: B/L/D

57

Day 57: Trek from Namche Bazaar to Lukla

Lodge: B/L/D

58

Day 58: Fly from Lukla to Kathmandu & transfer to Hotel

Hotel: B

59

Day 59: Leisure day in Kathmandu City

Hotel: B

60

Day 60: Transfer to International Airport for final departure

Breakfast
B= Breakfast, L= Lunch and D= Dinner.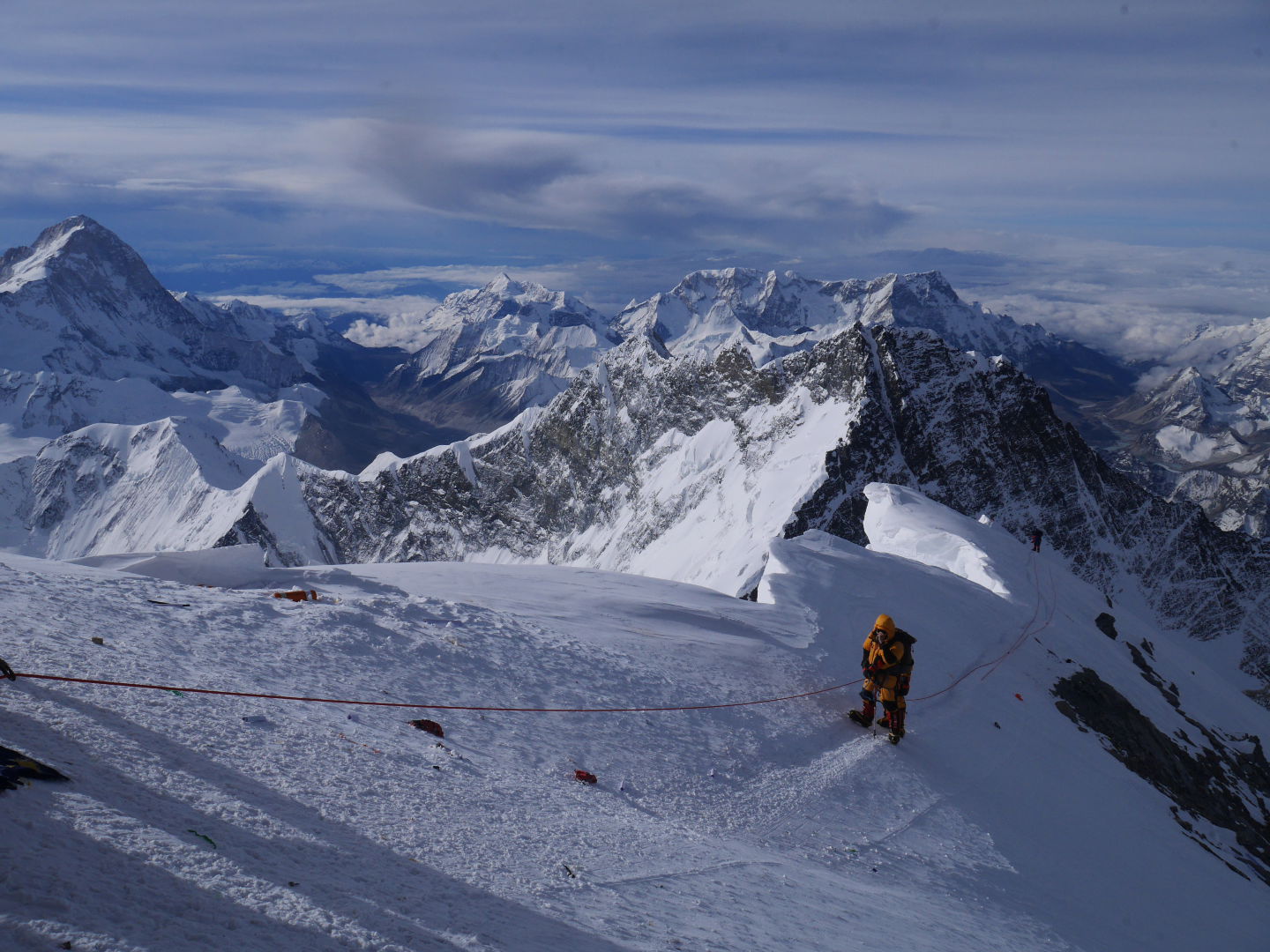 EQUIPMENT LIST FOR EVEREST 8848 EXPEDITION, WHAT TO TAKE
Тravel Documents
Valid Passport ¨ Credit Cards ¨ Pp Size Photo (4 Pieces) ¨ Insurance Paper And Contact Address. ¨ Family Members / Company's Contact Address
F

oot Wear
¨ Kailas / Lasportiva / Millet (Summit Shoe) ¨ Normal Socks (5-6 Pairs) ¨ Summit Socks (2 Pairs) ¨ Trekking Shoes (1 Pair) ¨ Camp Booties (1 Pair) ¨ Basecamp Slipper (1 Pair)
Upper Body
¨ Light Weight Top / Thermo Coat (2-3 Layers) ¨ Mid Weight Top (2-3 Layers) ¨ Heavy Weight Top (2 Layers) ¨ Fleece Jacket (1) ¨ Gore Text Jacket (1) ¨ Down Jacket (1) ¨ Wind Proof Jacket ¨ Cotton T-Shirt For Base Camp. (2-3)
Lower Body
¨ Light Weight Long Under Pants (2-3 Pairs) ¨ Under Wear (5-7 Pairs) ¨ Mid Weight Long Under Pants (2-3 Pairs) ¨ Heavy Weight Long Under Wear ¨ Gore Text Pant. (1) ¨ Down Pants. (1) ¨ Water Proof Pant. (1)
Head
Sun Cap, Desert Cap, Balaclava, Fleece Hat, Neck Gaiter (2-3)
Hands
¨Thin Fleece Gloves (2 Pairs), Wind Stopper Fleece Gloves, Heavy Gloves (Mitten), Summit Gloves
Sleeping Bags
Sleeping Bag - 20 Degree Celsius (For Base Camp), Down Sleeping Bag - 20 To -40 Degree Celsius (Extreme Comfort), Thermarest Mattress (Cell Foam), Thermarest Mattress (Inflatable)
Climbing Equipment
Climbing Helmet, Down Suit (Kailas / Marmot / Mountain Hardware / North Face / Millet ), Crampons (Fit with Boot), Ice Axe, Harness, Atc Guide, Jummer / Ascender, Lock Carabiner (3), Unlock Carabiner (3), Tape Slings (2), Prusik Loops (1) ¨ Snow Goggle ¨ Head Light (4 Pairs Rechargeable Batteries Recommended) ¨ Satellite Phone ¨ ¨ Hand Warmer (If Possible) Bag Packs ¨ Rucksacks 45L - 55L ¨ Duffle Bag 90 L -120 L (2 Pieces) ¨ Water Proof Stuff Sacks Large (2 Pieces) ¨ Water Proof Stuff Sacks Small (2 Pieces) Sun Stuffs ¨ Banana Boat/ Nivea Sun Cream -50 (Spf) ¨ Lip Guard -20 / -50 (Spf) ¨ Sun Glasses (Uv Protection) ¨ Glaciers Glasses (Uv Protection)
Toiletries
Hand Disinfectant, Wet Tissue, Toothpaste, Toothbrush, Soap, Shampoo, Garbage Bag
Eating & Drinking
Water Bottle (2), Thermos, Mug, Spoon/ Fork
Bowl Medical ¨ Brufen / Ibuprofens ¨ Antibiotic ¨ Diamox ¨ Paracetamol ¨ Handy Plaster ¨ Crack Bandage ¨ Tincture Iodine Miscellaneous
Walking Stick ¨
Pocket Knife (Swiss)
Umbrella / Rain Coat
Makalu Extreme Treks and Expeditions will provide to our Full and VIP service members One Base Camp Warm Jacket and one Expedition Duffle back size XL with company logo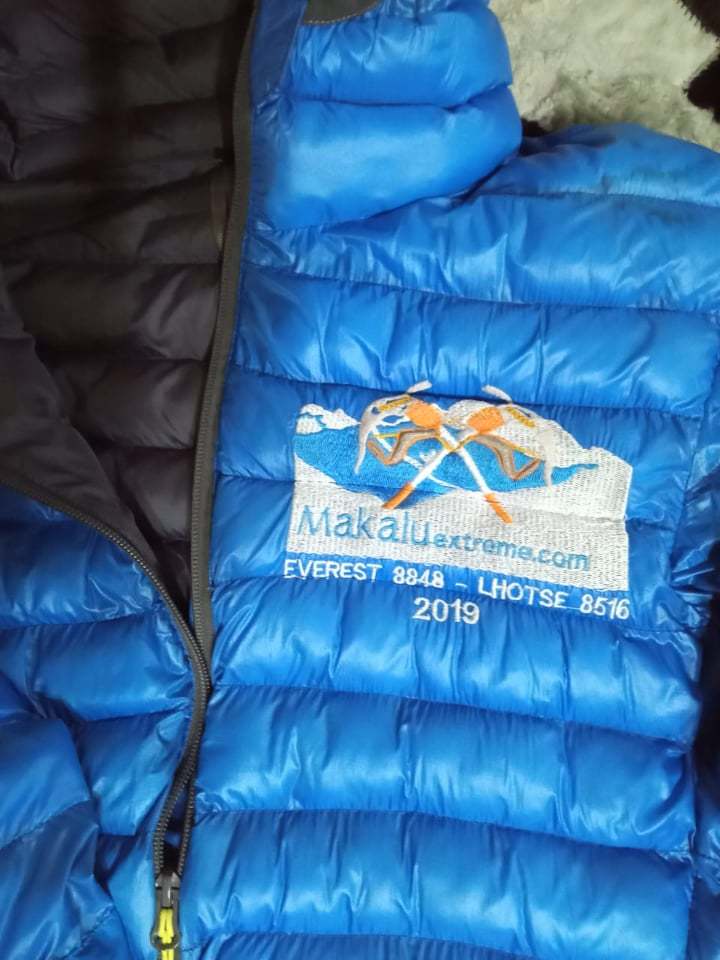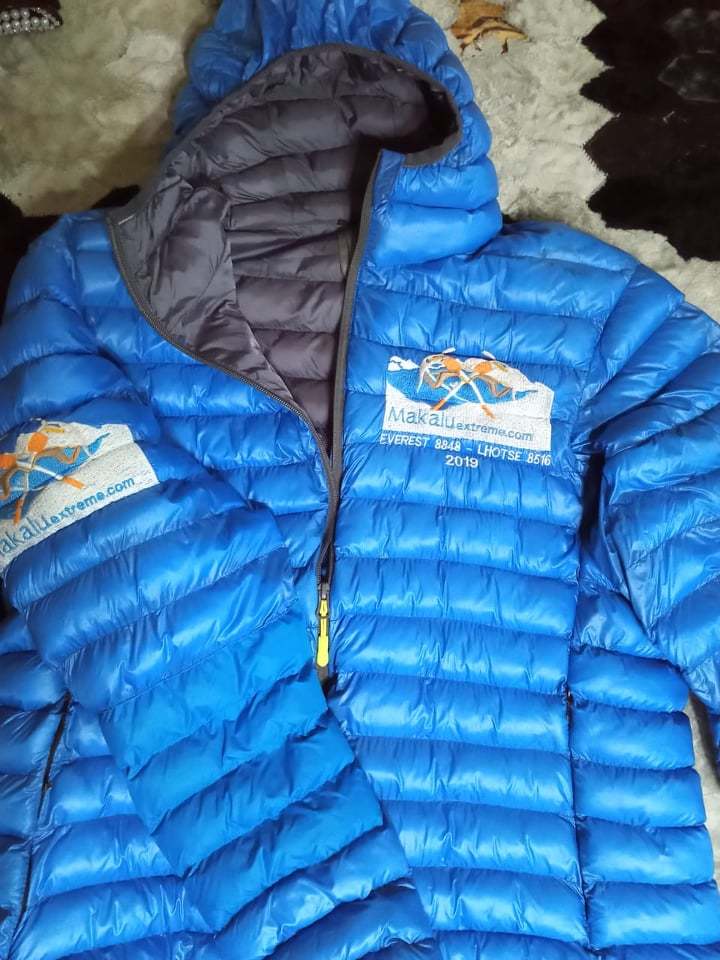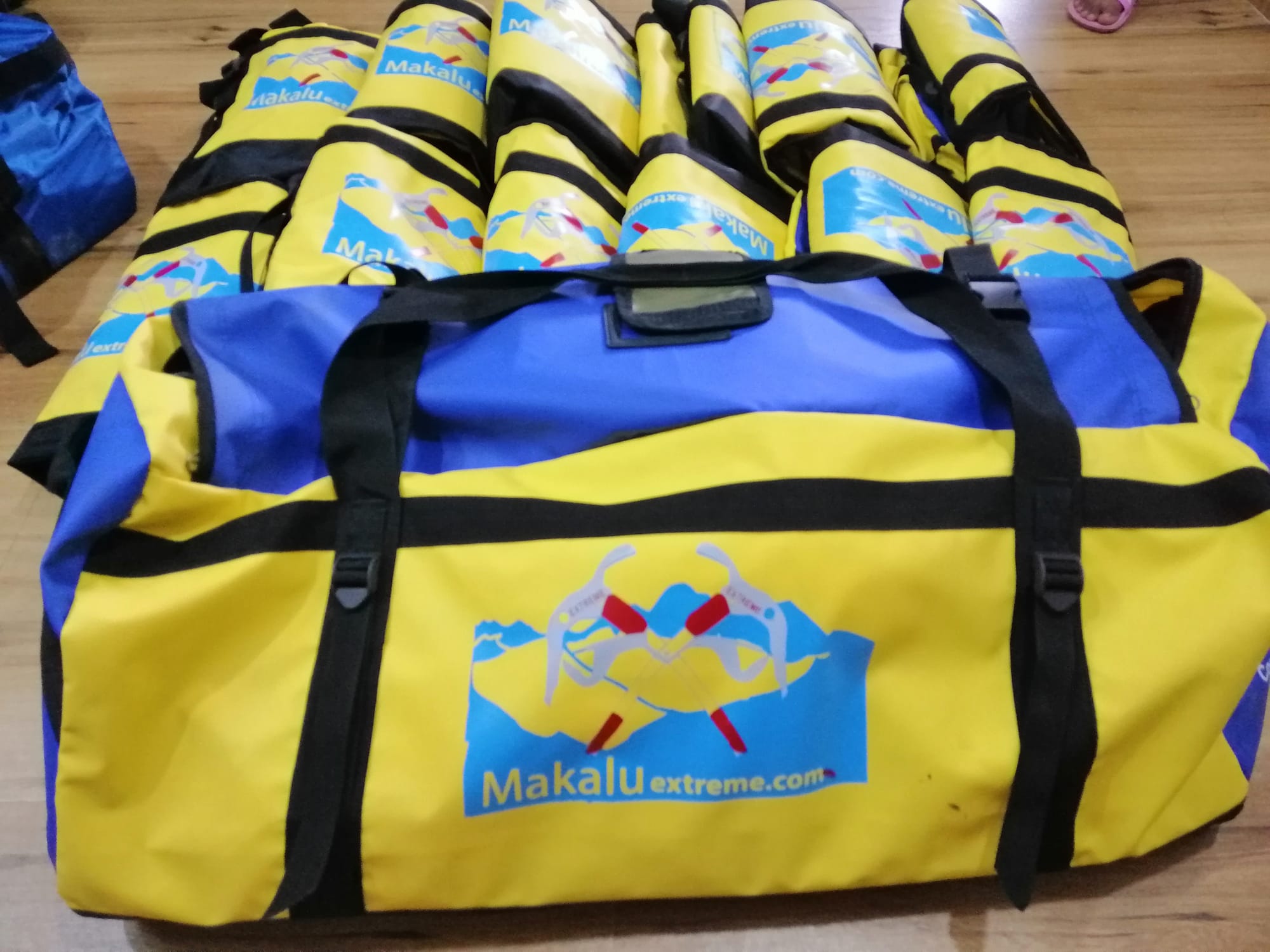 Here is some photos to illustration what kind of meals usually you can have at our Everest climbing expedition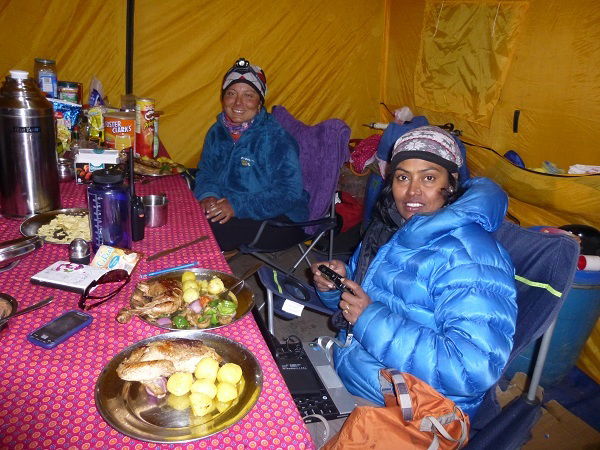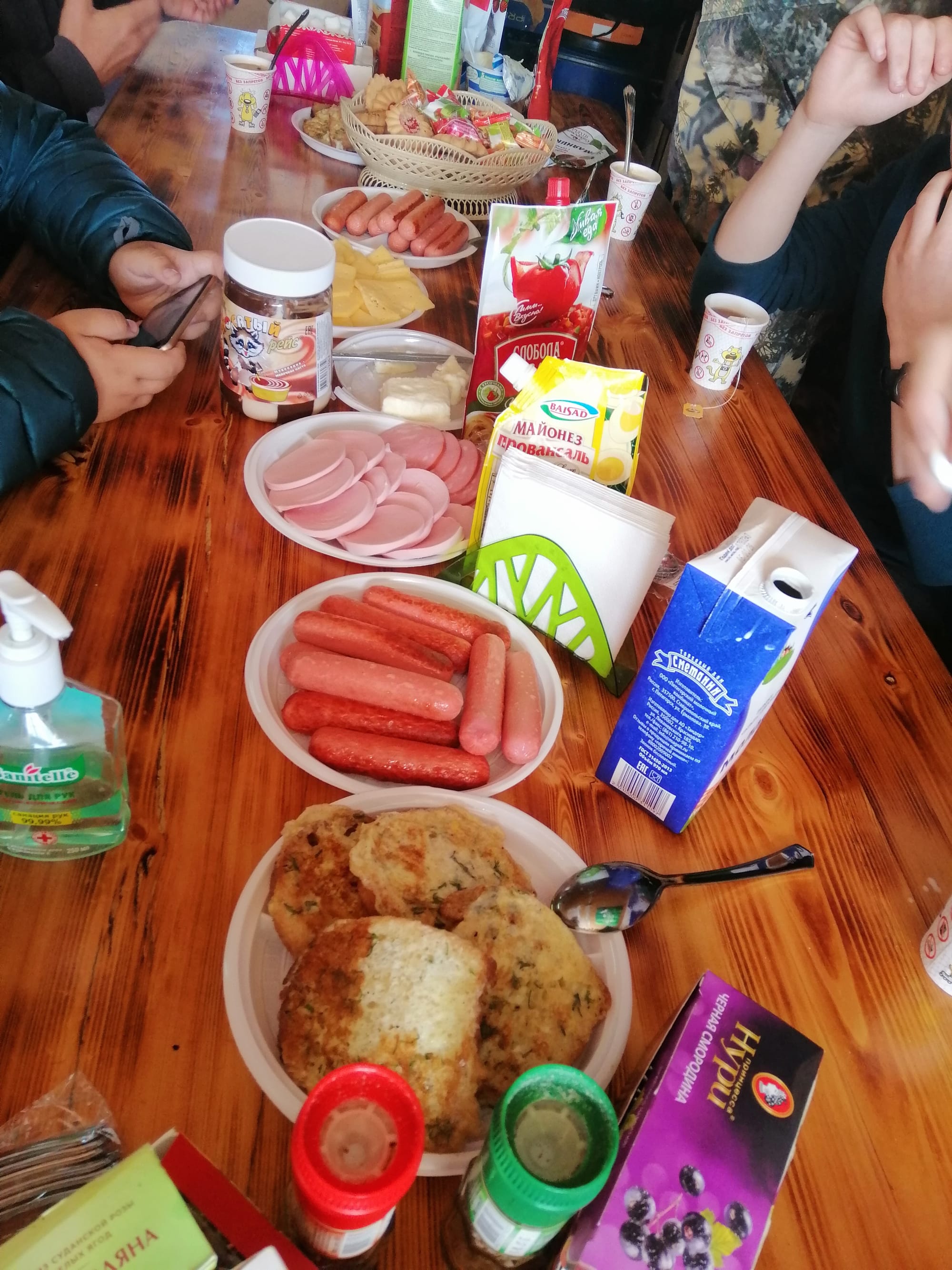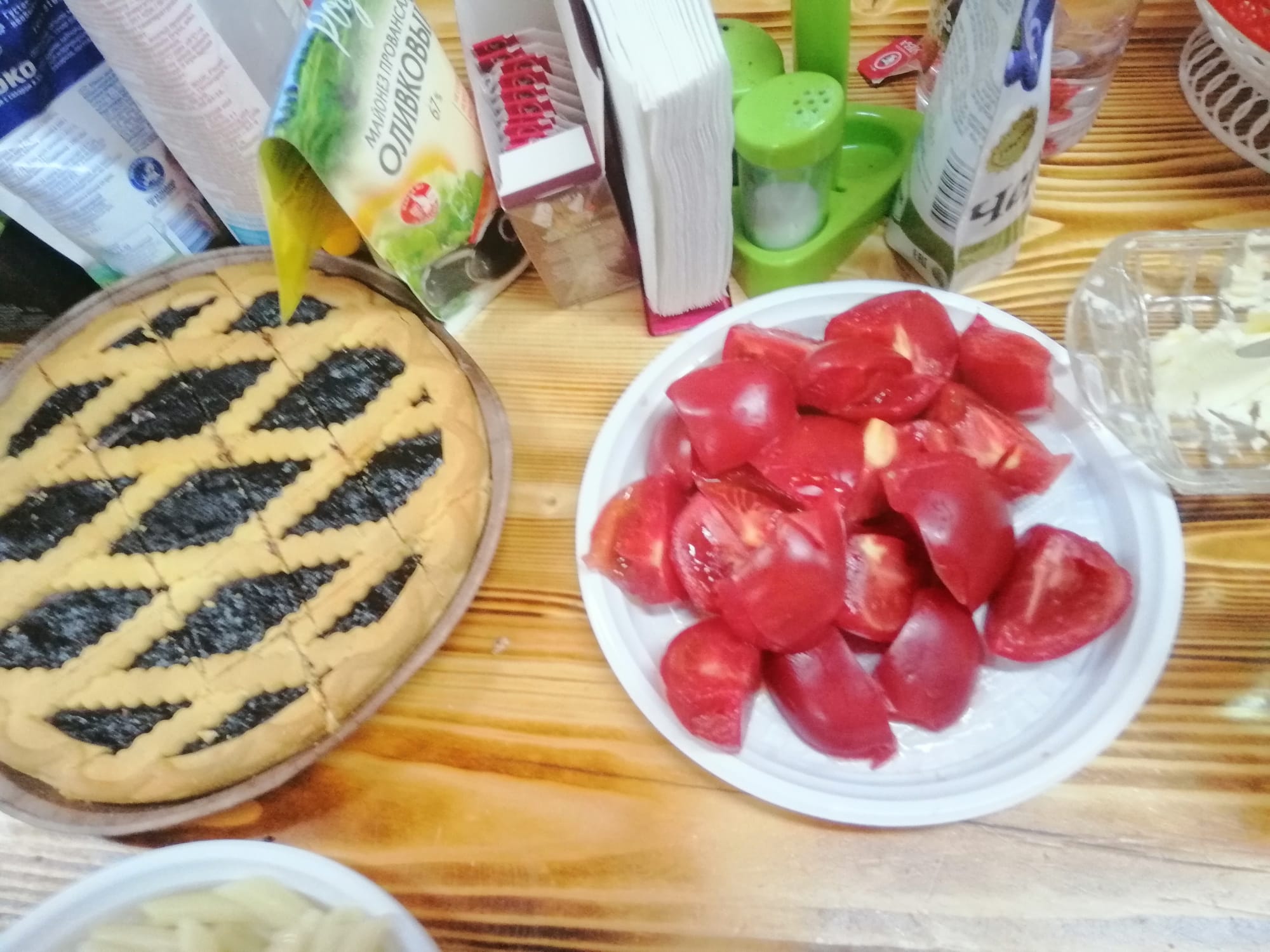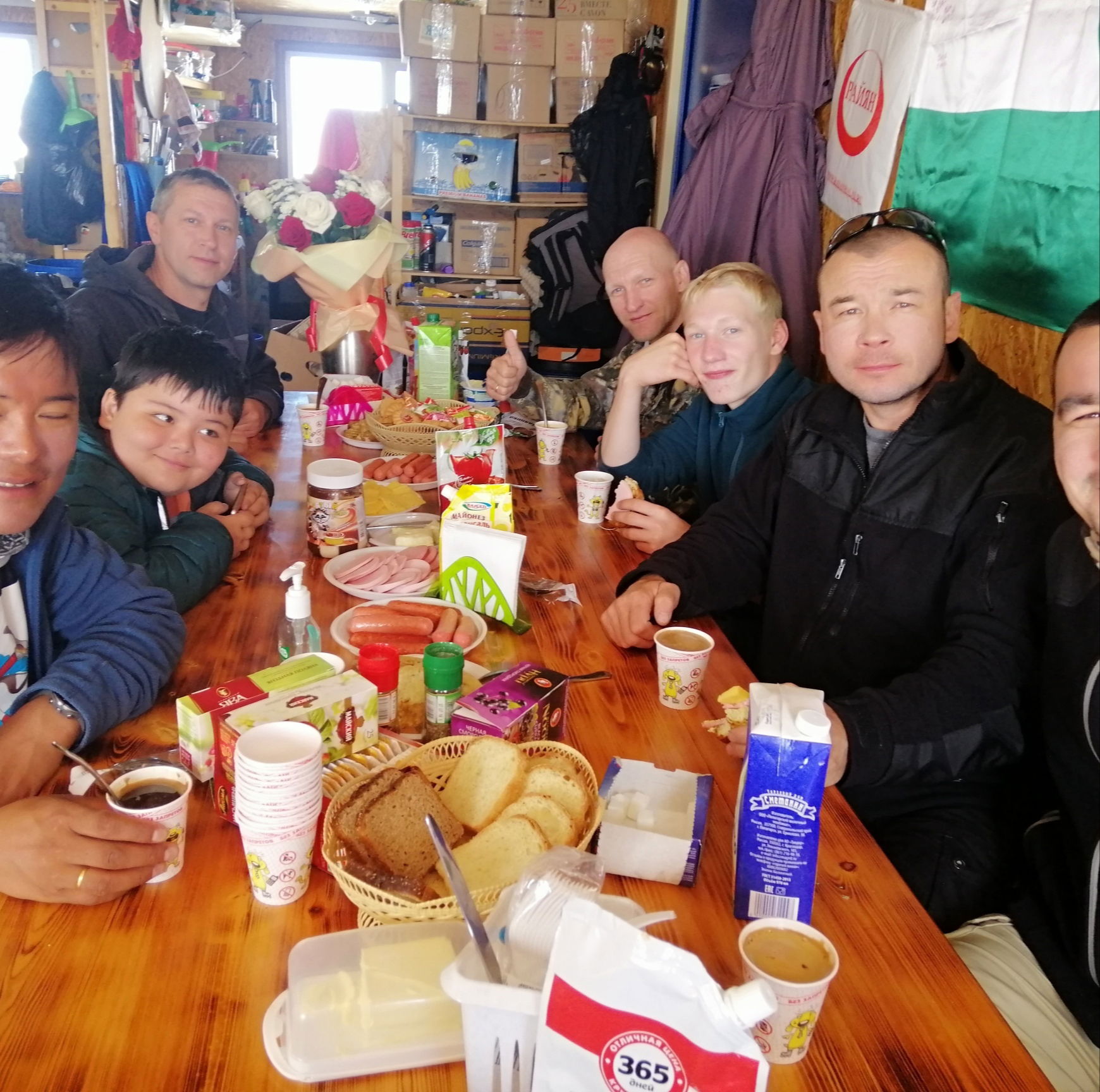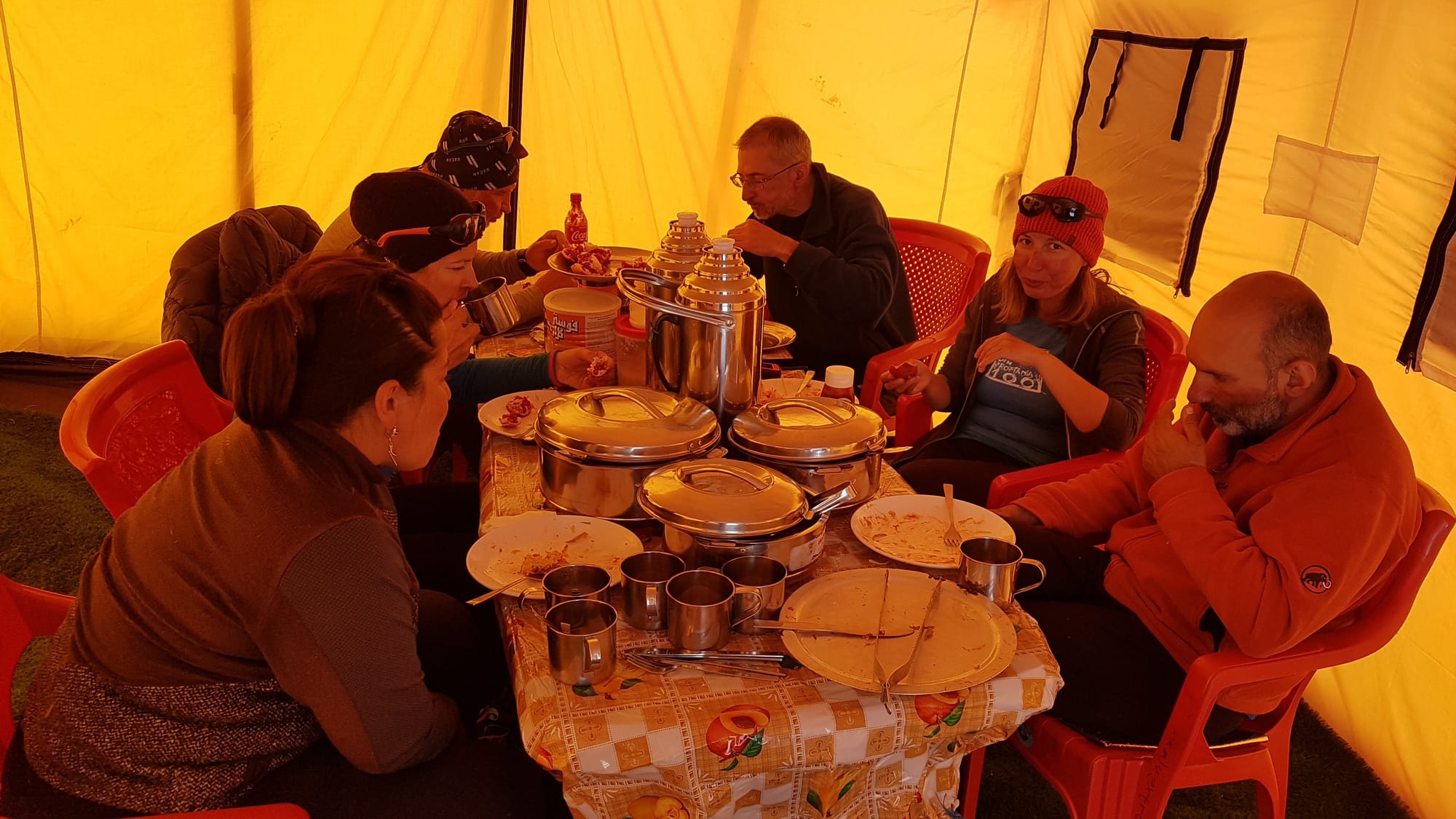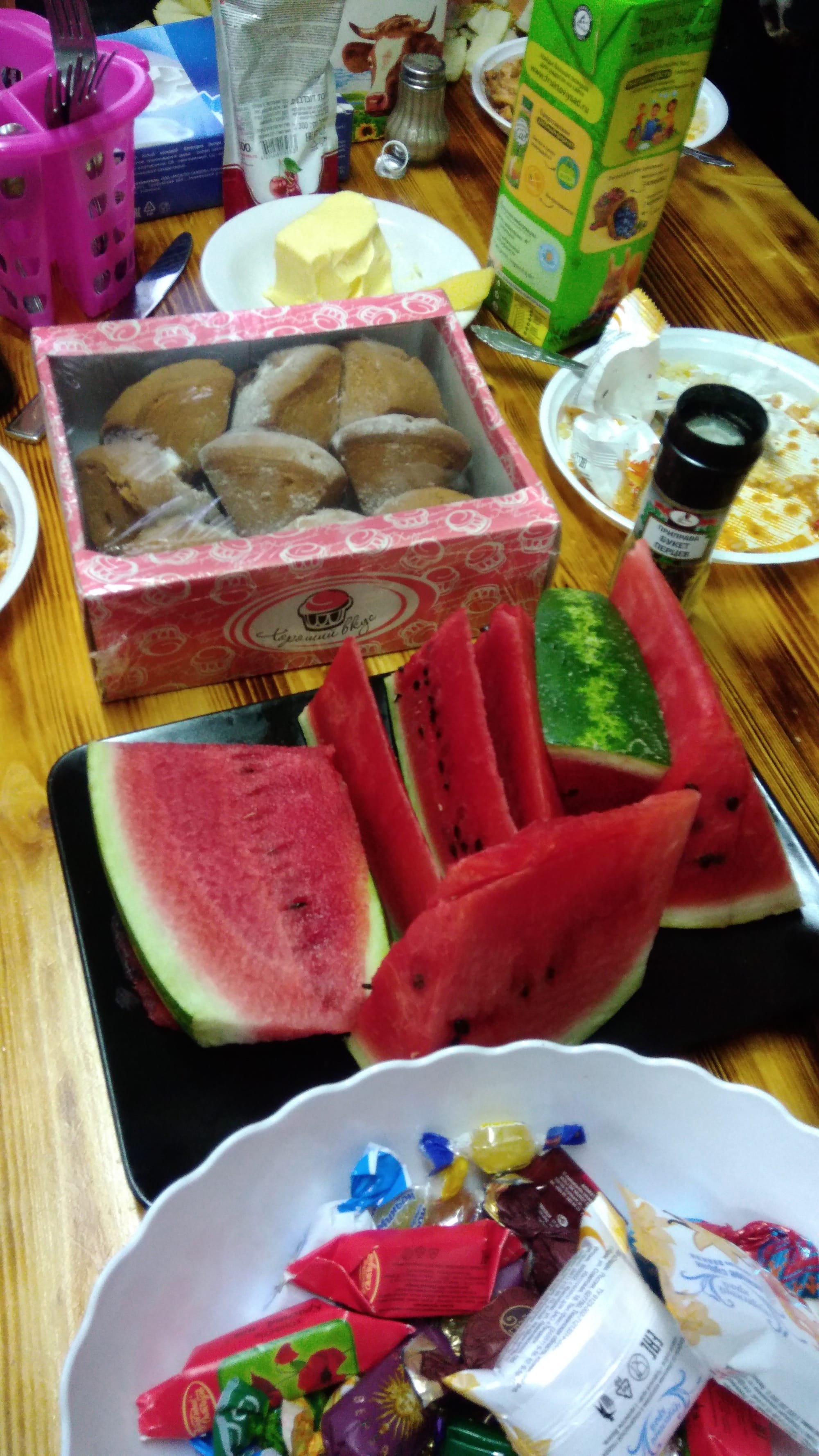 Here is photos of our hotel, where will stay all our full and VIP service members of Everest 8848 climbing expedition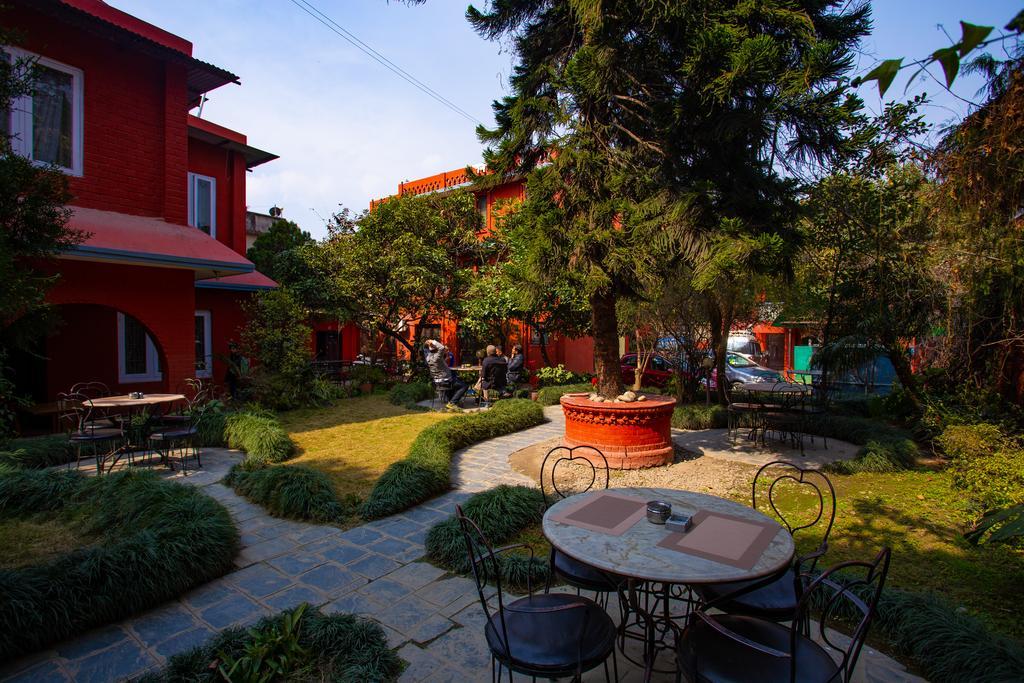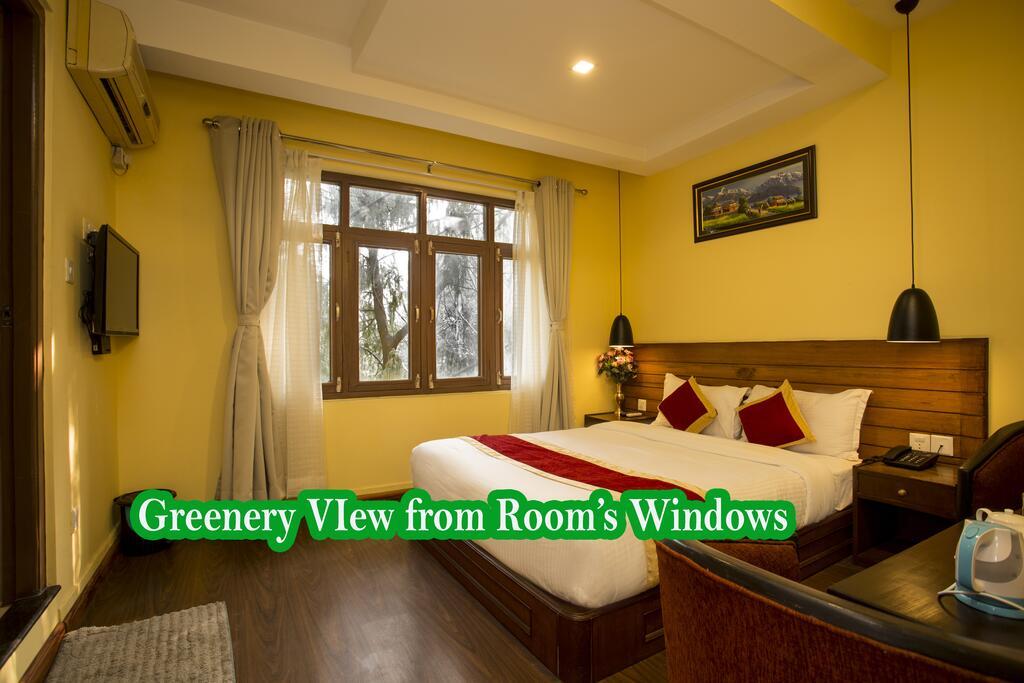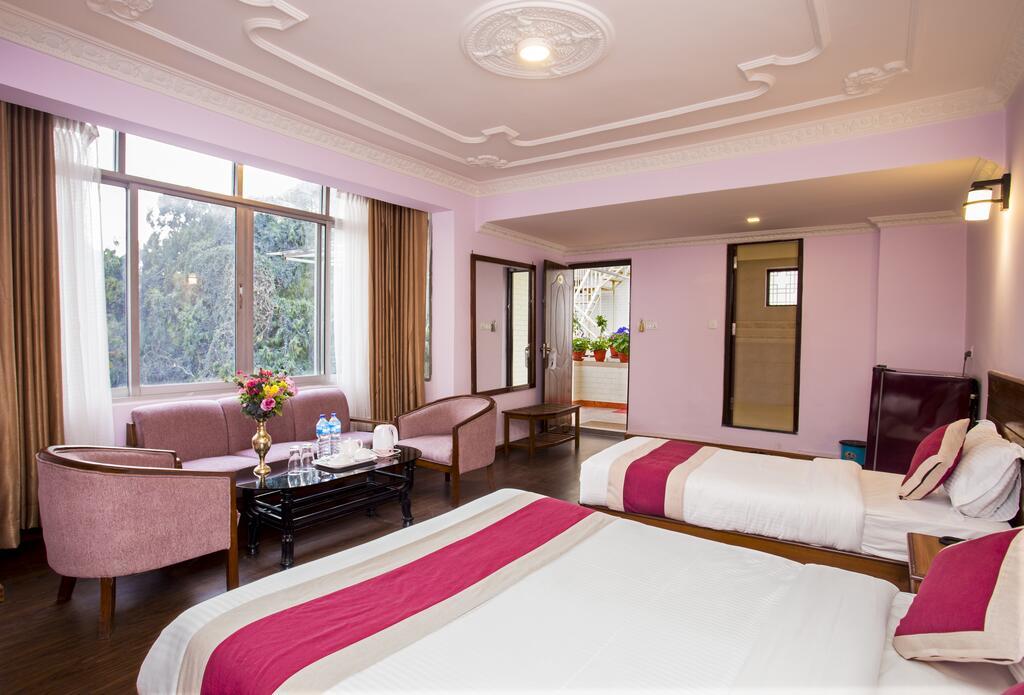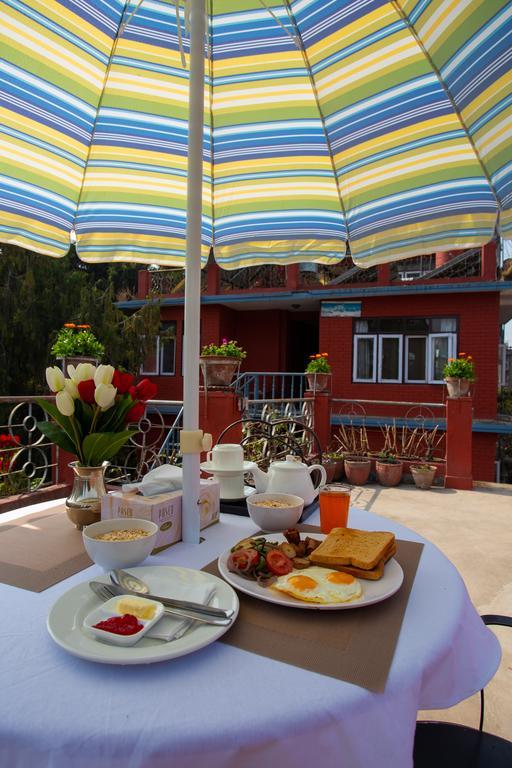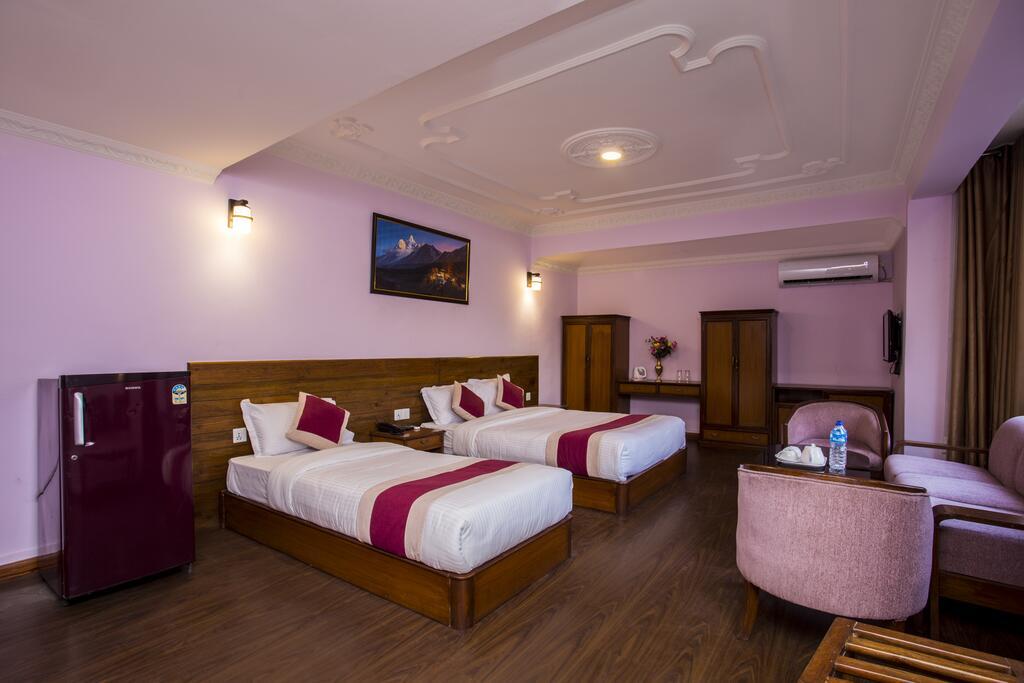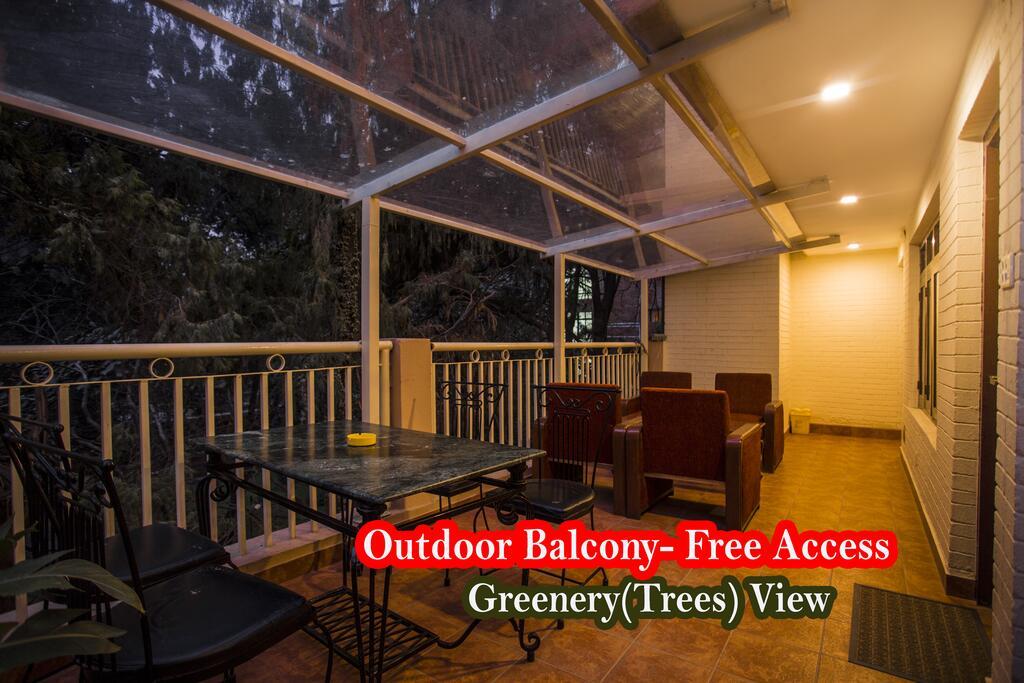 ALL MATERIALS AND PHOTOS OF THE SITE ARE THE PROPERTY OF MAKALU EXTREME CLIMBING ADVENTURE. THEIR USE IS PERMITTED ONLY WITH THE CONSENT OF THE OWNERS OF THE COMPANY.