History of one record, children and mountaineering. And, us always, very beautifully turned this story into a charming action, Galina Pogodina
--------------------------------------------------------------------------------------
Active Travel
Kamiya Karthikeyan- ski mountaineer at 11 years old
Oksana Morneva-Sherpa:
Almost all climbers who have achieved serious results, began to go to the mountaineering from an early age. Their adult motivation was rooted in their childhood. At Makalu Extreme Treks Expeditions, we have had children as clients several times. The first time it happened like this.
We got a call from an Indian asking us to bring his daughter named Kaamya to Elbrus. The challenge was to walk up and ski down in freeride mode. This way the girl would set a record and make a good start for the future.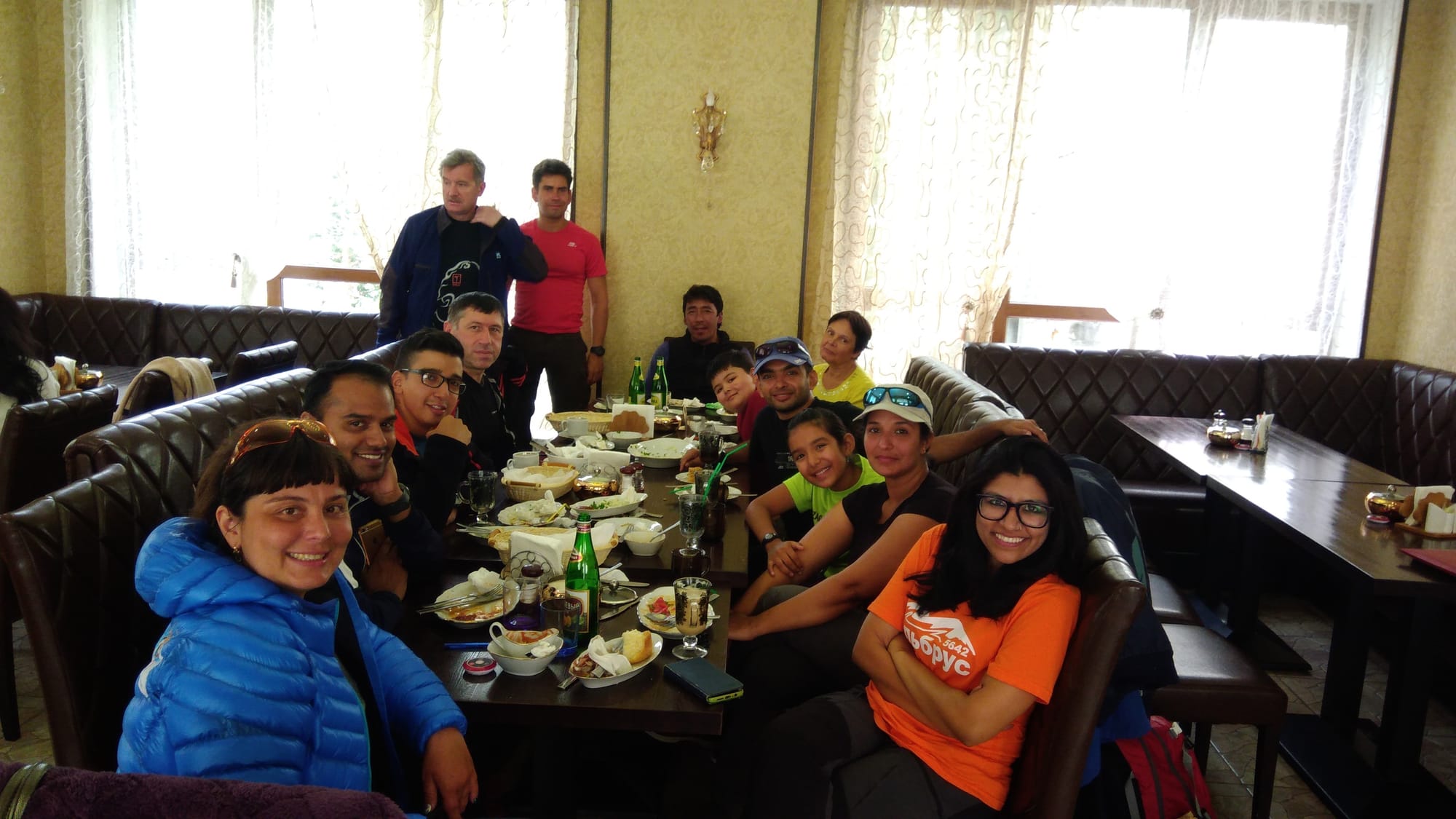 It was very interesting for us to work with such an unusual child, but it would also be a good advertisement for us in the Indian market. According to our Nepalese groups, we saw that 60% of climbers on the eight-thousandth mountain are Indians, and such a difficult ascent would be a good prospect for conquering the Indian market.We needed to find a specialist who was an experienced ski mountaineer guide and was not afraid of such responsibility as working with a child. When the child is ski down with belay, she can simply pull the guide, and then both will be in danger. Kaamya had experience, but it was necessary to adapt it to the conditions of Elbrus.
We chose the very beginning of summer, when the slopes are suitable for skiing, just as we were returning from an expedition to Lhotse from Nepal.
On Lhotse with us rose take off Aznaur Akaev – member rescue team in Bezengi, professional skier. He was the first Balkarian to summit the two eight-thousand-meter mountains Manaslu and Lhotse. His strength and endurance earned him the nickname "White Sherpa". During the expedition, he proved to be very responsible and morally stable. He was the one we invited as a guide for Kaamya.
On may 16, we summited the Lhotse, and then returned to Russia. Kaamya arrived with her parents in early June. In parallel, we were leading a large group, so the guides split up: Aznaur and I went with Kaamya's family, Chatur and Max Shibalov led the rest.
To begin, we have formed a whole quest to find special mountain skis with shoes of the appropriate size. On Elbrus very hard crust, and below the Pastukhova Rocks just porridge of snow. In such difficult conditions, it will be an emergency if the equipment does not fit at least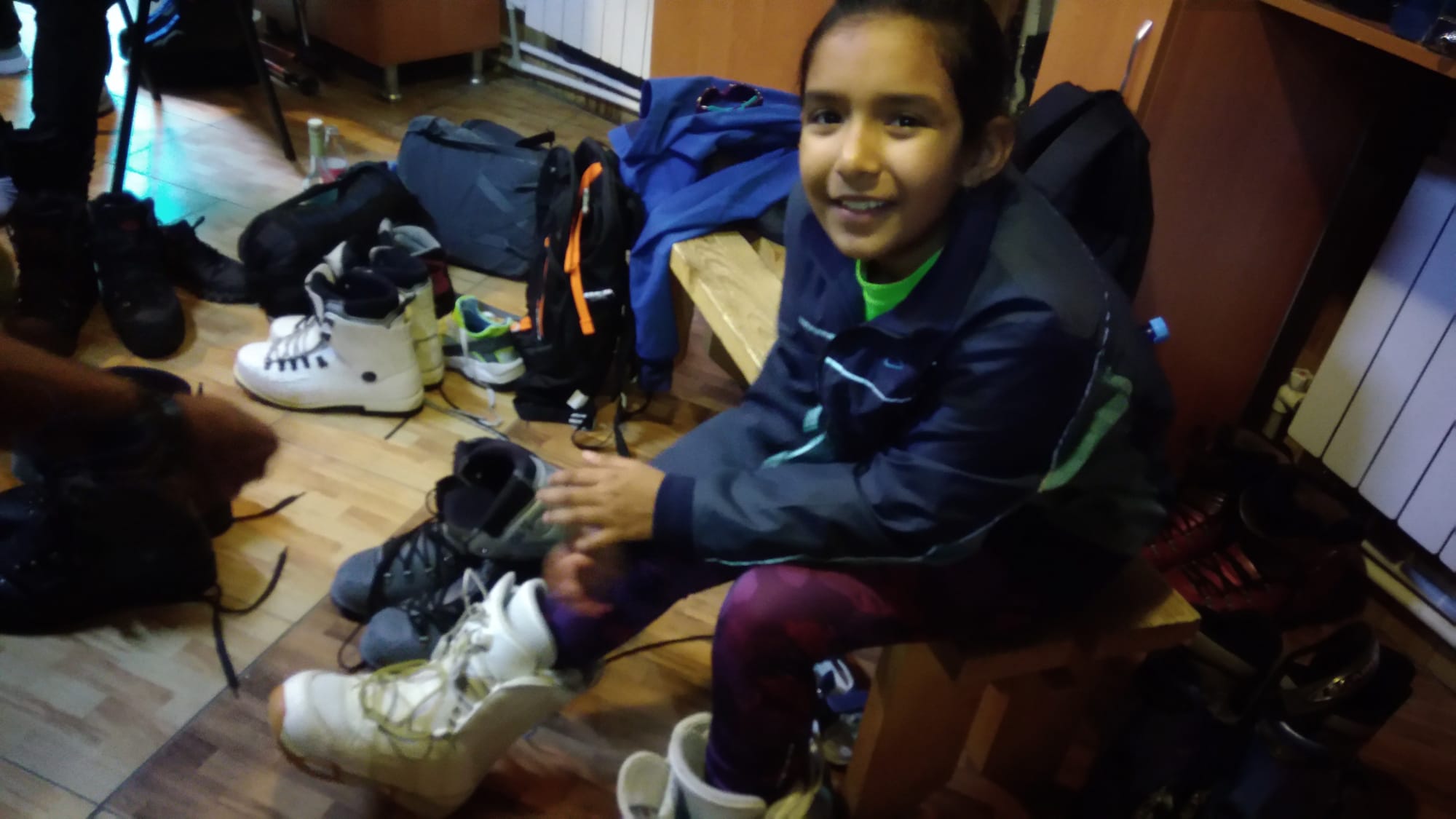 The girl's parents could not find such a small size in India, and our plan threatened to stumble. Because we didn't find the right kit in Russia either.In the Elbrus region, we went through all the rentals – we can't find anything. And at the last moment we turned to a very small rental near our hotel, the owner of this rental is a ski instructor-balkarian women. And she immediately understood what we needed, and saying: "Don't kill the baby there," she said, picking up her skis and boots.
I have never met such a positive and motivated child in my life. But this was not Kaamya's first mountain. She had already climbed the mountains of the Indian Himalaya- Stok Kangri and she visit Everest Base Camp. With such a high-altitude experience, Kaamya was less prone to altitude sickness, which made the task much easier
Her dream is to go to climb 8000+ mountains. But this is unrealistic in terms of cost, and the family's plan was this: after Elbrus, she can find sponsors.
Kaamya was very lucky with her parents, because they were very supportive of her daughter's dream. Both serve on a submarine. Her father is a professional mountaineer and the leader of many Indian expeditions to various serious peaks. Her mother started climbing for the sake of Kaamya in order to support her child in long-term high-altitude expeditions. She was afraid to let the girl to climb without her, she was very worried as a mother.
We went to the Pastukhov rocks without any incident, from there Kaamya and Aznaur made a trial descent, then went to Pastukhov again… We looked at the Forecast and realized that if we spend another day training, the weather will deteriorate. Therefore, we decided to force events and go to the storm just two days after arriving at the Shelter.
The girls ' skis were carried by our expedition guides, and I set the pace in front so that it was not too fast for a child. I was very surprised by Kaamya's strong will and motivation. She didn't need to be coaxed, prodded, or given advice. If it was difficult for her, she would say, " please slow down a little." I slowed down and we didn't even stop moving. It was a beautiful, quiet day. The group went to the top in full strength and without any special adventures.We realized that we were observing an age-related world record for skiers, and we were very happy that the girl was not exhausted at the top. This gave a good chance of a successful descent.
When you ride at this altitude, you need to be very good at controlling your body and not lose your reaction, otherwise any mistake can cost your life: you can fly away on these skis to no one knows where. I often see people sliding off the Pastukhov Rocks and immediately losing control of their skis.
By this time, we had already brought about 500 people to Elbrus, and I saw that only a few could stay on top in good health. I was constantly thinking: what a good shape Kamiya must be in to not just go skiing, but at least stay on them!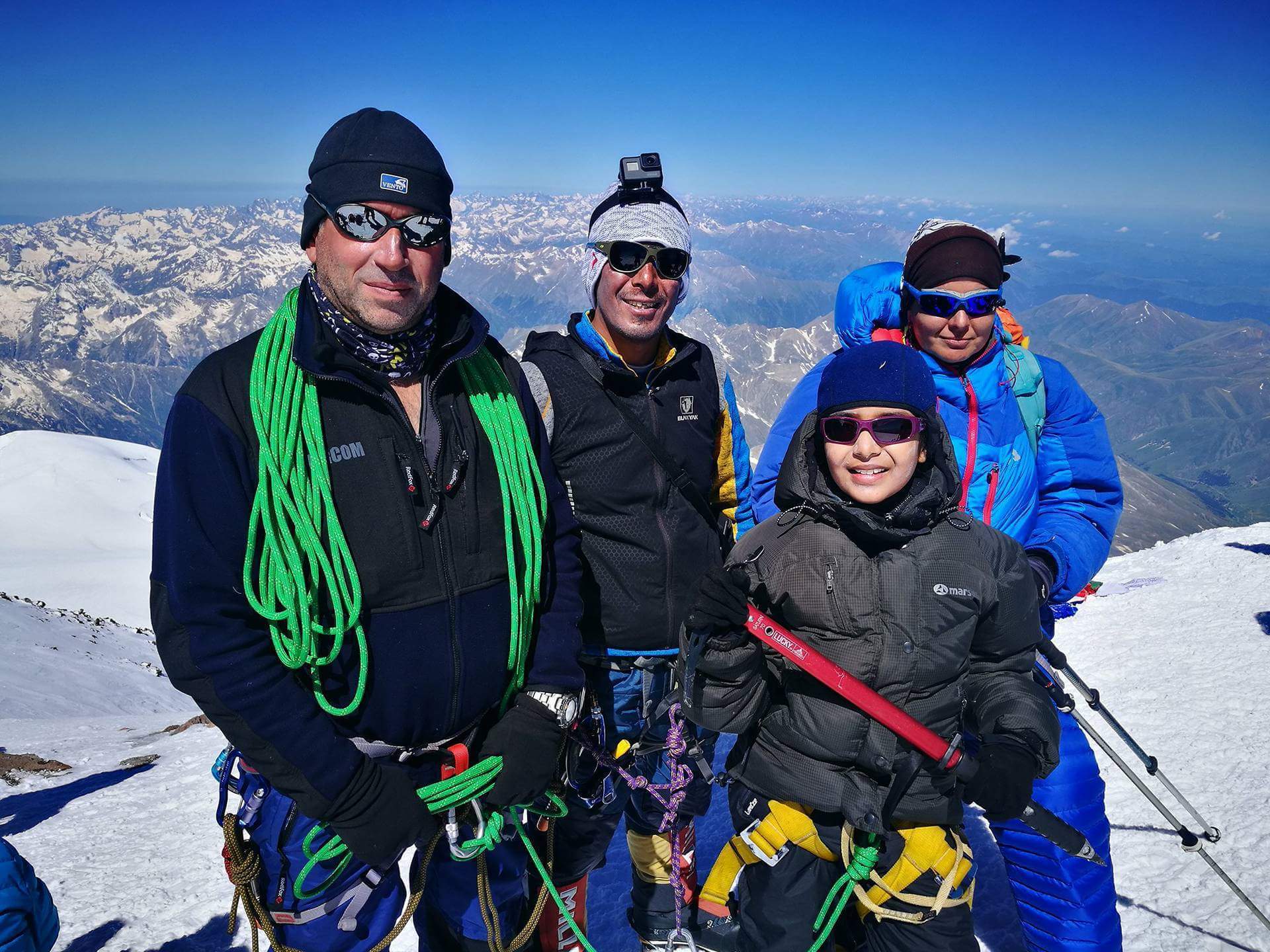 Everyone was very happy about Kaamya's success, and she had a whole support group that was worried about her success and well-being.Kaamya was in full great phusical condition. Parents said: well, go. And the girl and Aznaur started down. On the steep sections, they took off their skis and went around these places, then got back on their skis and got to the Shelter much before us.
I, Chatur, Max and all the others huddled together, called a ratrak on 4800 and went down.
We went down, celebrated the event, and since the weather really turned bad, we went to Minvody to have a good time on our unused days. Kaamya's parents wanted to go shopping there, because many products in Russia are much cheaper than in India.
This expedition happened in 2018, and in 2019, Kaamya climbed Aconcagua peak - the highest point in the Americas, thereby setting a new age record.
Throughout this expedition, I emphasized the importance of motivating and supporting loved ones family. And how necessary it is, even for a child, to do what is important to them and what they believe in. Because it is impossible to make you climb high mountains – you need to love it. But the love of heights can turn into an unrealized, broken dream and disappointment in life. And when a person dreams and relatives help – this is such a beautiful story that I want to share