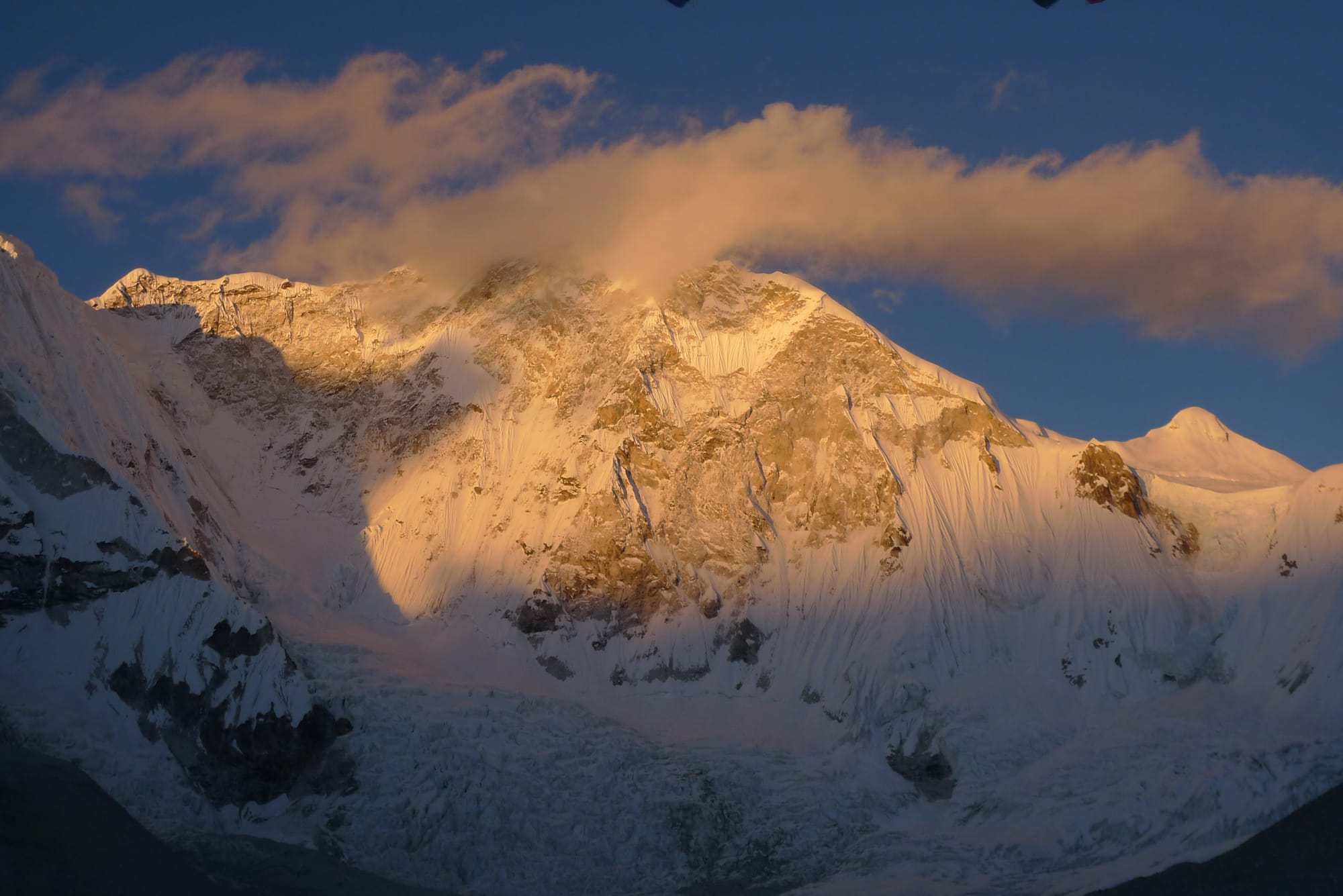 www.makaluextreme-treks-expeditions.com
Interview for Active Travel Magazine and Galina Pogodina Галина Погодина, English version
Many thanks to Galina Pogodina for the interview she took with me today! It was very piercing! I'm under the impression just in one breath!
--------------------------------------------------------------------------
Where the Mountains begin. Interview with Oxana Morneva-Sherpa
Today
Today we have a guest Oxana Morneva-Sherpa-a celebrity and authority in the world of mountaineering, but her way to the highest heights was not easy, difficult and dangerous. I was able to talk to Oksana and find out which peak was crucial in her high-altitude experience.
The expedition that will be discussed took place in 2008, and this was the second serious ascent of the famous mountaineer. She did not have enough high-altitude experience at that time, and she went as a client of a commercial expedition of an international outdoor company with an asset of dozens of serious peaks.
The first option was the eight-thousand-meter Cho Oyu (8201 m), but since Tibet was closed at that time, the organizer suggested as a replacement the Baruntse peak (7139 m), which is located in Nepal. This option, although inferior in height, is much more difficult and interesting from a technical point of view.
Oxana flew to Kathmandu with her friend Irina Alaeva. The expedition started with trouble: the Emirates airline lost the girls ' Luggage. Days passed, the season went with the holidays, the situation threatened to disrupt the ascent. The Manager started sending complaints to the Association of air carriers, after which the Luggage was found, but could not be delivered to Kathmandu. Then manager had to demand urgent compensation for expensive equipment under the threat of court, so that girls could buy everything again. After that, the Luggage arrived the next day, but the week was lost.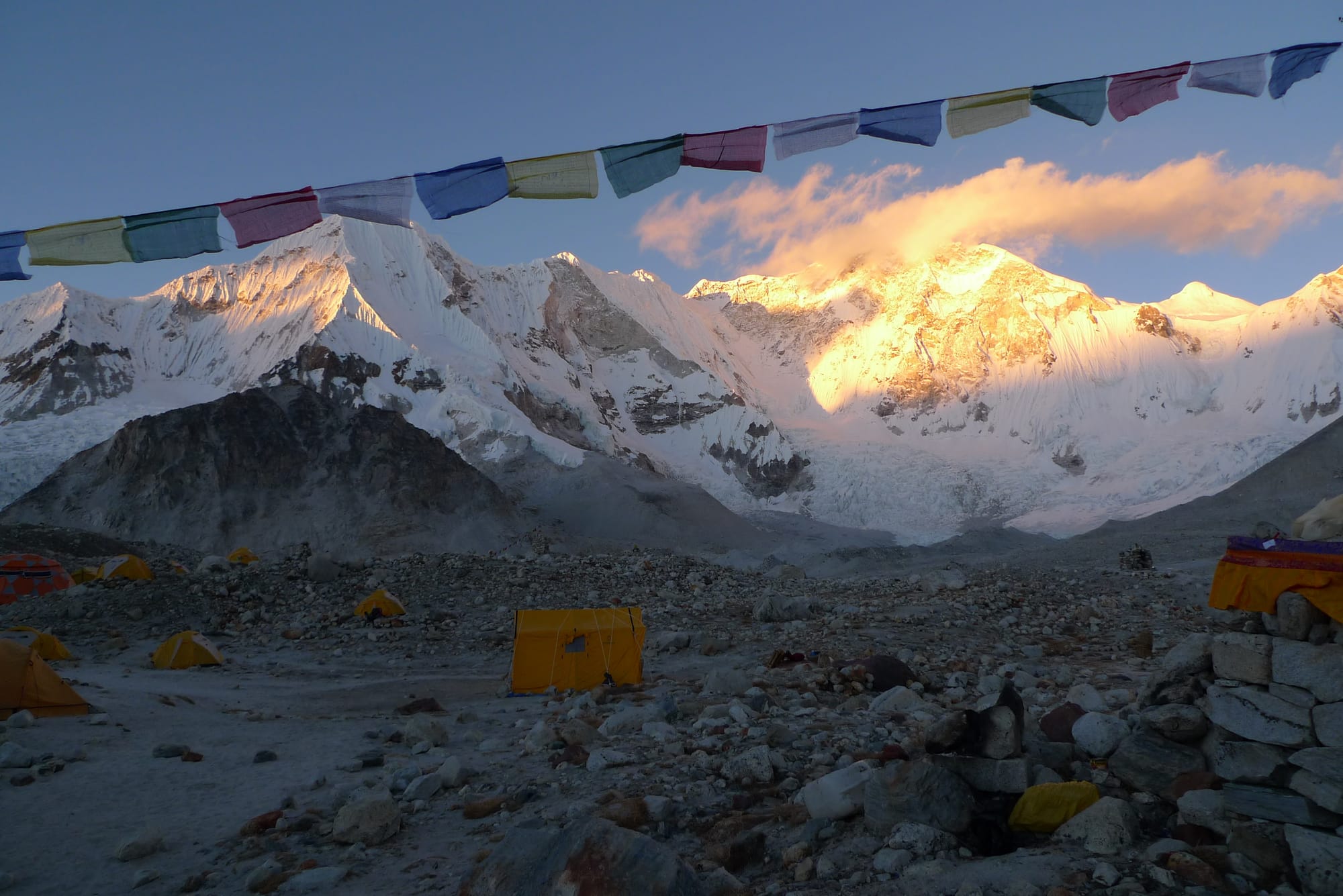 Peak Baruntse is located in the Eastern Himalayas, the national Park Barun. You don't go to the mountains of this level from a jump, so for acclimatization, expedition members ascended the six-thousand-meter Mera peak.
Says Oxana:
- In total, the expedition consisted of 12 people from Italy, Ireland, Denmark, and Russia. Irina and I immediately made friends with the Italian Alberto Pelizzari. He was in the same physical condition, and we moved together along the route. The Danes and Irishmen were slowing down from the start, and it was immediately clear that they were not going to reach the top. Two of the Danes didn't even go to the Summit of Mera Peak: they had an attack of acute mountain sickness back in the camp at 5800, and no one really tried to persuade them, because they didn't behave very adequately.
As for Oksana and her friends, they had a wonderful trip to Mera, then through Kongma-Dingma, Seto-Pokhari and Mera-La pass in three days they reached The Baruntse base camp. The guides set up a camp, the group settled in wonderfully and enjoyed the good weather. For acclimatization, they went up to the camp on the West call and returned back to the Base.
Oksana:
- To get into the West call, you need to climb a large and complex wall with a slope of 60 degrees. We saw a girl stuck there who couldn't get out for a long time. Then she told us that she did not have a leg jumar and she could not make an interception. This demoralized us, because we had never climbed such walls before, and after all, we are also girls and it will probably be very difficult for us here, too. But in the end we were able to get through this section.
At that time, there was no coverage area and it was impossible to find out the weather forecast. In October, there are wonderful weather Windows, but then it turned out that it would be better for climbers to spend these days climbing, rather than acclimating. While they were picnicking And settling in base camp, the weather window had just ended. The sky was covered with black clouds. The guides decided to wait out the bad weather at the base camp, but everyone understood that if a lot of snow falls, the expedition will fail, because it will not be possible to dig out the fixing ropes. This freed up 2-3 unplanned days.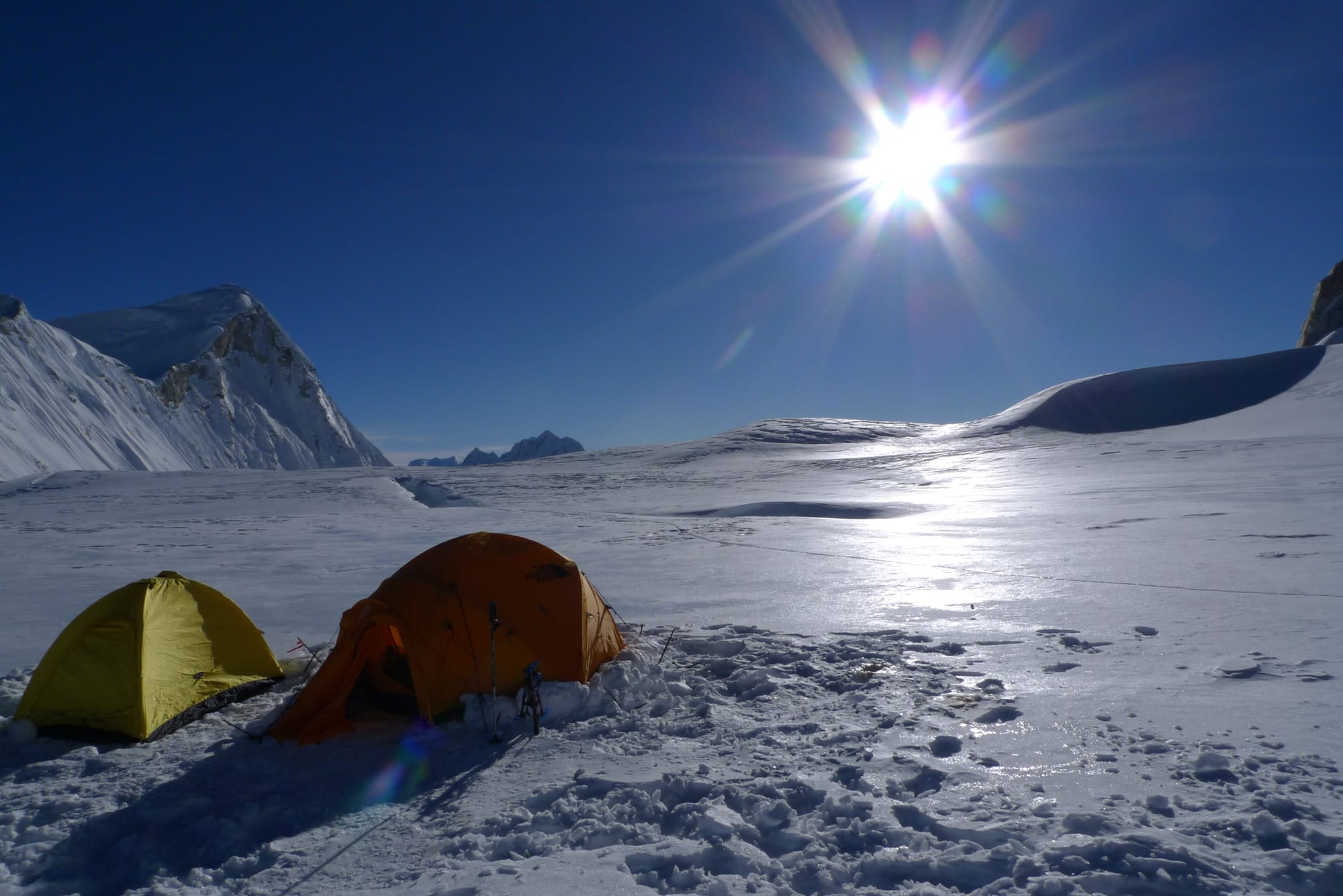 Oksana:
- And once again we were lucky: these clouds hung, but nothing so terrible fell out of them: 10 centimeters of snow. When it all broke up, we went out to Summit Push.
In those old days, the tent's canteen heater was not used, and while waiting and acclimatization was going on, many people got sick. My friend Irina was among those who fell ill. So we went out to Summit Push together, but the sick returned to the camp, leaving three of us: me, Chatur and our guide Pasang. With great effort, we went straight up to the Second camp, and arrived there almost at night. The leader of the expedition on the radio urged Pasang to wait for the final Summit Push. It was altitude 6400, completely new conditions for me, and I couldn't sleep at all. Chatur was in good health – he was by then a graduate of the mountaineering Institute. Pasang said that he takes everything under his own responsibility and we need to leave immediately, otherwise I will lose my last strength and the possibility of a successful ascent without sleep. So we went out that night, after a few hours ' rest.
The guys were doing great, but Oxana wasn't feeling well. After the Second camp, it was necessary to cross the plateau, overcome another wall, and come to the saddle, which met the ridge leading to the top. The altitude here was already around 7000 meters. The girl was stuck on one of the walls.
Oxana:
- At that time, there were no double-sided fixed rope, there was only one line. Pasang was already on the saddle, Chatur was below, and I was floundering in the middle under the eaves and could not find my balance and get out. I still remember that moment: the night, the wind that swung me on the rope, and my torment. After that expedition, I constantly began to take a leg jumar, which helps a lot in such situations… In the end, I gathered my will, made a loop on my leg, and with an exorbitant effort climbed out on a flatter area. I took a few steps to the ridge and fell, unable to breathe.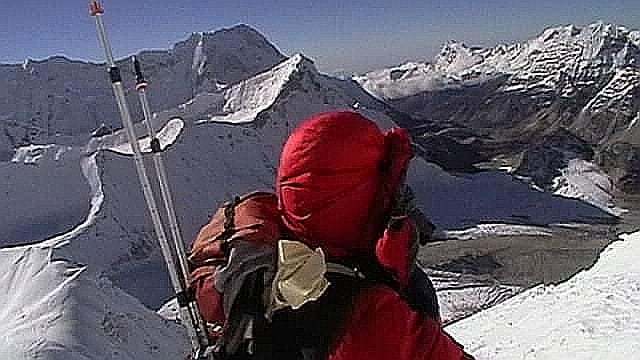 At this altitude, the lack of oxygen is such that such overloads can end badly. In any case Oxana could not go… Meanwhile, it began to get light, the climber's hands and feet were frozen, and this already threatened to lose her fingers. The boys took off her shoes, began to warm her feet, put chemical hot water bottles in her shoes.
Oxana:
- The model of boots was called "Baruntse", but the name did not correspond to their purpose: they were very cold for such heights. Right now, I would only wear my Millet Everest boots there. After these terrible and spiteful adventures, I put on my shoes again – my feet ached as I started to walk away-and we started up the long, narrow ridge. The guys said that from here it is not far to the Summit and tomorrow they want to make a high-speed ascent.
The group successfully reached the top, reported to the base camp on the radio, and turned back.
Oxana was already completely exhausted and constantly sat down to rest. A bunch of Alberto Pilizari and Lakpa Zarok came out to meet them – they were going up to the second camp, and Zarok was sent to help, because it was night, the summit team had run out of tea and they could not get down.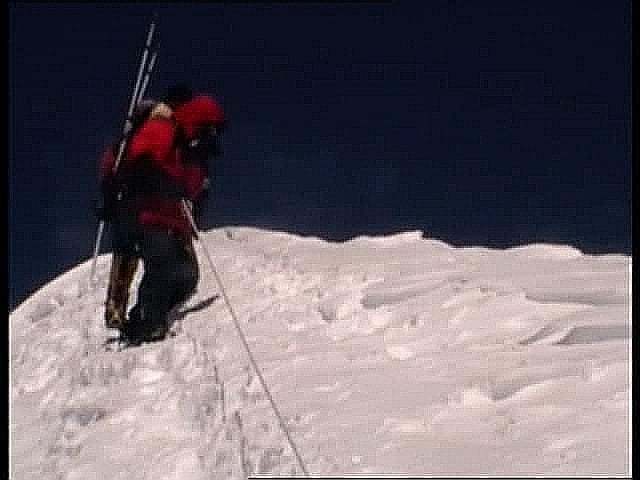 Oxana:
- I endured with all my strength, it was really very hard, I can tell you! And this terrain is absolutely not for the new climber, I went down from these discharges and rested at every station, even on the Dulfer, because I was afraid that my hands would unclench and I would fly down. Now I can't even estimate the time I hung at each such stop…
Then the three finally went down to the second camp, where the girl settled down for a major rest, and Chatur and Pasang decided to run to the top for speed assent and time how long they will reach. They ran in 2.5 hours from Camp 2 to the Summit. When they returned, Oxana was still asleep, and she was woken up by enthusiastic voices: the guys were pleased with themselves, shouting "This is how it's done, you have no idea how cool it is, and why haven't you Packed our backpacks yet??"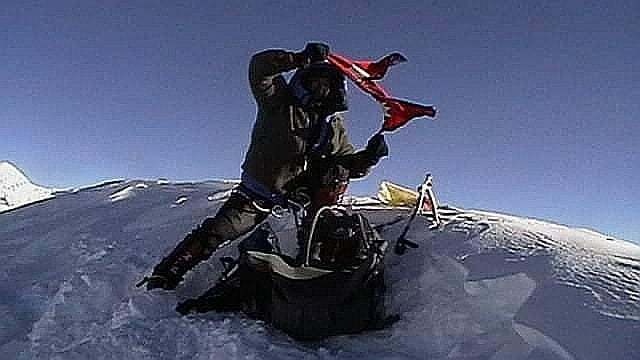 Oxana:
- And I felt as if I was hit on the head with a log, in every cell of my body I felt immeasurable fatigue – after all, this was my first such difficult mountain. I have never experienced such sensations before, but then my body got used to extreme loads and everything was much easier. And then I took a long time to collect the rest of my courage and desire to live, to go up and go down.
From the Second camp, the road to the base goes not down, but up to the next saddle, and although this path seemed close, it took several hours. The ascent to the saddle coincided with Oxana's birthday-November 1. On the saddle, the radio begins to pick up conversations, and the climbers hear that their companions-Alberto and Lakpa Zarok-have reached the top and are safely descending.
Oxana:
- Our cook remembered that it was my birthday, congratulated me with Birthday and with Summit and asked what I wanted as a gift. I said: I want a cake with cream and cherries! And can you imagine, when we came to base camp, he made just such a cake! It was so unforgettable! Then after there were many serious peaks, cakes and birthdays, and much more significant achievements, but I still remember my first high-altitude birthday cake with a special feeling.
As we went down, we saw the leader of the expedition coming up with two Danes. But we remembered that they couldn't get up on the Peak Mera, and they didn't look well – with blue faces, and we thought that the result would be the same: they won't come up. And so it turned out. After the Second camp, they changed their minds and returned to the base camp. Everyone, like us, had their first serious mountain. Due to the difficult terrain, severe cold and poorly selected equipment, the expedition turned into a nightmare for many people, which they could not fight
.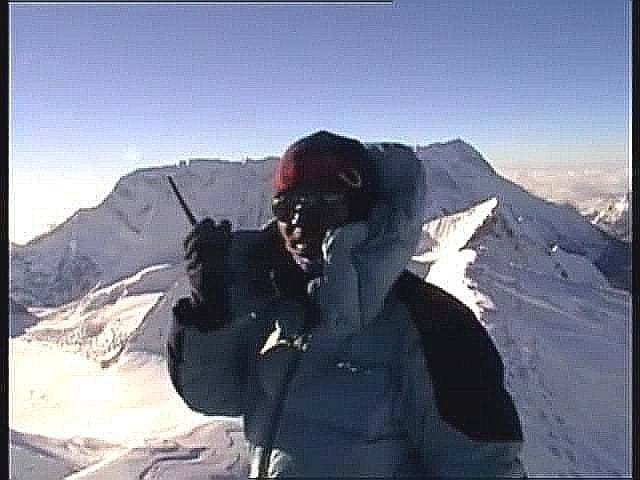 The group was returning to Lukla airport via the Amphulapcha pass. This pass is a vertical mile down: long a huge abseiling. The climbers spent the night under the pass and the next day was already in Chukhung. They went on to Lukla for two more days, celebrating their ascent every day.
Oxana:
- I don't know if I managed to convey my emotions, but in those moments it was really cool! It is pleasant to remember this battle for the Summit. I still have a picture of that mountain on my wall.
I understand that now this path would be much easier – it is a completely different experience, equipment, equipment of the route. But the imprint of the complexity of those days remains palpable. And I don't want to go back there with my clients: we went once, the mountain let us go and let us back. My leg was not sewn on at the time, I was in good shape, but it was hard. After Baruntse mountains for a long time I was not impressed.
The next year, Oxana went to Cho Oyu. Her group went from Kathmandu to Kathmandu in a record 10 days. The entire team has completely climbed to the top.
Oxana
- After Baruntse, we did not feel anything like this there: just high-altitude tracking for a lot of money. Then in the winter we went to Lobuche and island-Yes, tough, but not so exorbitant. And only on Makalu the same conditions of humidity, deep snow, strong wind. The same feeling of edge, border, walking on a blade.